Ports & Ships Maritime News
11 June 2013
Author: Terry Hutson
Bringing you shipping, freight, trade and transport related news of interest for Africa since 2002
TODAY'S BULLETIN OF MARITIME NEWS
Click on headline to go direct to story – use the BACK key to return
SEND NEWS REPORTS AND PRESS RELEASES TO info@ports.co.za
ADVERTISING
Five good reasons why you should consider advertising on Ports & Ships online:
1] Competitive rates
2] Dedicated maritime readership
3] Now over 60,000 readers each month, 63,000 in May
4] About 200,000 pages are read every month
5] Advertisements are never taken down, they keep on working
6] What better way of selling your brand!
For a Rate Card please contact us at info@ports.co.za
News continues below...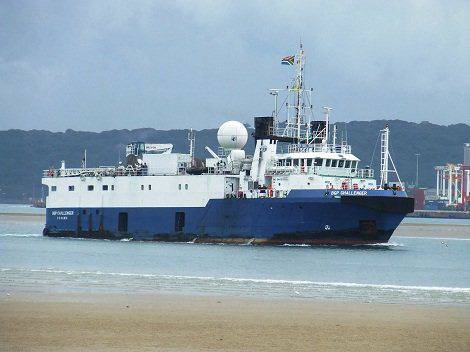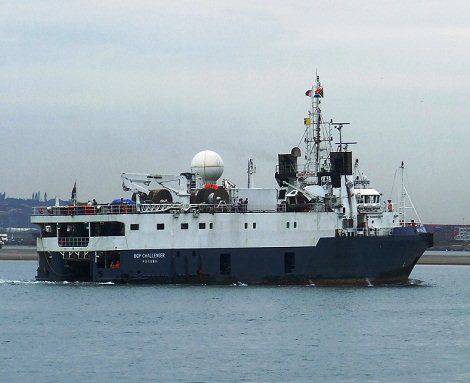 The Chinese seismic research ship BGP CHALLENGER (840-gt, built 1987) which arrived in Durban for a spell at the repair wharf during May. The vessel was still in port when this went online. The ship is operated by Hilong Geophysical, based in Tianjin in China. Pictures by Terry Hutson
News continues below…

TRANSNET RAISES R3.3 BILLION BOND ON CAPITAL MARKET
Transnet SOC Ltd was back in the capital markets on Monday with a R3,3 billion bond issue, reflecting continued investor confidence in the company and its portfolio of projects despite the ongoing uncertainty in the financial markets.
The state-owned transport and logistics firm had planned on issuing a R1 billion bond but due to overwhelming demand from the market, the bond was oversubscribed by over 3,4 times. The issue is part of Transnet's Domestic Medium Term Note Programme, which is part of the company's R15 billion funding programme for the year.
Last year, Transnet raised R14,6 billion in the capital markets, including a US bond issuance of R8 billion, through its Global Medium Term Note Programme. So far this year, Transnet has raised about half of the funding requirement for the year to end March 2014. In addition to the global and domestic bonds, Transnet also raises funds through development finance institutions, export credit agencies and issuing of commercial paper, among others.
In a statement Transnet said that the issue of the 3-year floating rate note and the cost of the funding are in line with its strategy of diversifying instruments and sources of funding. The company raises funds in the local markets on a weekly basis, mainly to cover the costs of its R300 billion infrastructure investment programme, its Market Demand Strategy (MDS).
"Today's achievement is a powerful testament to our enduring appeal as a solid investment choice. Encouragingly, it reflects the strides we have taken in building and strengthening the company's financial viability," said Brian Molefe, Transnet Group Chief Executive.
Transnet is raising funds in the debt capital markets on the strength of its financial position – without explicit guarantees from its shareholder, the South African government.
News continues below…

MSC CRUISES SA RECRUITS SOUTH AFRICAN CREW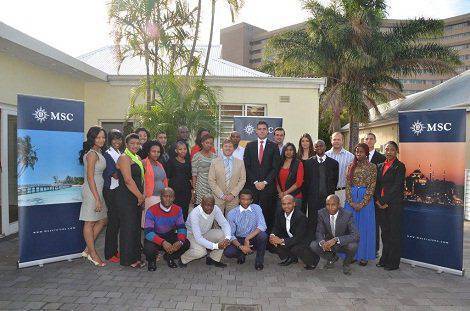 Niel Palomba, COO MSC Cruises met with some of the new South African recruits recently in Durban

In March this year, MSC Cruises SA announced that it would play a more active role in job creation and skills development in the South African cruise sector by hiring South Africans for both land-based and onboard positions - MSC Cruises opens door to South African job seekers - use you Backspace Key to return to this page.

Positions on board include guest services, buffet attendants, room service attendants, waiters and waitresses, shore excursion hosts, shop assistants, casino dealers, as well as housekeeping staff. Of significant importance - recruitment is taking place for both local and international seasons.

To date, MSC has received over 600 applications from South African job seekers, conducted around 300 interviews and invited many applicants back for a second round skills test.

Interviews have been taking place in Durban, Johannesburg and Cape Town, while Skype interviews have been conducted for those in remote areas of the country.

Successful candidates will now be asked to undergo the relevant medical tests before starting their Standards of Training, Certification and Watchkeeping for Seafarers (STCW) training courses in Durban.

"We are pleased to note that, at this stage, over 200 South Africans will be embarking with MSC Cruises over the next few months, and that 80 South Africans are ready to join the MSC Opera crew at the end of the month," said MSC Cruises COO Neil Palomba. "Many of the candidates are very excited about this opportunity and eager to start working on board. I am certain that the selected personnel will become successful and hardworking crew members and will be an asset to the company."

In a statement MSC Cruises said that this recent recruitment drive is part of MSC Cruises' ongoing commitment to job creation and skills development in the South African market.

South African travellers will enjoy an extended 2013/14 season, with the return in the early summer of MSC Opera and MSC Sinfonia to local shores and the introduction of exciting new itineraries.

MSC Opera in Durban harbour. Picture by Trevor Jones
News continues below...

TRANSNET SCHOOL OF PORTS TO MOVE TO DURBAN AIRPORT SITE

Transnet's School of Ports original campus at Bayhead, Durban

Transnet's School of Ports, which is situated at the Bayhead in the Durban Harbour precinct, is set to move to the old Durban International Airport terminal building south of Durban, next to the site of the proposed new dig-out port.

The school, which has undergone a number of changes of name since it was first established, is now known as the Maritime School of Excellence and will cater for the development of maritime skills both locally and among southern African regional countries.

Brian Molefe, Transnet Group Chief Executive said at the recent African Renaissance conference held in Durban that the Maritime School of Excellence was part of the government's strategy of leveraging its long coastline in order to develop maritime skills that can be utilised in developing the region as global players within the maritime industry.

To this end the old airport terminal buildings, which were refurbished not long before ACSA, the airports company relocated to King Shaka International Airport to the north of Durban, are being made ready to be used by the Maritime School of Excellence.

The move will see a merging of the Transnet National Ports Authority's School of Ports and Transnet Port Terminal's School of Port Operations into a single campus handling both disciplines. The new campus is expected to be ready for occupation by the end of June 2013.

The Maritime School of Excellence will operate with satellite campuses in Richards Bay, Port Elizabeth and Ngqura, and Cape Town, while the old Durban School of Ports building at Bayhead will become a Durban satellite campus.

The new school will be capable of accommodating 240 students and will offer training in marine operations, marine pilot training, marine tug training, global marine best practice, berthing master training, container handling, breakbulk and automotive handling, and port terminals management training.

News continues below…

CHAUNCY MAPLES REBUILD: BIG CHARITY ROW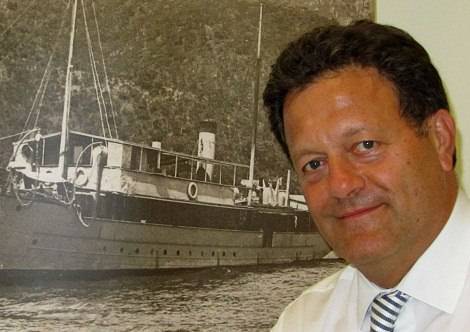 Hugo Wynn-Williams, Chairman of Thomas Miller, and Chauncy Maples

Spitalfields market in the UK will be transformed on the evening of 11 September 2013 when 100 teams making up 2,000 rowers will row 1 million metres in The Big Row.

This major City of London event is raising money for the Chauncy Maples Malawi Trust www.chauncymaples.org, a charity created to renovate the lake steamer CHAUNCY MAPLES on Lake Malawi and bring vital healthcare to a country that has only 250 doctors for its entire population of 16 million.

The Chauncy Maples Malawi Trust and main sponsor, Thomas Miller, an international provider of insurance, professional and investment services, have invited City firms to enter teams of between 10 and 20 to take part. Commitments for over 30 teams have been received by a wide range of City businesses, demonstrating the event is already gaining momentum. Thomas Miller has led the City, including lawyers, engineers, insurers and brokers in raising over £1.5million and the Big Row aims to raise the last £1,000,000 to complete the renovation.

Well known sporting stars and other celebrities will attend the event and prizes will be awarded for the fastest crews, best in class (lawyers, accountants), best outfits and lots more. A number of high profile celebrities have already given their support to the launch.

"The UK's maritime sector is the architect of our Nation's success, and I am delighted that many of the industry's leading lights are supporting the renovation of Chauncy Maples into a floating health clinic for the villages around Lake Malawi," said Roger Gifford, Lord Mayor of the City of London. "This innovative and ingenious project will provide remote communities with essential medical care. Thomas Miller and all the business-supporters of Chauncy Maples are making an important and extremely effective contribution – an excellent example of Corporate Social Responsibility. The Big Row will complete the Chauncy Maples fundraising project and I urge every robust rower to participate!"

"We need to raise £1,000,000 to complete the renovation. So please dig deep to help the crews hit their target. If we pull together, we can make a big difference," said Sir Matthew Pinsent, CBE, patron of the Big Row.

Angela Rippon, OBE, patron of the Big Row said that Chauncy Maples will provide vital healthcare for 200 hard-to-reach lakeside villagers and sponsorship of The Big Row will help make that happen.

"We have already had tremendous support from our City community and are really looking forward to what should prove to be a fantastic event. The Big Row represents a fun way of competing for a great cause in one of the City's iconic landmarks," said Hugo Wynn-Williams, Chairman of Thomas Miller.

The event is also supported by the Honourable Jeffrey Evans (Sheriff of the City of London, Admiral Lord West of Spithead, the Right Reverend Donald Arden (nephew of the original engineer who supervised the reassembly of Chauncy Maples in Malawi in 1900), Ben Hunt-Davis, Kit Hesketh-Harvey, and the High Commissioner of Malawi. Those wishing to enter teams should contact TheBigRow@Thomasmiller.com. The Big Row is one of the events taking place during the London International Shipping Week http://www.londoninternationalshippingweek.com.

You can read more about the project of rebuilding the former Lake Malawi steamer Chauncy Maples in PORTS & SHIPS' 2010 news report Thomas Miller helps renovate Africa's oldest ship.

MSC SALE OF TERMINAL DIVISION FINALISED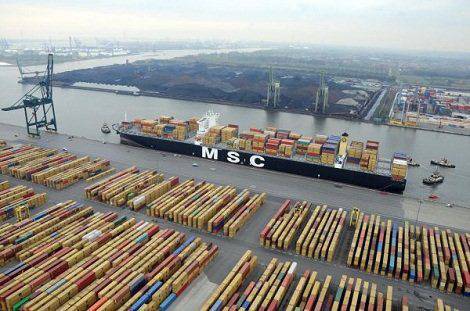 Mediterranean Shipping Company has confirmed the sale of 35 percent of its terminal company, Terminal Investment Limited SA (TIL) to Global Infrastructure Partners (GIP) in a deal worth US$1.9 billion.
In the last five years or so TIL has grown into the world's sixth largest container terminal operator, which has been or is in the process of acquiring 30 container terminals globally. The deal with GIP will create additional revenue to support future acquisition and investments.
"In line with our strategy of developing best in class ventures with industry leaders, we expect to work closely with MSC in growing and improving this high quality portfolio of container terminal assets," Adebayo Ogunlesi, chairman and managing partner, GIP said.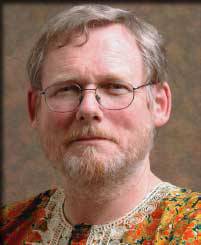 Minister of Trade & Industry, Rob Davies

The Transnet-Maputo Port Development Company MoU refers

Editor

Why does our Minister Davies not rather consult with East London to take the Durban overflow? I realise the distance is greater but we will then be creating jobs for our own people and surely he as the top guy can discuss tariff issues with Transnet.

Let us help ourselves before we help others in a battling economy where people are eating out of others refuse bags.

Bryan Church
Strandloper Hiking Trail
Eastern Cape

* The nation's ports fall under the jurisdiction of two ministries - Transport (Ben Martin) and Public Enterprises (Malusi Gigaba). Dr Rob Davies is minister of Trade & Industry – editor

BOOK PREVIEW: LIGHT UPON THE WATERS

Light upon the waters:
Trinity House 1514 to 2014

by Paul Ridgway, London

Members of the marine community around the world will surely be aware of the Trinity House role as the General Lighthouse Authority for England and Wales providing marine aids to navigation in those islands.

At Trinity House the development, engineering, field-maintenance, support and sea-staff uphold a long tradition of service to the mariner and this has grown over the last five centuries. Besides these undertakings, Trinity House licenses deep-sea pilots and supports cadetships for those wishing to follow a career at sea in merchant ships. These duties have been performed to a greater or lesser extent for five centuries and are work that continues to this day. All the while the Corporation of Trinity House, as a charity, has ministered to the wants of needy seafarers and their dependants, providing alms-houses and making grants through other maritime charities.

To commemorate 500 years of its foundation when it was granted a charter by Henry VIII in 1514 the Corporation of Trinity House, London, is to publish its history later this year. This has been written by well-known maritime author and Elder Brother of Trinity House, Captain Richard Woodman, and the pilotage expert Captain Andrew Adams, who is a Younger Brother of the Fraternity.

In order to receive further information readers are invited to send their correspondence address to the Trinity House PR Manager, Vikki Gilson, in London who will issue the flyer. She may be contacted at: vikki.gilson@trinityhouse.co.uk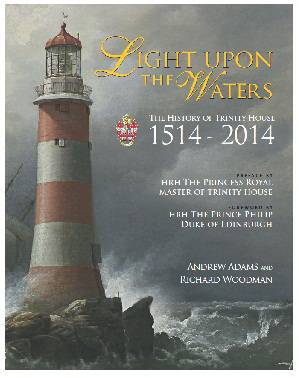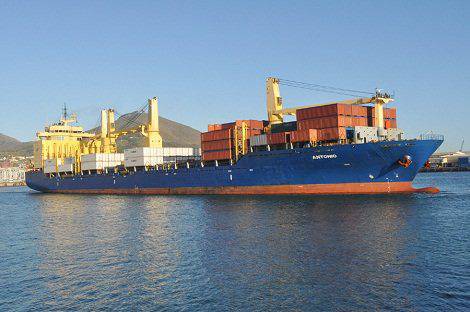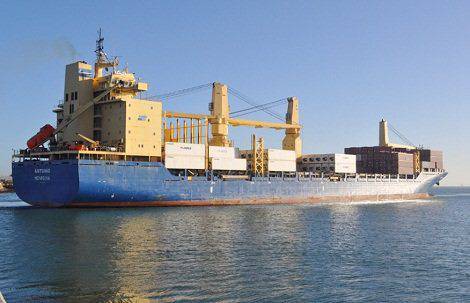 The Liberian-flagged, German owned self-geared container ship ANTONIO (23,132-gt, built 2002) seen sailing from Cape Town harbour on the weekend. Pictures by Ian Shiffman
Don't forget to send us your news and press releases for inclusion in the News Bulletins. Shipping related pictures submitted by readers are always welcome – please email to info@ports.co.za
Did you know that Ports & Ships lists ship movements for all southern African ports between Walvis Bay on the West Coast and Mombasa on the East Coast?
TABLE BAY UNDERWAY SHIPPING
SHIP PHOTOGRAPHERS
Colour photographs and slides for sale of a variety of ships.

Thousands of items listed featuring famous passenger liners of the past to cruise ships of today, freighters, container vessels, tankers, bulkers, naval and research vessels.
P O BOX 809, CAPE TOWN, 8000, SOUTH AFRICA
snai@worldonline.co.za
http://home.worldonline.co.za/~snai
South Africa's most comprehensive Directory of Maritime Services is now listed on this site. Please check if your company is included. To sign up for a free listing contact info@ports.co.za or register online
Looking for help? Try our MARITIME SERVICES DIRECTORY CLICK HERE