Ports & Ships Maritime News
29 January 2013
Author: Terry Hutson
ADVERTISING
We offer great rates and a widespread dedicated maritime sector readership. Throughout 2012 Ports & Ships has averaged in excess of 50,000 readers each month. During October 2012, for example, we enjoyed the company of 54,360 readers on this site, readers who made 206,735 page views and recorded 956,532 'hits'. By having your company banner on these pages you can benefit by reaching out to this readership.
Another advantage of advertising with us is that we don't take down our pages so your advert continues to work for you, month after month, year after year. Check it out on site -- we're 10 years old this month so that's not an exaggeration.
For a Rate Card please contact us at info@ports.co.za
TODAY'S BULLETIN OF MARITIME NEWS
Click on headline to go direct to story – use the BACK key to return
SEND NEWS REPORTS AND PRESS RELEASES TO info@ports.co.za
News continues below...

FIRST VIEW – MSC SHIP and ORIENT
Drama in Ngqura Harbour. At the mercy of gale-force winds, a giant MSC container ship is blown down onto the opposite quay in the Port of Ngqura, having broken away from her moorings at the container terminal which is on the west quay. In between the solid wall of the east quay and the ship lies a general cargo vessel (out of view), a harbour tug and the pilot boat ORIENT.
Having collided square on with the general cargo ship, the wind slewed the container vessel bow-on toward the quay, with the little ORIENT's superstructure offering little resistance to the immense weight bearing down on her. The pilot boat's hull escaped with little apparent damage but her upperworks, as seen in the pictures we carried last week (also see below), were smashed to pulpwood.
The container ship appears to have then pulled, or been sucked away from the quayside, leaving open water between herself and the quay and a damaged pilot boat as witness to the event.
From these and several other pictures published by Ports & Ships last week, it would appear that the fury of the wind had caught those in Ngqura by surprise, with the container ship unable to put out extra moorings in time. Nor was the harbour tug visible in the picture above able to respond by scrambling to assist, unless she too had been pushed by the sheer weight and size of the ship onto the east quay.
There has been a complete silence from everyone involved regarding this incident so we can only surmise that there were no injuries. Let these pictures tell their story.

One of the pictures we showed on 15 January, showing the Orient after the accident. Pictures above all: supplied
News continues below…

SHIPWATCH: NEWS OF SHIPS AND THE SHIPPING LINES
Safmarine breakbulk line to stand alone
Safmarine and the Royal Burger Group have jointly announced that Safmarine's breakbulk liner section Safmarine MPV will become a standalone operation by the end of the first quarter.
In 2012 Safmarine's container operations were integrated into that of parent company Maersk Line and it was speculated that the multipurpose liner arm might be sold. Safmarine MPV offers services to West Africa with sailing out of South Africa, Europe and the United States.
The statement issued on the Royal Burger Group website indicates that Safmarine MPV NV remains an important part of the APMM Group and says it continues to receive the full backing and support of the shareholders. It announced also that Royal Burger Group had been appointed Safmarine MPV's full liner agent in Belgium and in the Netherlands with effect from February 2013.
The statement added that the line's independence will include moving out from the Maersk Line / Safmarine agency network and the appointment of an own dedicated MPV agency network.
Maersk reaches 2020 CO2 target

Maersk Semakau. Picture by Ian Shiffman
Maersk Line says it has reached its 2020 target of reducing CO2 emissions by 25% from its benchmark 2007 levels.
"We are proud to hit this mark 8 years ahead of schedule. It is confirmation we're on the right track. And to keep that momentum we're raising the target to a 40% reduction in CO2 by 2020," said Morten Engelstoft, Chief Operating Officer, Maersk Line.
"Maersk Line's focus on energy efficiency has made the company significantly more cost competitive. And by cutting our CO2 we've also lowered the CO2 emissions of our customers, thereby helping them meet their own CO2 targets," he said. "Benchmarking data makes it possible for all customers to compare their shipping suppliers based on CO2 performance. Maersk Line experts help customers implement such benchmarking schemes to make CO2 part of the buying decision."
It is estimated that shipping carries 90% of globally traded goods and while remaining the most energy efficient way to transport cargo long distances, the contribution of CO2 to the atmosphere is 3-4% of the global annual total.
"Maersk Line is an advocate for global regulation of CO2 for shipping. Cutting CO2 is a benefit for our business, not a threat to it," says Engelstoft. He said Maersk had reached this target largely from a combination of operational efficiency, network and voyage optimisation, slow steaming and technical innovation. "We will hit the 40% target with more of the same," he said.
"Other important factors will be the continued cooperation with our vessel leasing partners to retrofit their ships, and the arrival this year and next of the Triple-E vessels, which will be the largest and most energy efficient ships on the water."
SA Agulhas at the ice

Anton Bowring (near centre, dark shirt) and Sobantu Tilayi (light blue shirt), SAMSA's executive head of shipping services and champion of the cadet programme, together with some of the cadets on board the SA Agulhas. Picture Terry Hutson
The training ship SA AGULHAS, which has been chartered to the Coldest Journey expedition which is attempting to cross the Antarctic during the coming winter months, has reached the ice shelf.
Last week the ship and its crew including the 50 marine cadets on board were busy transferring all the equipment and stores onto the ice and moving it to the plateau at an altitude of 3,500 metres.
Co-team leader Anton Bowring had lots of praise for the cadets whom he said had proven to be extremely helpful, hard-working and friendly. "We think of the cadets and all the crew as members of our expedition. They have all contributed greatly to the success of our project so far," he said. "The cadets are learning skills and gaining experiences which are rare and very valuable. Their CVs will have, in addition to all the conventional aspects of shipping, a record of their polar experiences. This includes ship handling on ice, understanding weather and working in an unusual, challenging environment. They have taken a keen interest in the environment around them which will give them great opportunities in the future," Bowring said.
Bowring said that the Coldest Journey expedition would have been impossible to accomplish without the support of SA Agulhas and SAMSA. "For nearly five years we searched for a suitable vessel. Only early in 2012 did it become clear that cooperation between SAMSA and the expedition could achieve the unique requirements of both the expedition itself and SAMSA's cadet training scheme. For this reason, the ship has proved to be perfect and we are fortunate and privileged to use her."
South Africa's role in the expedition was very significant, added Bowring. With SAMSA's support and belief in the Coldest Journey's project, South Africa had demonstrated that great achievements could be attained by perseverance and hard work.
The ship will leave Crown Bay once the expedition team is completely self-sufficient and no longer needed the vessel and crew. This could be within this week, with the ship possibly arriving in Cape Town during the latter part of February.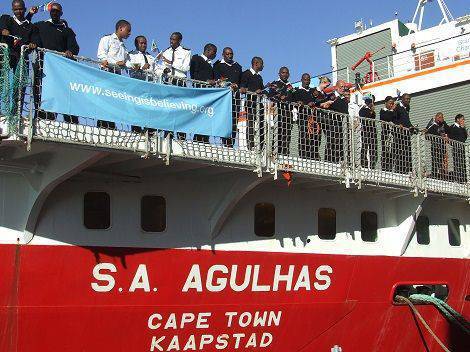 Cadets on board SA Agulhas as the ship moves off the quay, next stop Antarctica. Picture Terry Hutson
SECURITY: PIRATES RELEASE OIL TANKER MINUS ITS CARGO
The oil tanker ITRI (6330-dwt, built 1991), seized by pirates as the ship was preparing to berth in Abidjan harbour earlier in January, has been released with the 16 Nigerian crew reported unhurt.
However, the cargo of 5,000 tons of oil on board the Itri has been siphoned off during the time that the ship remained in pirate hands.
The Itri was preparing to berth at Abidjan tanker terminal during a sandstorm, with greatly reduced visibility. Contact with the ship was then lost and the company responsible for loading the cargo of oil later informed the port authorities that armed men had taken control of the ship, which had sailed from the port.
The ship and its crew of 16 were released with the missing vessel outside the port of Lagos, after the vessel had previously been reported off Ghana. None of the crew, who had been locked in the dining room, were reported to be injured but the ship has some damage.
Somali pirates transferred ashore in Mauritius for prosecution

The French Navy hands over 12 suspected pirates for prosecution in Mauritius. Picture EU NAVFOR
The French warship FNS SURCOUF has transferred 12 Somali pirates ashore in Port Louis for prosecution under Mauritian law.
The pirates were captured after they had attacked a merchant ship on 5 January this year. EU NAVFOR reports that the ship's master called for help saying that his ship was under attack by six men in a fast motor boat. The ship was able to avoid being captured by taking evasive action and shortly afterwards the USS HALYBURTON, on patrol with EU NAVFOR some 80 n.miles away, launched its helicopter which located a skiff thought to be that of the pirates, which was now towing a second boat also with six men in it.
The French ship Surcouf was also dispatched to the scene while a German Navy reconnaissance aircraft kept watch overhead. The two skiffs were boarded and the men on board taken into custody.
"I welcome the news that the twelve suspect pirates were today transferred to Mauritius for prosecution," said Rear Admiral Bob Tarrant, operation commander of the EU Naval Force. "Mauritius is a key partner in the fight against piracy in the region and today we sent a clear message to pirates that EU Naval Force and Mauritius are determined and committed to achieve legal prosecution for those accused of attacking ships at sea."
News continues below...

CRUISE NEWS AND VIEWS

MSC SINFONIA sailing from Cape Town on Monday (28 January) bound for Port Elizabeth and Durban, after being windbound from the day before. Earlier the cruise ship, which has been operating a series of cruises out of Cape Town, entered port a day earlier than expected from her 'voyage to nowhere' cruise, because gale force winds were forecast. Picture by Ian Shiffman
Court widens enquiry to include Costa Crociere

Costa Crociere, the Carnival Corporation's cruise unit, says it is being probed for possible violations of Italy's laws governing administrative responsibility concerning the shipwreck of the COSTA CONCORDIA.
Seven employees of Costa Crociere have been placed under investigation by the court appointed to look into the shipwreck.
Costa Concordia went aground and capsized off the Italian island of Giglio in January 2012, with the resultant loss of 32 lives. The ship was carrying 4,200 passengers when the ship struck rocks while reportedly sailing too close to the island.
It was said afterwards that the ship's officers including the now infamous Captain Francesco Schettino, wanted to 'salute' former shipmates living on the island. Captain Schettino, who denies any wrongdoing, reportedly abandoned his ship long before all passengers were accounted for.
In its statement Coast Crociere said it was fully confident of being able to demonstrate its full compliance with the law and says it has full confidence and trust in the court's appointed magistrates.
Preview cruises for Royal Princess
Princess Cruises has announced two preview cruises aboard ROYAL PRINCESS, giving passengers a unique opportunity to get a taste of the new ship before its official inaugural voyage. The 9 June 9 and 14 June 14 will sail roundtrip from Southampton on a two-night itinerary featuring a call in St. Peter Port, on the island of Guernsey.
Passengers on the short sailings will be able to sample Royal Princess' many ground-breaking features, including the dramatic over-water SeaWalk, Princess Live! television studio, and plush new poolside cabanas before the ship's inaugural sailing on June 16, 2013.
Both voyages will go on sale tomorrow (30 January), with limited availability. Per person cruise fares start at US$530 for an obstructed-view balcony stateroom.
The 3,600-passenger Royal Princess is a new-generation ship for Princess Cruises. Among the special features found on board will be a greatly expanded atrium, the social hub of the ship; a dramatic over-water SeaWalk, a top-deck glass-bottomed walkway extending more than 28 feet beyond the edge of the vessel; plush private poolside cabanas that appear to be floating on the water; the new Princess Live! television studio; a pastry shop; a special Chef's Table Lumiere, a private dining experience that surrounds diners in a curtain of light; and balconies on all outside staterooms.
The ship's 2013 maiden season will include cruises on the line's signature Grand Mediterranean itinerary throughout the summer, followed by Eastern Caribbean cruises beginning in the fall.
News continues below…

FISHING INDUSTRY: ARE WE FISHING SUSTAINABLY?
The level of awareness of environmental issues globally has risen considerably during the last decade and the disparities between industrialised powers and artisanal producers have been highlighted. Focus within media circles has been on the industrialised fishing industry and worldwide problem of overfishing.
This is a very real problem in certain parts of the world, and the environmental movement has helped to raise deserved awareness of this issue. Unscientific, emotive and biased communication has resulted in the fishing industry being run down in the mind of the consumers without offering viable alternatives.
"The increased focus on managing fish resources sustainably is bearing remarkable fruit," says George Bezuidenhout, managing director of Sea Harvest, leading black-empowered South African commercial fishing company that catches local, wild, sustainably caught hake.
"In SA the hake quota has been increased by over 20% over the last three years and in fact, quotas for globally comparable species such as Cod and Pollock have increased from a total of about 6 million tons to 7 million tons over recent years," he shares.
To help consumers make responsible decisions, NGOs and retailers worldwide are highlighting those species that are green enough to be consumed and those that are red should not be consumed at all. But what reassurance does the consumer have that a 'green' labelled product does indeed come from a sustainable source?
The world's leading certification and eco-labelling program for sustainable wild capture seafood is the Marine Stewardship Council (MSC) which is internationally recognised and consistent with the United Nations Food and Agriculture Organization's guidelines for the eco- labelling of fish and fishery products from marine capture Fisheries.
In a 2009 report by Accenture Development Partners (ADP) in association with the World Wildlife Fund, the MSC is ranked the highest out of seven international eco-labelling programs that claim to improve fishery and marine ecosystem health and sustainability. The report highlights six criteria that the WWF considers of primary importance to the future health of the oceans and fisheries therein and crucial for any credible sustainable wild‐capture seafood eco-labelling certification scheme and then scores the various programmes accordingly.
"The MSC's weighted average score across all criteria was more than 95% while the next best result was 64%. The lowest score was less than 30%," says George of Sea Harvest, the biggest employer on the West Coast providing 2425 jobs, with 25-30% of all household income being generated as a result of their activities.
'The other assessed eco-labels are not well balanced across all six segments to the extent required to support sustainable fishing. No other eco-label has a consistent approach across all assessed segments. This indicates the shortcomings of these other eco-labels and casts doubts on their overall contribution to effective fisheries management and ecological sustainability.' (Reference: Assessment Study of On-Pack, Wild-Capture Seafood Sustainability Certification Programmes and Seafood Eco-labels Accenture. WWF International.2009).
In April 2004, after extensive investigation and verification, the South African Deep Sea Hake Trawl Fishery was certified as a sustainable fishery by the Marine Stewardship Council. The South African Hake Trawl Fishery was the first Hake fishery in the world to be awarded MSC status. At the end of 2009 the fishery was re-certified for another five years.
These measures have also been undertaken by the industry: Four leading South African fishing companies (Sea Harvest, Oceana, Viking and I&J) launched the Responsible Fisheries Alliance (RFA) in partnership with WWF in September 2009 to support the implementation of an ecosystems approach to marine resource management and promote responsible fisheries practice in South African waters.
The deep-sea trawl industry voluntarily introduced effort-limitation on fishing capacity in 2009. Effectively this means that no more capacity can be added into the fishery to catch the available quota, whether that quota increases or reduces.
In addition by-catch limitations for by-catch species such as Kingklip and Monk were imposed by the department to ensure that there is no targeting of these valuable species.
The industry has, also voluntarily, ring-fenced current fishing grounds and fishing activities are strictly limited to those areas. This restriction is monitored by DAFF to ensure compliance. In this regard, research into the impact of trawling on the sea bed is in its initial phase.
Sea bird mortalities have been reduced substantially to globally acceptable standards through the introduction and improvement of mitigation devices which are now compulsory on all deep-sea hake trawlers.

Harvest Nandis. Pictures courtesy Sea Harvest
PORTWATCH: DAR ES SALAAM TO PAY FOR ANY LOST CARGO

Dar es Salaam container terminal
The Tanzania Ports Authority (TPA) says it is prepared to compensate for any cargo losses that occur in the Port of Dar es Salaam.
In what must be welcome news for cargo owners making use of the Tanzanian port, Transport Minister Dr Harrison Mwakyembe told the Parliamentary Committee on Infrastructure last week that efforts to address the port's problems, including taking the management to task, has paid dividends.
He said that efficiency levels at the port have improved. It now takes only seven days instead of 21 to offload cargo. He said that transport ministers from landlocked neighbours Uganda, Rwanda and Burundi had expressed interest in using the port.
"The DRC is ready to let bygones be bygones and build a win-win relationship after being satisfied with the steps taken by Tanzania to address the problems TPA and the Dar es Salaam Port have been facing," Mwakyembe said.
He said the situation involving theft and loss of cargo had improved and representatives from the DRC had been invited to visit Tanzania for talks and also to visit the Dar es Salaam port. "We have cleaned our house," the minister said, adding that the TPA will have to compensate those that lose cargo at the Port of Dar es Salaam.
The minister's tough stance follows the suspension last year of seven top officials on charges of embezzlement, mismanagement and suspected theft. Five of these were later dismissed and two against whom allegations were not proved, were reinstated. The dismissed personnel included the TPA general manager Mr Ephraim Mgawe, his two deputies Julius Mfuko and Hamadi Koshuma, the port manager Cassian Ng'amilo and the oil terminal manager Capt. Tumaini Masaro.
Those reinstated were KOJ engineer Emmanuel Mataro and Jetty Master Capt. Joseph Bwakabale. Source – allafrica
Uganda delegation impressed with Dar es Salaam port
In a related matter, Uganda has agreed to provide two locomotives and 200 wagons to facilitate cargo transportation from Dar es Salaam port to Mutukula border point between Tanzania and Uganda, reports The Tanzanian Daily News.
The announcement follows a just concluded Memorandum of Understanding (MoU).
The Uganda State Minister for Works and Transport, Mr John Byabagambi, said in Dar es Salaam on Friday that his country was also contemplating a request by Tanzania to establish a dry port at Mutukula to facilitate cargo transportation from Dar es Salaam port.
He said in a bid to address the problem of delay that his country would station a liaison officer to facilitate customs clearance at the port. "My technical team will discuss the dry port matter while starting to implement the MoU in March." According to Dr Mwakyembe, Tanzania's minister of transport, the MoU focuses on how to improve cargo transportation between the two countries. He said statistics show that only one percent of Uganda's cargo was transported from Dar es Salaam Port in 2011, while 99 percent were transported from Mombasa port in Kenya. Source The Tanzanian Daily News
CYCLONE FELLENG INTENSIFIES NEAR MADAGASCAR
Tropical storm 13S came together at the weekend, giving birth to Tropical Cyclone Felleng, with forecasters agreeing that Felleng would continue to intensify as it neared the coast of Madagascar. On Sunday the young cyclone was about 590 n.miles northeast of La Reunion island and moving west-southwest at 11 knots.
It is expected that La Reunion will be affected by the cyclone as it tracks to the west.
NASA's Aqua satellite passed over Felleng on Sunday and indicated that cloud top temperatures around the centre of the cyclone were as cold as -52°C indicating strong thunderstorms, and also indicating that heavy rain was falling. The storm was described as well- organised, which means the storm has the potential to strengthen.
By Monday at 15:00 UTC Felleng had maximum sustained winds near 45 knots (51.7 mph/83.3 kph). Tropical-storm-force winds extend about 60 nautical miles (69 miles/111 km) from the centre. Felleng was located near 13.3 south latitude and 58.4 east longitude, about 500 nautical miles north-northeast of La Reunion Island and moving to the west at 10 knots.
NASA says the Joint Typhoon Warning Center expects Tropical Storm Felleng to intensify over the next several days as it moves west. Felleng is expected to reach hurricane (cyclone) strength as it approaches Madagascar's east coast, and is then forecast to be pushed south by an approaching area of low pressure. Felleng is forecast to move south and travel between eastern Madagascar and La Reunion Island by 1 February. – source nasa.gov
YESTERYEAR - CONGELLA and BORDER
A couple of 'golden oldies' to finish this edition of the News Bulletin, courtesy of the camera of Trevor Jones, who recently began digitalising some of the older coasters that once frequented our coast that he photographed many years ago. Above is the coaster named CONGELLA working at either E or F berth at the Point. Note the wonderful old cranes behind the ship, each painted a utilitarian grey and neatly numbered as though one might get mislaid! Picture by Trevor Jones
The lower picture shows one of the conventional coasters in Unicorn colours, the BORDER of 1957, built in France for Dutch owners as CASAMANCE. The ship was photographed sailing from Durban in February 1974. Picture by Trevor Jones
Don't forget to send us your news and press releases for inclusion in the News Bulletins. Shipping related pictures submitted by readers are always welcome – please email to info@ports.co.za
Did you know that Ports & Ships lists ship movements for all southern African ports between Walvis Bay on the West Coast and Mombasa on the East Coast?
TABLE BAY UNDERWAY SHIPPING
SHIP PHOTOGRAPHERS
Colour photographs and slides for sale of a variety of ships.

Thousands of items listed featuring famous passenger liners of the past to cruise ships of today, freighters, container vessels, tankers, bulkers, naval and research vessels.
P O BOX 809, CAPE TOWN, 8000, SOUTH AFRICA
snai@worldonline.co.za
http://home.worldonline.co.za/~snai
South Africa's most comprehensive Directory of Maritime Services is now listed on this site. Please check if your company is included. To sign up for a free listing contact info@ports.co.za or register online
Looking for help? Try our MARITIME SERVICES DIRECTORY CLICK HERE
Bringing you shipping, freight, trade and transport related news of interest for Africa since 2002