Bringing you shipping, freight, trade and transport related news of interest for Africa since 2002
Improve your branding with your banner on this site and tap into our large readership - contact info@ports.co.za
TODAY'S BULLETIN OF MARITIME NEWS
Click on headline to go direct to story – use the BACK key to return
SEND NEWS REPORTS AND PRESS RELEASES TO info@ports.co.za
News continues below...

FIRST VIEW – CS SORAYA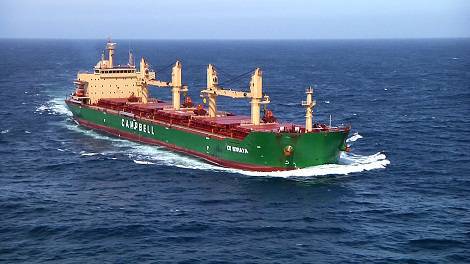 Pictured here off the Cape coast last week is the CS SORAYA, a 57,000 tons deadweight dry bulk carrier, the latest acquisition of Campbell Shipping Company Limited which operates at Dockendale House, West Bay Street, Nassau, in The Bahamas.
This vessel is fully equipped with cranes designed to handle the efficient loading and discharging of a wide range of dry bulk cargoes such as iron ore, grain, steel, coal and fertilizers. The ship, which has an operating speed of 14.6 knots, is 190m long with a breadth of 32m and is designed for carrying on trade with some of the world's more remote ports. Picture by Frank Vennard/Videographics
News continues below…

DURBAN SHIPYARD COMPANY ELGIN BROWN & HAMER SOLD – UNCONFIRMED REPORTS
Unconfirmed reports have been received from several sources of the sale of Durban-based ship repair firm of Elgin Brown & Hamer. Asked to confirm them, EBH's managing director Rob Deane declined, saying that he could not comment.
If these reports turn out to be accurate then it would appear that DCD Dorbyl has or will become the new owner, having outbid at least one Durban-based ship repair firm in the process. DCD Dorbyl is active in ship repair in the port of Cape Town.
Elgin Brown & Hamer is one of Durban's oldest companies and can trace its lineage back to the arrival of Scotsman James Brown who with three of his nephews set up an engineering business in Durban specialising in ship repair in the early 1880s. Many years later the firm merged with another long-standing ship repair and engineering company, Gilbert Hamer & Co, becoming for a while James Brown & Hamer. In 1980 the Elgin Engineering took the combined firm over with the name then changing to Elgin Brown & Hamer.
EBH was only occasionally involved in ship building – perhaps the most famous vessel to come from its yard is the Safmarine tug JOHN ROSS (now renamed SMIT AMANDLA) of 1976. The firm however set new standards in ship repair when it imported the first privately-owned floating dock in southern Africa, Eldock, which went into service in Durban. The company later placed two similar floating docks at Walvis Bay, taking ship repair to new heights in the Namibian port. EBH also has interests in ship repair at East London.
DCD Dorbyl's history traces back to 1946 and the establishment of Dorbyl Heavy Engineering. A division of the company became involved in ship repair and building when it was known as Dorbyl Shipbuilders and later as Dorbyl Marine. From the late 1960s the company built a number of ships in Durban including for the navy, as well as several small container ships and other vessels. The Durban operation was later sold to new owners and has since operated under the name of Dormac Marine, which has no connection with DCD Dorbyl in which the marine division is largely Cape Town-based.
News continues below…

PIRACY: IMO ENDORSES USE OF ARMED GUARDS, CALLS ON STATES TO ACT
In March 2011 the general cargo vessel RAK AFRIKANA was released by Somali pirates after 332 days in custody, during which the ship's master suffered two mild strokes that would ultimately lead to his death shortly after his and the rest of his crew's release. Shortly after sailing to freedom after a US$1.9 million ransom payment, the RAK Afrikana sank, leaving the crew of 25 including several young cadets to be rescued by Italian and Spanish warships.
Now watch and listen on this video clip as some of the young marine cadets that were on board the ship, and who are continuing their studies at a maritime school in New Zealand, recount their ordeal, telling what it was like to spend almost a year in the hands of the pirates. Click HERE to watch this short video. Use your BACK BUTTON to return to this page.

IMO calls for states to facilitate the passage of ships with armed guards
An IMO working group has provided further interim guidance on the use of privately contracted armed security personnel (PCASP) on board ships to counter Somali-based piracy.
At its intersessional meeting of the (IMO) Maritime Security and Piracy Working Group of the Maritime Safety Committee, held in London last week, the IMO called for member states to 'facilitate' the passage of ships with armed guards as a necessary means of combating piracy.
The following Maritime Safety Committee (MSC) circulars were approved for dissemination:
MSC.1/Circ.1408 on Interim Recommendations for port and coastal States regarding the use of privately contracted armed security personnel on board ships in the High Risk Area;
MSC.1/Circ.1406/Rev.1 on Revised Interim Recommendations for flag States regarding the use of privately contracted armed security personnel on board ships in the High Risk Area;
MSC.1/Circ.1405/Rev.1 on Revised Interim Guidance to shipowners, ship operators and shipmasters on the use of privately contracted armed security personnel on board ships in the High Risk Area; and
a joint MSC and Facilitation Committee (FAL) circular on Questionnaire on information on port and coastal State requirements related to privately contracted armed security personnel on board ships, which is aimed at gathering information on current requirements.
'The circulars provide interim guidance and recommendations to be taken into account when considering the use of PCASP if and when a flag State determines that such a measure would be lawful and, following a full risk assessment, appropriate. 'As stated in the circulars, the interim guidance and recommendations "are not intended to endorse or institutionalize" the use of armed guards. Therefore, they do not represent any fundamental change of policy by the Organization in this regard. It is for each flag State, individually, to decide whether or not PCASP should be authorized for use on board ships flying their flag. If a flag State decides to permit this practice, it is up to that State to determine the conditions under which authorization will be granted. 'The use of PCASP should not be considered as an alternative to Best Management Practices (BMP) and other protective measures. BMP4 has recently been issued by the shipping industry and will shortly be disseminated by IMO (as MSC.1/Circ.1339).' The IMO statement comes shortly after Egypt banned the passage of vessels carrying armed guards on board while using the Suez Canal. A number of other states bordering the Indian Ocean area frequented by Somali pirates actively discourages the carrying of weapons on ships in their territories and ports.
Several security companies specialising in providing armed guards for ships travelling in the Somali Basin have welcomed the IMO's move calling it active encouragement to member states to permit the transit of armed ships and guards.
News continues below...

CRUISE NEWS: SAGA COMING THIS WAY IN 2012/13
Saga to revisit South and West Africa next summer

Astoria, to be renamed Quest for Adventure in the first quarter of 2012
Saga, the British cruise company that caters for the over 50s, has announced that two of its ships will visit South and West Africa during the summer (southern hemisphere) months of 2012/13.
The first of these cruises will be with Saga's latest ship, QUEST FOR ADVENTURE (19,000-gt, built 1980), which will enter service with the British company around March/April 2012. Saga will operate a fly/cruise from Manaus in Brazil to Tema in Ghana during the month of February 2013. That cruise will be followed by a 15-night fly/cruise from Tema to Cape Town, with port visits at Lome, Cotonou, Sao Tome, Luanda, Walvis Bay and Luderitz,
Quest for Adventure follows this up with a 16-night fly/cruise from Cape Town to Beira, calling at Mossel Bay, Port Elizabeth, East London, Durban, Richards Bay, and Maputo en route.
From Beira the ship retraces her way back to Cape Town, making the same port calls only in reverse, then heading back to Tema in Ghana with again the same port calls in reverse order.
On 15 March 2013 Quest for Adventure sets sail from Tema to Funchal in the Canary Islands, with port visits at Takoradi, Freetown, Banjul and Dakar along the way as well as two calls in the Canary Islands and two in Madeira – the last being at Funchal from where passengers will fly home.
Quest for Adventure is currently named ASTORIA, the ship that was once owned by Safmarine and which is a near sister ship to ASTOR.
Saga's second ship to come visiting this way is the lovely SAGA RUBY (24,300-gt, the former Vistafjord and Caronia) which will call in southern Africa during 2013 while on her world cruise. The ship is circumnavigating in a westly direction and will call in Cape Town, Walvis Bay and then on to the West African ports of Sao Tome, Lome, Takoradi and Freetown. The cruise ends in Southampton.

Lady Butlers for MSC
MSC Cruises has hired the first women butlers for its MSC Yacht Club staff. Fully trained and impeccably attired in traditional livery, their introduction has delighted guests and proven a tremendous success, the cruise line said in a prepared statement.
One of the butlers is thirty-five-year-old Larysa Fedoruk, described as a perfect example of the modern woman who is bringing a feminine touch to this demanding role - and bringing a multitude of skills with her. Fluent in English, German, Italian and Russian, she trained as a dancer, which is what first took her to sea, working in one of the world-class troupes performing on MSC's ships.
Enchanted by the experience, she formed the ambition to become one of the company's first woman butlers, and - with a dancer's grit and determination - passed the rigorous selection procedure and training programme with flying colours.
"I've always loved the challenge of providing close personal service in so many different areas, from room and valet services to arranging custom excursions and assisting at the buffet and bar," she says. "And I really appreciate how MSC enables all its people to achieve their full potential."

Norwegian Cruise Line names new ships
Following an extensive naming competition which attracted a phenomenal 230,000 entries, mostly in the United States, Norwegian Cruise Line has announced that its two latest ships will be named NORWEGIAN BREAKAWAY and NORWEGIAN GETAWAY.
The naming competition was sponsored by the Miami-based cruise company and by USA Today. The two people who successfully named each ship will each receive a cruise for two to the inaugural festivities for Norwegian Breakaway, which will be launched in April 2013.
Norwegian Getaway launches a year later.
News continues below…

ICTSI CREATES CAPE TOWN UNIT TO MANAGE AFRICAN ASSETS
International Container Terminal Services Inc (ICTSI) announced last week that it has established a unit in Cape Town to develop and manage its port and terminal assets in Africa.
In making its disclosure to the Philippine Stock Exchange ICTSI said the move was designed to strengthen its globally diverse presence.
ICTSO currently operates 23 terminal operating concessions and development projects in 17 countries. Six of the operating concessions are in the Philippines, and there are one each in Indonesia, Brunei, Japan, China, the US, Ecuador, Brazil, Croatia, Poland, Georgia, Syria and Madagascar.
The Madagascar concession is ICTSI's wholly-owned subsidiary Madagascar International Container Terminal Services which it operates in the Port of Toamasina. The port operator posted a net income of US$61.1 million in the first six months of 2011, up 47 percent from the $41.6 million in the same period last year.
News continues below…

PICS OF THE DAY – PALAU and THOR WAVE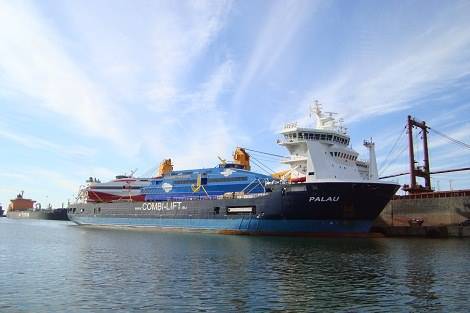 The Danish-owned Combi Lift dry cargo vessel PALAU (11,473-gt, built 2010) photographed in Cape Town harbour at the weekend, loaded with two large ferries as deck cargo. Palau which was launched last year is a sister ship to PALABORA, PALEMBANG and PALMERTON. Picture by Robert Ravensberg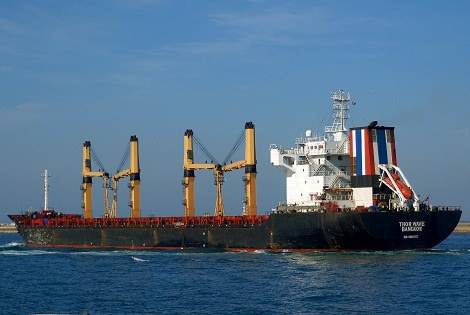 The Thai bulker THOR WAVE (39,042-dwt, built 1998) sailing from Durban harbour this week. Picture by Trevor Jones
Don't forget to send us your news and press releases for inclusion in the News Bulletins. Shipping related pictures submitted by readers are always welcome – please email to info@ports.co.za
Did you know that Ports & Ships lists ship movements for all southern African ports between Walvis Bay on the West Coast and Mombasa on the East Coast?
TABLE BAY UNDERWAY SHIPPING
SHIP PHOTOGRAPHERS
Colour photographs and slides for sale of a variety of ships.

Thousands of items listed featuring famous passenger liners of the past to cruise ships of today, freighters, container vessels, tankers, bulkers, naval and research vessels.
P O BOX 809, CAPE TOWN, 8000, SOUTH AFRICA
snai@worldonline.co.za
http://home.worldonline.co.za/~snai
South Africa's most comprehensive Directory of Maritime Services is now listed on this site. Please check if your company is included. To sign up for a free listing contact info@ports.co.za or register online
Looking for help? Try our MARITIME SERVICES DIRECTORY CLICK HERE