Ports & Ships Maritime News
Jan 24, 2011
Author: Terry Hutson
Improve your branding with your banner on this site by tapping into our large readership - contact info@ports.co.za
TODAY'S BULLETIN OF MARITIME NEWS
Click on headline to go direct to story – use the BACK key to return
SEND NEWS REPORTS AND PRESS RELEASES TO info@ports.co.za
Looking for help? Try our MARITIME SERVICES DIRECTORY CLICK HERE
First View – NGAHUE and IVS KWELA
The Wellington, Centreport tug NGAHUE on charter to the port of Lyttelton, takes charge of berthing Island View Shipping's (IVS) bulker IVS KWELA in Lyttelton harbour, New Zealand. The Lyttelton tugs were undergoing surveys at the time. Picture by Alan Calvert
News continues below...

Zuma looks to AU to solve Cote d'Ivoire crisis
Pretoria - President Jacob Zuma has pinned his hopes on the upcoming African Union meeting in Ethiopia next week to defuse the unfolding political crisis in Cote d'Ivoire.
Political rivals Laurent Gbagbo and Alassane Ouattara have been at loggerheads since a disputed second round presidential election in Cote d'Ivoire in November last year, bringing that country to a virtual standstill.
Both the UN and AU have since come out in support of Outtara, who is widely believed to have won the poll.
On Friday Zuma said he was hoping a solution would be found soon. He called on the AU to discuss the matter with both leaders.
"We are hoping that the AU will be able to resolve the matter and convince the parties ... our view is that we need to do something to help the situation and don't demand that one leader should go," Zuma said.
He was speaking following his meeting with Ugandan President Yoweri Museveni, who is on a two-day state visit to South Africa.
Zuma broke his silence on the Cote d'Ivoire electoral system, questioning why two leaders were declared winners in the first place. "I am saying that there have been discrepancies in the system and the manner [in which] the issue was handled," he said.
But both Zuma and Museveni agreed that a political solution similar to that of South Sudan was needed to bring about political stability in Cote d'Ivoire.
Pretoria would further support any recommendation of the AU to prevent any outbreak of violence in resolving the standoff between Gbagbo and Ouattara.
South Africa and Uganda have, meanwhile, signed several agreements in the area of agriculture, public works and infrastructure, social development and energy.
Zuma said the agreements on social development would enable the two countries to collaborate in areas such as HIV and Aids, highlighting home-based care and prevention.
"This agreement, which will elaborate additional areas of cooperation, is envisaged to step up the fight against HIV and Aids in both countries." Uganda is said to be among the few African countries which have had considerable success in dealing with HIV and Aids.
The memorandum of understanding on public works and infrastructure development includes cooperation on research and exchange programmes for built environment, professionals such as artisans, architects and engineers.
South African exports to Uganda amounted to R1.2 billion and imports from Uganda to R155 million in 2009.
South Africa's commercial footprint in Uganda includes the country's leading telecommunications company, MTN Uganda, retail firms Shoprite and Game Stores and Stanbic Bank Uganda, a subsidiary of Standard. – BuaNews
News continues below…

DHL launches direct LCL service between India and South Africa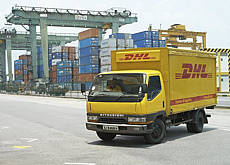 Singapore, 20 January: DHL, the world's leading logistics company, has announced the launch of a new direct Less than Container Load (LCL) service from Nhava Sheva, Mumbai in India to Durban.
Operated by Danmar Lines, DHL's in-house carrier, the new service will facilitate trade between India and South Africa and offers customers reliable, quick and cost-effective services between the two ports.
With trade between India and Africa having risen almost four-fold in the last five years, from US$9.9 billion in 2004-05 to US$39 billion in 2008-09, DHL Global Forwarding says it sees vast potential in the India-South Africa trade lane.
Christoph Remund, Chief Executive Officer, DHL Global Forwarding India, said that the launch of the direct India to Durban LCL service reflects DHL's commitment to customers who have increasing business activities in both markets.
"The company has allocated significant resources to facilitate growth in the India-Africa trade lane by setting up dedicated India Desks in ten African countries to help businesses there, with plans to establish additional Desks this year," he said.
DHL says Africa is emerging as a key market, with freight volumes between India and Africa expected to grow significantly in the coming years.
"With expertise in several key sectors, including oil and gas, telecommunications and IT, we are well-positioned to leverage our capabilities in Africa and further increase our LCL volumes this year," said Clas Thorell, Head of LCL Management Asia Pacific, DHL Global Forwarding.
Sanjay Tejwani, Director – Ocean Freight, DHL Global Forwarding India, said, "This new service will benefit customers with direct connectivity between Africa and India, especially the small and medium enterprises which are increasingly turning to ocean freight for greater cost efficiencies. We are optimistic about the growth potential of this business supported by the strong intermodal network across Africa."
To reinforce focus on this important sector, DHL Global Forwarding has recently appointed Joseph Oguta as Head of LCL for Africa, based in Kenya. Mr. Oguta's appointment will provide a strong thrust to enhance the company's competitive edge in the fast-changing global business environment.
DHL operates the world's largest LCL network with close to 2,000,000 cubic metres of LCL freight handled annually via 45,000 point pairs within the DHL in-house system. As a global leader in LCL, DHL offers unrivalled coverage with more than 400 weekly point pairs from 11 South Asia Terminals sailing to 38 destination terminals in Emerging Markets.
News continues below...

HMAS MELBOURNE's final anti-piracy act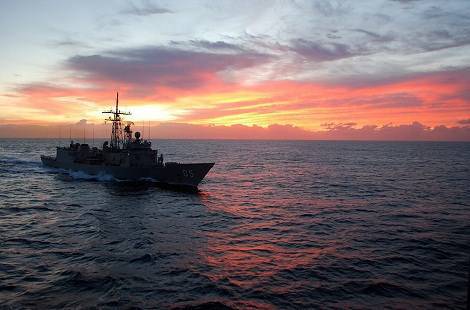 HMAS Melbourne. Picture Australian Navy
By Paul Ridgway Correspondent, London On her final day assigned to operations in the Middle East, the Royal Australian Navy frigate HMAS Melbourne continued her important work of securing vital sea lanes of communication.
Hours before handing over the maritime security task in the Middle East Area of Operations to HMAS Stuart, HMAS Melbourne was called upon to assist a merchant vessel in distress. On 18th January MV Tide reported that she was being harassed by a pirate mothership and two skiffs. The merchant vessel requested immediate assistance. HMAS Melbourne responded and altered her course to steam to the aid of MV Tide, simultaneously sending her Sea Hawk helicopter ahead to investigate the situation.
Fortunately, MV Tide was able to conduct evasive manoeuvres and escape the pirates within about an hour of her initial distress call. The merchant vessel's actions successfully negated the pirate attack, allowing HMAS Melbourne and her helicopter to return to patrolling duties without further incident for her last few hours serving in support of Operation SLIPPER.
HMAS Melbourne has successfully completed a six-month operational deployment to the Middle East marked by involvement in maritime security and counter-piracy operations, and international engagement with countries such as Yemen, Jordan and Pakistan. The frigate Melbourne was the first of the recently upgraded Adelaide Class warships to undertake an operational deployment and was relieved by HMAS Stuart in a hand-over ceremony on 19 January 2011. Melbourne had 238 men and women embarked for the deployment.
Commanding Officer HMAS Melbourne Commander Michael Harris said the ship's company had performed exceptionally well during the deployment and were employed in a range of tasks that included maritime security and counter-piracy as part of combined maritime force operations. Melbourne's support in disrupting an earlier pirate attack on the MV CPO China received widespread recognition and praise.
Commander Australian Forces in the Middle East, Major-General Angus Campbell said the crew and Commander of HMAS Melbourne should take pride in directly contributing to security in the Middle East and the safe passage of maritime trade in the Indian Ocean. He commented, "You have very positively enhanced Australia's reputation in the region. As HMAS Melbourne heads home for a well-earned rest, know that you have directly contributed to the mission in the Middle East and have made a positive impression on its people. Thank you for your efforts."
Melbourne was the 24th rotation of Royal Australian Navy fleet units to the region since operations commenced in the Middle East in 2001. HMAS Stuart will be conducting her fourth rotation to the Gulf since operations began. The ship has a complement of approximately 190 men and women.
News continues below…

Port news – unusual cargo for Durban
Helicopter shipped to Brazil

Sikorsky S61N prior to loading onto THOR GALAXY – picture PLM
As the port of Durban anticipated the arrival this past weekend of Transnet Freight Rail's first class 43 diesel-electric locomotives, imported fully built from Pennsylvania in the United States, another unusual piece of cargo was going in the opposite direction.
This consisted of a Sikorsky S61N helicopter, which was being shipped to Brazil on the vessel THOR GALAXY, which was loading at Durban's City Terminal.
The helicopter arrived in style from Durban's Virginia Airport, having flown the short distance. Permission was arranged by the logistics manager for the project, Project Logistics Management (PLM) for the aircraft to land on the hard at B Shed – the area is still called a 'shed' in Durban parlance even though many of the sheds have long since gone.
Once safely on the ground and with the rotor blades removed by Des Smith Rigging and secured within the large aircraft, the helicopter was then towed by a truck to alongside the ship and lifted on board for shipment to Brazil.
The entire project was overseen by PLM while Safcor Panalpina acted as the forwarding agent.

Maputo bans heavy trucks from non-port roads
According to the Portuguese language Maputo newspaper, Noticias, a by-law has been introduced by the Maputo City Council to the effect that from 1 February this year heavy trucks will be banned from municipal roads during hours from 06h00 to 20h00 daily.
Maputo's City Councillor for Transport and Traffic, Joao Matlombe explained that the by-law applied to all vehicles with a gross weight of more the 22 tonnes.
The only exception is for trucks entering or leaving Maputo port, and these must follow a route laid down by the council, he said.
Matlombe said that the new by-law was necessary to reduce congestion on the city's streets. In the first phase the council will seek to inform truck drivers and owners of the new rule, before cracking down on anyone who disregards it, he said.
Truck drivers who break the new by-law will be fined 10,000 meticais (about US$308) which must be paid on the spot.
The spot fining aspect leaves the application of the law open to bribery, already rampant within Mozambique.
Piracy: South Korea recaptures SAMHO JEWELRY in bloody battle
Opinion is divided over the retaking of the chemical tanker SAMHO JEWELRY (16,609-dwt) by South Korean troops.
The tanker which was initially seized by Somali pirates on 15 January this year was re-captured by Korean special naval forces on Friday, 21 January.
"Our special forces stormed the hijacked Samho Jewelry earlier today and freed all hostages," said Lee Bung-woo, a spokesman at South Korea's Joint Chiefs of Staff, Yonhap reported.
"During the operation, our forces killed some Somali pirates and all of the hostages were confirmed alive," he said.
The action took place on the high seas about 800 n.miles off the northeast coast of Somalia. During the action the South Korean master of the ship was shot in his stomach but his condition is not regarded as life threatening. It is not yet known how he was shot.
While the International Maritime Bureau (IMB) immediately praised the action of the South Korean navy in retaking the ship, other analysts were more guarded and consider this to be a dangerous precedent that may have serious consequences for other hostages.
"The IMB commends the robust actions of the South Korean navy and renews its call for greater naval action in the fight against this brand of maritime crime," Potengal Mukundan, director of the IMB is reported to have said.
Injured seafarer casualty evacuated off ship near Cape Town
An injured Korean seaman has been successfully evacuated off a ship at sea off Cape Town by members of the National Sea Rescue Institute (NSRI).
Paula Leech, NSRI Table Bay station commander, reports:
"At 11h37 (on Sunday, 23 January) NSRI Table Bay volunteers and Metro EMS rescue paramedics were activated by the Transnet National Ports Authority to carry out the medical evacuation (to hospital) of a 25 year old Korean sailor from the car carrier MORNING COMPOSER 12 nautical miles North West of Table Bay's port.
"The sailor had reportedly fallen approximately 2 stories on the ship yesterday sustaining head and chest injuries while en-route from Lagos to Durban.
"NSRI Table Bay launched our rescue craft Spirit of Vodacom, accompanied by Metro EMS rescue paramedics, and on arrival on-scene, in calm seas, a Metro EMS rescue paramedic and an NSRI volunteer were put aboard the ship and the patient was secured onto a spinal board and a stokes basket stretcher, and the patient was transferred onto our sea rescue craft and brought into port where he has been transported to hospital by a Metro EMS ambulance in a stable condition.
"It is not known to the NSRI what caused the sailor to fall."
Pics of the Day – MOL DIAMOND
Mitsui OSK Line's container ships MOL DIAMOND (42,110-gt, built 2010) making her maiden visit to Cape Town and South Africa. The container ship entered service on 7 June 2010. Pictures by Ian Shiffman
Don't forget to send us your news and press releases for inclusion in the News Bulletins. Shipping related pictures submitted by readers are always welcome – please email to info@ports.co.za
Did you know that Ports & Ships lists ship movements for all southern African ports between Walvis Bay on the West Coast and Mombasa on the East Coast?
TABLE BAY UNDERWAY SHIPPING
SHIP PHOTOGRAPHERS
Colour photographs and slides for sale of a variety of ships.

Thousands of items listed featuring famous passenger liners of the past to cruise ships of today, freighters, container vessels, tankers, bulkers, naval and research vessels.
P O BOX 809, CAPE TOWN, 8000, SOUTH AFRICA
snai@worldonline.co.za
http://home.worldonline.co.za/~snai
South Africa's most comprehensive Directory of Maritime Services is now listed on this site. Please check if your company is included. To sign up for a free listing contact info@ports.co.za or register online
Shipping, freight, trade and transport related news of interest for Africa