Ports & Ships Maritime News
December 8, 2010
Author: Terry Hutson
Shipping, freight, trade and transport related news of interest for Africa
Want to advertise on the website using your Banner? - contact info@ports.co.za
SEND NEWS REPORTS AND PRESS RELEASES TO info@ports.co.za
TODAY'S BULLETIN OF MARITIME NEWS
Click on headline to go direct to story – use the BACK key to return
Looking for help? Try our MARITIME SERVICES DIRECTORY CLICK HERE
First View – ERNEST SHACKLETON
The British research vessel ERNEST SHACKLETON (4,028-gt, built 1995) in Cape Town harbour. Picture by Ian Shiffman
News continues below...

Port Statistics for November 2010 are now available
South African port statistics for the month of November 2010 are now to hand, courtesy Transnet. They reveal that South African ports have just experienced one of the busiest months, if not the busiest ever, with over 25 million tonnes of cargo handled.
The reasons for this spike include excellent exports through the port of Richards Bay (we unfortunately don't have figures for coal exports from RBCT for November but expect that these will be high for the second month in succession – in October RBCT handled 7.381 million tonnes, its highest ever), a record number of containers handled at the Durban Container Terminals (266,549-TEU of which 204,543-TEU were full boxes) and a high volume of bulk handled at the iron ore export terminal in Saldanha.
Durban also handled a goodly volume of bulk cargo (mostly imports) to give the port a total of 8.483 million tonnes for the month, practically the same figure as that for Richards Bay.
Offsetting these impressive figures however, the port of Ngqura recorded a poor month, handling 28,742-TEU, of which 19,759-TEU were full boxes, the rest empties. The adjacent container terminal at Port Elizabeth recorded a total of 35,435-TEU (22,648-TEU full) and an overall 1.23 million tonnes of cargo. If one combines the two then the twin Algoa Bay harbours had a fairly good month.
Transnet says it is pleased with the results at Ngqura – considering the huge expenditure so far – over R10 billion and a further R7 billion to come), it should be worried. After more than a year of business these results are really not good and any privately owned port and terminal would be facing strong questions from its shareholders.
In Durban for reasons that don't appear clear, the two container terminals were combined into a single management and operation, despite each employing different operating systems and supposedly being able to compete with each other. Perhaps the time has come when Ngqura and Port Elizabeth should be similarly combined as a single port operation in two locations – at least the figures would begin to look respectable.
As is customary the figures shown in this report reflect an adjustment on the overall tonnage to include containers by weight – an adjustment necessary because Transnet NPA measures containers in terms of the number of TEUs and no longer by weight - for which PORTS & SHIPS estimates an adjustment of 13,5 tonnes per TEU to reflect tonnages. This figure remains on the conservative side with 14 tonnes or even more perhaps being a more realistic figure, particularly in view of the increasing quantity of bulk cargo which is now being handled in containers. Were we to use this the actual tonnages achieved would be considerably higher.
For comparative purposes readers can see statistics from 12 months ago by clicking HERE for November 2009 figures.
Use your BACK button to return to this page.

Port of Ngqura – container figures not justifying the cost

Figures for the respective ports during November 2010 are (with October 2010 figures shown bracketed):
Cargo handled by tonnes during November 2010


| | | |
| --- | --- | --- |
| PORT | Nov 2010 mt | Oct 2010 mt |
| Richards Bay | 8,484 | 9,560 |
| Durban | 8,483 | 6,340 |
| Saldanha Bay | 5,117 | 4,729 |
| Cape Town | 1,134 | 1,028 |
| Port Elizabeth | 1,230 | 1,092 |
| Ngqura | 0,388 | 0,656 |
| Mossel Bay | 0,119 | 0.184 |
| East London | 0,265 | 0,172 |
| | | |
| TOTAL all ports | 25,218 mt | 23,757 mt |
Containers (measured by TEUs) during November 2010 (TEUs include Deepsea, Coastal, Tranship and empty containers all subject to being invoiced by NPA


| | | |
| --- | --- | --- |
| PORT | Nov 2010 TEU | Oct 2010 TEU |
| Durban | 266,549 | 211,031 |
| Cape Town | 61,393 | 54,037 |
| Port Elizabeth | 35,435 | 26,558 |
| Ngqura | 28,742 | 48,609 |
| East London | 7,340 | 4,190 |
| Richards Bay | 4,872 | 1,754 |
| | | |
| TOTAL all ports | 404,331 TEU | 346,179 TEU |
Ship Calls for November 2010


| | | | | |
| --- | --- | --- | --- | --- |
| PORT | Nov 2010 vessels | Gross Tons | Oct 2010 vessels | Gross Tons |
| Durban | 369 | 10,146,182 | 456 | 11,978,000 |
| Richards Bay | 162 | 5,341,689 | 166 | 5,810,000 |
| Cape Town | 203 | 4,421,947 | 209 | 4,913,000 |
| Port Elizabeth | 93 | 2.044,407 | 107 | 2,398,000 |
| Ngqura | 28 | 1,261,211 | 33 | 1.410,000 |
| Saldanha Bay | 46 | 3,153,198 | 41 | 2,729,000 |
| East London | 28 | 647,917 | 22 | 0,566,000 |
| Mossel Bay | 44 | 194,058 | 127 | 0.226,000 |
| | | | | |
| TOTAL all ports | 945 ships | 25,949,398 gt | 1128 ships | 27,901,000 gt |
- source TNPA, but with adjustments made by Ports & Ships to include container tonnages
News continues below…

Piracy: Indian Navy reacts to pirate presence with multi-ship deployment
A multi ship force of the Indian Navy has been tasked to undertake a comprehensive search in the Eastern parts of the Arabian Sea to locate and disable probable pirate (mother) vessels and skiffs, reported India Defence.com.
The report continues: Between 24 and 29 November 2010 a sudden spurt of piracy attempts were reported in the eastern part of Arabian Sea at distances of 350-700 nautical miles from the West Coast of India. Reports were also received about MT POLAR, a Panama flagged tanker hijacked on 30 October 2010, being in the area and acting as a possible mother ship. In a swift step of affirmative action the Indian Navy despatched its force to the area to search and locate pirate mother vessels/dhows/skiffs and carry out a thorough anti piracy sanitization of the area. The Indian Naval Force consists of ships, armed helicopters, MARCOS team and Maritime Patrol Aircraft.
The efforts of the Indian Navy yielded immediate results as MT Polar had cleared the area in the eastern Arabian Sea by 30 November and was heading back towards Somalia at best speed. Even as the movement of MT Polar is being monitored, Indian Naval Ships are combing the area for other possible mother vessels/skiffs.
It is appreciated that the threat of piracy in the area which has witnessed recent attacks has considerably decreased due to this development. The Indian Navy and Director General Shipping of India are continuing to monitor the situation and issue advisories for all ships regarding piracy prone areas and implement Best Management Practices in these areas. Protection of the Sea Lanes of Communication remains a priority of the Government of India and the Indian Navy.
It may be recalled that in response to increasing incidents of piracy in the Gulf of Aden, the Indian Navy commenced anti-piracy patrols in the Gulf of Aden in October 2008. Since then the Indian Navy has continuously maintained one ship on patrol in the region with 23 Indian Navy ships having been deputed for this tour of duty. These IN ships have ensured safe passage of 1415 merchantmen, of various nationalities, across the pirate infested waters in the Gulf of Aden. Not a single ship under escort of the Indian Navy has been hijacked to date.
Indian Navy ships have so far successfully thwarted 23 piracy attempts. The most recent being INS Delhi disrupting four piracy attempts in the Gulf of Aden in September and INS Rajput disrupting three piracy attempts in the Gulf of Aden in October. The Indian Navy also provided assistance to sanitise MV BBC Orinoco which came under pirate attack about 450 nm West of Mumbai in 11 November.

The above somewhat self-congratulatory article appeared in 'India Defence' a few days ago, shortly before Somali pirates launched three consecutive attacks on a Bangladeshi ship, JAHAN MONI which they finally captured at the weekend (see yesterday's News Bulletin report HERE. The 44,000-dwt ship was within 300 n.miles of the Indian coast when seized, and is now en route to Somalia more than 1300 miles away.
The object of us retelling the story here is not about the story of not counting your chickens before they're hatched, although that might well apply for the author of this report, but a plea that we all give Somali pirates a bit more respect that has been the case. These modern-day buccaneers are resolute seafarers, unafraid of venturing out far from any land in small open boats, staying at sea for weeks at a time and still having the audacity to take on any size or shape of ship, from supertankers of 300,000 tons to those bristling with guns and painted grey in unmistakable warship style.

Spanish warship aids Yemeni dhow

Marines from the Spanish warship SPS Infanta Cristina and the dhow
The European Union naval force operating on piracy patrol off the coast of Somalia reports that the Spanish ship SPS INFANTA CRISTINA, which is attached to the EU NAVFOR task forces, has given assistance to fishermen at sea who were at first suspected of being pirates.
On 2 December, SPS INFANTA CRISTINA located a drifting dhow towing a small skiff in the Internationally Recommended Transit Corridor (IRTC) in the Gulf of Aden.
The Spanish warship decided to send her boarding team to further investigate the situation. No piracy paraphernalia was found onboard and the crew of the Yemeni-flagged dhow explained to the boarding team that they had some mechanical problems. Sailors from the SPS Infanta Cristina eventually solved the problem with some oil and tools from the ship.
Before leaving, the EUNAVFOR sailors also provided the Yemeni dhow with enough food and water for their transit back to Yemen.
News continues below...

Turners Shipping joins BDP network
Durban-based Turners Shipping joined the BDP Global Network on 1 December 1, and will be representing the logistics giant in Southern Africa.
Turner Group MD Conrad Cochrane-Murray said that membership of the network would be a great step forward for the country because it extends its reach to the 1,000 locations in 100 countries around the world where the BDP Global Network is represented. BDP is strong in the East, particularly in China.
Tom Frear, director of BDP Global Network Services, said that BDP had placed great importance on their choice of South African partner due to the fact that the country has the most sophisticated economy on the continent and that it functions as the effective gateway to much of the sub-Saharan region.
Cochrane-Murray commented that the new alliance would not produce any disruption to the service provided for existing Turners Shipping clients but that, to the contrary, the knock-on benefits to them would be substantial. Most important was the organisation's global representation to help ensure the smooth flow of cargo from South Africa to their overseas destinations.
BDP's Smart information system will provide another great benefit to Turners Shipping clients who will be proactively notified about the progress of their shipments in real- time. The system provides instant feedback to clients, and this complements the Cargowise system being implemented by Turners, which performs a similar function, once incoming shipments reach South African shores.
Frear noted that there has been a great deal of consolidation in the logistics industry, particularly as a result of the recent recession, and that the surviving mega- forwarders had become so large that they were less nimble and concerned with each individual client. He said that BDP is in an ideal position to compete on a global basis because it remains small enough to look after each client, but has the muscle to negotiate extremely favourable shipping rates with the major carriers.
News continues below…

New flag appointments at the navy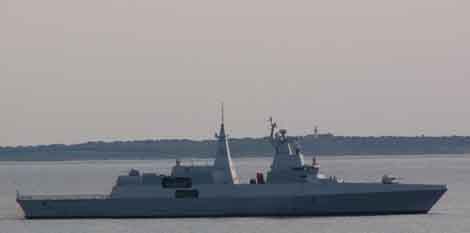 SAS MENDI on patrol off Cape Town. Picture by Aad Noorland
A significant number of appointments have been made involving senior flag officers in the South African Navy. The appointments take effect between November 2010 and January 2011.
Rear Admiral Phillip Schoultz is now in command of the operational navy as Flag Officer Fleet.
He has succeeded R Adm Robert 'Rusty' Higgs who moves to Naval Headquarters as Chief of Naval Staff in place of R Adm George Mphafi. Adm Mphafi goes to Joint Operations Division as Chief Director Operations Development.
Other flag appointments include:
R Adm Jacobus Visser moves to the Defence Materiel Division as Director Technology Development. R Adm (Jg) John Barker becomes Defence Attache in France and R Adm Edward Ratala goes to Naval Headquarters as IG Navy in place of R Adm (Jg) Barker.
A number of other appointments and promotions have been announced and are published in the current edition of Navy News.
Chauncy Maples wins award for Thomas Miller

Chauncy Maples as she appears today at Monkey Bay, Lake Malawi
Remember the story about the CHAUNCY MAPLES? On 17 June this year we reported how a British insurance company, Thomas Miller had elected to celebrate its 125th anniversary by becoming the lead sponsor of the Chauncy Maples Malawi Trust, which sought to refurbish one of the original lake steamers on Lake Malawi, the Chauncy Maples.
The refurbished ship would become a floating clinic on the lake, providing health care to thousands of people along the huge shoreline of one of Africa's largest lakes. You can see that report HERE. Now comes news that Thomas Miller has won a prestigious award because of its efforts with the lake steamer. At a sparkling event held in London on 2 December, the publication Insurance Day announced the winners of its London Markets Awards for 2010. Thomas Miller, the London-based specialist insurance company, was on hand to accept the Corporate Social Responsibility Award, which was presented to Hugo Wynn-Williams, chairman of Thomas Miller, by Richard Banks, the editor of Insurance Day.
Thomas Miller won the award for its highly original decision to celebrate its 125th anniversary by becoming the lead sponsor of the Chauncy Maples Malawi Trust, a UK charity which is renovating the 19th century ship Chauncy Maples as a clinic to provide essential medical services to the lakeside people of Malawi. Thomas Miller has already succeeded in raising more than half of the £2 million sum it set as its target just six months ago.
More information on Chauncy Maples can also be found on the website 125 Years – Chauncy Maples and Mr Wynn-Williams stresses that it is still not too late to contribute to this worthy cause.
Speaking to guests at the awards evening, Mark Holford of Thomas Miller explained how the funds raised thus far were already being put to good use:
"Work has commenced in Malawi in stripping out the ship in preparation for major hull work and our next step is to persuade the world's maritime manufacturers to donate the £800,000 worth of parts necessary for the renovation work.
"Eighty-five per cent of the £1 million raised so far has come from Thomas Miller, which donated £250,000, and its business community. Sixteen donors have given at least £25,000 each to become Founders of the project, including five of Thomas Miller's transport clubs: UK P&I Club, UK Defence Club, TT Club, Hellenic War Risks and ITIC."
"We were also delighted to see another Founder, Miller Insurance Services, pick up two awards at the Insurance Day evening. This leading broker is taking a 'charity' slip around Lloyd's and other London underwriters and this has produced £65,000 so far. In all the industry has produced more than £250,000 and we believe that there is more to come," said Holford.
Three UK law firms have also become Founders: Ince, Holman Fenwick Willan and Reed Smith, which considers Thomas Miller to be its oldest client. American law firms have also been significant donors, led by New York law firm Blank Rome.
A Durban firm of naval architects, Naval Africa has been involved in preparing drawings of the refurbished ship.

Hugo Wynn-Williams, chairman of Thomas Miller, who was presented with Insurance Day's Corporate Social Responsibility Award by the publication's editor Richard Banks.
News continues below…

Pics of the Day – SANKO DOLPHIN
Two views of the Singapore-owned and operated offshore supply tug SANKO DOLPHIN (2,679-gt, built 2005) undergoing a maintenance refit in the Robinson Dock at the V&A Waterfront in Cape Town. Pictures by Steve McCurrach www.airserve.co.za
Don't forget to send us your news and press releases for inclusion in the News Bulletins. Shipping related pictures submitted by readers are always welcome – please email to info@ports.co.za
Did you know that Ports & Ships lists ship movements for all southern African ports between Walvis Bay on the West Coast and Mombasa on the East Coast?
TABLE BAY UNDERWAY SHIPPING
SHIP PHOTOGRAPHERS
Colour photographs and slides for sale of a variety of ships.

Thousands of items listed featuring famous passenger liners of the past to cruise ships of today, freighters, container vessels, tankers, bulkers, naval and research vessels.
P O BOX 809, CAPE TOWN, 8000, SOUTH AFRICA
snai@worldonline.co.za
http://home.worldonline.co.za/~snai
South Africa's most comprehensive Directory of Maritime Services is now listed on this site. Please check if your company is included. To sign up for a free listing contact info@ports.co.za or register online
PROVIDING INFORMATION TO THE MARITIME INDUSTRY