Ports & Ships Maritime News
September 15, 2010
Author: Terry Hutson
Shipping, freight, trade and transport related news of interest for Africa
Want to advertise on the website using your Banner? - contact info@ports.co.za
SEND NEWS REPORTS AND PRESS RELEASES TO info@ports.co.za
TODAY'S BULLETIN OF MARITIME NEWS
Click on headline to go direct to story – use the BACK key to return
Looking for help? Try our MARITIME SERVICES DIRECTORY CLICK HERE
First View – AOG MARLIN
The chemical products tanker AOG MARLIN (83,870-dwt, built 1987) which was in Cape Town earlier this month, loading bunkers at the E Mole. Picture by Aad Noorland
News continues below...

Transnet looks to private sector to operate branch lines
Pretoria, 14 September - Transport parastatal Transnet said yesterday (Tuesday) that it is moving into the second phase of including the private sector in its operations. This would be by way of opening an Expressions of Interest (EOI) period for all companies interested in its branch line operations.
The EOI (which is a non-binding and not pre-qualifying process) is an opportunity for interested parties to get specific information about each branch line opportunity from Transnet.
By the end of June, Transnet had received 115 registrations of interest from its first phase. This was a market-testing exercise to determine levels of interest in this initiative. Respondents to the initiative included JSE-listed logistics and transport companies.
"We are heartened by the positive response from industry players. We look forward to a fruitful partnership as we endeavour to introduce entrepreneurship in this industry, which we believe will unlock the economic potential of these lines," said the parastatal's acting Group Chief Executive, Chris Wells.
At stake are 7,278 km of branch lines, representing 35 percent of the total 20,953-km rail network. At present, 3,928 km of the branch lines are operational, with the remainder being closed. All of these are feeder lines into the core network, which is owned and operated by Transnet through its rail freight division, Transnet Freight Rail.
Consultations with all relevant stakeholders - including organised labour, National Treasury and the Department of Transport - were held following board and shareholder approval to begin the process of concessioning both the active and inactive branch lines.
The EOI is also a chance for Transnet to receive feedback from interested parties on proposed terms and conditions under which branch lines may be offered in the subsequent competitive Request for Proposals.
"Transnet understands that the private sector may have different approaches to branch lines operations. Through this process, we aim to share ideas on what it might take to make these lines viable for private operators. We are committed to thoroughly explore opportunities to revitalise these lines and engage further with all relevant stakeholders, including government, to find optimal solutions," said Wells.
News continues below…

Piracy: Belgian dredger attacked off Port of Douala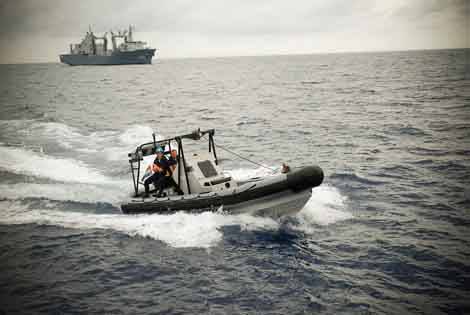 HNLMS Amsterdam in the background
Two crew members on the Belgian trailing suction dredger AMERIGO VESPUCCI (4,730-dwt, built 1985) were taken hostage by armed pirates off the port of Douala in Cameroon earlier this week.
According to the dredger company Jan de Nul, the two crew members who were seized came from the Philippines and from Croatia. They said no ransom demand had yet been made. The attack took place on Sunday night.
The dredger is engaged in contract work on the approaches to the Cameroon port and has been maintaining and deepening the channel since June 2009.
The waters of Cameroon are gradually becoming another 'hot spot' of gang and pirate activity – the Gulf of Guinea accounts for 8.6% of worldwide activity so far in 2010, according to IMB statistics.

Over on the opposite side of the continent, the Horn of Africa remains the world's top pirate hot spot, if one wishes to call it that. And now with the ending of the monsoon and improving weather and sea conditions, shipping has to brace itself for increased attacks by pirate groups operating from small open skiffs, sometimes as far from the African coast as 1,000 nautical miles.
The seas around the Seychelles are already classified as dangerous and require extra vigilance while pirates have already been seen operating and capturing ships close to the Indian coast.
During the past weekend the EU naval task force (EU NAVFOR), which is in the area ostensibly to guard ships carrying aid cargo to the region, but which also involves itself in convoy patrol and other anti-piracy work, said that six suspicious skiffs were 'disrupted' from their activities by the different task forces or national naval forces operating in the Internationally Recommended Transit Corridor (IRTC), along which merchant shipping is advised to sail.
EU NAVFOR said that all the skiffs disturbed were seen to be throwing material such as ladders and weapons overboard as soon as naval vessels or aircraft approached. At least one merchant ship reported having come under attack from a pirate skiff on Saturday 11 September but was able to successfully out-manoeuvre the pirates.
Meanwhile EU NAVFOR reports that two more European naval ships have joined the EU NAVFOR force operating in the Gulf of Aden and Horn of Africa region. These are the German frigate FGS KÖLN, which displaces 3,700 tons and has been in service with the German Navy since 1984, and the Dutch Fast Combat Support Ship HNLMS AMSTERDAM (displacing 17,040t). The German ship is equipped with two helicopters and is carrying additional forces that are trained in force protection and the boarding of vessels.
The Dutch ship will be able to assist with replenishing EU NAVFOR ships at sea, thus prolonging their patrols and time in the operational zones. Because of her appearance resembling a merchant ship, don't be surprised at news in the near future of an attempt on this ship by pirates.
News continues below...

YESTERYEAR: those classic ships – SHELDON LYKES
The ship in this edition of YESTERYEAR is the SHELDON LYKES (4,592-gt, built 1963), a sister ship to the better-known Aimee Lykes, which many older South African readers, particularly those from the KwaZulu-Natal area, will recall running aground onto the Aliwal Shoal off the KZN South Coast in October 1963.
Aimee Lykes was on her maiden voyage at the time was later pulled clear of the shoal and taken to nearby Durban, where she spent some time in the dry dock having extensive repairs to her hull. Aimee Lykes lived to see many another trip between the US and Durban until her withdrawal into the US Maritime Administration's reserve fleet in 1986, when she was renamed CAPE CANSO and laid up.
The person who took the picture of Sheldon Lykes above, Ron Galliers now lives in New Zealand but says his dad managed to get him into the drydock where they were able to see the Aimee Lykes' bottom, "which appeared to have been curled up like a sardine can." Picture by Ron Galliers
News continues below…

Kenya calls for bids to build new port at Lamu
Kenya's Ministry of Transport has called for bids to construct a new port at Lamu on the northern coast of Kenya.
The advertisement carried by local newspapers states that the new port will initially consist of three deepwater berths capable of taking container ships with a deadweight of 100,000 tonnes, general cargo vessels with a dwt of 30,000t and bulkers of up to 100,000-dwt.
The objective of a new port at Lamu is to better serve South Sudan and southern Ethiopia, and the contract calls for the construction of other supporting infrastructure including roads, a railway, railway sidings, pipelines, and even airports in major towns extending inland.
'As first phase of this project, the Government plans to construct the first three berths with associated infrastructure at Manda Bay, Lamu,' the advertisement reads.
It is assumed that Kenya has been in discussion with its neighbours with regards the future use of a new port at Lamu, and in particular with South Sudan which faces a referendum early next year to decide whether to secede from the rest of Sudan. South Sudan expects to begin exporting oil shortly and will require a secure outlet to the sea.
The cost to build the port is estimated at US$ 16 million.
The proposal to build the new port has however drawn some strong opposition particularly from environmentalists but the government has made clear its intention of pressing ahead.
Shippers call on African and Asian governments for protection against shipping cartels
Shippers have called on Asian and African governments to introduce anti-trust laws to regulate carrier agreements, in line with EU and US initiatives, reports the British trade paper IFW.
The article in yesterday's edition says that a joint statement which was issued by shipper organisations from around the world, following last week's Global Shippers' Forum in Macau, drew attention to the "unfavourable position" of Asian and African shippers "who are afforded little or no protection by the application of anti-trust laws".
The statement said: "EU competition laws provide severe penalties and sanctions for the kind of activities experienced by Asian shippers in the transpacific and intra-Asia shipping markets, and civil law penalties and remedies are potentially available to European shippers through the courts for breach of contract."
In North America, shippers argued, the US Federal Maritime Commission had responded swiftly to certain carrier practices that had disrupted imports and exports, but there had been no corresponding progress in Asia and other regions such as Africa.
"Asian governments should introduce the appropriate competition laws to prohibit liner conferences and discussion agreements that eliminate effective competition in Asian trades," said the statement.
Shippers also called for support for an investigation by US Congressman Oberstar and his intention to end anti-trust immunity for ocean carriers and reform the US Shipping Act to increase protection for shippers.
European Shippers' Council Secretary General Nicolette van der Jagt said Oberstar's Bill would help achieve "further harmonisation of competition policy regimes, and would provide a timely financial stimulus to world trade as carriers would no longer be able to disrupt the passage of US exports, and the trade of other global economies trading with the US, through artificial capacity and price management strategies". Source IFW
Pics of the Day – INS ADITYA and SP BRUSSELS
The Indian Navy replenishment ship INS ADITYA is taking part in this month's IBSAMAR II naval exercise off the South African east coast, and is seen here departing from Durban on Monday this week. Picture by Terry Hutson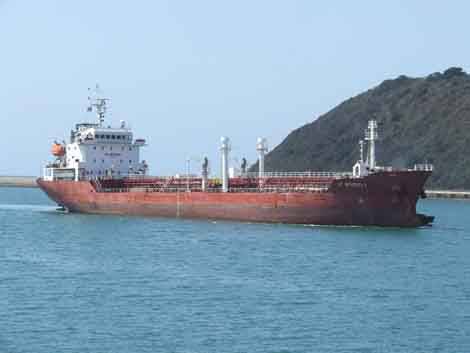 The Singapore-owned and operated chemical products tanker SP BRUSSELS (7,654-dwt, built 2007) arriving in Durban harbour this week. Picture by Terry Hutson
Don't forget to send us your news and press releases for inclusion in the News Bulletins. Shipping related pictures submitted by readers are always welcome – please email to info@ports.co.za
Did you know that Ports & Ships lists ship movements for all southern African ports between Walvis Bay on the West Coast and Mombasa on the East Coast?
TABLE BAY UNDERWAY SHIPPING
SHIP PHOTOGRAPHERS
Colour photographs and slides for sale of a variety of ships.

Thousands of items listed featuring famous passenger liners of the past to cruise ships of today, freighters, container vessels, tankers, bulkers, naval and research vessels.
P O BOX 809, CAPE TOWN, 8000, SOUTH AFRICA
snai@worldonline.co.za
http://home.worldonline.co.za/~snai
South Africa's most comprehensive Directory of Maritime Services is now listed on this site. Please check if your company is included. To sign up for a free listing contact info@ports.co.za or register online
PROVIDING INFORMATION TO THE MARITIME INDUSTRY