Ports & Ships Maritime News
18 June 2013
Author: Terry Hutson
Bringing you shipping, freight, trade and transport related news of interest for Africa since 2002
TODAY'S BULLETIN OF MARITIME NEWS
Click on headline to go direct to story – use the BACK key to return
SEND NEWS REPORTS AND PRESS RELEASES TO info@ports.co.za
ADVERTISING
For a Rate Card please contact us at info@ports.co.za
News continues below...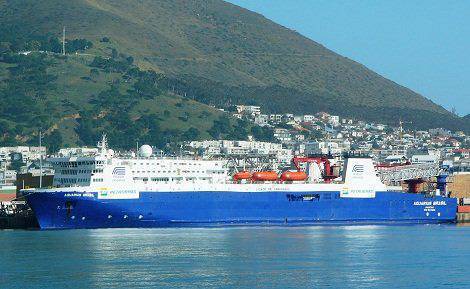 The former ferry AQUARIUS BRASIL (22,152-gt, built 1999) which called at Cape Town last week for bunkers while on her delivery voyage to Brazil, where the ship will go into use as an accommodation vessel for Petrobras. Picture by Aad Noorland
News continues below…

CONTAINER SHIP MOL COMFORT BREAKS IN TWO AND SINKS
UPDATE TUESDAY 18 June 2013: 12h00CAT - SHIP SECTIONS STILL AFLOAT
The MRCC in Mumbai reports that both forward and aft sections of the MOL Comfort remain afloat and that a sister ship in on station and keeping watch.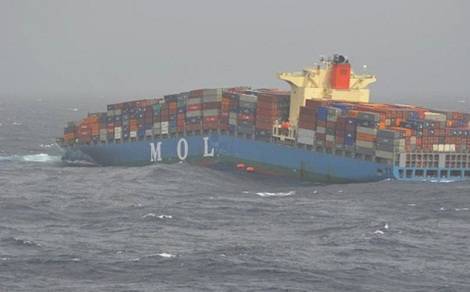 MOL Comfort hogging badly prior to breaking in half. Picture MRCC Mumbai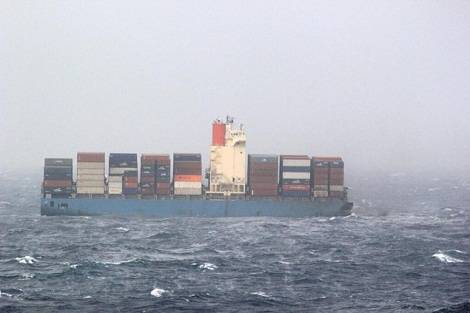 MOL Comfort aft section afloat (above), and forward section afloat (below). Pictures MRCC Mumbai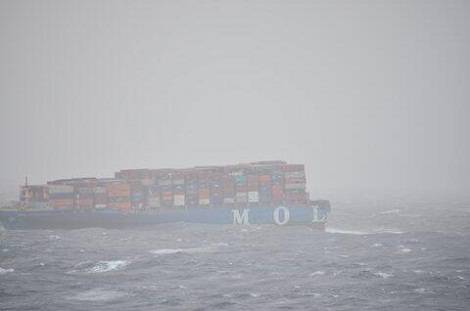 The Mitsui OSK Line (MOL) container ship MOL COMFORT broke in two yesterday off the coast of Yemen and has sunk.
All 26 crew members were rescued after a joint coordinated operation involving various rescue and response services, including the Indian Coast Guard.
The drama began when the 316-metre long container ship, carrying about 4,500 containers encountered rough seas with swells reaching a reported six metres, accompanied by strong winds. The ship was about 200 n.miles off the Yemeni coast and 800 n.miles from India when she broke in two and sank.
With the Indian Coast Guard coordinating rescue activities, ships were diverted to assist and to look for survivors, in which efforts were successful with all 26 crew, made up of 14 Filipinos, 11 Russians and one Ukrainian all being picked up safely. Ships that were diverted to the area were ZIM INDIA, YANTIAN EXPRESS and HANJIN BEIJING, the latter being the closest to the scene and which affected the rescue of the crew who were in two life rafts and one life boat. The rescued crew are now en route to Colombo in Sri Lanka.
Reports indicate that both sections of the ship sank almost immediately and that many containers are floating in the sea. There is also an amount of oil spillage.
It is not immediately known what caused the ship to break in two, other than having been in rough seas. According to Mitsui OSK Lines, the ship suffered a crack amidships and ahead of the accommodation area and began ingressing water at 07h00 local time yesterday. The ship was underway from Singapore to Jeddah at the time.
The 8,000-TEU MOL Comfort was built in 2008 and flies the Bahamas flag. She is one of a number of sister ships built in Japanese shipyards. News continues below…

SHIPWATCH: SAMSUNG TO BUILD LARGEST EVER FPSO FOR NIGERIA
Samsung HI has confirmed that it has been awarded a US$3 billion contract to build a FPSO for the Nigerian offshore market.
According to Tradewinds, the FPSO will be the biggest ever.
Samsung in Korea will fabricate the hull and upper parts of the FPSO for a figure of about $1.7 billion, while its subsidiary company Samsung HI Nigeria will complete the remainder of the work.
The FPSO will be 300 metres in length and have a storage capacity of 2.3 million barrels of oil. Delivery will be in June 2016 when the vessel will go into operation off the Nigerian continental shelf for an unnamed oil major.
News continues below...

PORTWATCH: NGQURA BENEFITS FROM MSC'S MOVE AWAY FROM VALENCIA

Already in July last year 11,000-TEU ships were calling at South African ports. Here is the 11,000-TEU MSC SOLA seen at the Eastern Cape port of Ngqura at that time. Picture by TPT
As a result of increased capacity and improved transhipment services at the Port of Ngqura, Mediterranean Shipping Company (MSC) has switched a considerable volume of West Africa cargo along its 'southern route', i.e. via the Cheetah service between the Far East and South Africa. This has been in place of cargo for West Africa going along the 'northern route' – the Lion service between the Far East and Europe.
The Spanish port of Valencia is no longer being used as a MSC hub for West African cargo coming in from the east or from Europe on MSC's Lion service. Instead MSC ships are using the ports of Sines and Ngqura for this purpose.
With larger ships being increasingly deployed on the Cheetah service, the carrier has been able to move more West African-related cargo to the Far East along its southern route, with the port of Ngqura benefiting as the transhipment hub.
Sines has replaced Valencia as MSC's transhipment hub to the Mediterranean, with the latter port acting as MSC's gateway into Portugal and Spain as well as a transhipment hub to other services. MSC is a shareholder in the Sines container terminal through its Dutch-registered sister company, Terminal Investments Limited (TIL), which is in a joint venture at Sines with PSA International of Singapore.
News continues below…

SHIPWATCH: MSC REVISES WEEKLY EAST AFRICA-SOUTH AFRICA SERVICE
service Mediterranean Shipping Company (MSC) has announced a revision of its weekly South Africa - East Africa service.
MSC will now offer Dar es Salaam direct on a weekly sailing with improved connectivity to Zanzibar and Tanga.
The 2,078 TEU MSC JASMINE will make the first sailing under the revised rotation of Ngqura, Durban, Mombasa, Dar es Salaam, Beira, Ngqura. The service will operate on a planned 21-day turnaround using three ships in the 2,000-TEU range.
MSC also calls at Dar es Salaam with a service from Salalah.
MAILBAG: INCENTIVES TO RECRUITING LOCAL CREWS
Editor
Referring to the inspiring article 'MSC Cruises SA Recruits South African Crew' in today's Ports and Shipping Newsletter (refers Ports & Ships News dated 11 June ), it would be interesting to find out whether Safmarine, our former national career, is willing to recognise the past and present benefits it has acquired through its long association with this country by adopting a similar policy as their old rivals MSC.
Thinking aloud, perhaps our Government may consider giving preferential port fees on a sliding scale based on the number of South African citizens employed as crew to all vessels calling at our ports?
It appeals to me that this would be a winning strategy for all concerned.
Kind regards
Charles Dey
Training Consultant, International Supply Chain and Logistics Management
FIRST LPG TANKS ARRIVE AT SALDANHA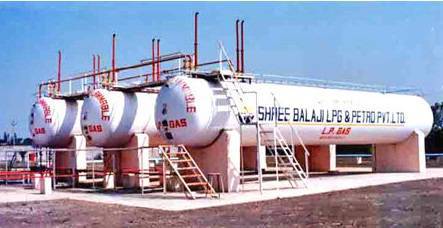 The first set of four liquefied petroleum gas (LPG) tanks for storing LPG have arrived and are being installed at Avedia Energy's permanent LPG storage facility at the Port of Saldanha Bay.
The tanks will go into use towards the end of this year, when they will be used to store LPG imported into South Africa from the Bonny River Terminal in Nigeria. The tanks were built in China and have a collective 4,000 tons capacity.
Avedia plans to import an annual 100,000 tons of LPG from Bonny. The first shipment is expected in early 2014.
The Western Cape currently consumes about 120,000 tons of LPG a year with large amounts being imported via Port Elizabeth and Richards Bay, resulting in additional transport and logistics costs to the region.
Additional tanks will be arriving during the year from the manufacturers in China.
MBC GOES OFFSHORE FOR R300M OFFSHORE TUG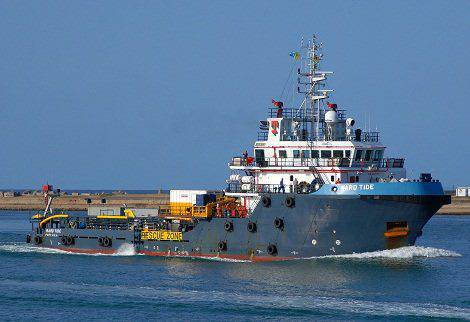 Ward Tide (11,674-gt, built 2011), an offshore support tug seen calling at Durban last year. Picture by Trevor Jones
Cape Town's black empowered shipping company Marine Bulk Carriers (MBC) says it has placed an order with a Chinese builder for a R300 million anchor-handling tug.
The 12,000-hp vessel is to be built at Guangxin Shipbuilding of Guangdon, China with specifications to meet the requirements of the local offshore industry in terms of power, winch capacity and deck space.
MBC chairman Lester Peteni said the new tug is in response to the government's call for the rebuilding of local merchant marine. It was only the start of MBC's dream of expanding its business activities away from vessel management and into vessel ownership. The new tug will be registered and flagged in South Africa and crewed by sister company Marine Crew Services with South Africa seafarers and will have berths for cadets and ratings.
"The demand for anchor-handling tugs around Southern Africa, in particular, South Africa, Namibia and Mozambique, is increasing. National oil company PetroSA currently operates six foreign-owned tugs off Mossel Bay and the growth in the market is something MBC hopes to exploit through local ownership and crewing," said Peteni.
MBC director Jan Rabie said that MBC had taken the South African government at its word to rebuild the local merchant marine and it was now a matter of seeing whether South African customers are ready to support local owners and operators.
Also key to the success of the project, he said, was the introduction of supportive legislation regarding local ownership.
Mr Rabie's words might receive more unqualified support had reasons been given as to why the ship could not have been built in a South African shipyard. Rebuilding the South African merchant marine surely includes nurturing the small but efficient shipbuilding and repair industries. A quick check of the most appropriate shipbuilder in Durban revealed that the South African company was not even consulted about the tug.
PICS OF THE DAY – SONANGOL SAMBIZANGA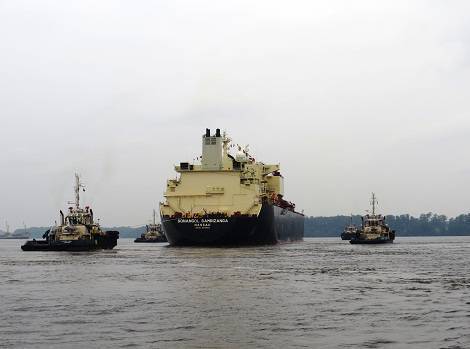 On Sunday 16 JUne the sailing of the SONANGOL SAMBIZANGA took place from the port of Soyo with the first cargo of LNG loaded at the Angola LNG Terminal. In the upper pictures the Sonangol Sambizanga is seen being escorted away from her mooring by four SVITZER tugs, SVITZER PADROA, SVITZER ZAIRE, SVITZER PINDA and SVITZER SOYO. In the lower picture the LNG carrier is being given a water display by the SVITZER tugs whilst transiting the Congo River. Pictures by Peter Blackett/SVITZER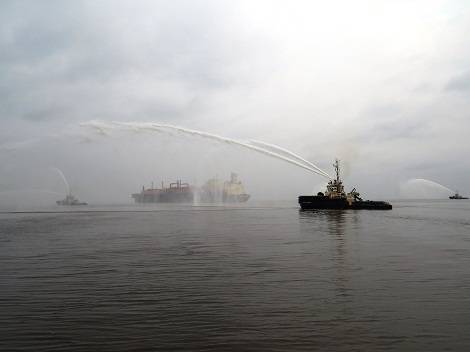 Don't forget to send us your news and press releases for inclusion in the News Bulletins. Shipping related pictures submitted by readers are always welcome – please email to info@ports.co.za
Did you know that Ports & Ships lists ship movements for all southern African ports between Walvis Bay on the West Coast and Mombasa on the East Coast?
TABLE BAY UNDERWAY SHIPPING
SHIP PHOTOGRAPHERS
Colour photographs and slides for sale of a variety of ships.

Thousands of items listed featuring famous passenger liners of the past to cruise ships of today, freighters, container vessels, tankers, bulkers, naval and research vessels.
P O BOX 809, CAPE TOWN, 8000, SOUTH AFRICA
snai@worldonline.co.za
http://home.worldonline.co.za/~snai
South Africa's most comprehensive Directory of Maritime Services is now listed on this site. Please check if your company is included. To sign up for a free listing contact info@ports.co.za or register online
Looking for help? Try our MARITIME SERVICES DIRECTORY CLICK HERE