Ports & Ships Maritime News
28 May 2013
Author: Terry Hutson
Bringing you shipping, freight, trade and transport related news of interest for Africa since 2002
TODAY'S BULLETIN OF MARITIME NEWS
Click on headline to go direct to story – use the BACK key to return
SEND NEWS REPORTS AND PRESS RELEASES TO info@ports.co.za
ADVERTISING
Six good reasons why you should consider advertising on Ports & Ships online:
1] Competitive rates
2] Dedicated maritime readership
3] Averages over 55,000 readers each month, now going into the 60,000s
4] About 200,000 pages read every month
5] Advertisements are never taken down, they keep on working, for years
6] What better way to build Brand Awareness
For a Rate Card please contact us at info@ports.co.za
News continues below...

The Spanish trawler COYO TERCERO (191-dwt, built 2002) which arrived in Cape Town recently. The 32m long fishing vessel, which is owned by the company Hijos de Vidal Bandin, was in trouble with the law last year when the trawler was stopped by a Royal Navy patrol vessel, HMS TYNE to conduct a routine inspection while off the Isles of Scilly.
Over half a ton of salted ling that wasn't in the official log book was discovered and the vessel was then escorted to Falmouth in Cornwall for another inspection, this time by the regulator, the Marine Management Organisation.
This investigation brought up a connection between the Coyo Tercero and a UK-registered fishing vessel, O'GENITA, which is owned by a British company that is in turn a subsidiary of the Spanish company. It was subsequently established that fish had been illegally transferred between the ships while at sea and landed in UK and Spanish ports.
The two companies and the skippers pleaded guilty at a hearing and were subsequently found guilty at Truro Crown Court, where the judge called it a "flagrant, repeated and long-term abuse of the regulations." He ordered the Spanish fishing company, its British subsidiary and the skippers of the two vessels to pay a record fine and costs that amounted to £1.6 million.
Coyo Tercero has now moved into southern waters. Source – The Guardian
Picture by Aad Noorland
News continues below…

DTI CALLS FOR INCREASED BLACK PARTICIPATION IN MARITIME INDUSTRY
Pretoria - A significant increase in black participation through ownership, management and employment is what the maritime industry should strive for, Department of Trade and Industry (dti) Deputy Minister Elizabeth Thabethe said.
Thabethe was speaking at a workshop for Women in Shipping Industry in Durban on Friday (24 May), which was held to enlighten women about the industry as well as the skills needed.
"As an industry you must pursue a growth strategy that prioritises the retention and creation of quality jobs, most of which are on landside operations. In order to make this a reality, the industry must develop a deliberate strategy to increase access to skills, capital and economic opportunities and therefore raise the economic value add of every employee and enterprise in the industry," said Thabethe.
Thabethe said the industry must commit to embark on a major communication and marketing campaign that will take the Broad Based Black Economic Empowerment (B- BBEE) Charter for the Maritime Industry to every company within the industry, to ensure maximum participation by all stakeholders.
"This will require all stakeholders to recruit new black people into the industry and increase their skills and those of existing employees to best-practice international levels, while creating a supportive culture for their talents to thrive," she said.
In terms of the Maritime BEE Service Strategy, the overarching long-term vision is to develop South Africa into becoming one of the world's top 35 maritime nations by the year 2014. Source – SAnews.gov.za
News continues below…

FORCED LABOUR AT SEA STILL COMMONPLACE

Industrial fishing vessels are a particular area of concern….
Delegates at a Vatican conference this week heard that forced labour in the maritime world is still common place.
Contrary to the popular view, it is not restricted to developing countries but also occurring in countries such as New Zealand, Russia, Turkey, South Korea, Ireland and Scotland.
Fr Giacomo Martino, consultor to the Pontifical Council for Migrants and Itinerant Workers, highlighted industrial fishing vessels as a particular area of concern. 'Crew on fishing vessels permanently positioned on the high seas are unlikely to report abuse, injury or death or otherwise seek help for their own protection' said Martino.
'Fishers often have to surrender identity documentation to their Master so mobility in port is restricted, their isolation is further compounded by the difficulty or lack of communication with family whilst at sea due to the lack of access to mobile or satellite phones.'
Martino, a former port chaplain and former Italian national director of global seafarers' charity Apostleship of the Sea, said a further factor contributing to the vulnerability of these people is the irregularity of their salary, together with a lack of transparency, and the fact that often the workers are paid literally with a share of the catch, which encourages them to work excessive hours.
The conference heard that fishers are particularly susceptible to exploitation by certain ship owners, brokers and recruitment agencies because of a background of poverty, inexperience and a degree of naivety amongst some migrant workers.
Martino also lamented the lack of significant progress since the publication in 2001 of 'Ships, Slaves and Competition' by Peter Morris. This report stated that 10-15% of global seafarers work in conditions of modern slavery. The report also detailed accounts of seafarers disappearing after arguments with officials or the existence of black lists for those who joined trade unions.
Beyond the fishing sector, Martino highlighted the issue of some owners operating vessels with the minimum number of crew and the fragmentation of national groups, which increased seafarers' sense of isolation. Additional problems such as lack of health care and social insurance mean that, in reality, the life of a seafarer is far from the romantic idea of a life of adventure in distant lands.
Martino told delegates of his hope that the Maritime Labour Convention, which comes into force in August this year, will establish minimum standards regarding social security, conditions of employment and welfare conditions on board.
The Vatican conference also heard of the continuing phenomenon of piracy, particularly in Somalia, in which hundreds of ships, and thousands of seafarers, have been systematically attacked, taken, and brutalized; with many seafarers kidnapped for several months in atrocious conditions without food and adequate water, sometimes being physically and psychologically tortured.
Martino told the conference that unlike others areas of forced migration, seafarers and fishers do not appear as a true "migration issue" because they do not physically have the time to "bother us". They are "like ghosts touching our cities daily, emerging from ships for the procedure of signing in, or for a quick phone call home, to disappear immediately inside the metal sheets like cockroaches struck by light; always strangers in every port."
Following the intervention of Martino, delegates met Pope Francis who invited the whole international community, to develop, "effective initiatives and new approaches in order to protect their dignity." Source - Apostleship of the Sea
News continues below...

US PROVIDES NIGERIA WITH TWO MORE PATROL SHIPS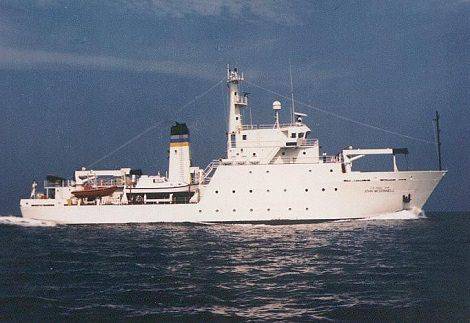 the USNS John McDonnell survey ship which is to go to the Nigerian Navy next year
The Nigerian Navy is to receive another two US military ships, the US Navy hydrographic survey ship USNS JOHN MCDONNELL and the Hamilton class US Coast Guard cutter USCGC GALLATIN.
This was announced on Friday by the Nigerian Chief of Naval Staff, Vice Admiral Dele Ezeoba. The admiral said the ships would be transferred to Nigeria before the end of 2014 and added that a joint inspection of the two ships would take place between May and August next year.
"I must put on record that the Government of the US has in the last 10 years, transferred some ships to the navy as part of its capacity building support. Some of the ships include THUNDER, OBULA, NWAMBA, KYANWA and OLOGBO. These ships have contributed immensely to the security of the nation's maritime environment and the Gulf of Guinea," he said.
Ezeoba said the issue of maritime resource management involved not only the navy but other stakeholders in the industry. He said there was collaboration between the navy and other stakeholders in providing a secured environment for maritime resource management.
"To this extent, a crucial meeting with stakeholders in the nation's oil and gas sector took place at the Naval Headquarters on 21 February 2013. The meeting was aimed at proffering workable solutions to the numerous challenges in the sector. As a follow up to the meeting, the NN also hosted a two-day retreat for maritime stakeholders at Uyo, Akwa Ibom.
"At the end of the retreat, far-reaching resolutions were reached on how to ensure a secured maritime environment for the nation," Ezeoba said. He said it was gratifying to note that the naval headquarters had begun the implementation of the resolutions with commendable results.
He added that the issue of training was continuing to receive priority attention. Officers and ratings were continuously attending courses, seminars and symposia within and outside the country. Source - Glitzmagg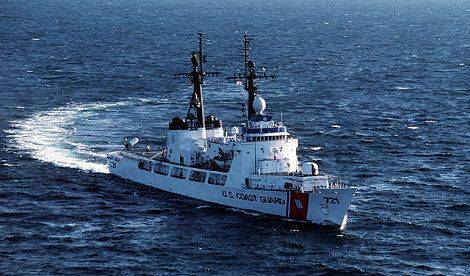 The US Coast Guard Cutter Gallatin which will also become part of the Nigerian Navy as from 2014
News continues below…

OPERATION COPPER ALLOCATED R585 MILLION FOR NEXT YEAR
South Africa will be continuing its anti-piracy patrols in the northern Mozambique Channel for another year. That has become clear from an allocation of R585 million for anti piracy operations in support of the Southern African Development Community (SADC) Maritime Security Strategy.
"As part of our support to the region's maritime security, we have also renewed our mandate for Operation Copper in the Mozambican Channel to deter piracy activities, and ensure the security of our exclusive economic zone," said the South African defence minister, Nosiviwe Mapisa-Nqakula during her defence budget debate in parliament last week.
"These operations will continue in this financial year with an amount of R585 million allocated for the SADC Maritime Security Strategy."
The minister has at her disposal R40.243 billion for the full 2013/14 defence budget.

SAS Amatola, one of the Valour class frigates of the South Africa Navy which is currently on anti-piracy patrol off the coast of northern Mozambique. Picture by Clinton Wyness
EU provides €37 million for anti-piracy work in East Africa
In a related matter, an amount of €37 million is to be allocated by the European Union (EU) to fight piracy in eastern and southern African countries through the EU's Regional Maritime Security programme.
The EU has been active in the region performing anti-piracy operations since 2008.
"This new European support marks a step forward in the fight against piracy because it demonstrates the EU's on-going commitment to combatting this complex problem. Strengthening security in the maritime routes is crucial for us because it will help boosting trade and growth in the region, which would enormously improve people's lives." said Development Commissioner Andris Piebalgs.
High Representative Catherine Ashton said the new funding is another sign of the EU's commitment to stamping out piracy. "It forms part of our comprehensive approach to assisting countries in the region, which means that we deal with the causes as well as the symptoms of piracy. We have made huge strides over last few years, and this money will help to build on the progress we have made by strengthening legal systems, improving financial controls and training young men to find alternatives to piracy," she said.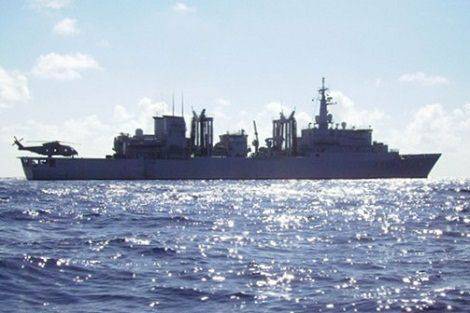 ITS Etna, an Italian ship serving with the EU NAVFOR forces off the Horn of Africa. Picture Eunavfor
NEW RTGS TO ENTER SERVICE AT TEMA

Konecrane RTG similar to those supplied to the MPS terminal at Tema
Konecranes announced earlier this month that five of its Rubber Tyre Gantries (RTGs) are being assembled for operation at MPS container terminal in the Ghanaian port of Tema.
The five RTGs form part of an order placed in August 2012. Another four were delivered fully assembled in March this year.
The RTGs are all-electric, 16-wheel cranes with a lifting capacity of 40 tonnes stacking 1-over-5 containers high and 7 plus truck lane wide.
Each crane is equipped with Konecranes' Smarter Cabin, Autosteering, a driver aid that keeps the crane on a pre-programmed, straight path, and Diesel Fuel Saver, which cuts fuel consumption dramatically without compromising performance.
The RTG container positioning systems are connected to the Terminal Operating System (TOS) ensuring correct, real-time container positioning and an accurate container inventory. The cranes are also equipped with remote access technology that allows Konecranes experts to connect to the machines remotely in order to diagnose problems.
PIRATES FREE HANSA MARBURG SAILORS
The four crew members of the container ship HANSA MARBURG who were taken hostage by West African pirates on 22 April have been freed.
The men – two from Ukraine, one from Russia and one from Kiribati, were in good spirits, a company spokesman said.
"The four seafarers, who were taken from the vessel by armed men 130 miles southwest of Malabo, Equatorial Guinea, and held hostage, have now been released," he said, declining to give any further details to "avoid encouraging further criminal acts of this kind."
His last statement is of a kind that usually signifies the ships owners do not want to respond about whether or not they paid a ransom.
PICS OF THE DAY – A FLURRY OF SAILS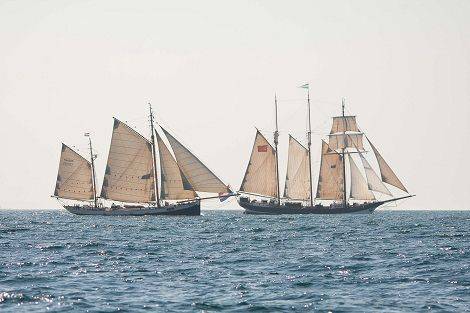 A final look at the three Dutch sailing ships as they set off from Durban on Sunday morning, 26 May, next stop Port Louis. Above from left to right: Tecla and Oosterschelde

Europa and Tecla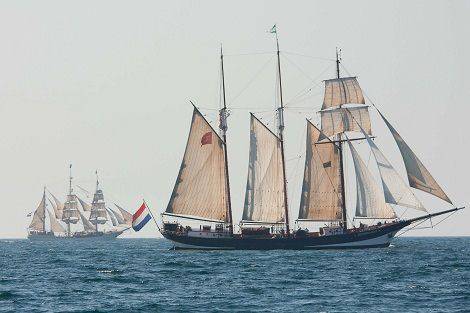 Europa and Oosterschelde. Pictures supplied by Sophie Thompson of Publicity Matters
Don't forget to send us your news and press releases for inclusion in the News Bulletins. Shipping related pictures submitted by readers are always welcome – please email to info@ports.co.za
Did you know that Ports & Ships lists ship movements for all southern African ports between Walvis Bay on the West Coast and Mombasa on the East Coast?
TABLE BAY UNDERWAY SHIPPING
SHIP PHOTOGRAPHERS
Colour photographs and slides for sale of a variety of ships.

Thousands of items listed featuring famous passenger liners of the past to cruise ships of today, freighters, container vessels, tankers, bulkers, naval and research vessels.
P O BOX 809, CAPE TOWN, 8000, SOUTH AFRICA
snai@worldonline.co.za
http://home.worldonline.co.za/~snai
South Africa's most comprehensive Directory of Maritime Services is now listed on this site. Please check if your company is included. To sign up for a free listing contact info@ports.co.za or register online
Looking for help? Try our MARITIME SERVICES DIRECTORY CLICK HERE