Ports & Ships Maritime News
26 April 2013
Author: Terry Hutson
Bringing you shipping, freight, trade and transport related news of interest for Africa since 2002
ADVERTISING
Five good reasons why you should consider advertising on Ports & Ships online:
1] Competitive rates
2] Dedicated maritime readership
3] Averages over 50,000 readers each month
4] Over 200,000 pages read every month
5] Advertisements are never taken down, they keep on working
For a Rate Card please contact us at info@ports.co.za
TODAY'S BULLETIN OF MARITIME NEWS
Click on headline to go direct to story – use the BACK key to return
SEND NEWS REPORTS AND PRESS RELEASES TO info@ports.co.za
News continues below...

The offshore supply tug WISE TIDE II (2308-gt, built 2009) on her berth at Elgin Brown & Hamer's quay in Bayhead, Durban, where theTidewater Marine tug was undergoing maintenance and repair. Picture by Steve McCurrach www.airserv.co.za
WHY THE CHANGES TO PORTS & SHIPS ?
Why a paid news service?
Dear reader By now you will be aware of some pending changes with the availability of the PORTS & SHIPS online news bulletins. Things are taking a little longer than planned, for which we apologise, but in the meantime this is what is happening.
Since PORTS & SHIPS first appeared on the internet at the end of 2002, we've maintained it as a free service available to anyone who cared to key in the URL www.ports.co.za. Since that time we've gone from adding news on an ad hoc basis to a daily news service, appearing each weekday Mondays to Thursdays. In between we were obliged to reduce the frequency to once a week, as a result of having too many other obligations of the sort that pay the bills.
However, after receiving more appeals than we could ignore, we increased the frequency to two editions a week, with the News roundup appearing on Tuesdays and Fridays, but even this hasn't prevented regular readers from requesting more frequent editions each week.
These calls coincide with our own ambitions, but the reality of making this economically viable means that PORTS & SHIPS needs to become a news service backed by a subscription. This will enable us to increase the number of editions to four a week, while also being able to hone and improve other areas of PORTS & SHIPS that of necessity have suffered from inattention.
We hope that from a date next week the News Bulletin of PORTS & SHIPS will be available to paid subscribers every Monday, Wednesday and Thursday, with occasional additional editions on a Friday. The Tuesday edition of the news will continue to be available without a subscription. A form will appear on the site to enable subscribers with various options.
If you have any queries regarding this or other matters, please don't hesitate to ask, sending your emails to info@ports.co.za.
Look out also for new developments in the future – more news of this later.
Thank you for your support and encouragement – from our side it is a pleasure and privilege coming into your lives every day with our PORTS & SHIPS website.
Terry Hutson
News continues below…

SHIPWATCH: NEWS FROM THE WORLD OF SHIPS AND SHIPPING LINES
Burning Chinese fishing vessel sinks off Antarctica

The Chinese fishing vessel Kai Xin on fire in Antarctic waters. Picture courtesy Chilean Air Force
The Chinese factory ship KAI XIN which we reported on Tuesday as being on fire and abandonded in the Antarctic, has sunk, according to the Chilean Navy Maritime Search & Rescue unit.
The fishing vessel has sunk in the Bransfield Strait along the Antarctic Peninsular.
A tug, LAUTARO is en route to the scene and another fishing vessel, FU RONG HAI which also reported the factory ship's sinking by saying they had lost radar contact, has been ordered to stand by until the tug arrives.
The navy tug Lautaro carries equipment and dispersants to deal with oil pollution which is now a very real threat from the sunken vessel.
Kai Xin was part of an international fleet of about 50 vessels authorised by the Commission for the Conservation of Antarctic Marine Living Resources to fish off the Antarctic coast. Kai Xin was licensed to fish for krill. Her crew of 53 seafarers and fishermen abandoned ship after the fire became uncontrollable and were taken on board the Norwegian ship JUVEL. There were no reports of injuries among the crew.
Piracy:Container ship attacked off Nigeria, four crew taken hostage
A maritime security alert has been issued for the Gulf of Guinea after Liberia-flagged container ship HANSA MARBURG was reportedly attacked 108 n.miles south of Bonny, Nigeria.
Four crew members (two Russian and two Filipino nationals) were reportedly kidnapped during the attack. The attack occurred in position 02:35N – 006:52E on 23 April. No further details were available at the time of writing.
The attack is the third long-range incident off Nigeria in ten days, after Greek tanker CAP THEODORA was unsuccessfully attacked twice on 16 and 23 April approximately 47 n.miles south of the position.
Both attacks were reportedly launched from a previously-hijacked fishing trawler. Source GAC and AKE Maritime Security Alert dated 25 April 2013
Latest 16,000-TEU CMA CGM ship on maiden voyage

Sea trials for the first in the series of three 16,000-TEU container ships, CMA CGM Marco Polo, which is currently the world's biggest container ship
The second of three 16,000-TEU container ships built for French container carrier CMA CGM has sailed from the Korean shipyard on her maiden voyage.
CMA CGM ALEXANDER VON HUMBOLDT, all of 396-metres long, was built for CMA CGM by Daewoo Shipbuilding and Marine Engineering (DSME), who also built the first of the three super ships, CMA CGM MARCO POLO.
The third ship in this series, CMA CGM JULES VERNE is due to start her maiden voyage in May. They are currently the largest container ships in service, but will soon be overtaken by the first of the Maersk Line Triple-E series ships with a declared container capacity of 18,000-TEU.
The three vessels are being entered on CMA CGM's Far East – North Europe 'French Asia Line' service (FAL 1) container service.
Ship with nuclear cargo to pass south of Cape of Good Hope

Pacific Nuclear Transport Ltd's (PNTL) Pacific Heron
A cargo of highly radioactive nuclear fuel left the French port of Cherbourg last week (Wednesday) on board the specialist British ships, PACIFIC HERON and PACIFIC EGRET.
Both ships are being used to transport the nuclear fuel, according to a statement issued by the ships' owners, Pacific Nuclear Transport Ltd (PNTL). It said that the two ships will travel via the Cape of Good Hope, across the Indian Ocean and presumably south of Australia and into the south-western Pacific and to arrive in Japanese waters in mid-June.
"The voyage is being undertaken with all necessary safety and security permissions from national and international regulators and the purpose-built ships are sailed by some of the most experienced nuclear mariners in the world," the statement read.
The cargo contains mixed oxide fuel (MOX) and could become controversial when the news breaks out in Japan, where sensitivities remain following the recent second anniversary of the nuclear disaster at Fukushima on 11 March 2011.
The current shipment of MOX is being delivered to the Kansai Electric Power Co's Takahama nuclear plant west of Tokyo, which are the only remaining working nuclear power plants in Japan.
African Independent Coastal Services to move Zim's Ghanaian cabotage

Ghana's only flagged merchant ship ADOBIA now providing cabotage services off the West African coast. Picture Fleetmon
Ghana's African Independent Coastal Services (AICS), which operates with a 650-TEU multi-purpose ship ADOBIA (6714-gt, built 1998) between Abidjan in Cote d'Ivoire and Ghana's Tema port near Accra, has signed an agreement to move containers along the Tema- Takoradi cabotage route for Israeli carrier Zim.
AICS says it intends adding more scheduled calls to other West African ports in the near future. This first deal for AICS in a long-term contract of carriage is likely to be followed by other joint partnerships with lines that do not operate at Takoradi port, according to a report from GhanaWeb.
Smit Lamnalco introduces two newbuilds to Gabon

The workboats line up for the welcoming function described below
A welcoming ceremony was held last week for two newbuild vessels, the SL GABON and SL LIBREVILLE at Port‐Gentil in Gabon
Among those attending the ceremony were the Minister Delegate of Transport Mr Emmanuel Jean Didier Biye, the Governor of the Ogooué Maritime Province Mr Martin Boguikouma, the Prefect of the Bendjè Department Mr Joseph Mouele, Total Gabon Chief Executive Officer Mr Benoît Chagué and Smit Lamnalco Chief Executive Officer Mr Daan Koornneef.
SL Gabon and SL Libreville have been contracted for a five year period by Total Gabon and will support offshore oilfield activities and tanker operations at the terminal of Cap Lopez, Port‐Gentil.
"The partnership between our two organisations has roots reaching back 30 years," says Koornneef. "Port‐Gentil's location demands robust and reliable marine support services. We are delighted to bring these two state of the art tugs into service for Total Gabon, signifying our continuing commitment to invest in the future of Gabon."
Smit Lamnalco now operates five vessels for Total Gabon, has a further four vessels under contract for Shell at its Gamba terminal and manages one vessel for Perenco.
The marine support company praised the performance of its 179 Port‐Gentil‐based staff, of which 75% are Gabon nationals. Special mention was made of Master Jean‐David Mpaga who has been sailing with the company for over 30 years.

Daan Koornneef, Martin Boguikouma, and Emmanuel Jean Didier Biye greeting each other at the recent welcoming function

The newly built workboat SL Gabon. Pictures courtesy Smit Lamnalco
Seabird Exploration ready for operations off Namibia

Seabird Exploration's Osprey Explorer arriving in Cape Town harbour. Picture by Ian Shiffman
SeaBird Exploration Plc in partnership with GeoPartners Ltd has commenced a 2D research acquisition project offshore Namibia in the search for oil deposits. Covering an area of approximately 4,700 square kilometres the 2D acquisition program will make use of the survey vessel OSPREY EXPLORER which has arrived in Walvis Bay.
The project is expected to take 45 days and will provide the operators and potential new partners with new high quality datasets.
French frigate FNS FLOREAL arrives back in Cape Town
The French patrol frigate FNS FLOREAL (F730) arrived in Cape Town this week on a visit. The ship is engaged in a patrol of the French and Australian Southern and Antarctic oceans.
The purpose of her visit is thought to be for R&R, during which time she will re-supply and undertake minor maintenance repairs. The ship last visited Cape Town in April 2012. She is based at the French naval base on the island of La Reunion.
FNS Floreal is berthed at the V&A Waterfront on Jetty 2 and will be open to the public on Saturday, 28 April
FNS Floreal displaces 2,950 tons and carries a crew of 99 seamen and officers. Her armaments are impressive for a light patrol frigate – one 100mm gun, two 20mm multipurpose guns and four 12.7mm Browning machine guns, as well as an array of anti-surface Exocet missiles. She also carries a Eurocopter AS 565 Panther helicopter.

FNS Floreal at the Durban Naval Station. Picture by Terry Hutson
Petronas buyout of MISC falls through
Shares in MISC Berhad fell 14 percent earlier this week after news that the state-owned oil and gas company Petronas' planned privatisation of its subsidiary shipping line, MISC, had fallen through.
Petronas needed to obtain a 90% acceptance from shareholders to privatise MISC, but could only reach 86.07%, after which Petronas withdrew its proposal.
This disappointment came despite Petronas increasing its offer of 5.30 Ringgit to 5.50 Ringgit per share.
Had the proposal succeed it would have cost Petronas US$3 billion to buy out all the shares it does not own.
Russian sailing ship Sedov visits Cape Town
The Russian sail training ship ST SEDOV arrived in Cape Town recently on a short visit, during which she berthed at the V&A Waterfront and was open to the public. She was due to sail from Cape Town yesterday (Thursday) with Walvis Bay as her next port of call. Picture by George Hendrie
News continues below…
PORTWATCH: NEWS FROM THE PORTS AND HARBOURS
Optimistic review of South Africa
According to the Business Monitor International, South Africa is threatened by 'the global headwinds' which it says are posing challenges for the country as a whole, and quoting the Eurozone and China slowdown as the factors.
Yet the report goes on to suggest that with continued investment in facilities, growth in private final consumption, and ever- expanding coal exports, it was confident enough to forecast growth in both total tonnage and container volumes in 2013.
It forecasts that Richards Bay Port tonnage throughput in 2013 will increase by 1.3%. "Over the medium term we project a 3.9% average annual increase."
"Port of Durban container throughput is forecast to grow by 8.8% in 2013. Growth will average 7.2% per annum in the medium-term forecast period to 2017."
The Monitor adds that 2013 total trade growth is forecast at 3.8%, and to average 5.3% per annum to 2017.
Comment
The 8.8% growth rate for Durban container traffic appears to be highly optimistic, given that in the calendar year 2012 container throughput decreased from 2.712 million TEUs to 2.586 million, almost a five percent drop. That trend has continued into 2013 and the first quarter shows a decrease of 4.65% for the period January to March, 2013 compared to the same period for 2012.
An increase of 8.8% over the year therefore appears extremely unlikely.
The BNI report is available HERE - please use your BACKSPACE button to return to this page.
Masvlakte reclamation project completed – online for 2014 completion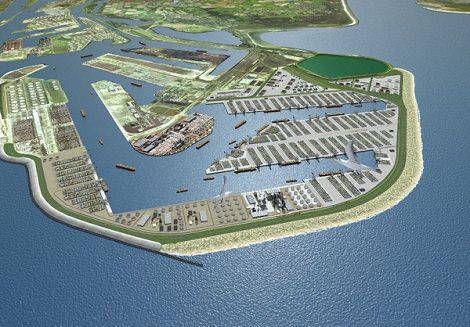 Maasvlakte II which not only provides Europe's largest and busiest port with two additional container terminals, but an extra 2,000 hectares. Maasvlakte II will be open for business next year
The Port of Rotterdam's Maasvlakte II project will be ready for operations in 2014 and the completion of the reclamation project means that the port will shortly be 2,000 hectares bigger than it was.
"It's not often that large construction projects like this are completed within time and on budget," said Marcel van Gent, Maasvlakte II project manager at Deltares, the specialist sea defence company that carried out extensive studies using scale models, advanced software and simulators for the project at the Deltares Delta and Scheldt Flumes. The company also tested and optimised the design of the 3.5 kilometre hard seawall, which combines a block dam and a 'pebble beach', a slope structure made up of loose stones.
The unique project assigned to the PUMA consortium, which included dredging giants Boskalis and Van Oord, increases the size of Europe's largest port by an additional 2,000 hectares.
Van Gent said the ultimate result is a hard sea wall that is unique in the world. "Nobody has ever managed before to design a pebble beach that meets such stringent safety requirements."
Maasvlakte II will embrace two new container terminals which will be operated by DP World and APM Terminals respectively, with both due to open for business next year.
News continues below...

EBH NAMIBIA EMPOWERS EMPLOYEES THROUGH INTERNATIONAL SKILLS TRANSFER
Elgin Brown & Hamer (EBH) Namibia, which is now part of the DCD Marine Cluster, has embarked on a skills development exchange programme with leading French ship building and ship repair company Piriou Shipyard.
The initiative, part of the company's CSI strategy, has already seen three of EBH Namibia's welders embark on a three-month period at Piriou, where they will gain invaluable training in aluminium welding. This is with a view to the company's growth in the Fast Support and Intervention Vessel (FSIV) repair market.
"We have identified a huge potential for growth in the FSIV market, and plan to position the company accordingly," explained Hannes Uys, Chief Executive Officer at EBH Namibia. "FSIV's are largely constructed out of aluminium. As aluminium welding is a scarce skill in Namibia, we chose three of our top welders to gain international experience and training in this sought-after skill."
The trio, Frans Hoaeb, Vilho Hangula and Vaino Junias left for France on 2 March 2013.
Piriou Shipyard, based on the southern Brittany coast, has been in the ship repair industry for more than 45 years, and is one of EBH Namibia's valued clients. Like EBH Namibia, Piriou's main areas of operation are medium sized vessels and offshore supply vessels.
"We have a very good relationship with Piriou, and they are committed to the exchange of employees for training and development purposes. The Piriou Group is renowned for the design and construction of FSI vessels, and we believe that the exposure and skill gained by this initiative will not only benefit the employees chosen, but will also facilitate the transfer of skills gained within the entire EBH workforce," said Uys.
Willie Esterhuyse, Commercial Manager at EBH Namibia, said the need for skills upliftment and the personal development of EBH's employees cannot be overstated. "We view the exchange agreement with Piriou as a phenomenal opportunity for our employees as Namibians citizens, to gain exposure from the best in the world in the ship repair industry. This will make EBH Namibia more competitive thanks to the investment in international best practice and skills."
NAMPORT, Namibia's National Port Authority, is the majority shareholder (53%) in EBH Namibia. In a strategic move which has been in the pipe line since 2011, DCD Group has successfully acquired 47 % shares in EBH Namibia. The rationale behind the acquisition is to leverage EBH's strong brand and DCD's established marine track record to boost global competitiveness.
The company, which currently operates two floating dry docks in Walvis Bay, with a third planned for August 2013, sees its membership of the DCD Marine cluster as instrumental to its growth and development as one of the leading ship repair companies along the west coast of Africa.
"This along with an ongoing commitment to local skills development through our international exchange programmes will help to broaden our knowledge and expertise, and enhance EBH Namibia's position as a world class service provider within the ship repair industry," Uys says.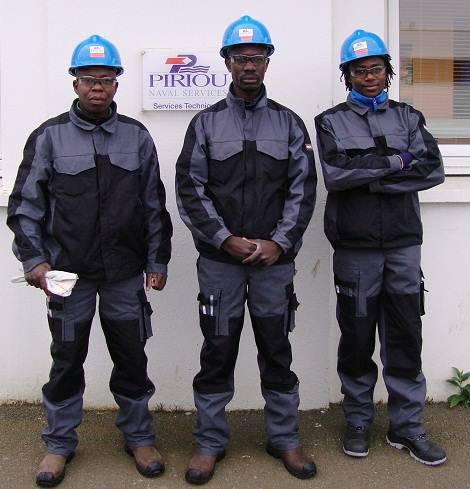 From left to right - Frans Hoaeb, Vilho Hangula and Vaino Junias arrived in France on 3 March 2013
News continues below…

Two City liners in Durban! The ship above is the CITY OF CAPE TOWN (9,914-gt, built 1959), seen sailing from port in May 1976, a ship which in the view of the photographer is one of the nicer non-midship Ellermans. When built the ship was named City of Melbourne. Picture by Trevor Jones
<Built for the City Line the CITY OF RIPON (7,713-gt, built 1956), which is seen here arriving in Durban in December 1976, was transferred to Ellermans in 1972, where the name was retained. Two years after this photograph was taken she was sold to Ben Line who renamed her Benvannoch. She was broken up a year later in 1979. Picture by Trevor Jones
Don't forget to send us your news and press releases for inclusion in the News Bulletins. Shipping related pictures submitted by readers are always welcome – please email to info@ports.co.za
Did you know that Ports & Ships lists ship movements for all southern African ports between Walvis Bay on the West Coast and Mombasa on the East Coast?
TABLE BAY UNDERWAY SHIPPING
SHIP PHOTOGRAPHERS
Colour photographs and slides for sale of a variety of ships.

Thousands of items listed featuring famous passenger liners of the past to cruise ships of today, freighters, container vessels, tankers, bulkers, naval and research vessels.
P O BOX 809, CAPE TOWN, 8000, SOUTH AFRICA
snai@worldonline.co.za
http://home.worldonline.co.za/~snai
South Africa's most comprehensive Directory of Maritime Services is now listed on this site. Please check if your company is included. To sign up for a free listing contact info@ports.co.za or register online
Looking for help? Try our MARITIME SERVICES DIRECTORY CLICK HERE