Ports & Ships Maritime News
19 April 2013
author: Terry Hutson
Bringing you shipping, freight, trade and transport related news of interest for Africa since 2002
ADVERTISING
Five good reasons why you should consider advertising on Ports & Ships online:
1] Competitive rates
2] Dedicated maritime readership
3] Averages over 50,000 readers each month
4] Over 200,000 pages read every month
5] Advertisements are never taken down, they keep on working
For a Rate Card please contact us at info@ports.co.za
TODAY'S BULLETIN OF MARITIME NEWS
Click on headline to go direct to story – use the BACK key to return

During the next week PORTS & SHIPS will begin publishing on four days a week in place of two. On three of those days Ports & Ships will be available on a paid subscription basis while on the fourth day it will be free. By taking this step we are able to revert to publishing more frequently, while continuing to bring to your attention a range of maritime related news items from across the continent of Africa. We will also continue including other more general news that we consider is of interest to readers across this continent of ours. Details of the subscription rates, which will be reasonable and affordable, will be published in our next News Bulletin due on Tuesday 23 April.

SEND NEWS REPORTS AND PRESS RELEASES TO info@ports.co.za

News continues below...

The Singapore-registered tanker OCEAN VENUS (50,322-dwt, built 2006) arrives in the harbour of Lyttelton, New Zealand earlier this year to discharge petroleum products. Picture by Alan Calvert.
News continues below…

SHIPWATCH: NEWS FROM THE WORLD OF SHIPS AND SHIPPING
Transocean's Cajun Express next job is in Africa
Transocean's semi-submersible rig CAJUN EXPRESS, which has been drilling offshore Brazil for Petrobras at a rate of US$517,000 per day, is to move to Morocco in June.
Cajun Express, a deepwater drilling rig, is to be deployed on the Foum Draa prospect off the coast of Morocco.
CMA CGM launches the REX 3 service from Asia to South Red Sea
CMA CGM has announced the launching of a new fixed-day weekly service on the Asia – Red Sea route, the REX 3 service, commencing on 2 May 2013.
Complementing the existing REX 2 service, which focuses on Red Sea northern ports (Jeddah, Sokhna, Aqaba), the new REX 3 will connect Asia to Red Sea southern ports via Colombo, Sri Lanka, thus offering a wider coverage of the region with calls at six ports in the Red Sea.
Through its call in Colombo, the REX 3 service will provide full coverage of South Indian markets, by means of CMA CGM's feeder network.
The new REX 3 will also offer the fastest transit time from Asia to Port Sudan (Shanghai – Port Sudan: 28 days) and some of the best transit times to the Ethiopian market via Djibouti and to Aden.
The Rotation of the REX 3 service will be: Port Kelang - Tanjung Pelepas - Colombo - Djibouti - Aden - Jeddah - Port Sudan, - Djibouti - Colombo - Port Kelang.
MSC applies a Bunker Contribution (BUC) to its southbound cargo between North Europe and South Africa
Mediterranean Shipping Company (MSC) has announced a new rate as the Bunker Contribution (BUC) which is to be applied to all cargo southbound from North Europe to South Africa commencing in May 2013, as follows:
USD $ 580 per TEU DV
USD $ 775 per TEU RF
The new BUC applies with the sailing of the MSC SUSANNA FH317A (or substitute vessel ex-Antwerp) 1 May.
MOL to assist with ocean transport of mobuile library vehicles to South Africa

(from left to right) MOL Executive Vice President Toshitaka Shishido, the Ambassador of the South Africa in Japan Mohau Pheko, Sapesi-Japan Managing Director Tadashi Hasunuma, Ministry of Foreign Affairs the Ambassador Extraordinary and Plenipotentiary Makoto Ito, SONY Corporation Corporate Executives SVP Shiro Kambe and The Society for Promotion of Japanese Diplomacy Project Manager Kyoko Terada, at the farewell function for the mobile libraries. Picture courtesy MOL
Mitsui OSK Lines, Ltd (MOL) has agreed to assist the South Africa Primary Education Support Initiative (Sapesi-Japan), a non-profit organisation, with the ocean transport of mobile library vehicles to South Africa.
The mobile libraries that have already played an important role in local communities in Japan will soon provide new value when visiting elementary and junior high schools in South Africa, thus contributing to the education of both students and teachers.
On Tuesday this week (16 April) a ceremony was held at the South African Embassy in Tokyo to mark the departure of all eight mobile library vehicles, donated from all over Japan.
Similar assistance was provided in 2009 and 2010 when MOL transported 24 library vehicles. Four of them are being transported by MOL's cutting-edge hybrid car carrier, the EMERALD ACE, which departed Japan on 8 April.
The hybrid car carrier Emerald Ace, delivered in June 2012, represents a major step toward reducing the environmental burden of the vessels. It is equipped with a hybrid power supply system which combines lithium-ion batteries with solar power generation systems to reduce emissions to zero while at berth.
Giant Vale ore carrier berths in Chinese port

Vale Brazil, one of the 400,000-dwt iron ore bulkers. Picture by Frank Verheij
The giant 400,000-dwt bulk ore ship VALE MALAYSIA entered the Chinese port of Lianyungang last week, marking the first arrival in a Chinese port of a Valemax ship carrying Brazilian iron ore since being banned by Beijing in January 2012.
The Vale Malaysia arrived in Lianyungang on Monday (8 April) and sailed on Wednesday after discharging the full cargo. The so- called Valemax ships (400,000-dwt ore ships) were blocked from entering Chinese ports after complaints from Chinese ship operators.
Although other reasons were given at the time, it is believed that Chinese ship operators complained that the giant Brazilian ships gave Vale an unfair advantage against the smaller Chinese ships.
The Brazilian response has been that the ships were designed to help counter the longer distance (and therefore higher cost) of transporting Brazilian iron ore to China when compared to closer sources in Australia.
News continues below…

DURBAN DIG-OUT PORT – FIRST STAKEHOLDER ENGAGEMENT CONCLUDED

The new Durban 'dig-out' port as proposed in its final stage. Image courtesy Transnet Capital Projects
Transnet has concluded the first in a series of early stakeholder engagement sessions with local organisations on the proposed Durban dig-out port project.
If built, the new port will be to the south of Durban on the site of the former Durban International Airport and 15 minutes by car from the existing port. It has been proposed that it will consist of 16 container berths, three Ro-Ro berths for the automotive business, and several oil and product tanker berths.
The engagement sessions just concluded form an integral part of the project's concept phase which includes the development of a Sustainable Port Development Framework (SPDF) that will inform all future designs as well as operations.
Transnet commenced with high-level technical and environmental studies in 2012 as part of the proposed Durban dig-out port project process. The current concept phase is scheduled to conclude in July this year, and comprises the generation of a number of technical design options.
The engagement sessions involved key representatives from local business, property, environmental and civic associations who met in order to comment on a discussion document which was distributed to them in mid-February 2013.
The discussion document included important information on the background to, and process involved in, validating the viability of constructing a major container port on the site of the old Durban International Airport.
"Involving key stakeholders at this early stage of the process is essential as it ensures strategic participation in the discussion around the project's environmental and socio-economic issues and impacts," said Marc Descoins, Transnet's Programme Director for the proposed port project.
"The objective of engaging during the concept phase is to share project information, open lines of communication between Transnet and stakeholders, and actively engage key representatives of the various stakeholder groups with the view to initiate dialogue on the project.
"We believe that the recent sessions were valuable in gaining a better understanding of the needs of the local communities, including details on aspects of the programme that stakeholders considered to be working well, areas that require improvement and key recommendations regarding priorities," Descoins said.
The sessions were held at various public venues and were facilitated by an independent sustainability consultancy. All feedback obtained during the engagement sessions was captured and will be factored into the development of the SPDF which will ensure the effective implementation of sustainability objectives throughout the life cycle of the proposed port project.
Along with promoting the long-term sustainability and operational excellence of the port, the framework also seeks to integrate environmental and social principles into the planning process.
The series of engagement sessions, which will continue throughout the project's lifespan, will also form part of the Department of Transport's requirement for engagement during the strategic level environmental assessment as part of the legislative requirement for the promulgation of the port.
The process of moving from the current concept phase through the pre-feasibility and feasibility phases, and finally to actual implementation is anticipated to take approximately four years. The next phase, which is the pre-feasibility phase, is expected to proceed in July this year when the viability of the preferred design option will be thoroughly investigated.
"At the end of the concept phase, an assessment will be conducted to determine whether all necessary criteria were met and that there is sufficient certainty that the project will be sustainable," says Descoins.
The proposed port forms a key pillar of Government's Strategic Integrated Projects (SIPs) to upgrade the Durban-Free State-Gauteng Freight Corridor (also known as SIP2 in the National Infrastructure Plan).
News continues below...

SAASOA ADOPT A LEARNER GRADUATION
by Sheila Hutson
The first group of learners involved in the SAASOA 'Adopt a Learner' project received their Level 4 FET Certificate in Shipping at a function at the Durban Country Club earlier in April.
SAASOA (South African Association of Ship Operators and Agents) acknowledged the shipping companies which mentored the learners in their workplaces. Those students spoken to all expressed their intention of completing further studies and acknowledged that in order to keep abreast of future developments within the industry further study will be essential.
Prior to 2006/7 there were no formalised shipping qualifications in South Africa. SAASOA and TETA (Transport Education & Training Authority) co-operated to develop a learning programme which was funded by TETA and developed by SAASOA. The first enrolments took place in 2009/10 and last week's function marked the culmination of their studies.
Current shipping qualifications expire in 2015. During the next three years further course development will take place to create the new QCTO (Quality Council for Trades & Occupations) Framework – National Vocational Certificate - requiring input from expert facilitators within the shipping agent sector to provide qualifications that are internationally recognised and will provide a career path for those entering the maritime industry as well as those already in the industry.
The Department of Higher Education and Training has revised its funding policies and the mandatory grants have been reduced from 50% to 20% while the discretionary grants have been adjusted upwards from 20% to 50%. Those applying for grants in 2013 must submit applications by 30 June. With effect from 2014 the annual applications will need to be submitted by 30 April each year.
News continues below…

FISHING RIGHTS ALLOCATIONS PROCESS ON TRACK

The sea fishery research vessel AFRICANA, while under navy control. Picture by LJ Vosloo
Pretoria - The Department of Agriculture, Fisheries and Forestry says it is on track to start the fishing rights allocation process.
The consultative process is in full swing and officially commenced last week as the Draft Revised General Policy on the Allocations and Management of Fishing Rights was released. According to the department, a meeting was also held with representatives from the fishing sector.
The purpose and objectives of the General policy, together with the Fishery specific policies includes:
promoting food security and socio-economic development through the sustainable utilization of fisheries resources
promoting transformation, broaden meaningful participation and growth in the fisheries sector
supporting and developing regulatory and management mechanisms aimed at promoting sustainable utilisation/management of fisheries resources
achieving the recognition, protection and support of small-scale fishers
promoting the recognition of the interdependency of the social, cultural, economic and ecological dimensions of small-scale fishery systems
achieving the incorporation of a community-based rights approach to the allocation of marine living resources; promote the allocation of resources through a multi-species approach
introducing measures and mechanisms that prioritise the small-scale fisheries sector within the fishing industry
and introducing mechanisms and structures that promote a community orientation, co-management and community-based approach in the harvesting and management of marine living resources within the small-scale fisheries sector.
The General and Fishery specific policies are informed by government's key policies, namely the National Development Plan, the Integrated Growth and Development Plan (IGDP) for agriculture, forestry and fisheries, the New Growth Path (NGP), the Industrial Policy Action Plan (IPAP) and the Comprehensive Rural Development Programme (CRDP).
Fishing rights in eight fisheries sectors are expiring in December this year. These sectors are KwaZulu-Natal prawn trawl, demersal shark, squid, tuna pole, hake hand line, white mussels, oysters and traditional line fish.
Call for applications are expected to be gazetted in May this year. Source - SAnews.gov.za
CRUISING – NEWS FROM THE WORLD OF CRUISE SHIPS
Introducing Royal Caribbean's new Quantum class

Computer generated impression of the 167,000-gt Quantum of the Seas. Image RCCL
On Tuesday this week Royal Caribbean International introduced details of the new Quantum class generation of cruise ships.
"This new generation of ships gave us an opportunity to make another leap in vessel design. Innovation has always been part of our DNA and we have taken advantage of all that creativity to design Quantum cruising," said Richard D Fain, chairman & CEO of Royal Caribbean Cruises, Ltd. "The unique features on Quantum will boggle our guests' minds, but the real strength of the design is how our people have integrated all these diverse components to create a comfortable and exciting experience."
Full of special features many of which are new to cruise ships, RCCL continues to lead with attractions aimed at bringing people on board to cruise on their ships. For example, Quantum of the Seas will have the new observation capsule called North Star, which is fitted on an arm that takes the platform as much as 91 metres above the water and extends over the side of the ship.
Other features include a dodge-'em car rink and simulated skydiving, with jumpsuits and all.
Quantum of the Seas, which will be homeported at Cape Liberty and will operate 7 to 12-night itineraries, will be followed by a second ship in the class, Anthem of the Seas which is due in early 2015.

Dodge-em cars on board the Quantum of the Seas. Image RCCL
Carnival says it will pay for rescue
The Carnival Corporation, under the whip after a series of disasters that have befallen several of the cruise ships within the family of cruise companies owned by Carnival, has indicated it will repay the US federal government an unspecified amount for expenses incurred when the US Coast Guard and other agencies had to respond when two Carnival Cruises ships, the Carnival Splendor and the Carnival Triumph, experienced breakdowns while at sea.
According to Carnival, the repayments are voluntary on its part as it hasn't had a request from the government.
The statement comes after strong criticism was expressed by Senator John D Rockefeller IV, chairman of the Senate Commerce Committee, who estimated that the rescue of the Splendor, which lost power after an engine room fire, had cost the US Navy and Coast Guard about US$3.5 million. He reckoned the crippled Triumph had cost an estimated $780,000 to respond to.

Carnival Triumph dead in the water, earlier this month
Carnival will spend $300 million on ship safety
Following the problems that Carnival Corporation has had with a number of its cruise ships, the US company says it intends spending $300 million on improving emergency power and fire safety systems and equipment across the group's fleet of 24 ships.
These upgrades are to be aimed at improving the ships' back-up systems. Several of Carnival's ships have experienced stoppages for different reasons, leading to angry passengers and cancelled cruises.
"By applying lessons learned through our fleet-wide operational review after the Carnival Triumph fire ... we have identified areas for enhancement across our operations," said Chief Executive Gerry Cahill.
Last month Carnival Corp reduced its revenue and profit forecast for the year, following a spate of mishaps. Among these has been the earlier disastrous capsizing of Costa Concordia, one of the ships of subsidiary company Costa Crociere, in which 32 passengers and crew died. Company stock on the New York Stock Exchange has fallen since December 2012 after the company issued notice that it expected bookings to lag.
Picture perfect arrival
Silverseas' lovely little cruise ship SILVER WHISPER makes a perfect sight as she enters Cape Town harbour recently. Picture by Ian Shiffman
Tourists off cruise ship robbed at gunpoint
Passengers from the cruise ship CELBRITY ECLIPSE, who were travelling on a bus and sightseeing in St Lucia, were held up by armed gunmen and robbed of their possessions, it has been reported.
No, this wasn't St Lucia in South Africa, but the island of St Lucia in the Caribbean. There were no injuries but about 50 passengers were left shocked and robbed after expecting an interesting day ahead. The news was leaked to a local television station but Celebrity Cruise Line and its parent company, Royal Caribbean Cruises Ltd reportedly failed to respond to calls and emails seeking confirmation.
The chairman of the St Lucia Tourist Board described the robbery as a 'rare' occurrence.
NAMIBIA-BOTSWANA RAILWAY PROJECT STALLS
Plans leading to the signing of an agreement for the building of a R100-billion railway across Botswana and Namibia were cancelled last Saturday virtually at the last moment, and have been 'postponed' until further notice.
The project between the two countries has the potential of far reaching consequences for the port of Walvis Bay and/or a new port on the Namibian coast. There were contradictory explanations given for the sudden postponement.
According to one Botswana official, it was a matter of the Botswana Minister of Transport and Communications having difficult traveling arrangements that 'did not work out'. But the minister's counterpart in Namibia has a different reason, saying that there was the possibility of the need for amendments to the agreement.
However, he expressed his confidence that the matter could soon be sorted out and said he expected the agreement to be signed in Namibia "very soon".
The 1,500-km Trans-Kalahari Railway, as it will be called, will provide landlocked Botswana with an alternate route to the sea and will reduce the country's dependency on South African ports and railway networks. It will also provide a viable outlet for Botswana's coal exports from the Mmamabula coalfields in the country's northeast (close to South Africa's Waterberg coalfield).
ANCIENT EGYPTIAN PORT DISCOVERED NEAR SUEZ
A French-Egyptian archaeological mission says it has discovered an ancient commercial harbour dating from the fourth dynasty King Khufu, who is also known by his Greek name of Cheops, at Wadi Al-Jarf area, 180 km south of Suez.
Khufu reigned from 2609BC and was the first Egyptian pharaoh to build a pyramid at Giza.
The harbour that was discovered by the archaeological mission from the French Institute for Archaeological Studies (IFAO) is considered one of the most important commercial harbours where trading trips to export copper and other minerals from Sinai were launched.
A collection of vessel anchors carved in stone was also discovered as well as the harbour's different docks.
Minister of State for Antiquities Mohamed Ibrahim announced that a collection of 40 papyri, showing details of daily life of ancient Egyptians during the 27th year of King Khufu's reign, was also unearthed during excavation work that was carried out.
"These are the oldest papyri ever found in Egypt," Ibrahim declared.
He also stated that these papyri are very important because it reveals more information on the ancient Egyptians' daily life, as it includes monthly reports of the number of labourers working in the harbour and details of their lives.
The papyri have been transferred to the Suez Museum for study and documentation.
The mission has also succeeded in discovering the remains of workers' houses, which reveals the importance of this harbour and area commercially whether among the different cities of Egypt or abroad, said Adel Hussein, head of the Ancient Egyptian Sector at the Ministry of State for Antiquities.
A collection of 30 caves were also discovered along with the stone blocks used to block their entrances, inscribed with King Khufu's cartouche written in red ink. Ship ropes and stone tools used to cut ropes and wooden remains were discovered as well. Source – Egyptian State Information Service
PICS OF THE DAY – SAS PROTEA and SAS MENDI
The lovely old hydrographic survey SAS PROTEA, looking serene on her berth at Simon's Town during the recent Navy Festival. Picture by Trevor Jones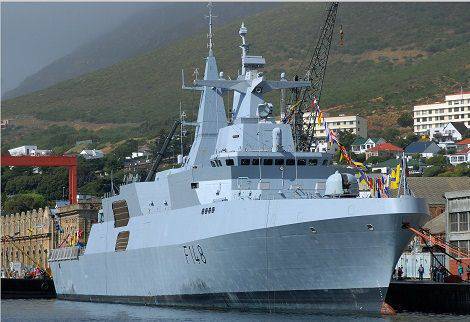 The Valour class frigate SAS MENDI (F148) at her berth in Simon's Town, also during the Navy Festival weekend. Picture by Trevor Jones
Don't forget to send us your news and press releases for inclusion in the News Bulletins. Shipping related pictures submitted by readers are always welcome – please email to info@ports.co.za
Did you know that Ports & Ships lists ship movements for all southern African ports between Walvis Bay on the West Coast and Mombasa on the East Coast?
TABLE BAY UNDERWAY SHIPPING
SHIP PHOTOGRAPHERS
Colour photographs and slides for sale of a variety of ships.

Thousands of items listed featuring famous passenger liners of the past to cruise ships of today, freighters, container vessels, tankers, bulkers, naval and research vessels.
P O BOX 809, CAPE TOWN, 8000, SOUTH AFRICA
snai@worldonline.co.za
http://home.worldonline.co.za/~snai
South Africa's most comprehensive Directory of Maritime Services is now listed on this site. Please check if your company is included. To sign up for a free listing contact info@ports.co.za or register online
Looking for help? Try our MARITIME SERVICES DIRECTORY CLICK HERE