Ports & Ships Maritime News
25 March 2013
Author: Terry Hutson
Bringing you shipping, freight, trade and transport related news of interest for Africa since 2002
ADVERTISING
Five good reasons why you should consider advertising on Ports & Ships online:
1] Competitive rates
2] Dedicated maritime readership
3] Averages over 50,000 readers each month
4] Over 200,000 pages read every month
5] Advertisements are never taken down, they keep on working
For a Rate Card please contact us at info@ports.co.za
The next News Bulletin from PORTS & SHIPS will appear on Thursday this week, one day earlier than is usual, owing to the Easter holidays. We wish all our Christian readers a very happy and blessed Easter
TODAY'S BULLETIN OF MARITIME NEWS
Click on headline to go direct to story – use the BACK key to return
SEND NEWS REPORTS AND PRESS RELEASES TO info@ports.co.za
News continues below...

FIRST VIEW – PALLADA
The Russian sail training ship PALLADA arrived in Durban on Saturday morning, its visit to coincide with this week's BRICS Summit, which is being held in South Africa for the first time. The tall ship is assisting by helping to showcase the Russian delegation, headed by the Russian President Putin who arrives in the country tomorrow (Tuesday). Pallada is homeported in Vladivostok and is operated on behalf of the Far Eastern State Technical Fisheries University in Vladivostok. Shortly after the tall ship's arrival, Tsietsi Mokhele, SAMSA's chief executive expressed the hope that the visit of the tall ship would result in an exchange programme where South African and Russian cadets could receive training in each other's country. The rector of the Russian university, Dr Kim Georgii, responded by saying that they would be happy to invite South African cadets to Russia. He said the two countries had a "great mutual future together." Picture courtesy of Alex Thompson
News continues below…

SAMSA BOOSTS SOUTH AFRICA-RUSSIA RELATIONS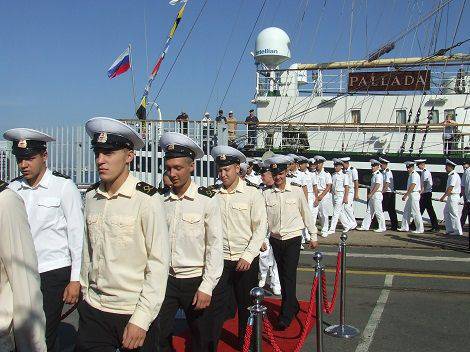 Red carpet treatment. Cadets and officers from the sail training ship Pallada march off the ship and across a red carpet to attend a welcoming ceremony on Durban docks. Picture by Terry Hutson
Durban – Maritime specialists from Russia and South Africa on Saturday pledged to strengthen their ties, during the welcoming ceremony for the Russian training vessel, STS Pallada.
The ceremony was hosted by the South African Maritime Safety Authority.
A red carpet was laid out on the Durban harbour quayside where the sailing ship berthed, in honour of the Russian ambassador to South Africa, Mikhail Ivanovich Petrakov, as well as about a hundred cadets and crew members from the STS PALLADA, which belongs to the Far Eastern State Technical Fisheries University. Their visit forms part of the BRICS summit which starts in Durban tomorrow (Tuesday).
Students from the Russian University entertained the crowd with traditional dancing while a South African Army Brass Band and the Uzuko African Marimba band kept feet tapping.
SAMSA CEO, Tsietsi Mokhele, said the relationship with Russia existed as far back as the 1980's when it supported and hosted South Africa's political exiles and provided maritime training for South Africans, like himself.
"Over the next couple of days we want to engage with you on how to strengthen that partnership," he said.
Thanking the Russians for their support during apartheid, Mokhele said he hoped the visit of the STS Pallada would result in an exchange programme where South African and Russian cadets could be trained in each other's country. He said Russia had developed its maritime industry to build a strong economy. Africa, which had 31,000kms of coastline, was a rising star in economic terms but would require many maritime experts.
The rector of the of the Far Eastern State Technical Fisheries University, Dr Kim Georgii, said they would be happy to invite South African cadets to Russia. Thanking SAMSA for the warm welcome, Kim said the two countries had a "great mutual future together".
Delivering an address on behalf of Transport Minister Dikobe Ben Martins, the department's deputy director-general Mawethu Vilana said SAMSA was investigating the sustainability of incorporating a tall ship in its seafarer training programme because, he said, cadets who trained on vessels where operations are 100% manual "have a better appreciation of stability, navigation and general vessel handling and design of vessels for efficiently harnessing of available energy and responses."
Vilana said the Pallada's presence gave South Africa an opportunity to observe the operations of a sail training ship while forging close relations with its Russian partners in BRICS. He also commended the Russians for its training initiative which was focused on the fishing industry. "It is an initiative that we have been grappling with for a long time and we consider that the Russian model holds some key lessons for our country," said Vilana.
He said this was vital as South Africa's fishing and aquaculture industry had an annual turnover of about R80 billion annually and contributed 0.5% to the South African GDP. Vilana said the value of the national catch across 22 commercial fishing industries was estimated to be between R5 billion and R6 billion annually. In addition 31,500 people were directly employed in the industry which also created a further 81,000 indirect jobs.
Durban mayor, James Nxumalo, said the visit was significant as this was the first time that a BRICS summit was being hosted in Africa. In addition Durban wanted to promote sister city trade and country-to-country trade and engagement to develop the local economy.
Nxumalo received a letter of support from the mayor of Vladivostok where the University is based.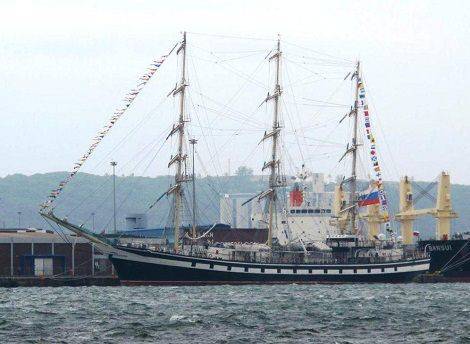 STS Pallada from the waterside. Picture courtesy Alex Thompson
PORTWATCH: NEWS FROM ACROSS THE PORTS & HARBOURS OF AFRICA
French-Danish consortium to operate new Cote d'Ivoire terminal

Abidjan's existing container terminal. Picture OTAL
A consortium of European port operators from France and Denmark has been listed as the preferred bidder to operate a new container terminal in the Cote d'Ivoire's Port of Abidjan.
The consortium is made up of France's Bolloré Logistics and Bouygues Construction, and Denmark's APM Terminals.
The concession is for a period of 21 years and requires an investment of US$594.5 million over the full period. With a scheduled opening in 2016, the terminal will have a design capacity of 1.5 million TEUs a year. The present container terminal, for which Bolloré Africa Logistics holds the concession, has a capacity of 800,000 TEU.
The new terminal will have a quay length of 1,100 metres and is designed to cater for ships of up to 8,000-TEU.
Peder Sondergaard, Maersk APM Terminals Africa and Middle East CEO said in a statement that the new terminal will lift the infrastructure of Abidjan for the benefit of the country and its population.
"We look forward to working towards developing the project together with the port authority," he said.
Seli 1 wreck remains highly visible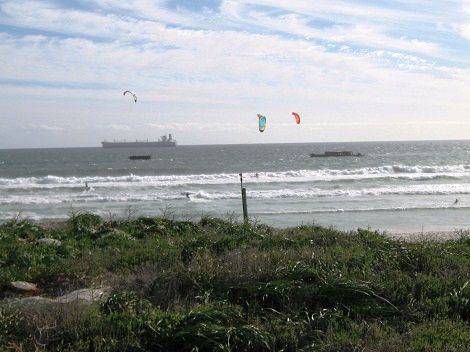 The wreck of Seli 1 on Saturday, 23 March 2013. Below is the same scene but taken in September 2012. Both pictures by Pat Downing
Reports that the navy had successful blown up the wreck of the grounded cargo ship SELI 1 are highly exaggerated, according to a report made to Ports & Ships.
There have been stories doing the rounds of the Seli 1 being blasted by the SA Navy in order to sink her – but how can one sink her when she is already on the seabed, wrote Pat Downing.
"The blasts have been loud. I live half a block from the shore where the Seli 1 lies and with every blast the windows rattled and the place shook. On Thursday evening at the Ship Society, a couple of the men were talking about the blasting of the wreck and saying that it has now been finally sunk, which I disagreed with, as I had driven past the wreck that evening. So on my way to the Ship Society on Saturday afternoon, I took the attached photo. Not a prize winning photo, but at least the guys could see that it is still visible. We all had a good laugh about all the stories that are doing the rounds re the Seli 1."
Mr Downing said that as we at Ports & Ships might have heard different stories, he thought we might like to see the two attached pictures (one of which is shown here).
Seli 1 went aground in Table Bay in September 2009 after experiencing engine problems. Earlier, the ship had loaded a cargo of coal in Durban and was bound for Gibraltar. After efforts to pull the ship clear failed, the ship owner and cargo owner abandoned the wreck, and it was left to SAMSA on behalf of the South African government to bear the costs of the wreck. With no insurance available, various steps were taken to lighten the ship, including having coal taken ashore by a speculator before rough seas put a stop to further efforts. By now the ship's back had broken and other measures to reduce the level of the ship met with only partial success. Recently the navy was called in to assist in reducing the ship even further, using controlled explosions. It is these that are being referred to by Mr Downing.
News continues below...

TRADE AND TRANSPORT: ANGOLA EYES FORESTRY AS 2ND BIGGEST SOURCE OF STATE REVENUE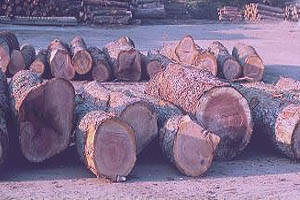 Forestry resources in Angola may become the second-biggest source of state revenue, the head of the forestry department of the Forestry Development Institute (IDF) said in Luanda.
Mateus André told Angolan news agency Angop that his projection was based on the fact that forestry resources had the capacity to produce 360,000 cubic feet of wood per year and that current production stood at between 60 and 70,000 cubic feet.
Noting that the difference in production accounted for an annual loss of US$155 million in revenue, André added that the most explored forests in Angola were tropical rain forests, which accounted for just 2 percent of the 53 million hectares of forest in the country.
The tropical rainforests are mainly located in the provinces of Cabinda, Uíge, Zaire and Bié.
Figures for last February included in the 2nd Report on the General State of the Environment, showed that deforestation in Angola totals 10,600 hectares per year, which is mainly due to indiscriminate logging by local populations and companies.
According to the document, the forestry sector accounts for 43.3 percent of Angola's total area and the current use of agricultural land for around 40 percent, which has increased due to the progress of land mine removal.
In 2012, the forestry sector accounted for 10.5 percent of Angola's Gross Domestic Product. Source – macauhub
Vale ready to renew coal exports from Moatize to Beira
Vale, the world's No 2 mining company, is set to resume shipments on a number of coal contracts from Moatize in Mozambique after heavy rain forced a halt to shipments in February, according to a securities filing.
Vale said the declaration of force majeure affected the shipment of about 500,000 metric tons of coal. The Sena Line that transports coal from Mozambique's Tete province to an export terminal was shut down on 12 February, closing off Vale's only export route.
Logistics problems are frequent challenges for mining firms operating in Mozambique. Source - macauhub
MSC CRUISES OPENS THE DOOR TO SOUTH AFRICAN JOB SEEKERS

The advent of MSC Opera in South Africa this summer played a role in bringing about an increase in the number of landside jobs made available by MSC Cruises. Picture by Trevor Jones
MSC Cruises SA recently announced an extended 2013/14 season, with the return of MSC Opera and MSC Sinfonia to South African shores, and the introduction of exciting new itineraries.
Now comes the news that MSC Cruises will play an increasingly active role in job creation and skills development in the South African cruising and hospitality sector.
MSC Cruises is the only cruise line sailing regularly in South Africa, with MSC Sinfonia and the more recent addition of MSC Opera operating for almost six months a year from the home ports of Durban and Cape Town.
"Investing in people by creating local jobs, contributing to current and future infrastructures, and substantially helping the local economy with local procurement for our ships' requirements, are just a few of the commitments that we're undertaking," notes Neil Palomba, COO MSC Cruises.
In 2012 MSC increased the jobs created in its South African operation by over 50% to over 2,200 direct and indirect jobs. MSC hopes to increase this substantially in 2013, not only via land based offices and travel agent commissions, but now extended to employment on the different vessels in its' fleet, previously a limited area of opportunity for South Africans.
At the moment the Durban Harbour employs check in staff and there are various financial and career opportunities being afforded to a number of suppliers in the cruise, transport, and hospitality sector. These include air transportation, bus operations, taxi and other transport industries, restaurants and local tourist attractions in the home ports, as well as local hoteliers.
Positions where MSC will now look to recruit within the South African market for 'onboard' positions include Guest Services, Buffet attendants, Room Service Attendants, Waiters and Waitresses, Shore Excursion Hosts, Shop Assistants, Casino Dealers, as well as Housekeeping Staff. The positions and relevant recruitment will be applicable for local as well as international seasons.
MSC Cruises says it hopes through this recruitment to not only contribute substantially to job creation in South Africa, but also to allow for skills development where previously South Africans have not been afforded the opportunity.
Interested participants are urged to visit the MSC website www.msccruises.co.za and click on 'Careers', where they will find a dedicated section detailing all opportunities.
"At MSC Cruises, we truly believe that South Africa has a huge potential for employment in the cruising sector. In the MSC family, entrepreneurial spirit, leadership and experience go hand in hand with rigorous knowledge and respect for the sea and for people," says Palomba.
MSC Cruises is the world's largest privately-owned cruise company and the world's 3rd largest cruise group.
PICS OF THE DAY – HOEGH AFRICA, UTHUKELA and CRANE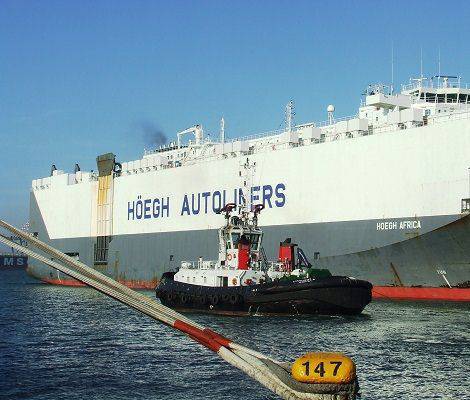 The auto carrier HOEGH AFRICA is assisted from her berth at R shed by the Durban tug UTHUKELA, on Saturday 23 March 2013. Before anyone asks why the full ship is not in the picture frame, the answer is that this is the best possible while pointing a camera at an angle through the steel security fence at O berth. Gone are those halcyon days of pre-2004 when one could stand freely along the quayside without the over indulgence of security resulting from American-inspired paranoia. Picture by Terry Hutson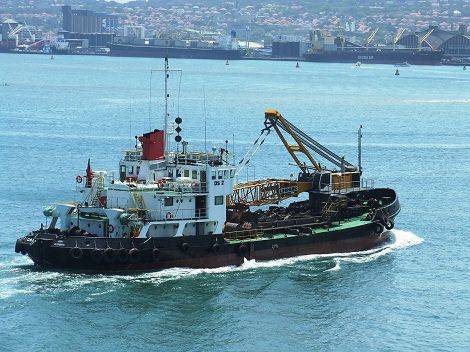 Transnet's departmental crane dredger, aptly named CRANE although for the bird species rather than a man-made mechanical, makes her way across harbour towards Maydon Wharf in this November 2012 scene. A tender has been advertised for the replacement of this vessel which includes the recovery and reuse of the Liebherr crane on her deck. Picture by Terry Hutson
Don't forget to send us your news and press releases for inclusion in the News Bulletins. Shipping related pictures submitted by readers are always welcome – please email to info@ports.co.za
Did you know that Ports & Ships lists ship movements for all southern African ports between Walvis Bay on the West Coast and Mombasa on the East Coast?
TABLE BAY UNDERWAY SHIPPING
SHIP PHOTOGRAPHERS
Colour photographs and slides for sale of a variety of ships.

Thousands of items listed featuring famous passenger liners of the past to cruise ships of today, freighters, container vessels, tankers, bulkers, naval and research vessels.
P O BOX 809, CAPE TOWN, 8000, SOUTH AFRICA
snai@worldonline.co.za
http://home.worldonline.co.za/~snai
South Africa's most comprehensive Directory of Maritime Services is now listed on this site. Please check if your company is included. To sign up for a free listing contact info@ports.co.za or register online
Looking for help? Try our MARITIME SERVICES DIRECTORY CLICK HERE