Ports & Ships Maritime News
3 January, 2013 UPDATES
Author: Terry Hutson
ADVERTISING
We offer great rates and a widespread dedicated maritime sector readership. Throughout 2012 Ports & Ships has averaged in excess of 50,000 readers each month. During October 2012, for example, we enjoyed the company of 54,360 readers on this site, readers who made 206,735 page views and recorded 956,532 'hits'. By having your company banner on these pages you can benefit by reaching out to this readership.
Another advantage of advertising with us is that we don't take down our pages so your advert continues to work for you, month after month, year after year. Check it out on site -- we're 10 years old this month so that's not an exaggeration.
For a Rate Card please contact us at info@ports.co.za
Bringing you shipping, freight, trade and transport related news of interest for Africa since 2002
TODAY'S BULLETIN OF MARITIME NEWS
Click on headline to go direct to story – use the BACK key to return
WE WISH ALL OUR READERS A VERY HAPPY AND BLESSED TIME DURING THE FESTIVITIES OF CHRISTMAS AND NEW YEAR.
Our special thanks go to those who have supported PORTS & SHIPS over the past ten years with advertisements, photographs, articles, book reviews, news reports and general encouragement. Please continue.
PORTS & SHIPS now goes into 'holiday mode' and will commence again in mid-January 2013. Any breaking, important news will however be uploaded during this period, so do keep coming back to this site.
SEND NEWS REPORTS AND PRESS RELEASES TO info@ports.co.za
News continues below...

LATEST NEWS UPDATES
TROPICAL CYCLONE DUMILE NEARS REUNION
Tropical Cyclone Dumile lay northwest of the Indian Ocean island of Reunion earlier today (Thursday, 3 January 2013), on a path that if maintained could see the storm bypassing close to the French dependency before heading off into the Southern Indian Ocean and weakening rapidly south of the Mascarenes.
The storm is however expected to bisect the major sea route between Southern Africa and Mauritius and the Far East. Reunion has been placed on an ORANGE alert and a local advisory is in force.
Cyclone Dumile has winds of 65 knots and higher gusting to 80 knots. The storm was moving at 13 knots 190°S. Maximum wave height was in the region of six to seven metres.
New storm building
Meanwhile, a Tropical Disturbance alert has been issued for a storm building in the Southern Indian Ocean 720 n.miles east of Diego Garcia in the Chagos Archipelago, where the likelihood of the storm developing into a tropical cyclone has been upgraded to HIGH. Yesterday the storm was situated at 8.9°S and 84.5°E
DEATH OF CAPT. JAN MORS

Capt. Jan Mors. Picture courtesy Yvonne de Kock
The death has occurred in Holland of Capt. Jan Mors, former port director at Durban, senior executive manager of marketing for Transnet and later a senior official with ICTSI (International Container Terminal Services, Inc).
Capt. Mors, who was 70, had been in ill health for some time, which led to him relocating from South Africa to his native Holland to be near his family.
He is survived by two daughters and three grandchildren, who live in the UK.
The funeral memorial service for the late Jan Mors will take place in The Netherlands on Friday, 4 January at 10am local time. A memorial service will be held simultaneously in Durban at the Seafarers' Centre at Bayhead off Langeberg Road at 11am local time.
Ports & Ships will offer a more detailed obituary in its first full edition next week.
FIRST VIEW – VILLE D'ORION
CMA CGM's container ship VILLE D'ORION (40,465-gt, built 1997) seen arriving in port at Cape Town this month. Picture by Ian Shiffman
News continues below…

SHIPWATCH: NEWS FROM THE WORLD OF SHIPS AND SHIPPING LINES
Hapag Lloyd and Hamburg Süd in talks of merger

Hamburg Süd's CAP CARMEL (25,709-gt, built 2003) arriving in Durban. Picture by Terry Hutson
The two German shipping lines of Hapag-Lloyd and Hamburg Süd have announced that they are in preliminary discussions over a possible merger.
In a brief statement, both companies said: "The Executive Boards of Hapag-Lloyd AG and of Hamburg Südamerikanische Dampfschifffahrts- Gesellschaft KG (Hamburg Süd), in agreement with their shareholders, are investigating if, and under what conditions, a merger of both companies would be of interest."
By joining forces the two lines would leapfrog into becoming the world's fourth biggest shipping line, with combined revenues of more than US$13 billion and a fleet of more than 250 vessels and an aggregate slot capacity exceeding 1.1 million TEU.
Hamburg Süd is controlled by the Oetker family, where in recent times a difference of opinion over the group's future has been noticed. Hapag-Lloyd is controlled by the city of Hamburg and the logistics provider, Klaus-Michael Kühne, - the latter is known to be in favour of some form of consolidation with another line.
Rickmers-Linie to take delivery of two newbuildings

Rickmers Singapore (30,018-dwt, built 2003) in the Houston Channel, USA. This is a similar vessel in appearance to the two newbuilds on order from Hudong, though the deadweight of them at 20,000-dwt will be a lot less than the Singapore.
Another German shipowners, Rickmers-Linie is to take delivery of two 20,000dwt newbuildings in 2015. The ships will be built at Hudong- Zhonghua Shipbuilding in China.
The multi-purpose vessels will be equipped with two 450-tonne cranes and one 120-tonne crane each, with the two main cranes enabling the loading of up to 900 tonnes in a single lift.
Construction supervision and technical management will be the responsibility of Rickmers Shipmanagement while asset and commercial management will be undertaken by Rickmers Reederei. The ships will be delivered between January and March 2015.
The new 171m long, 25m wide ships will be known in the Rickmers fleet as PX-900-type vessels, said Ulrich Ulrichs, Rickmers-Linie MD and COO.
"While the design is based on the P1/P2 Type, the Rickmers Group is working with the yard to develop a more efficient design to reflect current market needs including a substantial reduction in fuel consumption. An optimised hull form and a high efficiency propeller and rudder will enable the new ships to achieve an operating speed of 16.5 knots while using considerably less power and being optimised for slower speeds operating down to 10% MCR.
Ulrich said it had not been determined on which routes these new ships will be placed but added that he was confident that there will be strong market requirements for them.
Two UK cruise ships hit by novovirus

P&O Cruises' ORIANA (69,840-gt, built 1995), one of the two ships to be affected by a recent outbreak of novovirus.
Two P&O Cruises' ships were struck this month by outbreaks of the dreaded novovirus. The first ship to be affected was the ORIANA while on a 10-day cruise to the Baltic.
Passengers on board dubbed the vessel a plague ship and told a UK newspaper that passengers "were falling like flies", and said the crew persisted in putting a brave face on things by denying that there was anything wrong.
As news reached the outside world came the word that a second ship, the AZURA had also been affected by a novovirus outbreak, leaving a number of passengers confined to bed. The ship had been on a 11-night Iberia cruise with over 3,000 passengers on board. Only ten were diagnosed with the illness however so it seems this outbreak was of a minor nature.
Norovirus is highly contagious and is often transmitted through contact with an infected person or contaminated surfaces and objects. Ships' buffets are thought to be a common point for spreading the virus. Symptoms include vomiting, diarrhoea or both, a temperature, headache and stomach cramps. The illness usually clears within a few days.
News continues below…

TALL SHIPS: ARGENTINA'S ARA LIBERTAD ORDERED RELEASED
International court orders release of ARA Libertad
Ghana has been ordered to immediately release the detained Argentine Navy tall ship ARA LIBERTAD, which was arrested during a courtesy visit to Tema harbour.
The arrest was a result of a court order obtained by NML Capital Ltd, a US hedge fund management company run by billionaire investor Paul Singer. NML claimed compensation through a possible sale of the sailing ship over bonds that were made worthless when Argentina defaulted on part of its sovereign debt in 2002. NML is arguing in a US court to recover the full value of the defaulted Argentine securities.
In 2005 and 2010 the South American country restructured approximately 93% of the defaulted bonds, giving creditors about 30 cents on the US dollar. NML along with several others did not participate in the debt exchanges.
In terms of a judgement handed down by the Hamburg-based International Tribunal for the Law of the Sea, Ghana was to immediately release the sailing ship which should be allowed to sail. Both Argentina and Ghana were to bear their own costs in the case, the Tribunal ruled.
ARA Libertad was carrying about 200 crew and cadets at the time of her arrest. The cadets were allowed to leave the ship and return to their homes in various South American and African countries, including South Africa.
Lord Nelson's SA visit confirmed
The visit to South Africa of the UK sail training ship LORD NELSON has been confirmed. The sailing ship, which is one of two sailing ships owned and operated by the Jubilee Sailing Trust, is currently on a two-year world cruise during which the ship will cross the Equator four times while sailing over 50,000 n.miles.
The square-rigged, 55-m long, three-masted barque will visit seven continents and 30 countries in this time, of which South Africa is one. She is one of only two tall ships in the world equipped to sail with a mixed crew of disabled and able-bodied sailors.
Her equipment includes hoists to enable crew members in wheelchairs to be lifted up the rigging. She is regularly crewed by people with cerebral palsy, people who are blind and people who have suffered amputations and spinal injuries, with everyone on board playing a role in sailing the tall ship.
Lord Nelson will arrive in Cape Town from South America on 3 February 2013. She departs on 6 February for a Cape Town to Cape Town voyage on 6 February, returning on the 12th.
On 16 February the sailing ship will leave Cape Town on a 12-day voyage to Durban, where she is due to arrive on 27 February 2013.
News continues below...

SECURITY: SPANISH PATROL SHIP IN SA WATERS & PIRATES STRIKE AGAIN
Visit by Spanish patrol ship P43

P43 off Durban harbour earlier in the week. Picture by Clinton Wyness
The unexpected arrival off Durban of a Spanish patrol ship, identified initially only as 'Spanish naval ship P43' caused a moment or two of excitement as it appeared the ship might be about to enter the harbour on Monday morning.
However, the excitement was short-lived as the vessel rendezvoused with a small craft off the harbour entrance channel during which two naval officers boarded the patrol ship, which then headed off past the Bluff at a high rate of knots, obviously keen to impress its new passengers and also perhaps to make up the time lost.
P43, which carries the name RELAMPAGO has since arrived in Cape Town and taken up a berth at the V&A Waterfront where she will remain for at least the rest of the week. On Friday, 21 December the ship will apparently be open to the public between the hours of 10am and 2pm.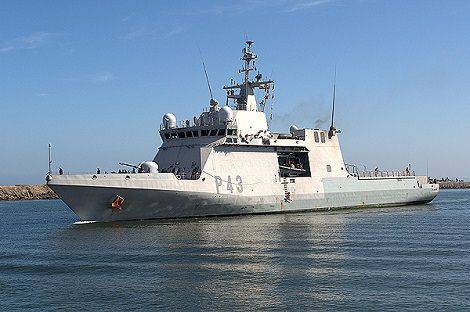 P43 arriving in Cape Town on Wednesday, 19 December 2012. Picture by Ian Shiffman
P43 is a Meteoro class offshore patrol ship of 2575 tonnes displacement and entered service earlier this year in February. It appears that the ship might have arrived from the Persian Gulf. The reason for her visit is not known but could be in connection with the South African Navy's Project Biro, which has identified the need for a number of offshore patrol ships for the SA Navy.
Somali pirates attack Danish Torm ship

Torm Kristina, involved in a recent pirate attack off the Omani coast.
Pirates attacked a Danish ship, TORM KRISTINA (105,002-dwt) in the Arabian Sea at the weekend, as the tanker was heading towards Muscat.
From conflicting reports it appears the pirates attacked and attempted to board the ship after the crew had retired to a citadel. One report said that they were successful in this and after several hours on board the ship the pirates left, possibly because of an approaching NATO warship, the Danish frigate HDMS Iver Huitfeldt which was responding to a call for help from the crew.
An alternate report says that shots were exchanged between armed guards on board the tanker and the pirates in two skiffs, who made off without boarding the ship. Christian Søgaard, Torm's vice president added to the confusion by being quoted as saying the ship was due to embark armed guards as "Torm never passes through the Gulf of Aden without guards on board." However the ship was apparently on its way from Al Jubail in Saudi Arabia to the Omani port of Muscat and would have already passed through the Gulf of Aden with armed guards on board.
If this is correct then it is more likely then that the purpose of the Muscat call was to disembark the armed guards.
Later, when the Danish frigate HDMS Iver Huitfeldt arrived on scene it reported that the crew had emerged from their safe place unharmed. Whatever the truth of the matter, this appears to have been a determined attempt by pirates and the closest they have come to seizing a ship in recent months.
Nigerian pirate attack leaves one dead
Piracy off the West coast of Africa remains volatile and dangerous in that the pirates seldom hesitate in shooting to kill anyone in their way. In the latest case pirates with automatic weapons chased a Nigerian offshore support vessel, PM SALEM (2943-gt) on 14 December some 24 n.miles southwest of Bayelsa State in the Niger Delta.
The report from the IMB Piracy Reporting Centre says that a 20-minute gun battle ensued before the pirates broke off and retired. The ship's crew meanwhile, save for the master and an armed security group, had taken to the vessel's citadel. One of the armed guards was killed in the attack and two others received injuries.
Tanker attacked off Nigeria, five Indian seamen kidnapped
In news just to hand on Wednesday night, heavily armed pirates attacked a products tanker off the Nigerian coast, the SP BRUSSELS (7654- dwt, built 2007) and after stealing possessions and valuables they left the ship taking five Indian seafarers as hostages.
The attack took place on Monday but news has only now been released. At the time the ship was approximately 40 n.miles off the coast of the Niger Delta. After the pirates left with their hostages the remaining crew sailed the ship to the port of Lagos.
The Gulf of Guinea - the New Danger Zone

The Gulf of Guinea – map The Commonwealth
This report by the International Crisis Group
Rising piracy in the Gulf of Guinea, which supplies around 40 percent of Europe's oil and 29 percent of the US', demands effective regional security cooperation and better economic governance to prevent the region becoming another Gulf of Aden.
The Gulf of Guinea: The New Danger Zone, the latest report from the International Crisis Group, examines efforts taken by regional organisations and international actors to curb maritime crime, which started off the coast of Nigeria but has now expanded to include operations off Cameroon, Côte d'Ivoire, Gabon, Togo and Benin. Maritime insecurity compromises the development of this strategic economic area and threatens trade in the short term and the stability of coastal states in the long term. The governments of Gulf of Guinea states need to improve their economic governance and their security systems to ensure lasting stability in the region.
"The weakness -- and sometimes general inadequacy -- of maritime policies in Gulf of Guinea states, and the lack of cooperation between them have allowed criminal networks to diversify their activities and gradually extend them away from the coast and out on the high seas, from the Niger delta to Côte d'Ivoire", says Thierry Vircoulon, Crisis Group's Central Africa Project Director.
Oil production has been part of the region's economy for decades, but revenues have tended to benefit the central governments, oil companies and local elites rather than the population as a whole. Poverty is widespread, and frequently leads those excluded to turn to violent opposition and banditry. The recent rise of piracy is the latest development in the longstanding criminalisation of the regional economy.
Gulf of Guinea states are now exploring options to tackle the problem before it causes wider instability. Preparations are ongoing for a summit on piracy and regional organisations are formulating strategies to improve security. Those states most affected, including Nigeria, Cameroon, Equatorial Guinea, Benin, Gabon and Togo, aim to build navies and increase resources for coastal policing, with the assistance of the private sector, Western powers and emerging nations, including Brazil, China, India and South Africa.
Stepping up security will not be enough, however. Rising crime in the Gulf of Guinea is mainly due to poor governance, which hinders development, prevents regulation and management of economic activities in maritime zones and creates opportunities for criminal networks. It should be met by economic and security reform, comprehensive and effective maritime public policies, and practical regional cooperation.
"As piracy has dropped in the Gulf of Aden, the Gulf of Guinea is becoming the new dangerous maritime area in Africa," says Comfort Ero, Crisis Group's Africa Program Director. "A comprehensive security approach by states in the region would help, but that must be complemented by improvements in governance. Although piracy is a recent phenomenon in the region, its root causes are deep."

The International Crisis Group is an independent, non-profit, non-governmental organisation committed to preventing and resolving deadly conflict. It is now generally considered to be the world's leading independent, non-partisan, source of analysis and advice to governments, and intergovernmental bodies like the United Nations, European Union and World Bank, on the prevention and resolution of deadly conflict.
News continues below…

PORTWATCH: AFRICA BECOMES A LUCRATIVE MARKET FOR CARGO HANDLING EQUIPMENT
New STS cranes for Lobito

Zhen Hua 9 discharging two blue STS cranes, with the white-hulled Zhen Hua 13 further down the quayside unloading RTG gantries. Picture Dennis Henwood
Two Chinese heavylift vessels arrived in the Angolan port of Lobito at the end of November bringing several items of cargo handling equipment, including two STS gantry cranes, another crane and rubber tyre gantries for the port, reports Cape Town-based surveyor Dennis Henwood.
The vessels were the ZHEN HUA 9 and ZHEN HUA 13 and the equipment was discharged to the accompaniment of traditional Chinese dragon dancing with local Angolan music playing in the background.
The port is being upgraded with a new container terminal and refurbished railway lines. Elsewhere a grand new railway station has been built while the main line from Lobito and Benguela to the Zambian border has been completed. This has the potential of diverting traffic from Zambia, Zimbabwe and the Democratic Republic of Congo (DRC) to Benguela and Lobito ports instead of the much longer runs to Durban, Maputo or Walvis Bay.
Henwood notes that Lobito has a very clean and beautiful new airport. "Angola is going places and Lobito in particular as it markets itself as a hub for the southern African hinterland in competition to the other west African ports such as Walvis Bay and Cape Town," he says.
Ten RTGs for Tin Can Island, Lagos

Konecranes has delivered ten RTGs to Ports and Cargo Handling Services terminal in Lagos, Nigeria
Konecranes has delivered ten Konecranes Rubber Tyred Gantry (RTG) cranes to Ports and Cargo Handling Services (PCHS) Ltd. in Lagos, Nigeria. PCHS, is the port operations arm of the Nigerian Sifax Group.
The RTGs were ordered at the end of last year and delivered on time to the company's terminal in Tin Can Island Port. The RTGs are equipped with the new Konecranes cabin offering improved ergonomics and visibility.
The RTGs are also equipped with the latest DGPS-assisted technology for container yards including Autosteering. This feature keeps the RTG on a pre-programmed, straight driving path without driver intervention, improving safety and increasing productivity. A container positioning system is also included. It is connected to the port's terminal operating system ensuring correct, real-time container positioning and an accurate inventory.
The all-electric, 16-wheel RTGs have a lifting capacity of 50 tons stacking 1-over-5 containers high and 7 plus truck lane wide. Source Konecranes
Durban's IMPSA cranes leave port

Zhen Hua 27 loading two IMPSA cranes (white) at DCT, Pier 2, with the recently delivered ZPMC cranes (red) alongside. Picture by Trevor Jones
The Chinese heavylift vessel ZHEN HUA 27 that delivered three STS cranes for the Durban Container Terminal remained on the berth at Pier 2, berth 203 where she began loading two of the IMPSA-manufactured cranes previously in service at DCT.
The IMPSA cranes were manufactured and assembled in Durban just seven years ago and were commissioned into service towards the end of 2005, making them very young in terms of service.
Zhen Hua 27 sailed on Thursday morning, with Port Elizabeth listed as her next port of call, suggesting this is where the two cranes are destined.
Terminal Operator Award for Apapa
APM Terminals Apapa has been named the winner of the 2012 Terminal Operator Award by the Maritime Reporters' Association of Nigeria at their annual Maritime Excellence Awards ceremony held on 11 December and attended by the MD of Nigeria Ports Authority, Mallam Habib Abdullahi, and representatives of the Minister of Transport.
APM Terminals Apapa, which assumed operational control of the facility in 2006, is now the busiest container terminal in West Africa, with an estimated throughput of 720,000 TEUs this year, up from 650,000 TEUs in 2011.
The Maritime Reporters Association of Nigeria was established in 1988 and sets out to "objectively report activities in the shipping sector in totality and also the activities of all ministries, departments and agencies of government involved in the country's import and export business."
"This recognition by Nigeria's maritime journalists is a great honour for our operation and for the nearly 1,000 Nigerians working at APM Terminals Apapa who have worked so hard to achieve this great success" said APM Terminals Apapa Managing Director Dallas Hampton.
CRUISE REPORT: MSC OPERA

The clean attractive stern of the MSC Opera is a visual and practical improvement on that of her near sister, MSC Sinfonia. Picture by Trevor Jones
The large and imposing cruise ship MSC Opera – all of 58 600 gross tons – has taken up station in Durban and is a regular sight as she arrives and departs each Monday and Friday from the port's N-Shed passenger terminal, with cruises to Mozambique islands and beaches.

MSC Opera's arrival in Durban was at dawn on Friday, 23 November, a wet and dreary overcast morning – hardly the setting for memorable photography. Nevertheless Trevor Steenekamp was up and about from before dawn to capture the moment of the ship's arrival. Picture by Trevor Steenekamp www.nauticalimages.co.za
Opera is a near sister to MSC Sinfonia, which is also in South African waters and was in Durban on Tuesday this week preparing for the Christmas Cruise to Mauritius. The ship is however homeported at Cape Town to operate cruises to Luderitz and Walvis Bay on the west coast, and Mossel Bay on the east.
In mid-February MSC Sinfonia transfers to Durban to replace MSC Opera when that ship returns to Europe.
Having travelled on MSC Opera from Cape Town to Durban, courtesy of MSC Cruises, one can report that she is comfortable even in quite heavy seas encountered off our coast. On leaving Cape Town four metre swells were running but MSC Opera took them in her stride and paper bags distributed around the ship were an unnecessary precaution.
MSC Opera's general appearance may be similar to MSC Sinfonia but there are various subtle differences and overall she comes across as the more attractive and stylish ship, particularly without that ugly sports 'basket' on the upper deck stern. Opera uses the stern area top deck for miniature golf which doesn't require a tennis court effect.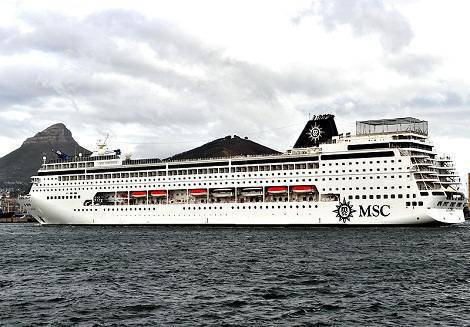 MSC Sinfonia and that stern, which does little for the ship's appearance Picture by Ian Shiffman
The general shape and design of the ship's stern is distinctly different from that of MSC Sinfonia, and MSC Opera comes out tops in terms of attractiveness. Her design and planning in fact allows for several comfortable and sheltered areas at the rear of the ship in which one can enjoy watching the sea rush by, away from the crowds around the swimming pools and open deck areas.

The disco area, spacious and comfortable during the day, alive and lively at night
But it is onboard MSC Opera that impresses, with large amounts of public areas in which up to 1700 passengers can comfortably disappear. These include open decks, public lounges, bars, disco, children's area, a satellite-linked wi-fi lounge, a library and computer area and of course several restaurants. The furnishings throughout the ship are tasteful and comfortable and the cabins are adequately equipped for short-duration cruises.

Outline of a typical cabin with balcony. Larger suites are available
One major criticism of the cabins has to be the size of the shower space, which must have been designed by people of Lilliputian stature given the area in which one has to use. It isn't even a cubicle but simply a corner of a small room that also holds a basin and loo, with the shower area in one corner protected by a plastic curtain that clings to one's body as soon as the shower is turned on. This miniscule shower is similar to that on the MSC Sinfonia, so presumably this is a design deficiency across the class of ship. The majority of cabins are around 12 to 13 square metres in size, although those with balconies give the impression of feeling larger.
For those for those embarking with a 'jol on board' in mind, such things may not be noticed and probably don't count, but it remains a mystery how some of MSC's larger guests look after themselves in the showers!

La Caravella restaurant, one of two main restaurants on the ship
Food on the ship is plentiful, including a buffet that remains open for about 20 hours each day. Other than the buffet, there are two main restaurants although each has an identical menu – many cruise ships of this size and even those that are smaller give you a choice among a greater variety of restaurants, thus catering for a wider taste. The menu on the short Cape Town-Durban cruise appeared restricted in variety but this may not be typical of other cruises.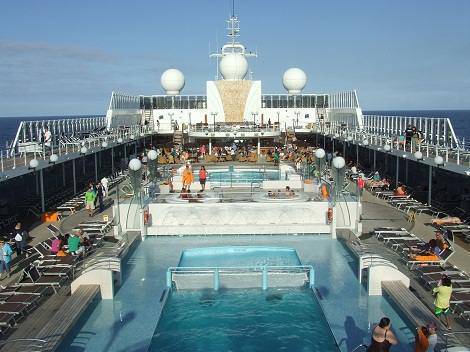 Even at sea along South Africa's notorious coast it is possible to swim in one of two pools or simply relax on the spacious decks. Picture by Terry Hutson
MSC Opera has employed several Indian chefs to cater for a growing Indian passenger list, but these chefs are recruited in India and are not South African so the curries are not what you might call Durban curries, according to several (local) Indian passengers who were travelling on the ship. Perhaps a Durban or Jo'burg chef might have been more appropriate but then there is a report in the Indian press (which was carried in PORTS & SHIPS) that MSC India is actively promoting fly/cruise packages from the sub-continent to South Africa to take advantage of the two MSC ships.

MSC Opera's open deck areas are always going to be popular places to be on sunny days. Picture by Terry Hutson
Generally, MSC Opera is likely to prove highly popular on the short three and four-day cruises to Mozambique destinations. And as a possible way round those miniscule showers, I read somewhere else that moms and dads with accompanying kids in tight cabins should head for the Jacuzzi showers. Maybe this is an option on MSC Opera as well. – Terry Hutson
PICS OF THE DAY – MERCURY BAY, ROSS BAY and AFRICAN COMET
As the year 2012 comes to an end, we finish with a glimpse back into Yesteryear – the late 1960s and early to mid 1970s. The first picture shows one of the cargo/passenger ships that were commonplace at the time, the 44-passenger MERCURY BAY (9028-gt, built 1951) in Durban harbour and being assisted by the steam pilot tug JE EAGLESHAM. Mercury Bay entered service with Royal Interocean Lines as their STRAAT MAKASSAR, becoming the TJINEGARA in 1956 and Mercury Bay in 1971. In 1977 she was renamed UNITED ENSIGN and was scrapped two years later. Picture by Trevor Jones
The tanker ROSS BAY seen leaving Durban in August 1969 with one of the port's pilot boats alongside, ready to take off the pilot. We don't have any information about this vessel. Photographer Trevor Jones said that she "looked Scandinavian" – any takers out there. Picture by Trevor Jones
One of the Farrell Lines fast steam-turbine ships that plied its trade between the United States and South and East Africa, the passenger/cargo ship AFRICAN COMET (11,309-gt, built 1962), seen here in Durban harbour in August 1975. Smoke effects come courtesy of one of Durban's best-known tugs, the SIR WILLIAM HOY. Picture by Trevor Jones
Don't forget to send us your news and press releases for inclusion in the News Bulletins. Shipping related pictures submitted by readers are always welcome – please email to info@ports.co.za
Did you know that Ports & Ships lists ship movements for all southern African ports between Walvis Bay on the West Coast and Mombasa on the East Coast?
TABLE BAY UNDERWAY SHIPPING
SHIP PHOTOGRAPHERS
Colour photographs and slides for sale of a variety of ships.

Thousands of items listed featuring famous passenger liners of the past to cruise ships of today, freighters, container vessels, tankers, bulkers, naval and research vessels.
P O BOX 809, CAPE TOWN, 8000, SOUTH AFRICA
snai@worldonline.co.za
http://home.worldonline.co.za/~snai
South Africa's most comprehensive Directory of Maritime Services is now listed on this site. Please check if your company is included. To sign up for a free listing contact info@ports.co.za or register online
Looking for help? Try our MARITIME SERVICES DIRECTORY CLICK HERE