Ports & Ships Maritime News
21 August 2012
Author: Terry Hutson
Bringing you shipping, freight, trade and transport related news of interest for Africa since 2002
ADVERTISING AMONG THESE PAGES: Great rates, large maritime sector readership averaging over 50,000 readers each month and still growing….. b.t.w., Ports & Ships is 10 years old this year.
- just another couple of reasons to promote your company and services on Ports & Ships with your Banner linked to your Website. Contact us atinfo@ports.co.za info@ports.co.za
for a Rate Card.
Improve your branding with your banner on this site and tap into our large readership - contact info@ports.co.za
TODAY'S BULLETIN OF MARITIME NEWS
Click on headline to go direct to story – use the BACK key to return
SEND NEWS REPORTS AND PRESS RELEASES TO info@ports.co.za
News continues below...

FIRST VIEW – BHAGWAN HOUTMAN
This somewhat unusual looking Damen-built and operated tug, the BHAGWAN HOUTMAN (221-gt, built 2012) arrived in Cape Town for bunkers last week where this picture was taken by Aad Noorland
News continues below…

HAPAG-LLOYD INTRODUCES FIRST 13,200-TEU SHIP INTO FLEET

At the naming ceremony of the Hamburg Express on 17 August 2012 in Hamburg. From left: Ulrich Kranich (Member of the Executive Board of Hapag-Lloyd) with his wife Sibylle, Frank Horch (Minister of Economic Affairs Hamburg), Michael Behrendt (Chairman of the Executive Board of Hapag-Lloyd) with his wife and godmother Cornelia Behrendt, Frank-Jürgen Schmidt (Captain of the Hamburg Express), Jürgen Weber (Chairman of the Advisory Board of Hapag-Lloyd), Oi-Hyun Kim, President and COO Hyundai Heavy Industries with his wife.
HAMBURG EXPRESS, Hapag-Lloyd's first 13,200-TEU class ship was welcomed into the fleet at a ceremony held at the Container Terminal Altenwerder in Hamburg last week.
The new ship which becomes the largest in the Hapag-Lloyd fleet, will sail in Loop 4 of the G6 Alliance between China and northern Europe, replacing a vessel of approximately 8,000-TEUs. The Loop 4 rotation starts in Hamburg and calls at the ports of Rotterdam, Singapore, Yantian, Ningbo and Shanghai before returning to Europe via Yantian, Singapore and Southampton.
"The fact that the newest and largest ship in the Hapag-Lloyd fleet carries the name of our home port out into the world is part of a long tradition. It is a sign of the strong bond which links us to Hamburg," said Michael Behrendt, chairman of the executive board of Hapag-Lloyd. "The entry into a new class is something we have thought long and hard about. With the modern, extremely efficient newbuilds in the 'Hamburg Express' class, we are not only ensuring that Hapag-Lloyd stays competitive in future, but we are also pursuing our strategy of sustainable growth in line with the market."
Hamburg Express is the first of a total of ten similar newbuilds on order for Hapag-Lloyd. All ten ships will sail under the German flag which forms part of a long tradition at the Group. The latest newbuilds, which are under construction at the Hyundai Heavy Industries shipyard in Ulsan, South Korea, are 366 metres long and 48 metres wide and have a maximum capacity of 142,092 tonnes with a draft of 15.5 metres. From keel to superstructure they measure a good 66 metres.
The next two vessels from the series ordered in December 2010 will be delivered to Hapag-Lloyd in late September and mid-November, respectively, and will also be deployed in Loop 4. The remaining seven ships are due for delivery next year. A shipping company needs at least ten ships to operate a loop between Europe and Asia. With the addition of the newbuilds, Hapag-Lloyd can return more expensive charter ships and thus adjust its fleet capacity flexibility in line with market demand. Including the new Hamburg Express, the Hapag-Lloyd fleet currently consists of 147 vessels with a total capacity of around 674,000 TEU.
Like their predecessors, the ten units in the Hamburg Express class will set the highest environmental standards and achieve particularly low figures for fuel consumption and emissions thanks to innovative on-board technology. Numerous Hapag-Lloyd ships are already up to 30% better than the average in the active world fleet. The main innovation in terms of environmental protection on board the Hamburg Express and its sister ships is the equipment for ballast water treatment manufactured by the Hamburg-based firm Mahle Industriefilter. The system cleans ships' ballast water without chemicals before it enters and before it leaves the ballast water tanks and uses filtration and UV light treatment to prevent organisms in the tanks from escaping unintentionally into foreign ecosystems.
Hamburg Express at a glance:
Port of Registry: Hamburg
Crew: 24
Capacity: 13,169 TEU (Standard Containers/Twenty Foot Equivalent Unit)
Side by side: up to 19 rows of containers next to each other on deck
Stacked: up to 20 containers (maximum 11 below and 9 above deck)
Reefer plugs: 800
Main engine: 11K98ME7, MAN Diesel & Turbo (an economical 11-cylinder diesel engine with electronic control to reduce emissions)
Main engine output: 52,447 KW
Max. speed: 23.6 knots (actual scheduled speed is well below 20 knots due to slow steaming)
Range: 30,400 nautical miles (equal to 1.5 times around the equator)
Yard: Hyundai Heavy Industries, Ulsan, South Korea
Class: Germanischer Lloyd
The launching of the ship coincides with news that Hapag-Lloyd, following a seasonally weak first quarter, achieved a turnaround in the second quarter of 2012, improving its result by more than €125 million compared to Q1. This was primarily due to the rate increases successfully implemented by the company, which started to become effective in the second quarter. The weighted average freight rate rose by 7.4% in Q2 2012, taking it to US$ 1,594/TEU. This was $ 110/TEU higher than in the first quarter and $ 63/TEU up on Q2 2011. The transport volume totalled 1.36 million TEU in the three months to June – approximately 2% higher than in the same period of last year. Hapag-Lloyd also recorded a sharp increase in revenue, which amounted to around €1.8 billion in the second quarter, a growth of some 21% on Q2 2011.
News continues below…

PORTWATCH: TNPA RESCUER FOR SALDANHA BAY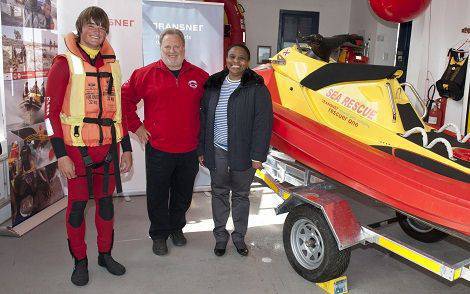 NSRI Volunteer Otto Scribante, CEO Ian Wienburg and TNPA's Lunga Ngcobo at the launch of Transnet National Ports Authority Rescuer One at Sea Rescue's Mykonos base. Picture Andrew Ingram.
Transnet National Ports Authority (TNPA) has displayed its commitment to water safety, with the launch of a Rescue Runner - in partnership with the National Sea Rescue Institution (NSRI) - in Saldanha Bay.
The Rescue Runner - named 'Transnet National Ports Authority Rescuer One' - will contribute extensively to ensuring that the community in Saldanha Bay is kept safe at sea.
This state-of-the-art craft has been imported from Sweden and represents the latest in sea rescue technology globally. It has been designed specifically for rapidly reaching people at risk in the surf and evacuating them quickly and effectively.
A Rescue Runner, which can be used by a single rescuer, can be launched at swimming beaches. It is jet propelled which allows it to be used in a bathing area without placing other bathers at risk. Each Rescue Runner can carry four people at a time, but can also be used as a floating platform for up to eight people until larger rescue boats arrive.
Tau Morwe, Chief Executive of TNPA said: "On the water, safety is priority number one for TNPA. It is for this reason that TNPA - as part of its corporate social responsibility - has incorporated strategic initiatives to assist in decreasing the number of fatalities on the water."
NSRI provides a critical service to the South African nation and is run by 980 unpaid volunteers who are on standby day and night throughout the year. There are 32 coastal and three inland rescue bases with a fleet of 92 rescue crafts and 27 vehicles in total.
"Putting their lives at risk to save other lives and facing dangerous conditions at sea are daily requirements of an NSRI volunteer. Being able to do this relies on proper training and excellent equipment such as the Rescue Runners," said NSRI CEO, Ian Wienburg.
"By forming partnerships with institutions such as the NSRI, which provides vital humanitarian rescue services to all South African water users, we are able to provide a stronger and constructive platform to educate and invest in our communities" said Morwe.
News continues below...

NAVAL NEWS: WEST AFRICAN STATE BUYS TWO OFFSHORE PATROL BOATS FROM INDIA
Two 95 metre long offshore patrol vessels (OPVs) have been ordered from India's Pipavav Defence and Offshore Engineering Company by an unnamed West African country, reports defenceWeb in its most recent bulletin.
The report says that the contract is worth 11.92 billion rupees (US$213 million) and includes options for another two vessels, which can be exercised within 24 months. In this case the contract value may go up to 25.04 billion rupees (US$448 million).
defenceWeb reports that both vessels will be delivered in 32 months including option vessels, if exercised. It speculates that Nigeria may be the source of the order as Strategic Defence Intelligence in February this year reported that Nigeria was undertaking an offshore patrol vessels contract for two vessels, to be finalised in the third quarter of this year. It is assumed that the two OPVs are in addition to the two 1,800 ton OPVs ordered by the Nigerian Navy from China Shipbuilding and Offshore International Limited on 18 April this year.
The patrol vessels will apparently be very similar to the five OPVs ordered by the Indian Navy last year. These are 110 metres long and will have a maximum speed of 24 knots. They will be armed with a 76 mm Oto-Melara guns. – acknowledgements to defenceWeb
In other navy news….
Fishery patrol boats idle as navy undergoes training

Two of DAFF's coastal patrol vessels, the offshore Sarah Baartman in the foreground and the inshore patrol vessel Lilian Khoyi in the background. Both are locked up in Simon's Town harbour. Picture DEAT
The modern patrol ships belonging to the Department of Agriculture, Forestry and Fisheries (DAFF) have remained idle at their berths at the Simon's Town Naval Base ever since they moved there amidst some controversy in April this year.
In July the patrol vessels SARAH BAARTMAN, LILIAN NGOYI, RUTH FIRST and VICTORIA MXENGE were formally inducted into the South African Navy at a commissioning ceremony held on 29 June. The other vessels are the research ships AFRICANA, ALGOA, and ELLEN KHUZWAYO.
Their transfer to the navy followed the cancellation of a R800 million tender awarded to BEE empowerment company Sekunjalo, a group said to have political connections to the ANC. The previous contract had been held by SMIT Amandla Marine which raised objections when it lost the contract to Sekunjalo. It was subsequently found that the process leading to the awarding of the contract to Sekunjalo was flawed, resulting in its cancellation.
DAFF Minister Tina Joemat-Pettersson rejected advice to extend SMIT Amandla Marine's contract by a period; a decision that led to the vessels being laid up with little likelihood of them going to sea before October. The navy is reported to be training to handle the vessels while at the same time audits and repairs to the vessels are ongoing. Meanwhile the coastal fishing grounds remain unguarded.
The Sunday Times reported at the weekend that Joemat-Pettersson has ordered a commission of inquiry into the awarding of the tender process, something that will further delay any chance of a new tender being issued in the near future.
HMAS CANBERRA due off Cape Town 9 September, East London on 11th
The hull of the new Australian helicopter dock landing carrier which will become HMAS CANBERRA is due to pass Cape Town on the morning of 9 September, and East London on the night of 11 September, after which the heavylift BLUE MARLIN carrying the hull will head out across the Indian Ocean for Australia. These estimates are base on the Blue Marlin maintaining their 10 knot speed.
The hull will be completed on arrival in Melbourne and is to enter service with the Royal Australian Navy as the first of two new helicopter dock landing ships. – source David Huggins.
News continues below…

News continues below…

Apologies for a later than usual and shorter edition of Ports & Ships –the flu bug has landed among us all
PICS OF THE WEEK – SUERTE
The Greek-owned and operated bulk carrier SUERTE (72,516-dwt, built 1995) photographed arriving in Cape Town. Pictures by Ian Shiffman
Don't forget to send us your news and press releases for inclusion in the News Bulletins. Shipping related pictures submitted by readers are always welcome – please email to info@ports.co.za
Did you know that Ports & Ships lists ship movements for all southern African ports between Walvis Bay on the West Coast and Mombasa on the East Coast?
TABLE BAY UNDERWAY SHIPPING
SHIP PHOTOGRAPHERS
Colour photographs and slides for sale of a variety of ships.

Thousands of items listed featuring famous passenger liners of the past to cruise ships of today, freighters, container vessels, tankers, bulkers, naval and research vessels.
P O BOX 809, CAPE TOWN, 8000, SOUTH AFRICA
snai@worldonline.co.za
http://home.worldonline.co.za/~snai
South Africa's most comprehensive Directory of Maritime Services is now listed on this site. Please check if your company is included. To sign up for a free listing contact info@ports.co.za or register online
Looking for help? Try our MARITIME SERVICES DIRECTORY CLICK HERE