Ports & Ships Maritime News
5 June 2012
Author: Terry Hutson
Bringing you shipping, freight, trade and transport related news of interest for Africa since 2002
PORTS & SHIPS is now averaging over 50,000 readers each month for 2012 – thank you readers.
Yet another excellent reason to consider advertising your company or services on these pages. info@ports.co.za for details
Improve your branding with your banner on this site and tap into our large readership - contact info@ports.co.za
TODAY'S BULLETIN OF MARITIME NEWS
Click on headline to go direct to story – use the BACK key to return
SEND NEWS REPORTS AND PRESS RELEASES TO info@ports.co.za
News continues below...

FIRST VIEW – MERLOT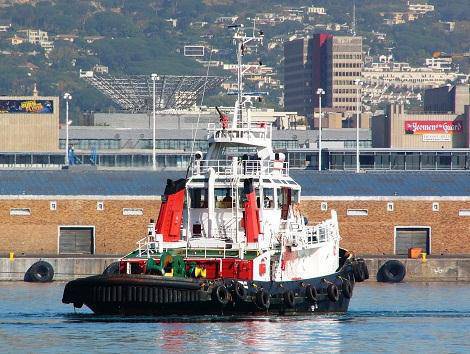 The Port of Cape Town harbour tug MERLOT (429-gt, built 1980), one of the oldest in Transnet service. Picture by Aad Noorland
News continues below…

NEWS OF SHIPS AND SHIPPING LINES – MAERSK CUTS 400 JOBS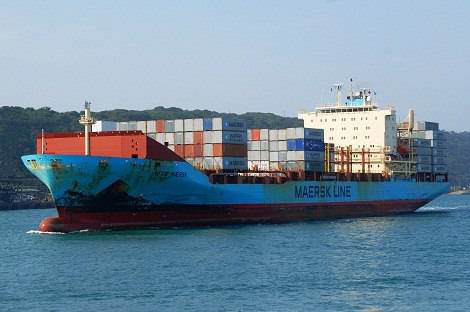 Nexoe Maersk sailing from Durban, October 2010. Picture Trevor Jones
Copenhagen - Maersk Line, the world's largest container shipping company, said on Friday that it intends laying off 400 employees at its global corporate centres in a bid to decentralise operations and improve efficiency to counter over-capacity in the industry and weak freight rates.
In its statement the company said the key objective of the reorganisation is to achieve faster decision-making and to relocate execution and service tasks to dedicated country offices in order to get them closer to the customers.
The lay-offs amount to 18 percent of the 2,200 personnel currently employed at its centres.
Maersk Line is a unit of the Danish industrial conglomerate AP Moller-Maersk A/S.
The shipping line division has a total of 25,000 employees worldwide and is currently sailing at losses which are ascribed to over-capacity in the industry and weak freight rates in addition to global economic uncertainty.
Maersk Line recently reported a US$599 million loss for the first quarter of 2012 and says it expects 2012 results will be slightly down on 2011 figures. This is despite there being an increase in volumes.
News continues below…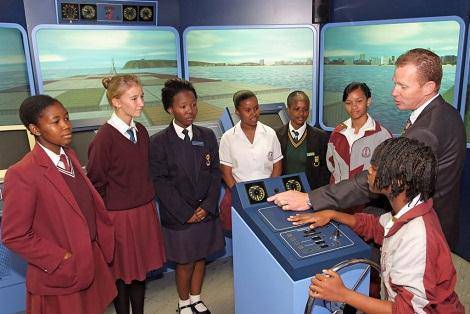 A group of Durban schoolgirls being shown how to manoeuvre a ship on the simulator. Picture TNPA
As part of the national Take a Girl Child to Work Day initiative on Thursday 31 May 2012, Transnet National Ports Authority welcomed female learners into its workplace to give them the opportunity to experience port operations first-hand.
The initiative is meant to offer wide career choices to girls as well as to develop and channel them for future careers.
More than 265 learners from grades 10 -12 from TNPA's adopted schools nationally and daughters of TNPA staff got a sneak peek into the maritime world as they got to tour some of TNPA's busy ports in Durban, Richards Bay, East London, Saldanha Bay, Mossel Bay, Cape Town, Port Elizabeth and Ngqura.
Others in Gauteng were given the opportunity to meet with some of TNPA's executive members at the head office in Parktown, where they were presented with TNPA's business objectives and a breakdown of port operations via an interactive state-of-the-art smart- board system supplied by Edit Micro Systems.
The schools who participated were: Dr Vilakazi High School and Forest Hill High School in Gauteng; Sithengile Senior Secondary, Fairvale High School and Umlazi Commercial High School in Durban; Siphosethu High School and Khombindlela High School in Richards Bay; Matthew Goniwe Memorial High School and Simons Town High School in Cape Town; Weston High School, Vredenburg High School and Diazville High School in Saldanha Bay; Indwe Secondary School and Sao Bras Secondary School in Mossel Bay; Newell High School in Port Elizabeth/Nqgura and ITEC schools - Umzuvukile High, Umtiza High, Ulwazi High, Kwenxura S.S.S., Unathi High and Sakhiziwe High in East London.
Educators from the various schools said TNPA had definitely made a positive mark on exposing career opportunities especially for black women. The event was a real eye-opener for both kids and educators - educators could now constructively guide learners to reach their future goals and learners could now make an educated career choice.
Tau Morwe, Chief Executive of TNPA, said: "We are committed to the 'Girl Child' programme. We want to ensure that our participation in this campaign is sincere and meaningful. Our aim is to provide an opportunity for these girls to realize that they have equal opportunities in this industry which was previously dominated by men."
The Take a Girl Child to Work initiative coincides with TNPA's educational campaign that aims to transform the maritime industry by providing educational opportunities in pure maths, science and English and skills development to dynamic, daring, ambitious and adventure-seeking young learners from disadvantaged backgrounds.
This educational drive forms part of its ongoing corporate social investment programme to inform people about the organisation and the wide range of careers offered in the maritime industry. It also aims to position TNPA as a desired employee.
When asked about their experience at TNPA, the girls excitedly commented that they were thrilled about witnessing the reality of the ports. They finally understood the dynamics of the industry and the important role the maritime industry, especially TNPA, plays in building the economy. They also gained insight into the various portfolios within the industry such as maritime navigation, marine engineering, marine aviation and marine piloting.
News continues below...

SEA RESCUE: NSRI RESCUES FISHERMEN
Report from NSRI Agulhas station commander Reinard Geldenhuys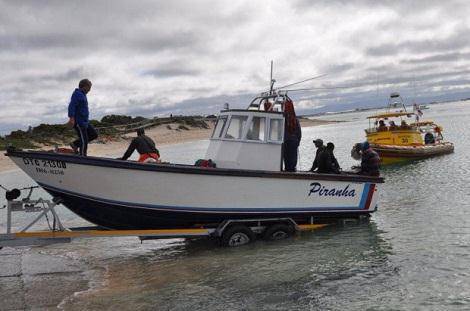 The fishing boat Piranha which was towed to safety at the weekend. In the background is the NSRI Agulhas station craft Vodacom Rescuer which handled the rescue. Picture by Robert van Rooyen/NSRI
At 09h00 (Saturday, 2nd June) the NSRI Agulhas volunteer sea rescue duty crew was activated following reports of a fishing boat, the 8 metre Piranha, with 10 fishermen onboard, taking water and reporting to be sinking 12 nautical miles off-shore of Agulhas, at the '12 Mile Bank', a popular deep sea fishing spot on the Western Cape Coast.
Sea conditions were a 2.5 to 3 metre gentle swell with little wind.
Our NSRI Agulhas volunteer sea rescue duty crew launched our sea rescue craft Vodacom Rescuer VII and the Western Cape Government EMS AMS Skymed helicopters from Cape Town and Oudtshoorn responded along with Western Cape Government Health EMS ambulances being dispatched to stand-by at Struis Baai harbour. In addition Hermanus NSRI was placed on alert.
While our sea rescue craft responded to the scene we received reports that two private fishing vessels had arrived on-scene, the fishing vessel Peg-Leg and the fishing vessel Waggies, and five of the fishermen from Piranha had been taken onboard Waggies and while the remaining five fishermen remained onboard their fishing vessel Piranha they were reported to be safe.
The fishing vessel Peg-Leg had attempted to take Piranha under tow but the tow-line had failed and they then reported to be standing-by on-scene (in case they needed to take the remaining five fishermen off Piranha) while they waited for the imminent arrival of our NSRI sea rescue craft.
Once the NSRI sea rescue craft arrived on-scene the casualty boat was taken under tow by and was currently safely towed to Struis Baai harbour. The 10 fishing crew were also taken to Struis Baai.
The Skymed helicopters were then stood down and returned to base.
Geldenhuis reported that no injuries were sustained by any of the 10 fishermen. "It is not yet known what may have caused the fishing vessel to take on water and SAMSA (The South African Maritime Safety Authority) will conduct an investigation to determine what caused this incident," he said.
News continues below…

WEST AFRICA: NIGERIA COMMISSIONS FIRST LOCALLY BUILT WARSHIP
Nigeria's President Goodluck Jonathan last Friday commissioned a 31 metre seaward defence vessel that has been built entirely within Nigeria by engineers of the Nigerian Navy.
The NNS ANDONI was conceived as a research and development project by the then Chief of the Naval Staff Vice Admiral GTA Adekeye and the Chief of Naval Engineering, Rear Admiral GJ Jonah and had its keel laid down in the Lagos Naval dockyard in December 2007. Construction was however subsequently delayed owing to funding delays.
President Jonathan stressed the need for capacity building across all sectors of the economy and gave praise to the navy.
"Now, the Navy has shown another area of creativity and I am told that the Army has something in the offing. This is the beginning of transformation and I believe that in another 10-15 years, we will be thinking of starting a project of taking Nigeria to the air. We have just started and we will continue," he said.
NNS Andoni is believed to be the first warship to have been designed and built in West Africa. The design is based on the 35m long Argungu class of patrol boats which were supplied from Germany in the 1970s – NNS ARGUNGU, NNS BRAS, NNS EPE and NNS YOLA.
Nigeria has approved contracts for two offshore patrol boats from China Shipbuilding Industry Corporation, with one vessel to be entirely built in China and the other to have 70 percent of its construction take place in Nigeria. Delivery is set for 2015.
Nigerian Customs patrol ships to be built in Cape Town
Meanwhile defenceWeb reports that Cape Town-based Kobus Naval Design (KND) has received an order for two Nigerian Customs Service P249 patrol boats each of 24 metres. The Customs Service will use the vessels to combat smuggling and piracy in Nigerian waters.
The article states that the aluminium-hulled vessels swill be delivered in 10 months time with the vessels being built in Cape Town.
Nigerian marine logistics and support service provider Portplus Limited will provide the training of 71 crewmembers as well as the provision of spares over a three year period.
KND has already designed and delivered four vessels in Nigerian waters in recent years.
VAT on Oil Terminal Dues & Compulsory Pilotage Royalty
GAC reports that the Nigerian Ports Authority is advising that the Federal Inland Revenue Service (FIRS) has directed that Value Added Tax (VAT) should in future be charged on Oil Terminal Dues (OTD) and Compulsory Pilotage Royalty (CPR).
It adds that the VAT will be charged (in arrears) on OTD and CPR bills, where not previously charged, since 2005.
The Tankers Association of Nigeria is planning to submit a formal letter of objection to the retrospective element. source GAC
Pirates in failed attack on Greek tanker off Nigeria
The International Maritime Bureau (IMB) reports that pirates attacked a Greek-owned oil tanker off the Nigerian coast on Friday(1 June) but were unsuccessful after the crew hid in a safe room or citadel.
The tanker, which was not identified in the reports, was at anchor off Lagos when armed pirates came on board early in the day. The 23 crew members were able to lock themselves in a safe room and send out a distress signal, which was picked up by the IMB who alerted Nigerian and other navies patrolling in the area.
The pirates abandoned the ship before the arrival of rescue ships. There were no injuries to any crew.
News continues below…

MOZAMBIQUE: BEIRA COAL TERMINAL OPENS
Coal terminal inaugurated at port of Beira in Mozambique
A new coal terminal was due to be opened yesterday (Monday) at the port of Beira in Mozambique's Sofala province. The terminal is intended to export coal mined by Brazilian group Vale and Anglo-Australian group Rio Tinto, Mozambican daily newspaper Notícias reports.
The new terminal, construction of which began in September 2010, has so far needed investment of US$200 million, which includes engineering work, construction, mechanical and electrical work, as well as acquisition of equipment for processing and shipping coal and control of environmental quality.
In a statement port and rail management company Portos e Caminhos de Ferro de Moçambique (CFM), the owner of the terminal, said that Vale and Rio Tinto would use the facility to process their coal over the next 60 months. The terminal is operated by Cornelder Moçambique.
Under the terms of its contract Cornelder can partner third parties that are experienced in handling bulk cargo, in order to optimise the capacity available at the terminal.
The coal terminal at the port of Beira is part of the investments carried out by CFM as part of the reconstruction of the Sena railroad, which is considered an essential corridor for carrying coal and other goods along the Zambezi Valley.
Vale will use 68 percent of the terminal's capacity whilst Rio Tinto will use the remaining 32 percent. Source: Macauhub

Beira's new coal terminal while still under construction. Picture by Rogan Troon
Increase in logs exported from Mozambique
In the first quarter of 2012 some 9,300 cubic metres of wooden logs were exported from Mozambique, of which most went to the Asian market, particularly China, which was a year-on-year rise of 24 percent according to Alima Nequice, a geographer from the National Directorate for Land and Forests.
Speaking to daily newspaper Correio da Manhã, Nequice said that in the same period 467 certificates had been issued to distribute 22,000 cubic metres of wooden logs, which was a 19 percent increase on the first quarter of 2011.
Nequice also said that the production levels of the wood processing industry had fallen 9 percent in the period to 38,200 cubic metres, as compared to 41,900 cubic metres in the year-ago period.
Overall that department of the Agriculture Ministry in the first quarter inspected 235 plots of land totalling an area of around 123,600 hectares in just eight provinces: Maputo, Gaza, Inhambane, Manica, Zambézia, Nampula, Cabo Delgado, and Niassa. source: macauhub
PICS OF THE WEEK – SHIPS AROUND THE WORLD
The Panama-flagged products tanker GOLDEN YASAKA (8672-dwt, built 1998) arrives in Lyttelton, New Zealand to discharge petroleum additives. Picture by Alan Calvert
The cable layer ASEAN RESTORER (11,156-gt, built 1994) looks in need of a little restoration herself. The picture was taken at Singapore by Piet Sinke
With the Brazilian city of Santos in the background the bulker COS INTREPID (74,119-dwt, built 2001) prepares to sail from the Brazilian port of that name. Picture by R Smera
Don't forget to send us your news and press releases for inclusion in the News Bulletins. Shipping related pictures submitted by readers are always welcome – please email to info@ports.co.za
Did you know that Ports & Ships lists ship movements for all southern African ports between Walvis Bay on the West Coast and Mombasa on the East Coast?
TABLE BAY UNDERWAY SHIPPING
SHIP PHOTOGRAPHERS
Colour photographs and slides for sale of a variety of ships.

Thousands of items listed featuring famous passenger liners of the past to cruise ships of today, freighters, container vessels, tankers, bulkers, naval and research vessels.
P O BOX 809, CAPE TOWN, 8000, SOUTH AFRICA
snai@worldonline.co.za
http://home.worldonline.co.za/~snai
South Africa's most comprehensive Directory of Maritime Services is now listed on this site. Please check if your company is included. To sign up for a free listing contact info@ports.co.za or register online
Looking for help? Try our MARITIME SERVICES DIRECTORY CLICK HERE