Ports & Ships Maritime News
9-10 February 2012
Author: Terry Hutson
57,105 readers and over one million hits were recorded on PORTS & SHIPS during January 2012 – thank you readers. Just another good reason to consider advertising your company or services on these pages. info@ports.co.za for details
Bringing you shipping, freight, trade and transport related news of interest for Africa since 2002
Improve your branding with your banner on this site and tap into our large readership - contact info@ports.co.za
TODAY'S BULLETIN OF MARITIME NEWS
Click on headline to go direct to story – use the BACK key to return
SEND NEWS REPORTS AND PRESS RELEASES TO info@ports.co.za
News continues below...

FIRST VIEW – CAPE TOWN MOUNTAIN VIEW
Mountain view across Cape Town harbour on a still morning. Picture by Aad Noorlamd
News continues below…

SHIPWATCH: SHIPS OF INTEREST IN OUR PORTS
Clipper Odyssey
Just when you think you've got the current cruise season all wrapped up, up pops another surprise. This time it is the cruise ship CLIPPER ODYSSEY (5218-gt, built 1989) which is making an extended visit among the Indian Ocean islands and to a number of South African ports.
The Clipper Odyssey, which has previously gone under the names OCEANIC ODYSSEY and OCEANIC GRACE is, so far as we know, on a first-time visit to these parts. She is currently on a five-year charter to Seattle-based Zegrahm, a travel group which specialises in expedition-type holidays.
Carrying a maximum of 128 passengers in 64 well-fitted double occupancy cabins, the Dutch-designed, Japanese built Clipper Odyssey is able to sail to less frequented places where bigger ships cannot go. She will be making several calls in Madagascar, Reunion and Mauritius and among her visits are the Comores, Zanzibar, Pemba Island, the Quirimbas, Ibo Island, Inhambine and Bazaruto, Inhaca and Maputo.
She will also be calling at Richards Bay (18/19 March) and Durban (20 March) where one segment of the cruise ends, with another beginning from the KZN port. Then it is on to Port Elizabeth, Mossel Bay, Hermanus and Cape Town before sailing on to Luderitz and ending another segment at Walvis Bay. From there she heads for West African ports.
Jolly Diamante on maiden voyage
Ignazio Messina's latest ship, the newbuild JOLLY DIAMANTE (50,720-gt, built 2011) is en route for South Africa on her maiden voyage to South Africa and is due in Durban next Wednesday, 15 February.
She becomes the largest Ro-Ro vessel in service with the Italian line, which operates a service from Italy to South Africa via the Red Sea and East African ports.
Mystery of the GOMBESSA

The Gombessa on board the Jumbo ship Fairlift in Durban harbour this week. Picture by Trevor Jones
A slight mystery surrounds some deck cargo of a Jumbo heavylift vessel, the FAIRLIFT which arrived in Durban this week to take bunkers. On board the Jumbo ship is a passenger ferry type of hydrofoil named GOMBESSA, which is presumed to be headed for the Comores. Can this be confirmed or clarified by a reader?
On the hard at the Dormac Ship Repair yard in Durban is another ferry also named Gombessa, which Trevor Jones says is a name used in the Comores meaning coelacanth, for which of course the Comores are known to be home.
It appeared that there was a second vessel as deck cargo on the Jumbo ship, with a name that appeared to be ADELE but this couldn't be seen clearly. Any further information would be welcome.
News continues below…

DAR ES SALAAM HAS 14.5% INCREASE IN CONTAINER HANDLING FOR 2011
The port of Dar es Salaam showed a 14.5% increase in container handling for the year 2011, the latest figures issued by the Tanzania Ports Authority have revealed.
TEUs handled at the Tanzanian port went up from 415,000 TEUs in 2010 to 475,000 TEUs for the 2011 calendar year. According to port manager Cassian Ng'amilo, the increase is due to additional berths having been provided at the port to allow for six container ships at a time to work cargo in Dar es Salaam.
Ng'amilo said having the additional berths, which became possible after TPA reached agreement with Tanzania International Container Terminal Services (TICTS), the terminal operator holding the concession for the Dar es Salaam Container Terminal, to enable TPA to operate containers at former breakbulk and bulk berths in the port.
Congestion at the Kenyan port of Mombasa also drove some shipping lines to divert their cargo to Dar es Salaam, which would have helped the figures.
There are other factors helping influence the improvement – one of them being an improvement in the condition of national roads particularly that which leads inland towards Tanzania's landlocked neighbours of Rwanda, Burundi and the eastern DRC.
Dar es Salaam also serves several other landlocked countries including Zambia, the DRC and Malawi. This is served not only by road by also by the TAZARA railway.
TPA's port master plan envisages not only further improvements to the port at Dar es Salaam but the development of news ports at Mwambani (Tanga) which will target Uganda-bound cargo, and Mbegani (Bagamoyo) which is just to the north of Dar es Salaam.
News continues below...

PIRACY: CAPE TO ARABIAN GULF AND MALACCA SHIPPING LANES ARE LATEST TARGETS
NATO has issued an alert saying that a merchant vessel was attacked yesterday (8 February 2012) and is suspected to have been hijacked. At 14h38 UTC the vessel was in position 13 32 N 058 36 E.
Nato says that vessels are advised to exercise extreme caution when navigating within 100 nautical miles of the position given in the report and to maintain maximum CPA with any ship acting suspiciously.
Yesterday's report comes after a relatively long period with no reported hijackings.
The hijacking comes on the same day that a maritime security company whose services include the provision of armed guards on ships warns of "a critical shift in pirate focus."
GoAGT (Gulf of Aden Group Transits) said on Thursday that over the past week it has received first-hand information from sources indicating that several Pirate Action Groups (PAGs) have begun to focus operations in a new regional area. These sightings suggest that pirates are targeting the Cape to Arabian Gulf shipping lane.
"There is a potential for PAGs to move east and endanger shipping along the Cape to Malacca route," added GoAGT. "Shipping along these routes are vulnerable as many vessels are not hardened against piracy, and do not carry armed guards. This is due to these routes being outside of the traditional High Risk Area (HRA)."
GoAGT says the activity east of the Seychelles is "likely motivated by the search for unprepared shipping. The operational range for PAGs has greatly increased due to the use of mothership vessels, which allow for extended operations at sea. It is also possible that PAGs can extend operations south of the Maldives." "On 6 February," says GoAGT, "a merchant vessel was approached by two skiffs in the central Indian Ocean Region at position 05°03'N 066°07'E. On 8 February, a second merchant vessel was attacked at position 04°18'S 059°59'E by a skiff with five pirates on board (POB). The distance between these attacks suggests that several PAGs are now operating in this area. "With the extensive concentration of anti-piracy measures in the Northern Indian Ocean, it is increasingly likely PAGs will attempt to target new areas to take advantage of unprotected shipping lanes," warns GoAGT.
Nato also warned of pirate activity east of the Seychelles. It said a merchant ship had been approached approximately 240n.miles east of the Seychelles Islands (0418S 05959E) at around 0730Z. Five armed people were on board a white skiff with blue stripes. The merchant ship managed to escape.
Nato said piracy activities have been recently reported in the Indian Ocean in vicinity of the Seychelles Islands and warned that approaches occurred on 28 January north of the Seychelles Islands in position 0455N 05814E and on 6 February east of the Seychelles Islands in the position of 0503S 06607E. "Masters are advised to proceed through these areas with extreme caution, and be advised that the PAG (Pirate Attack Group) responsible for the recent approaches (NSC4) in the Indian Ocean is still believe to be in the area."
Nato added that on 2 February, suspicious activities were reported northeast of the Maldives in position 0753N 07618E.
It said that although there has been little pirate activity recently in the Gulf of Aden, Bab al Mandeb and Arabian Sea these were still considered areas of piracy threat to merchant shipping. "Masters are reminded that a large number of fishing vessels operate in the Southern Red Sea. The fishing vessels may approach a merchant ship in order to maximise fishing opportunities and to warn vessels from getting too close to the fishing nets."
News continues below…

CONSTRUCTION TO START ON DAR ES SALAAM SPM
The construction phase of the port of Dar es Salaam's new single point mooring (SPM) began this week and is due for completion by July this year.
The SPM replaces Dar es Salaam's old crude oil discharging terminal with a new dual pipeline single point mooring system costing US$66.48 million. The SPM will be located south-east of the Port of Dar Es Salaam harbour entrance channel and the project comprises the development up to and including pre-commissioning and delivery of an offshore terminal for the import of crude oil and white products capable of mooring tankers in the range of 40,000-dwt to 150,000-dwt.
The terminal will have an increasd discharge capacity which should have a marked effect of cutting down the mooring time to a single day from the current four to five days.
Dar es Salaam's port manager, Cassian Ng'amilo, said the project would not only reduce freight cost per tonne but will have a bigger ability of receiving tankers with the capacity of up to Capesize to support the bulk oil procurement initiative.
"Oil importation costs will go down due to the economics of scale where the bigger consignment is delivered with a single ship unlike the current KOJ (Kurasini Oil Jet) with capacity of 40,000mt," he said.
The installation of two onshore and offshore pipelines has been entrusted to Malaysia-based Leighton Offshore. The pipelines are a 28 inch pipeline for crude and a 24 inch pipe for white oil-petrol, diesel and kerosene, extending 4 kilometres offshore and 4.5 kilometres onshore.
The new SPM buoy will be placed 200m from where the old buoy was moored, with a draught beneath of 25 metres.
Leighton Offshore says a stringing yard will be set up at the landfall point and pipe strings will be pulled offshore by bottom pull method with a linear winch set up on the Leighton Mynx work barge. The firm says a key challenge to the installation of the pipeline will be trenching through the intertidal zone and crossing the reef at approximately 2km away from the beach.
Leighton Offshore's scope of work includes engineering and procurement, project management, pre and post installation surveys, supply and installation of the SPM system, as well as testing and commissioning. The project is expected to be completed in April, followed by testing before being commissioned into service by the TPA in July.

The Mynx barge in Dar es Salaam. Picture courtesy Leighton Offshore
News continues below…

MARINE RUINS DISCOVERED AT V&A
Builders discovered the ruins of an old wooden barge while working on an office development at the V&A Waterfront in Cape Town on Wednesday, iafrica.com reported today - use your BACK BUTTON to return to this page.
V&A Waterfront spokesperson Lynette Lambert said the discovery was made at Number One Silo in the Clock Tower precinct.
"The affected development area has been cordoned off until such time as their contracted marine archaeologist has the opportunity to assess the find," she said.
"The initial findings of the ruins appear to be that of an old wooden barge."
The discovery would be carefully examined by the marine archaeologists who had been part of the team regularly checking works since inception.
"The V&A Waterfront area is rich with history and this is not the first time that we have encountered really fascinating discoveries which form part of the legacy of Cape Town," Lambert said.
"Given the sensitivity and historic nature of the site, we have had a consulting marine archaeologist from day one. Once we have received her report, a decision will be made on the next steps."
There are several historically significant sites in the vicinity, including Chavonnes Battery, the remains of which were preserved as Cape Town's oldest major fortification after the Castle of Good Hope.
The site concerned is located between the existing Clock Tower shopping centre and the disused grain silo building. Source iafrica.com
News continues below…

QUEEN MARY 2's POWER OUTAGES ON INDIAN OCEAN CROSSING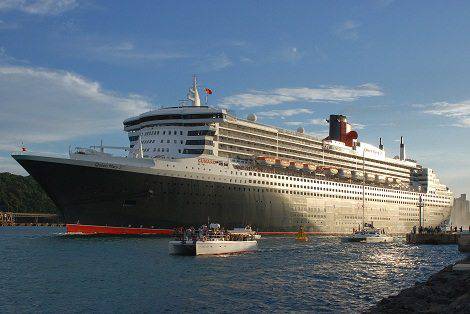 Queen Mary 2 sailing from Durban for the crossing to Australia, 30 January 2012. Picture by Trevor Jones
The Cunard cruise liner QUEEN MARY 2 suffered two power failures while crossing the Indian Ocean between Mauritius and Western Australia, where the giant ship has since arrived.
The outages occurred last Saturday and again on Tuesday but according to David Jones, a spokesman for Carnival Corporation, the owner of Cunard and the Queen Mary 2, the outages were just part of a routine maintenance programme.
Whether Carnival believe all non-seafaring people are naïve that they will buy such a story is not clear; certainly for one of its customers, a passenger on board the ship who was stuck in a lift for 10 minutes and had to be rescued, the 'incident' was more than just routine.
Other passengers described how the ship's engines stopped and how they had peered over the side as if to see what was wrong. The passenger who was stuck in the lift said that power on the ship was lost for about 25 minutes and that the ship's lighting had gone out briefly before the backup kicked in.MP> "We were stuck in the middle of the ocean without any power. It was an extraordinary series of events for a ship known as the queen of the seas," he said once ashore in Fremantle.
The second incident occurred at 2am on Tuesday during moderately rough seas and strong winds. The vessel appeared to stop dead in the water for up to 10 minutes with the lights and TV going off momentarily and the engine failed to kick back in for up to eight minutes, said the passenger.
"There was a brief power interruption and as expected would normally happen backup systems kicked in so at all times there was full lighting, and all controls were effective and operating normally," Carnival's Jones said. "I believe there may have been a couple of occasions (of power interruptions)."
Queen Mary 2 experienced power failure on another occasion in September 2010 as the ship approached the Spanish port of Barcelona. On that occasion there was a loud explosion followed by a blackout. Source www.perthnow.com
MAILBAG: A READER SAYS SHIPS AGENTS AND THE TAXPAYER PAID FOR THE PHOENXIX SALVAGE, NOT SAMSA

The grounded Nigerian tanker Phoenix on the rocks of Sheffield Beach, KZN. Picture by Steve McCurrach www.airserv.co.za
Sir In today's issue (8 February), there is a statement (paragraph) likely to get all of us agents' blood pressure rising rapidly.
That episode cost South Africa and the South African Maritime Safety Authority (SAMSA) in particular about R34 million in salvage costs to remove any oils and toxicants from the ship [Phoenix] and to pull her clear of the coast and scuttle her south-east of Durban. The cost settled on SAMSA because no responsible owner or agent could be found – the ship had basically been abandoned once she got into difficulties off the South African coast.
This is definitely inaccurate. All the money that SAMSA spent on the Phoenix disaster (caused, of course, directly by the short sightedness of SAMSA and the TNPA Harbour Masters) came from the unbelievably exorbitant levies imposed on all the ships calling at South African ports. Therefore, these costs were actually borne by a host of ship owners and operators with, perhaps, some also from you and I, by way of the Govt giving SAMSA some of our tax money.
Ships Agent
Richards Bay
(name supplied but withheld)
PICS OF THE DAY – SEABOURN QUEST and ISANDLWANA
Seabourn's latest cruise ship, the luxurious SEABOURN QUEST completed her South African visit this week with a call at Durban. Picture by Trevor Jones
The Transnet departmental dredger ISANDLWANA which has been hard at work in ports like Durban and Richards Bay, has just commenced a maintenance refit in the Durban dry dock. Here the suction dredger is seen crossing Durban Bay en route to the Bayhead repair yards and dry dock area. Picture by Trevor Jones
Don't forget to send us your news and press releases for inclusion in the News Bulletins. Shipping related pictures submitted by readers are always welcome – please email to info@ports.co.za
Did you know that Ports & Ships lists ship movements for all southern African ports between Walvis Bay on the West Coast and Mombasa on the East Coast?
TABLE BAY UNDERWAY SHIPPING
SHIP PHOTOGRAPHERS
Colour photographs and slides for sale of a variety of ships.

Thousands of items listed featuring famous passenger liners of the past to cruise ships of today, freighters, container vessels, tankers, bulkers, naval and research vessels.
P O BOX 809, CAPE TOWN, 8000, SOUTH AFRICA
snai@worldonline.co.za
http://home.worldonline.co.za/~snai
South Africa's most comprehensive Directory of Maritime Services is now listed on this site. Please check if your company is included. To sign up for a free listing contact info@ports.co.za or register online
Looking for help? Try our MARITIME SERVICES DIRECTORY CLICK HERE