Ports & Ships Maritime News
2-3 February 2012
Author: Terry Hutson
Bringing you shipping, freight, trade and transport related news of interest for Africa since 2002
Improve your branding with your banner on this site and tap into our large readership - contact info@ports.co.za
There were 57,105 readers and over one million hits on PORTS & SHIPS in January 2012 – thank you readers. Another good reason to consider advertising your company or services on these pages. Contact info@ports.co.za for details
TODAY'S BULLETIN OF MARITIME NEWS
Click on headline to go direct to story – use the BACK key to return
SEND NEWS REPORTS AND PRESS RELEASES TO info@ports.co.za
News continues below...

FIRST VIEW – REDFISH 3 and PACIFIC PORPOISE
The Singapore-owned and operated offshore tug and supply ship REDFISH 3 (2446-gt, built 2011) in Cape Town harbour yesterday. Picture by Aad Noorland
Swire Pacific Offshore's offshore tug and supply ship PACIFIC PORPOISE (1329-gt, built 2011) which was also in Cape Town harbour yesterday. Picture by Aad Noorland
News continues below…

CYCLONE DANDO AND FUNSO'S TRAGIC LEGACY - AT LEAST 40 DEAD AND OVER 120,000 AFFECTED

Cyclone Dando on 17 January 2012
Because it's in Africa, it seems that no-one cares. There's little or no exposure in the western media, including in South Africa
Had either of these been hurricanes raging through the Caribbean on a course for the US eastern seaboard or its Gulf Coast, or a typhoon in the South China Sea, the news coverage would have been universal, but cyclones in the western Indian Ocean including those that come ashore over Madagascar or Mozambique seldom receive much attention and even then it's usually after the event.
During the time that Dando and Funso were dumping tons of water on wide areas of land, and gales were blowing off roofing and destroying villages and towns, South African television stations referred to them as 'bad storms' and showed interest only in that they were bringing flooding in Mpumalanga.
The devastation taking place across the border was apparently of little or no interest to South African broadcasters who appeared to be unaware that a cyclone was threatening the coasts and shipping of the Mozambique Channel. It did become news of a fashion but only after the event when some passengers on the MSC Symphony objected to having been diverted (for safety reasons) to Port Elizabeth.
Meanwhile the United Nations reports that at least 40 people have died and more than 120,000 have been affected by the twin storms that followed closely on the other and which struck Mozambique between 18 and 26 January.
The UN's Office for the Coordination of Humanitarian Affairs (OCHA) reports that Tropical Cyclone Funso struck northern Mozambique, "affecting about 64,663 people and causing floods and damage of houses, schools and health centres. In southern Mozambique, high river flows from upstream countries... combined with heavy rainfall due to tropical storm (i.e. cyclone) Dando, affected about 51,670 people," OCHA said on 27 January.
"There is a possibility that in-country pre-positioned shelter material will not be enough to respond to the emerging needs," Ocha said, adding that there were indications that 94,919 hectares of cropland had been affected in Maputo, Gaza, Inhambane, Sofala and Zambézia provinces.
World Food Programme country representative Lola Castro told IRIN (UN's Integrated Regional Information Network) that it appeared the affected cropland was "a write-off". She said floodwater in the south and north was subsiding and issues of health, water, sanitation and shelter were being addressed in partnership with the government.
On Tuesday this week IRIN reported that at least 3,385 residents in Samaria, Furquia and Lugela, which are in the district of Namacurra in the central Mozambican province of Zambezia, were isolated and awaiting assistance after the area was severely affected by cyclone Funso.
According to the administrator of Namacurra, Pedro Sapage, the local authority is unable to help because the roads have been cut and it has no boats to reach the area. Sapage told the daily newspaper Diario de Moçambique that most access roads are flooded.
A representative of the Mozambican Red Cross (CVM) told the newspaper that local people are crossing swollen rivers by canoe, which is dangerous under current conditions.
The provincial director for Transport and Communications, Alberto Manharagem, has promised to send a boat from the district of Mopeia this week to provide access to the isolated areas in Namacurra.
The heavy rain in Namacurra resulted in the death of five people, nine serious injuries and the destruction of infrastructure. According to Sapage, at least 13,131 houses were damaged by high winds or submerged by floodwater. In addition, 104 classrooms were flooded, along with agricultural fields.
Across Zambezia province the cyclone resulted in 21 deaths and 25 serious injuries.
The deputy provincial director for Finance, Graciano Francisco, revealed that 349 houses were destroyed in the port city of Quelimane. Throughout Zambezia 7,408 houses were totally destroyed and 5,603 partially damaged, leaving 6,633 families in need of assistance.
There are no current cyclone warnings for the western Indian Ocean.
News continues below…

PIRACY: RECORD RANSOM PAID FOR ANGLO-EASTERN TANKER

Fairchem Bogey – released for $8m ransom
The Anglo-Eastern chemical tanker FAIRCHEM BOGEY (26,350-dwt), which we reported on 16 January had been released by Somali pirates, was allowed to sail away from Somalia after a record payment of US$8 million was paid, according to Chinese news reports.
If correct then this is the most money paid so far to Somali pirates to release a ship and her crew. The previous highest ransom paid was for the 1743-TEU container ship MSC PANAMA and her crew of 23 for which $7 million was handed over.
During 2011 the average ransom paid for a ship and crew was in the region of $4 million.
Readers will recall how the Fairchem Bogey was highjacked right outside the port of Salalah while waiting for a berth. Because of port regulations in Oman, armed guards who had travelled with the ship as far as Salalah had recently disembarked at Muscat shortly before the pirates boarded and took control of the ship.
Fairchem Bogey has a crew if 21, all from India and according to reports they are in good health. "Once the agreement to release the vessel had been reached, the vessel was supplied with fuel, fresh food, medicines and armed guards before proceeding to a safe port. A replacement crew has now taken over the vessel," said a spokesman for Hong Kong-based Anglo Eastern.
Iranian warship to the rescue
Iranian news services are reporting that one of Iran's naval ships has prevented pirates from highjacking a tanker near the Gulf of Aden.
The unnamed tanker came under attack from the pirates 35 n.miles southeast of the Gulf of Aden, an Iranian Navy spokesman said on Tuesday. He said that when the Iranian warship approached, the pirates in skiffs fled the scene.
The Iranian Navy has been patrolling the region of the Gulf of Aden and the Arabian Sea since November 2008, after a number of Iranian merchant ships were attacked with some being highjacked. The capture of the Iranian cargo vessel DELIGHT proved to be the catalyst for bringing the Iranians into action.
Philippines gives the go-ahead to use armed guards
The Philippines has given the go-ahead to its flagged merchant fleet to employ armed guards in pirate-ridden waters in the Indian Ocean and the Gulf of Aden.
Filipino merchant ships must however adhere to strict guidelines promulgated by the Maritime Industry Authority and the International Maritime Organization (IMO), the Philippines' Department of Foreign Affairs (DFA) said this week.
"In their participation at meetings to combat piracy in the IMO, the United Nations and other forums, Philippine government officials have been advocating the importance of promoting the safety of Filipino seamen. This advocacy is supported by other governments," the DFA said.
In the past five years 769 Pilipino seafarers have been taken hostage by Somali pirates. There are currently 26 Filipino seamen still in custody. The DFA indicated that it was its duty to find ways of protecting its seafarers.
News continues below...

NEW ANGOLAN SEA FISHERY PATROL SHIP LAUNCHED

Angolan sea fishery surveillance vessel Ngola Kiluange. Picture courtesy Damen
Spectators at Damen's Romania based Galati Shipyard were treated to a moment of suspense when the 62 m fishery research vessel NGOLA KILUANGE sharply heeled over at her launch. But as people drew their breath the little ship sprang back, keeping her balance perfectly.
The occasion was the launching of the first of three sea fishery surveillance patrol vessels for the Angolan Ministry of Agriculture, Rural Development and Fisheries. With the three vessels in service Angola will be better equipped to strengthen its knowledge of and exercise control over Angola's rich fishing grounds.
The fishing sector is one of Angola's largest economic sectors although its territorial waters have proved extremely attractive for illegal fishing. Under a SADC regional programme Angola is collaborating with Namibia and South Africa to protect and survey the fishing grounds.
The other two vessels consist of a similar ship to the Nngola Kiluange (type FISV 6210) which is under construction also at the Galati yard, and a smaller 28m long fishery research vessel (a Damen FRV 2810 model). The three vessels have been financed jointly by ING Bank and the Dutch Government.
The deal was struck under a currently discontinued program of the Dutch Ministry of Foreign Affairs, called ORET, which supported sustainable investment in infrastructural projects in developing countries. Regulations for such deals are very strict, says Friso Visser, Damen's regional director: Africa.
"We really had to explain the Dutch mania for organisation to our Angolan counterparts. Fortunately, our relationship goes back a long way and we intend to deepen it even further, Visser said." The ORET programme regulated Dutch-Angolan co-operation within a clear institutional framework. Education, training and building financial reserves for maintenance and replacement were made compulsory parts of the deal. Damen says that some of these requirements are also part and parcel of its own philosophy. The delivery of spare parts is customary, training and education are regularly given, and special vessel maintenance programs can be obtained.
Damen Shipyards Cape Town provides all the necessary services.
News continues below…

CRUISE NEWS & VIEWS
Underwater Search for Cruise Ship Bodies ended
The underwater search being conducted by Italian divers for missing passengers of the ill-fated COSTA CONCORDIA has been brought to a halt, leaving 15 people unaccounted for.
Search and rescue people will however continue searching the ship above the waterline but the civil protection authority said on Tuesday that it has become too dangerous to continue further searching in the submerged sections of the ship.
The agency said in a statement that officials have contacted the families of the missing and foreign embassies involved to explain the decision.
Seventeen bodies were recovered during the almost three weeks since the ship struck a reef near the island of Giglio and was run aground deliberately to avoid sinking. The ship has capsized onto her side onto a slope on the seabed, with a large rock protruding from the damaged hull and visible above the waterline.
Passengers sue Costa Cruises
Six survivors from the semi-sunk cruise ship COSTA CONCORDIA are suing Carnival Corporation for a total of US$460 million. $10 million of this is for personal damages with the remaining $450 million being punitive damages.
The suit has been filed in Florida, home of the Carnival Corporation which owns Costa Cruises, which operated the Costa Concordia.
The suit is brought by a coalition of 500 of the ship's passengers and crew. "We believe we can win in Florida, and we are going to go forward, forward, forward without fear until they don't know what hit them—sort of like the Concordia," the lawyer said.
Carnival initially offered passengers a refund of their fares and a 30% discount on future cruises, which was later raised to an offer of $14,400 per passenger.
on a happier note…. MSC Starlight Cruises brings up the ton – 100,000 passenger booked

MSC Sinfonia entering Durban harbour. Picture by Trevor C http://www.nauticalimages.co.za
MSC Starlight Cruises has reached the 100 000 passenger mark for its 2011/12 season, with several weeks still to go and showing that cruising remains one of South Africa's most popular holiday options.
"With 16 departures still scheduled for this season between the two ships (MSC SINFONIA and MSC MELODY) it appears as if we will equal or exceed the current record of 110,000 passengers in a season," says Allan Foggitt of MSC Starlight Cruises.
"The public has realised that cruising offers the best and most exciting local holiday value and the fact that children under 18 cruise and eat free has made cruising the fastest growing sector of the travel industry in these troubled economic times. An exciting, expanded programme is planned for the 2012/2013 season and exceptional early booking specials are already available for those who plan ahead."
MSC Sinfonia remains cruising out of Durban until 30 March, when the ship will return to Italy via Cape Town and the Atlantic Ocean. She will be sailing her popular 3, 4 and 5-night cruises to Mozambique from Durban with departures every Friday and Monday.
MSC Melody meanwhile bids a fond farewell to South African shores on 20 February after a very successful season, having sailed mostly out of Cape Town but with several longer cruises from Durban. Her final departures include a cruise to Fort Dauphin on Thursday 2 February, a 3-night cruise from Durban to Cape Town from 8 to 11 February and a couple of 3-night cruises to Mossel and Walvis Bay.
On Monday, 20 February MSC Melody heads north on an 18-night cruise back to Italy, with calls at Walvis Bay, Jamestown (Saint Helena), Dakar (Senegal), Arrecife (Canary Islands), Cadiz and Palamos (Spain) before arriving back in Genoa Italy on 9 March 2012.
Bookings are open for the 2012/13 cruise season involving the same two ships operating out of Durban and Cape Town.
News continues below…

SHIPWATCH: NEWS OF SHIPS AND SHIPPING LINES
Maersk reduces 'Daily Maersk' to six days a week

Estelle Maersk leaving Algeciras. Picture Maersk Line
It hasn't taken long for a cut-back to be made. Maersk's much vaunted 'Daily Maersk' service, in which a container ship sailed from China for northern Europe every day of the week bringing predictability for shippers, has been cut back to six days a week, according to maritime analyst Alphaliner.
The cut-back has already commenced as of this week.
Maersk Line is withdrawing its AE-8 string that it ran jointly with French carrier CMA CGM and will redeploy five 13,000-TEU ships to its Far East–Mediterranean service.
Port rotations on its remaining Asia-Europe services are being revamped with additional calls at Le Havre, Zeebrugge, Rotterdam and Hamburg.
APM-Maersk CEO Nils Andersen takes extended medical leave
AP Moller-Maersk Group CEO Nils S Andersen (54) has returned to hospital following his recent heart surgery and has had his medical leave extended until April.
Andersen was on holiday in Switzerland when he was taken to hospital for treatment for a leaking heart valve. After a stay in hospital he was released but has been forced to return for continuing treatment.
"During a vacation in Switzerland his condition deteriorated acutely, and therefore he has undergone surgery, which comprised replacement of a cardiac valve. The operation went well. Nils Andersen is expected to be absent for a month, and the doctors are expecting a full recovery," said a company statement following his first admittance to hospital.
In his absence the executive board is continuing to run the AP Moller-Maersk Group. Andersen's absence comes at a time when Maersk Line CEO Soren Skou is taking over from Eivind Kolding, who becomes chief executive of Danske Bank,.
Hanjin posts loss for 2011

Hanjin Chongqing in Cape Town harbour. Picture by Ian Shiffman
South Korean shipping company Hanjin Shipping, the world's 9th largest container carrier, has posted a net loss of KRW823.9 billion (US$731 million) for the 2011 financial year, along with an operating loss of KRW492.6bn, which it says is due to increased fuel costs and decreasing freight rates.
During the year Hanjin increased the number of containers carried by 12.4% yet total sales went down 1.1% to KRW9.52 trillion.
Of the total loss, the container division lost KRW550 billion while the bulk division posted a 4.9% growth in operating profit to KRW53.5 billion, thanks to improved freight rates and a 35.1% rise in cargo volumes carried.
Hanjin says it anticipates the problems in the container division to continue into 2012 because of an oversupply problem as a result of the continuous deployment of mega- sized ships.
Some expected arrivals and departures
,br>FS Nivose in Durban in 2004 where the ship was to undergo drydocking. Picture by Terry Hutson
Among some ships to look out for in the coming week is Seabourn's luxury new ship, SEABOURN QUEST (32,346-gt, built 2011) which is making her first visit to Southern Africa and to the Indian Ocean – see pictures below.
Considered to be a 'yacht-like cruise ship' (at 32,000-tons!) she brings an extra depth of luxury and comfort with a maximum of 450 passengers, who are taken care of and pampered by 330 crew – surely one of the highest passenger/crew ratios in the business.
Seabourn Quest has already arrived in Cape Town and is due to sail later today for Port Elizabeth and then Durban, where she is due on Tuesday 9 February. She will sail later that day for Maputo and then heads off across to Indian Ocean to the Maldives, India, South East Asia and China.
Also due in Cape Town this week are the two Silversea ships, SILVER WIND and her larger sibling SILVER WHISPER, also both in the super luxury class. Silver Wind has been undertaking coastal cruises in South African and Mozambican waters for the past month. Silver Wind arrives in Cape Town on Friday (3 February) and Silver Whisper the following day.
Due to the ongoing controversy over cruise ships and the V&A Waterfront, these ships with the exception of Silver Wind will berth in the Duncan Dock. Silver Wind gets some sort of exemption because she has apparently undergone immigration clearances at Durban during the coastal cruise. If you understand this way of thinking, assuming this explanation to be correct, then you are doing better than the writer whose grandfather had an appropriate expression for this sort of bureaucratic authoritarianism – "Daft, I call it" he would have said.
Also of interest for Cape Town is the French Navy patrol frigate FS NIVOSE which is due in port on Saturday (4 February). As this is not a passenger ship, she will be berthing at the V&A on No.2 Jetty. FS Nivose sails from Cape Town on Thursday 9 February 2012.
Durban
Both Silver Whisper and Silver Wind will be back in Durban during the coming week – Silver Whisper on Thursday 9 February and the Silver Wind the following day.
Yesterday saw an abnormal number of ship movements in the vicinity of Durban. At one stage during the morning the port held 39 vessels working cargo or at the repair wharves – this does not include fishing vessels.
Outside the harbour in the outer anchorage were another 27 vessels of all types, while passing Durban or approaching/sailing from the port were more than 50 vessels. These wee noted all at the same time of the day.
Dar es Salaam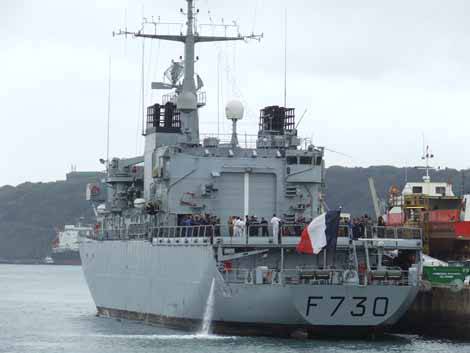 FS Floreal at Durban's Salisbury Island. Picture by Terry Hutson
Another French Navy frigate FS FLOREAL has arrived in Dar es Salaam on an official visit lasting three days, reports allafrica.com
FS Floreal has been attached to the European Union Naval Force (EUNAVFOR) since last November. She has been active in escorting a number of ships carrying food aid to the beleaguered population of Somalia in recent weeks. The ship has also engaged in active pursuit and disruption of pirates operating across the Indian Ocean.
FS Floreal is commanded by Commander Christophe Pasco and has a crew of 101 on board.
SMIT AMANDLA MARINE WELCOMES 10 NEW CADETS

SMIT Amandla Marine's 2012 intake of marine cadets
On 30 January ten new cadets joined SMIT Amandla Marine's accredited Cadet Training Scheme that has been running for over eight years.
The recruits successfully completed a thorough recruitment and selection process at the end of 2011. Hailing from KwaZulu-Natal, Gauteng, the Eastern Cape and the Western Cape, the ambitious youngsters will join eight existing cadets who continue with their training in 2012, bringing to twenty the total number of South Africans currently on the programme.
With skills development and job creation remaining key drivers for economic transformation in Southern Africa – and where the maritime industry is no exception, SMIT Amandla Marine managing director Paul Maclons says he is pleased with the talent pipeline that is in place.
"Each cadetship represents an investment of more than R400,000 (engineering cadets) and R150,000 (deck cadets) respectively. We are serious about the sustainability of the maritime industry and the key for us lies in attracting, recruiting, training & developing and then retaining the maritime leaders of the future."
Maclons adds that the transformation of the company has been a key business strategy since its formation; the company's Level 3 Broad Based Black Economic Empowerment status illustrating this evolution.
The new cadets – five engineer cadets and 5 deck cadets – have completed the required theoretical component of their training and all have S2: Marine Engineering or S2: Maritime Studies qualifications behind them. Human Resources manager Pumla Jikela explains that the recruitment process starts with interviews, followed by ability and job match assessments.
"We recruit our cadets from Cape Peninsula University of Technology and Durban University of Technology and receive more than 100 applications each year. Our ability to accommodate cadets and offer cadet berths onboard our vessels is limited by capacity and berth space availability."
Engineering cadet Doctor Dlamini from Simon's Town in Cape Town is excited about what the next few years will hold. "To get the opportunity to pursue my dream career is an amazing start to a new adventure. I feel not only excited, but very fortunate too."
"It is the beginning of a bright future for me," says from Siyanda Nzimande from Umlazi, KwaZulu-Natal. He is one of six cadets who hail from this province.
The Cadet Training Scheme has seen many success stories, with its most recent graduate, Oupa Phake, qualifying as a marine engineer in December 2011. Since the programme first began, thirty trainees have graduated. SMIT Amandla Marine also provides cadet berths for eight cadets from the SAMSA Cadet Training Project which was launched in 2011.
With the largest permanent employee base of South African seafarers, specialist marine services company SMIT Amandla Marine is beginning to see the results of its accredited Cadet Training Scheme.
PICS OF THE DAY – SEABOURN QUEST
Seabourn's latest luxury cruise ship SEABOURN QUEST (32,346-gt, built 2011) arrived in Cape Town this week for a two-day visit, this being the maiden cruise to southern Africa for a ship that was launched into service as recently as June 2011. The ship is also calling at Port Elizabeth, Durban and Maputo. Pictures by Ian Shiffman
Don't forget to send us your news and press releases for inclusion in the News Bulletins. Shipping related pictures submitted by readers are always welcome – please email to info@ports.co.za
Did you know that Ports & Ships lists ship movements for all southern African ports between Walvis Bay on the West Coast and Mombasa on the East Coast?
TABLE BAY UNDERWAY SHIPPING
SHIP PHOTOGRAPHERS
Colour photographs and slides for sale of a variety of ships.

Thousands of items listed featuring famous passenger liners of the past to cruise ships of today, freighters, container vessels, tankers, bulkers, naval and research vessels.
P O BOX 809, CAPE TOWN, 8000, SOUTH AFRICA
snai@worldonline.co.za
http://home.worldonline.co.za/~snai
South Africa's most comprehensive Directory of Maritime Services is now listed on this site. Please check if your company is included. To sign up for a free listing contact info@ports.co.za or register online
Looking for help? Try our MARITIME SERVICES DIRECTORY CLICK HERE