Ports & Ships Maritime News
30 January 2012
Author: Terry Hutson
Bringing you shipping, freight, trade and transport related news of interest for Africa since 2002
Improve your branding with your banner on this site and tap into our large readership - contact info@ports.co.za
TODAY'S BULLETIN OF MARITIME NEWS
Click on headline to go direct to story – use the BACK key to return
SEND NEWS REPORTS AND PRESS RELEASES TO info@ports.co.za
News continues below...

FIRST VIEW – QUEEN MARY 2
Cunard's majestic liner arrived in Durban yesterday morning (Sunday) 24 hours later than originally scheduled and on the day one hour ahead of the stated time, leaving disappointed hundreds if not thousands of people anxious to be on time to see and greet the arriving ship.
One person who was not disappointed was Trevor Steenekamp of www.nauticalimages.co.za who took up a timeous position in the Transnet Millenium Tower on the Bluff, the perfect place to see an arriving ship in the early morning or at most times. Here are three of his offerings. Pictures by Trevor C www.nauticalimages.co.za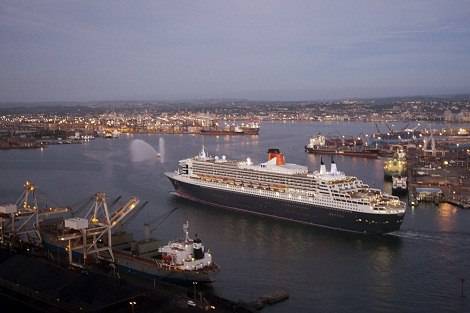 See below for more images of Queen Mary 2 in Durban
News continues below…

SHIPWATCH: NEWS OF SHIPS AND SHIPPING LINES
Maersk goes green in Gothenburg
This week Maersk Line expects to become the first major shipping lines to comply with the new Low Sulphur Emission Standard being introduced in European ports, a standard that could become international in future.
During the week one of Maersk's E-class (10,000-TEU plus) of container ships, the EDITH MAERSK will call at the Swedish port of Gothenburg with low sulphur fuel as part of the port's 'Fuel Switch Programme' which aims at drastically reducing air pollution by 90% within the port control area.
Under the program ships will switch from standard marine fuels to ones containing less than 0.1 percent sulphur within the Vessel Traffic Area of Gothenburg, though Maersk Line says its vessels will make the switch six nautical miles west of Vinga, well outside the ports line of control.
Maersk believes that by implementing the programme on their ships they expect to cut 12 tons of sulphur oxide emissions annually in Gothenburg.
MSC raise US-South Africa freight rates
Mediterranean Shipping Company (MSC) has announced its intention of raising freight rates between the United States and South Africa as from 1 March 2012.
The new rates between US-SA go up by US$200 per 6m container / $400 per 12m container for all containerised cargo between the US West Coast, East Coast and Gulf coast ports to all ports in South Africa.
Musical Chairs - New head of Maersk Tankers appointed
Søren Skou's recent move from Maersk Tankers to become chief executive of Maersk Lines meant he either had to continue in both roles or a replacement needed to be found.
That has now been decided with Hanne B Sørensen being announced as the new chief executive of Maersk Tankers with effect from 13 January 2012. She was previously the chief commercial officer of Maersk Line.
"Hanne B Sørensen comes with experience and a strong track record within international shipping. As chief commercial officer of Maersk Line, Hanne has been key in applying a stronger customer-focus in the same time as making the global frontline organisation more agile and efficient. Hanne has proven that she has a strong strategic mindset and the capability to execute. I am convinced that Hanne is the right person to be at the helm of Maersk Tankers at a time that is challenging, but also with opportunities," said Claus V Hemmingsen, the executive board member with overall responsibility for Maersk Tankers.
Hanne B Sørensen joined the AP Moller - Maersk Group in Copenhagen as an economist in Maersk Line in 1994. Until 2001, she held various CFO positions for Maersk Line in India, Italy and Singapore. In 2006, she was promoted to area manager based in Genoa, and in 2008 she was appointed Chief Commercial Officer in Maersk Line.
Maersk Tankers operates 300 modern crude oil, product and gas tankers and is one of seven core businesses within the Maersk Group. Maersk Tankers is the world's largest operator within product tankers.
This means that Maersk now needs a new COO, an appointment which it says it will announce 'in due time'.
News continues below…

CYCLONE FUNSO MOVES AWAY FROM AFRICAN COAST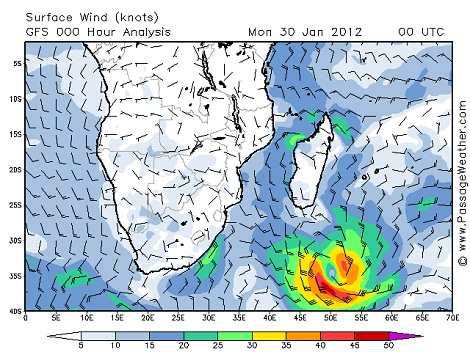 Cyclone Funso, now moving away into the southern Indian Ocean but still packing a punch. Image courtesy www.passageweatcher.com
After having tracked a path down the centre of the Mozambique Channel, with its outer edges coming ashore in central Mozambique and touching on western Madagascar, Cyclone Funso cleared the channel and has moved away into the southern Indian Ocean, still with strong winds near its core.
Meanwhile another strong storm in the north Mozambique Channel that was threatening to reach cyclone strength appears to have dissipated. There are now no current cyclones warnings for this area.
With the movement of Cyclone Funso and a one day delay for the passenger ship Queen Mary 2, the storm should have no effect on the ship's voyage to Mauritius although she may experience swells in the 2-4 metre range.
News continues below...

CRUISE NEWS: QUEEN MARY 2 VISITS DURBAN
Dawn over Durban and the huge 150,000-ton bulk of Queen Mary 2 begins to dominate a harbour that normally appears to 'swallow' its ships in respect to their size. QM2 was met with tugs spraying water in the tradition of special arrivals, while a number of pleasure boats crowded with people keen to see the ship close-up were accompanying her movements through Durban Bay and to her berthing point on the T-Jetty, at O and O/P berths. Despite the early hour hundreds of people thronged the various vantage points and the roads approaching them were subject to traffic congestion seldom if ever experienced on an early Sunday morning. It would only get worse as the day wore on.
At the J-Jetty meanwhile a large number of buses were waiting to whisk the several thousand passengers on board Queen Mary 2 off to the sites and attractions around Durban.
This 'atmospheric' picture taken from the grass banks near Wilson's Wharf is by Sharon Scott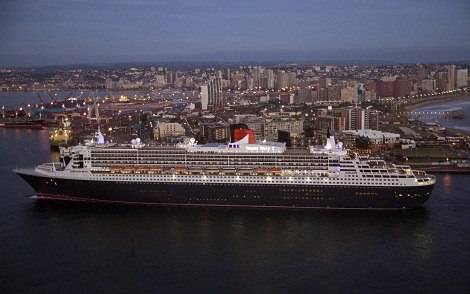 Dawn over Durban 2: With the sun still beyond the eastern horizon and the sky only just beginning to lighten, Queen Mary 2 enters the port of Durban while on her 2012 world cruise. Picture by Trevor C of www.nauticalimages.co.za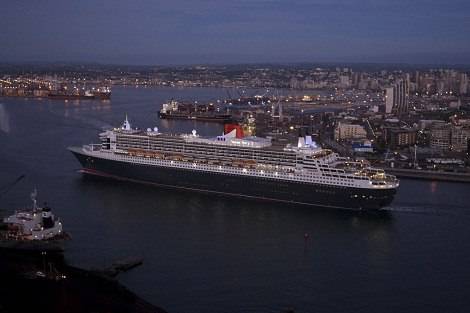 A few minutes later as the ship begins the turn from the entrance channel into Durban Bay and her awaiting berth on the T-Jetty. It was a few minutes before 5am when the ship crossed the bar. Picture by Trevor C of www.nauticalimages.co.za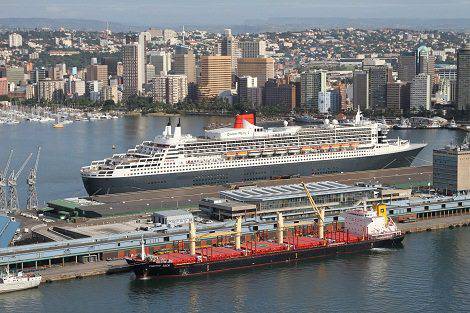 Docked in Durban. Queen Mary 2 docked at the T-Jetty in front of the Fresh Produce Terminal and adjacent to the N-Shed Passenger Terminal. This aerial picture by Brian Spurr
News continues below…

PICS OF THE DAY – QUEEN MARY 2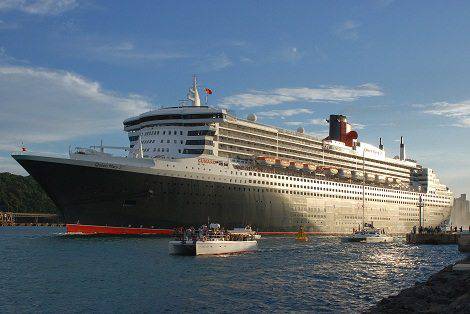 Sailing! After a sunny and warm day spent in Durban, during which passengers were able to go ashore and explore and enjoy the many attractions and sightseeing tours available, Queen Mary 2 sailed in the later afternoon bound for Port Louis and then on to Fremantle, Australia. Here the ship has turned the corner into the entrance channel. Picture by Trevor Jones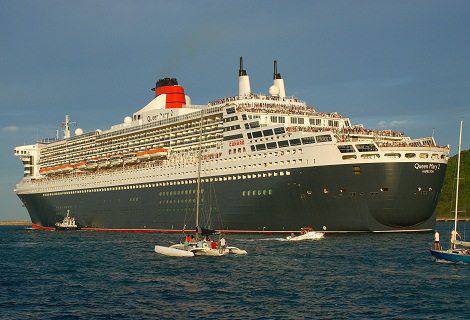 A bow shot of the ship as she starts down the channel with the open sea awaiting. Picture by Trevor Jones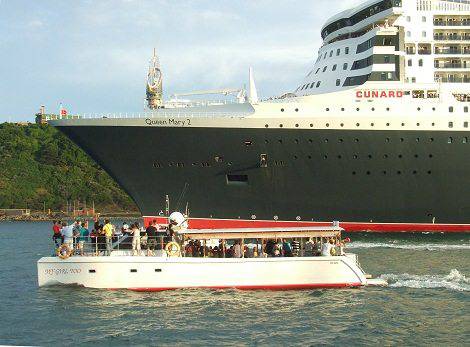 Neck and neck, Queen Mary2 and My Girl Too, both crowded with passengers, the smaller craft filled with people excited to be part of a fitting farewell. Bon Voyage, we would have called out in a different age. Picture by Terry Hutson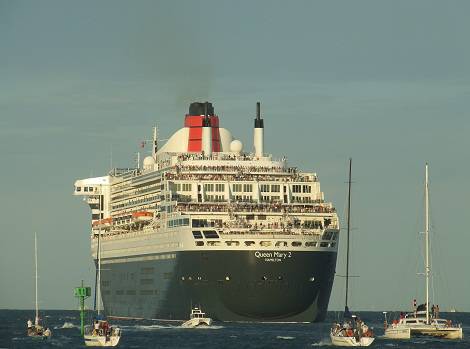 Next stop Port Louis! Queen Mary 2's 2012 visit to South Africa has been completed. The ship is due to return to Durban and Cape Town in that order in April 2013 on the return leg of her 2013 world cruise. Picture by Terry Hutson
Don't forget to send us your news and press releases for inclusion in the News Bulletins. Shipping related pictures submitted by readers are always welcome – please email to info@ports.co.za
Did you know that Ports & Ships lists ship movements for all southern African ports between Walvis Bay on the West Coast and Mombasa on the East Coast?
TABLE BAY UNDERWAY SHIPPING
SHIP PHOTOGRAPHERS
Colour photographs and slides for sale of a variety of ships.

Thousands of items listed featuring famous passenger liners of the past to cruise ships of today, freighters, container vessels, tankers, bulkers, naval and research vessels.
P O BOX 809, CAPE TOWN, 8000, SOUTH AFRICA
snai@worldonline.co.za
http://home.worldonline.co.za/~snai
South Africa's most comprehensive Directory of Maritime Services is now listed on this site. Please check if your company is included. To sign up for a free listing contact info@ports.co.za or register online
Looking for help? Try our MARITIME SERVICES DIRECTORY CLICK HERE