Ports & Ships Maritime News
18 January 2012
Author: Terry Hutson
Bringing you shipping, freight, trade and transport related news of interest for Africa since 2002
Improve your branding with your banner on this site and tap into our large readership - contact info@ports.co.za
TODAY'S BULLETIN OF MARITIME NEWS
Click on headline to go direct to story – use the BACK key to return
SEND NEWS REPORTS AND PRESS RELEASES TO info@ports.co.za
News continues below...

FIRST VIEW – MSC METHONI
Mediterranean Shipping Company's 305-metre, 6,724-TEU container ship MSC METHONI (73,819-gt, built 2003), sailing from Durban in early January with a lot of empty spaces on view. MSC Methoni is one of eight sister ships owned and operated by MSC and is the former MSC VIVIANA. Picture by Trevor Jones
News continues below…

COSTA CONCORDIA DEATH TOLL RISES
As the search for survivors continues, hopes are fading that the 24 persons still unaccounted for will be found alive in the wreckage of the capsized cruise ship COSTA CONCORDIA, which struck a reef off the island of Giglio on the Italian Tuscan coast on Friday night.
By yesterday afternoon the death toll had risen to 12 but the number of people missing has increased as more accurate counting of survivors has become possible. Fears of oil leaking from the ship have been realised as small amounts of fuel oil began seeping from the ship yesterday. Italian authorities have so far been able to contain this but if the weather deteriorates as feared from Thursday, causing the ship to move about on her somewhat precarious perch on the reef that tore a 71m gash in her hull, then the risk of more spillage will be increased.
Costa Concordia is carrying 3,200 tons of fuel oil in her bunker tanks, of which 2,400 tons is heavy fuel oil and the other gas oil. The Dutch firm of SMIT has meanwhile been appointed to remove the fuel oils and other toxicants from the ship, a contract that will take at least two weeks provided the weather remains favourable.
Why was the ship so close to a rocky shore
Of course the question everyone wants answered is why the Costa Concordia, equipped with every modern device to keep ships from sailing into danger, sailed so close to shore on the night of Friday the 13th that she struck a reef about 150m off Giglio Island.
The answer will come out in the official inquiry, but in the meantime Costa Cruises has wasted little time apportioning blame on the ship's master, Captain Francesco Schettino who did himself no favours by leaving his ship before all of his passengers were safe and then refusing to return. Shades of the Oceanos!
The fact that he left his ship and refused to return to help coordinate rescue operations came out clearly in a recorded conversation he had with the harbour master of Livorno, who had taken charge of the situation and who can be heard ordering Captain Schettino to return to his ship, an instruction that was ignored.
Now it turns out, according to a number of sources, that there was an element of showboating involved. Costa Concordia may have been regularly sailed away from her official course and close to the island where several crew lived or had relatives. One video clip doing the rounds shows the brightly lit ship passing close by the island on a previous cruise and sounding her horn in salute as she went by.
The CEO of Costa Cruises, Pier Luigi Foschi yesterday openly accused Captain Schettino of "wanting to show the island of Giglio [to passengers] so he decided to change the course to get closer." Foschi said Costa's ships passed the island more than 100 times each year but this manoeuvre was unique to Captain Schettino. Foschi acknowledged that by law Schettino had the authority to change course as he saw fit.
Foschi dismissed claims that a power loss caused the accident. The loss of electrical power on the ship was a consequence, not a cause, he said. "The ship hit the rock, then there was water intake. The water intake caused a blackout and other consequences."
Much to learn, says BIMCO secretary-general
The secretary-general of BIMCO, Torben C Skaanild says there will be much to learn from the Costa Concordia casualty. "There will be lessons to learn about navigation, damage control, evacuation, life saving appliances, damaged stability. All will feed into international technical, operational and regulatory improvement and which must become a vehicle for the reassurance of the hundreds of thousands of cruise passengers who will continue to use this fast expanding leisure sector and enjoy their holidays afloat."
He said it will be the International Maritime Organization (IMO) which will take the lead in this important work. "BIMCO, as always, will support this technical work wholeheartedly and endeavour to use its practical knowledge and those of its members, to make the sea a safer place. Meanwhile, our thoughts are with those who have been caught up in this sad event."
News continues below…

PIRACY: TANAZNIA FACING THE COST OF PIRATE ACTION IN ITS WATERS
Somali-based pirates pose the greatest threat to maritime activities in countries like Tanzania. Experts have emphasised that while the emergence of Somalia as the dominant global piracy hotspot is a relatively recent occurrence, the range and capabilities of Somali pirates have grown steadily.
The Tanzania Daily News reported this week that with Somali pirates operating more than 1000 n.miles from the coast of Somalia, countries like Tanzania have been forced into coming up with and implementing its own strategies to curb piracy in its territorial waters.
"There are currently several companies prospecting for oil and gas off the coast of Tanzania. These companies have invested heavily in the exploration and Tanzania stands to benefit immensely if the explorations lead to substantial findings. In turn, it is expected that the welfare of Tanzanians will be improved in the future. It should be noted that companies that have invested in the exploration of oil and gas have also created jobs both directly and indirectly within the country and more jobs will be created in future.
"It is thus in the government's interest, present and future, to guarantee and ensure that the explorers operate in a secure environment. And since the Somali pirates have been menacing the waters of the Indian Ocean, they have been a serious threat to prospective investors, their property and people employed by the ventures."
In addition the threat of piracy has been responsible for scaring off tourist cruise ships and cargo ships from sailing to Tanzania. In a speech given at the United Nations late last year President Kikwete said that 13 ships have been attacked of which five were hijacked in Tanzanian waters.
The report said that the pirates off Tanzania were not average criminals; they seem to be good at collecting and acting on specific information. "They did not travel all the way to Mtwara to simply try their luck, they knew exactly what they wanted and they were determined to get it. They simply do not care what happens to the people they attack and they are driven by greed and lust for wealth. The recent attempts off the coast of Tanzania are a clear testimony that they did not drift all the way from Somalia, the attack was well planned and orchestrated."
Read the full article HERE
British government held accountable for ransom payments
According to a report in The Australian, the British government has secretly approved the payment of millions of dollars in ransom money to Somali pirates despite stating publicly that it opposes such deals.
It says that dozens of payments — most for hijacked ships — have been sent from banks in London through British airports to pirate gangs on the Somali coast, and suggests that the British government has knowingly supported these transactions.
The amount handled by British banks is estimated at £30-million about 20-25% of the total amount that has flowed to Somali pirates.
News continues below...

MADAGASCAN SEARCH AND RESCUE CENTRE COMMISSIONED
In one of his last official functions as secretary-general of the International Maritime Organization, Efthimios E Mitropoulos, together with Madagascar's Minister for Transports, Benjamina Ramarcel Ramantsoa and Mr Jérôme Sambalis Director General of the Agence Portuaire, Maritime et Fluviale (APMF) commissioned a new search and rescue sub-centre at Antananarivo in Madagascar, which will operate in conjunction with the regional Maritime Rescue Coordination Centre (MRCC) in Cape Town, South Africa.
The commissioning took place on 11 December last year. The facility, which will operate as a joint maritime and aeronautical centre, marks an important step in a process that began at a conference on Search and Rescue and the Global Maritime Distress and Safety System, convened by IMO in Florence, Italy, in October 2000. African Governments represented at the Conference agreed on a regional approach to the provision of SAR services in western, southern and eastern parts of the continent as well as in island states around Africa.
The conference adopted a resolution inviting the African countries bordering the Atlantic and Indian Oceans, as well as the nearby Atlantic and Indian Ocean Island States, to establish five regional centres and 25 sub-centres to cover their entire coastline for search and rescue coordination purposes. The establishment of appropriate facilities off the coast of Africa was seen as a key component in the implementation of the Global Search and Rescue (SAR) Plan, the final part of which had been agreed thirteen years ago in 1998 at an IMO Conference in Fremantle, Australia.
The commissioning of the Antananarivo facility brings the number of sub-centres now in operation to 15. In March 2011, the fifth and final African MRCC was established in Rabat, Morocco, joining those previously commissioned in Mombasa, Kenya (2006); Cape Town, South Africa (2007); Lagos, Nigeria (2008); and Monrovia, Liberia (2009). Speaking at the inauguration of the Madagascar MRSC, Secretary-General Mitropoulos stressed the importance of having a working and cohesive system for rescuing mariners in peril.
"Manning the Antananarivo Centre on a 24‑hour basis, 7 days a week, 365 days a year, will require vigilance, professionalism and a sharp reaction to events, it will not be an easy task!" he said. "May those who serve in it live up to our expectations, in thus discharging their responsibilities, they will have the blessings of all those who will owe their lives to the prompt and effective execution of their duties. They and their families will be in their debt forever."
With the completion of the five regional MRCCs, the IMO is now using the experience gained in the successful establishment and operation of these centres in Africa as an example for other regions to follow. The IMO is currently embarking on a similar project for seven countries in Central America, involving the creation of two regional MRCCs, covering areas of the Pacific Ocean and the Caribbean Sea respectively, together with five associated sub-centres. Source Handy Shipping Guide
News continues below…


SOUTH AFRICA SWAZI RAIL PROJECT SET TO TAKE OFF

Class 43 diesel-electric locomotives, which are likely to operate on the new rail link between Gauteng and Richards Bay via Swaziland. Picture Wikipedia Commons
by Thomas Ginindza
Mbabane - South Africans and their Swazi counterparts are expected to enjoy various economic spin-offs from the development of a 146-kilometre rail line between the two countries.
The rail link forms part of the wider upgrade of the Richards Bay coal line and will cater for general freight business diverted away from the dedicated coal line.
The Transnet Freight Rail infrastructure project is expected to create many jobs for locals.
"Transnet and Swaziland Railways have agreed to jointly develop a 146-kilometre line from Lothair in Mpumalanga to Sidvokodvo Junction in Swaziland as well as upgrading adjacent rail networks in South Africa," said Transnet group chief executive Brian Molefe.
"In doing so it will provide an unprecedented economic boost to the region."
The new line which connects with the Zululand railway stretching north from Richards Bay will handle general freight volumes separately from coal, and will add a new rail transport capacity of 15 million tonnes to the region.
The first trains on the new line are expected to start transporting the products in three years.
The last rail project of this size in southern Africa was the Richards Bay Line, dating from 1976.
"This (project) is of great historical and economic importance, and we are all immensely proud of this fact," said Molefe.
Molefe said the rail line is complementary to Transnet's other large investments in coal transport, including the Waterberg and Eskom's road-to-rail migration programme aimed at moving coal transportation away from the highways and onto rail lines.
"Rail infrastructure is undergoing a major renaissance as an investment and as a vehicle for the upliftment of citizens in an environmentally friendly and cost effective manner," Molefe said. – BuaNews
News continues below…

CYCLONE DANDO MAKES LANDFALL OVER MOZAMBIQUE COAST
Tropical Depression Dando made landfall over the coast of Mozambique in southern Africa earlier yesterday (Tuesday), as seen in this satellite image.
Dando is the first storm to hit this part of Mozambique since the infamous Tropical Storm Domoina in 1984, according to the UK Met Office. It made landfall at 4:00 a.m. EST (0900 UTC).
Over the 24 hours since coming ashore, Dando has the potential to drop substantial amounts of rain, with possible local rain totals of between 4 to 6 inches (100 to 150 millimetres), according to the RSMC La Reunion-Tropical Cyclone Centre. Source www.ouramazingplanet.com
News continues below…

PICS OF THE DAY – BRITISH ENVOY
The Isle of Man-flagged, Greek-owned products tanker BRITISH ENVOY (37,582-dwt, built 2006) arriving in Cape Town earlier in January. Pictures by Aad Noorland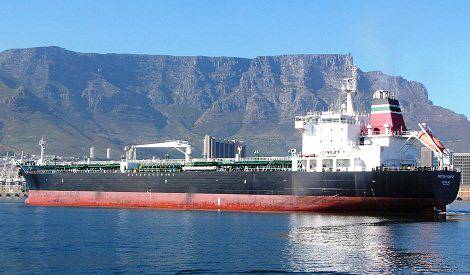 Don't forget to send us your news and press releases for inclusion in the News Bulletins. Shipping related pictures submitted by readers are always welcome – please email to info@ports.co.za
Did you know that Ports & Ships lists ship movements for all southern African ports between Walvis Bay on the West Coast and Mombasa on the East Coast?
TABLE BAY UNDERWAY SHIPPING
SHIP PHOTOGRAPHERS
Colour photographs and slides for sale of a variety of ships.

Thousands of items listed featuring famous passenger liners of the past to cruise ships of today, freighters, container vessels, tankers, bulkers, naval and research vessels.
P O BOX 809, CAPE TOWN, 8000, SOUTH AFRICA
snai@worldonline.co.za
http://home.worldonline.co.za/~snai
South Africa's most comprehensive Directory of Maritime Services is now listed on this site. Please check if your company is included. To sign up for a free listing contact info@ports.co.za or register online
Looking for help? Try our MARITIME SERVICES DIRECTORY CLICK HERE