Ports & Ships Maritime News
22 March 2013
Author: Terry Hutson
Bringing you shipping, freight, trade and transport related news of interest for Africa since 2002
ADVERTISING
Five good reasons why you should consider advertising on Ports & Ships online:
1] Competitive rates
2] Dedicated maritime readership
3] Averages over 50,000 readers each month
4] Over 200,000 pages read every month
5] Advertisements are never taken down, they keep on working
For a Rate Card please contact us at info@ports.co.za
TODAY'S BULLETIN OF MARITIME NEWS
Click on headline to go direct to story – use the BACK key to return
Please note that due to next week's Easter holidays, Ports & Ships News Bulletin will appear a day earlier than usual. Instead of a news bulletin on Tuesday, Ports & Ships will appear on Monday morning, 25 March 2013. The normal Friday edition will appear on Thursday morning, 28 March 2013. We will revert to our usual Tuesday and Friday editions from the following week.
SEND NEWS REPORTS AND PRESS RELEASES TO info@ports.co.za
News continues below...

FIRST VIEW – FAR SPICA
Farstad's newbuild offshore supply vessel FAR SPICA (3527-gt, built 2013) which arrived in Cape Town earlier this week for bunkers. Picture by Ian Shiffman
News continues below…

SHIPWATCH: NEWS OF SHIPS AND THE SHIPPING LINES
Tragedy in Gulf of Guinea as boat sinks
Last Friday's boating disaster 40 n.miles offshore of the Calabar waterway in Nigeria has claimed the lives of 106 people, with 27 survivors having been rescued several days after the boat sank. A survivor described having been in the sea for two days before rescuers arrived to pick him up.
The boat with a reported 128 passengers and five crew sank last Friday afternoon (15 March) and the first survivors were picked up by rescuers on Sunday afternoon. Most of the passengers came from Togo, Ghana, and Niger but there were about three Nigerians also on board. It appears the wooden open boat was travelling from Oron in Akwa Ibom State, Nigeria to Gabon or to Equatorial Guinea when it experienced engine failure, leaving the overcrowded boat at the mercy of the seas.
One of those rescued from the water described the moment as "When the engine stopped, the driver asked us to pray while some prayed to Jesus, others prayed to Allah but this did not help as the engine did not start working." Waves caused the boat to capsize, throwing everybody into the sea. The survivor described above said that along with several others he hung on to a cylinder floating in the water, but as time went by the others weakened and floated away, not to be seen again.
The rescue came in the form of a boat working for Adax Oil which has an oil rig in the area, which came across survivors in the water.
There has been criticism in Nigeria that news of the disaster became known only on Tuesday this week, four days after the tragedy and two days after survivors were picked up. At first it was reported that the boat was carrying 168 passengers. On Tuesday evening the Nigerian Navy said it was not aware of the incident.
Russian sailing ship STS PALLADA arrives off Durban for BRICS Summit

STS Pallada in Port Phillip Bay, Australia. Picture by Russell Priest
The three-masted full rig Russian sailing barque STS Pallada has arrived off Durban several days ahead of schedule and in time for next week's BRICS Africa Summit, which is being held at the Durban International Convention Centre.
At present the sailing ship is at the outer anchorage, having to wait for an official entry on Saturday morning at 08h00. The ship will then go on display at O or O/P shed on the T-Jetty where it is believed it will be open to the public – this has however NOT been confirmed.
Another 'official' caller coinciding with the Brics Summit is SAMSA's training ship SA Agulhas which is also scheduled to arrive on Saturday at the same time, and will also be placed on display during the course of the summit.
Keeping the Russian visitor outside port seems to us to be a little discourteous if not rude, simply, so it would seem, because someone wants to have a ceremony of welcome and the necessary dignitaries will not be available in Durban until Saturday. After a long sail across the Indian Ocean, broken by a call at Port Louis in Mauritius, the sailors on board would surely have welcomed a run ashore four days earlier than expected.

SA Agulhas, due in Durban for the Brics Summit. Picture by Terry Hutson
Krustamoz fleet sails

The Krustamoz fleet crowded on the Eldock floating dock in Durban. Picture Elgin Brown & Hamer
The last of the Krustamoz fleet of trawlers left the Port of Durban for the fishing grounds off the Zambezi coast of central Mozambique this week, after a first batch of ships sailed a week or so ago.
The ten vessels – Krustamoz I to VIII and two Krusmaroc's - arrived in Durban around October last year and have remained at the Bayhead over the summer off-season, with only a caretaker crew on board.
According to Julian Baldwin of Durban-based ships agent Novamarine, each year the eight Krustamoz ships, as well as several other vessels from the same owner, stop over in Durban to undergo routine maintenance which includes going on to Elgin Brown & Hamer's Eldock floating dock. In addition repairs and servicing is undertaken of the vessels equipment, life rafts, fire extinguishers etc which provide useful regular income for local companies.
Seeing all eight fishing ships together on the Eldock together is always an inspiring and impressive sight.
The vessels emerge smart and impressive and in March each year they head back to their home port of Quelimane in central Mozambique, south of Beira. Two other company fishing vessels, the Krusmaroc Uno and Krusmaroc Dos usually summer over in Durban as well.
Novamarine is a sub-division of the Pescanova Group and acts as the South African agent for the owner of the Krustamoz fleet, the largest multi-national fishery enterprise in China, CNFC International Corp, which operates fleet of over 200 fishing vessels internationally.
Hapag-Lloyd posts loss and delays delivery of new ships
Following the declaration of a net loss of €128 million for the year 2012, German ship operator Hapag-Lloyd has postponed delivery of three 13,200-TEU newbuilds because of the ongoing market condition.
The container ships will now be delivered in March and April 2014 instead of the second half of this year. They are fully financed.
Hapag-Lloyd is currently in talks regarding a merger with another German container operator, Hamburg Süd.
Another loss for Zim
Israeli shipping line Zim Integrated Shipping Services has posted losses of US$239 million for the fourth quarter of 2012, an increase on the $151m loss over the same period of 2011.
For the full year Zim posted a loss of $433 million but says revenues increased 5% to $3.96 billion. This has been attributed to higher freight rates per container. Meanwhile, the line cancelled orders for five ultra large container ships from South Korea's Samsung Heavy Industries and secured the right to delay an order for another four similar ships until January next year.
SSCV Hermod enters Cape Town docks
The heavy lift semi submersible crane vessel (SSCV) HERMOD was taken under tow into the Port of Cape Town on Tuesday, making an impressive sight as she was slowly brought into the Duncan Dock by the towing tug HUSKY and a number of accompanying Cape Town harbour tugs.
The SSCV will undergo maintenance and some repair while in port.

The SSCV Hermod, with the Cape Town harbour tug PINOTAGE alongside, and Table Mountain in the background. See also below. Picture by Aad Noorland
Navy completes preparations to remove Table View ship wreckage
Pretoria - The navy says it has completed the job of preparing for the removal of the wreck of the Turkish vessel SELI 1 on Cape Town's Table View coastline.
The joint task team monitoring the operation said that while the wreck was still visible its structure had been significantly reduced.
The Seli 1 which was abandoned by its owners in 2009, after going aground off Table View.
The navy's Operational Diving Team says that in conjunction with the Department of Transport it will conduct further assessments of the wreck to assist the task team in determining if the objectives of the operation have been met and whether any further work is required.
The team reported that minimal quantities of oil that were released from the wreck have been contained. In addition, it reported that marine life was largely unaffected by the operation. Clean-up contingency measures will remain in place.
"Given that the wreck has been substantially weakened, it constitutes a danger and is therefore unsafe to the public. The public is required to remain clear of the wreck at all times," the task term said.
The public will be kept updated of further developments.
The task team has thanked the residents of Table View and the general public for their cooperation during the operation. Source –SAnews.gov.za
PORTWATCH: NEWS FROM AROUND PORTS & HARBOURS OF AFRICA
Port of Nacala under new management

Dr Fernando Couto, chief executive of Portos do Norte
Following a change in management at the Port of Nacala, Portos do Norte has taken over the concession to operate the port from previous concession holder, Northern Development Corridor (CDN), reports the Maputo newspaper Noticias.
According to Portos do Norte CE, Dr Fernando Couto, the new company plans to increase efficiencies and service levels and has hired a Sri Lankan firm to improve on the maintenance levels of the port equipment.
Konecranes introduces world's first hybrid reach stacker
Konecranes' new hybrid reach stacker
Konecranes says it has introduced the world's first hybrid reach stacker for container handling, the model SMV 4531 TB5 HLT, with a lifting capacity of 45 tons.
The reach stacker features a hybrid diesel/electric driveline, electrified hydraulic lifting system, and a super capacitor based energy storage. Konecranes claims its innovative machine will offer substantial cost and environmental benefits. Estimated fuel consumption at normal handling of fully loaded containers will be at least 30% lower than for equivalent diesel powered reach stackers. This is achieved by electrifying all flows of energy across the driveline, the hydraulic lifting system and the energy storage system.
"Propulsion and lifting are powered by dedicated electric motors that all can operate in regenerative modes. The energy generated from braking and load lowering is recovered and stored for later re-use. This results in a substantial reduction in diesel fuel consumption and environmental impact. Meanwhile, productivity is increased in terms of quicker response and higher acceleration," says Anders Nilsson, Technical Director, Konecranes Lift Trucks.
He says that potentially, the diesel engine of the hybrid reach stacker could be replaced by another source of electrical energy, as technology and price allow. "Such examples may be fuel cells or an energy storage that can be recharged via a connection to the power grid," said Nilsson.
Tanzanian port operators calls for end of foreign management

Dar es Salaam container terminal
The Tanzania Shipping Agents Association (TASAA) says that many suitably qualified local shipping personnel are being forced to work under the charge of less-qualified foreigners despite some of the expatriates having less education and qualifications than the local personnel.
Peter Manyaka of TASAA said at a Surface and Marine Transport Regulatory Authority (SUMATRA) stakeholders meeting, which was reported in the Tanzania Daily News that the law should clearly state that any expatriates should be sanctioned by Sumatra before work or resident permits are issued.
The report stated that most shipping agencies are owned by multinational shipping companies which used local personalities including lawyers and politicians as fronts holding nominal shares to justify their presence as per the 2002 Shipping Agency Act. It was time for largely foreign owned shipping agencies to reflect local ownership and save billions of shillings being siphoned out in terms of salaries and under-declared revenue.
"It is clearly stated by the law that more than 50% of the shares in the agents must be owned directly or indirectly by a citizen of Tanzania. However, to-date out of all 26 licensed agencies, ownership of many if not all companies are in the hands of foreign shipping lines or companies which is against the law," the report stated.
TASAA said that Sumatra and the Ministry of Labour and Employment were lax in dealing with the problem which is costing the country a fortune each year. Source – Tanzania Daily News
Two new ship-to-shore gantries for Congo Terminal

STS Gantries on board a heavylift ship for the Congo Terminal at the port of Pointe Noire
Two new ship-to-shore gantry cranes have been delivered and commissioned at the Congo Terminal in the Port of Pointe Noire.
These are the first of eight new STS gantry cranes being delivered by the manufacturer in China. In addition to the three existing cranes and 26 reach stackers, the new gantries will help raise capacity at Congo Terminal by a further 100,000 TEUs as from this year.
With the new deepwater wharf, Congo Terminal will be able to unload high-capacity Wafmax type ships (Panamax in length but wider in the beam). The container terminal has further investment is planned. Later this year, an 800-m long wharf with a draught of -15m and an open area reclaimed from the sea will extend the terminal to a total of 38 hectares (nearly 100 acres).
News continues below...

ENVIRONMENTAL: MAERSK LINE SEARCHING FOR NEW FUELS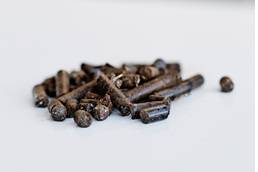 Shipping has so far not benefitted from the research and development that has turned biomass into one of the world's most important sources of renewable energy. Two projects involving Maersk aim to change that.
With an annual fuel bill of US$ 7 billion for vessel operations, the Maersk Group says it must continually consider ways to reduce its bunker fuel consumption. Greater efficiency is the primary way of achieving this; alternative fuels are another.
Two current projects are focused on realizing the marine fuel potential of one of the world's most abundant and sustainable biomass resources: lignin.
Potential is a relatively uncharted area
In nature, lignin is a complex organic polymer found in plants. The more lignin there is in wood the sturdier and stronger it is and the more efficiently it burns. But lignin is also released in large quantities as a residue during the production process of paper as well as advanced bio-ethanol.
"Lignin has a variety of industrial uses already because of its chemical characteristics, energy content and its abundance; yet its potential as a marine diesel fuel is a relatively uncharted area," says Peter Normark Sørensen, with Maersk Oil Trading, the Maersk Group's oil buying arm.
In February, Maersk signed a memorandum of understanding (MOU) with Progression Industry — a spin-off company of Eindhoven University of Technology — to develop a viable marine fuel from lignin that meets stringent parameters on price, technical performance, sustainability and emissions.
Opportunities and challenges in biomass
A separate project called 'Biomass for the 21st Century' is co-funded by the Danish National Advanced Technology Foundation and involves Maersk, DONG Energy and several other companies and academic institutions.
Professor Claus Felby at the University of Copenhagen is leading the project, which is also looking at lignin as a potential marine fuel as well as other sustainable sources of biofuel with consideration for logistics and scale production challenges.
A detailed report released in September outlined the scope of the project.
"If either of these projects is able to make a biofuel that meets our requirements that would be very exciting and could let the industry and markets focus on the challenges that would follow — the scale and logistics required to make it a commercial alternative," says Maersk Oil Trading's Normark.
Maersk will buy 50,000 tonnes
The agreement between Maersk and Progression Industry states that if Progression can produce a lignin based fuel that meets Maersk's criteria then Maersk will buy 50,000 tonnes of this fuel.
"For the past 75 years, the shipping companies have used oil, but looking at the next 75 years this is likely to change. In the longer term oil is simply going to run out, so we need to start looking for alternatives," says Jacob Sterling, head of Environment and CSR in Maersk Line.
"The great thing about biofuels is that they would not only secure a future fuel supply, they will also greatly reduce our CO2 and SOx emissions," says Sterling.
For the love of a game and mother nature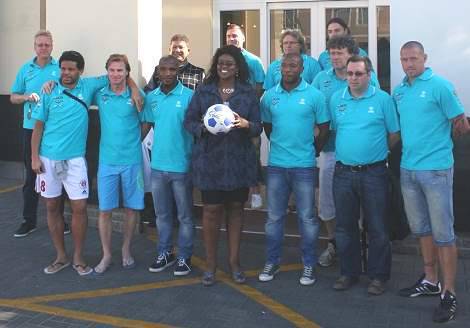 Pictured in front of the Namport Head Office is the Manager: Corporate Communication, Liz Sibindi with some of the players
The Global United Football Club, a non-profit football club consisting of international football legends, is back in Namibia for the 4th time and paid a courtesy visit to the Namibian Ports Authority on Monday, 18 March 2013.
The Global United Football Club is committed to sustainable, social climate protection and to fighting the increasingly devastating effects of climate change. Although Namport is not involved in the sponsorship of sport activities, the Global United Football Club's objective ties in well with Namport's' commitment to the preservation of the environment in which it operates, which is evident in the attainment of the ISO 14001 certificate which was first obtained in 2003.
An Environmental Management Standard, such as ISO 14001, addresses various aspects of environmental management through identifying and controlling the environmental impact of Namport's activities, said Liz Sibindi, manager of Corporate Communications at Namport. "It also assists in Namport's continual environmental improvement performance, and in the implementation of systematic approaches to setting environmental objectives," she said.
Namport also contributes to the Coastal Biodiversity or Coastal Environment Week, hosted annually by NACOMA.
The team listened to an informative presentation on Namport's approach to environmental management and success in the different projects since 2003, amongst others the carbon footprint of Namport, the completion of the Energy Efficiency Study and the successful rehabilitation of the old truck wash site in conjunction with TransNamib.
The Truck-wash site was judged as one of the most polluted sites in Namibia in 2005. A proper new facility has since been constructed.
News continues below…

PICS OF THE DAY – TIMOR and HERMOD
The guard boat TIMOR (236-gt, built 1975) seen at the Port of Cape Town. Picture by Aad Noorland
The giant SSCV heavy lift vessel HERMOD, owned by the Heerema Company, which was taken into Cape Town harbour this week for scheduled maintenance. Picture by Aad Noorland
Don't forget to send us your news and press releases for inclusion in the News Bulletins. Shipping related pictures submitted by readers are always welcome – please email to info@ports.co.za
Did you know that Ports & Ships lists ship movements for all southern African ports between Walvis Bay on the West Coast and Mombasa on the East Coast?
TABLE BAY UNDERWAY SHIPPING
SHIP PHOTOGRAPHERS
Colour photographs and slides for sale of a variety of ships.

Thousands of items listed featuring famous passenger liners of the past to cruise ships of today, freighters, container vessels, tankers, bulkers, naval and research vessels.
P O BOX 809, CAPE TOWN, 8000, SOUTH AFRICA
snai@worldonline.co.za
http://home.worldonline.co.za/~snai
South Africa's most comprehensive Directory of Maritime Services is now listed on this site. Please check if your company is included. To sign up for a free listing contact info@ports.co.za or register online
Looking for help? Try our MARITIME SERVICES DIRECTORY CLICK HERE