Ports & Ships Maritime News
28 November 2011
Author: Terry Hutson
Bringing you shipping, freight, trade and transport related news of interest for Africa since 2002
Improve your branding with your banner on this site and tap into our large readership - contact info@ports.co.za
TODAY'S BULLETIN OF MARITIME NEWS
Click on headline to go direct to story – use the BACK key to return
SEND NEWS REPORTS AND PRESS RELEASES TO info@ports.co.za
News continues below...

FIRST VIEW – CRUZEIRO DO SUL
The Brazilian government-owned researsh vessel CRUZEIRO DO SUL (1716-gt, built 1986) which called at Cape Town last week for bunkers. Picture by Aad Noorland
News continues below…

SMIT AMANDLA MARINE STRENGTHENS ITS FOOTHOLD IN MOZAMBIQUE – CONSOLIDATES POSITION WITH PETROSA

The offshore service tug PENTOW SERVICE which is being transferred from Durban to work with the new Vale offshore coal terminal at Beira. Picture by Terry Hutson
Specialist marine services company SMIT Amandla Marine has strengthened its presence and foothold in Mozambique with several useful contracts as it seeks to position itself in that southern African country.
The black empowered company based in Cape Town and with offices and workshops in Durban and Mossel Bay, has landed several new and interesting contracts in Mozambique.
These include securing a key harbour towage contract in the port of Beira, as well as a more recent success with a contract signed with Brazilian mining group Vale to provide two vessels at Beira in support of a new offshore coal terminal out of Beira. To service this contract two tugs are being provided, a newbuild Damen Stan tug and the PENTOW SERVICE, the latter being the former Durban offshore single buoy mooring service tug.
Managing Director Paul Maclons said that in the last 24 months SMIT Amandla Marine has secured a good foothold in Mozambique with the Port of Beira contract and the more recent marine services contract signed with Vale. "This is for two vessels, marine services and the provision of an offshore terminal out of Beira," he explained.
Maclons said that SMIT Amandla Marine was awaiting the "imminent outcome of a tender submitted to Kenmare for vessel management services out of Moma in Mozambique." The company also assisted Kenmare with the drydocking of the general cargo vessel SOFIA III (2136-gt, built 1978) in Durban.
He added that SMIT Amandla Marine has been actively pursuing growth opportunities in Namibia, Madagascar and Mauritius, "supported by a proven logistics chain and ability to transfer skills and competencies in our chosen markets,' he said.
Maclons explained that the company had tabled a growth strategy at the end of 2009 which outlined its intent to pursue business opportunities in Southern and East Africa and the Indian Ocean Islands, whilst maintaining key contracts in South Africa. The strategy was intended to address the risk of possible loss of South African Government contracts – identified as a concern as early as 2008 – and ensure sustainability.
In respect of SMIT Amandla Marine's continued presence in South Africa, the company successfully tendered for two significant PetroSA contracts. These are for the provision of a South African-manned DP II vessel for PetroSA's F-O Field Development Operations in 2012 offshore of Mossel Bay, and for the management of PetroSA's Marine Loading Facility and E-BT terminal at Mossel Bay. The DP-II vessel will be the offshore tug and supply ship PERIDOT (2,464-gt, built 2010), with a contract commencing in 2012. She will be manned by a fully South African crew.
In addition in November the Level 3 BBBEE company introduced a new vessel into its terminal operation in Durban for its client Sapref. The SMIT Amandla pusher tug SIYAKHULU (469-gt, built 2009), joined the SMIT SIYUNDA in early November in support of operations at the SBM offshore of Durban.
SMIT Amandla Marine was more recently in the news in September after successfully refloating the grounded tanker PHOENIX off Sheffield Beach near Durban on behalf of the South African Maritime Safety Authority and the National Department of Transport – for whom it is an official service provider.
Vessel chartering and offshore support activities were buoyed this year by significant contracts with WesternGeco, Namibian Marine Phosphate and provision of services to Total's FPSO USAN. The company holds the 2011 National Business Award for 'Diversity in the Work Place' – backed up by its position as the leading employer of black South African seafarers with a diverse and representative workforce. Permanent employees are shareholders in the business through an Employee Trust which owns 12% of the company and realised dividends in April 2011 with a payout to all beneficiaries.
"Despite a global economic recession, we have been able to maintain a steady investment in our people and the communities in which we operate and have successfully established a talent pipeline to ensure sustainability in competence and skill," said Maclons. "The pursuit of safe operations and continued service excellence remain key drivers, as is the continued development of a sustainable pool of SMME and black owned suppliers. We are well positioned for the future and for whatever challenges may come our way into 2012 and have achieved success in addressing business risk," he said.
Now see the report Sekunjalo awarded maintenance contract for sea fishery fleet two story's below.
News continues below…

NEWS OF SHIPS AND SHIPPING LINES
Maersk and MSC increase Asia/Europe rates
Maersk Line has signalled a general rate increase across a number of Maersk services and peak season surcharges for its services from the Far East.
Among these is a US$150 per TEU / $300 per FEU and 45ft box increase on containers carried between the Far East and South Africa and the Indian Ocean Islands. These become effective on 15 December 2011.
A $200 per TEU and $400 per FEU peak-season surcharge on both dry and refrigerated cargo for services will become effective on 26 December 2011 for boxes moved from Far East Asia to North Europe and the Mediterranean.
Services from the Far East to Mexico, Central America and the west coast of South America will increase by US$600 per TEU and $1,200 per FEU and 45-foot high cube dry box as from 15 December 2011, while rates for Maersk's Far East-Caribbean service will also increase $560 per TEU and $800 per FEU and 45-foot high cube from the same date.

MSC increases freight rates Far East to west coast South America

MSC Lucy in Cape Town earlier this year. Picture by Ian Shiffman
Mediterranean Shipping Co (MSC), the world's second largest container carrier, is another group to announce rate increases, in this case on its Far East to west coast South America services of $600 per TEU effective 15 December 2011. Maersk has already announced a similar increase on the same service from the same date.

MSC cuts capacity on Silk Service
MSC has begun cutting capacity on its Silk Service between the Far East and northern Europe, with 13,000-TEU vessels being replaced with smaller ships of between 4,800-TEU and 9,500-TEU.
The drastic reduction of capacity on this once lucrative service is another sign of the seasonal downturn that shipping lines are experiencing amid declining freight and rates.
According to some reports MSC has transferred some of the larger ships to its Asia-Mediterranean Dragon and Tiger services, where higher rates are being enjoyed, with the smaller vessels from those services moving to the Silk service.
This may prove a temporary adjustment as MSC is expecting delivery of 20 new ships each of more than 10,000-TEU capacity over the next 12 months and these may be absorbed directly into the Silk service thus restoring the capacity in time for the next high season.
MISC pulls out of the container business
As a sign of the times, Malaysia's MISC Berhad, whose container ships were once regular callers in SA ports, has announced it will retire from the container shipping business on 12 June because, it says, the scale of investment needed to continue is beyond the company's reach.
This is in the face of competing with the likes of Maersk, MSC, CMA CGM and others that are deploying new 13,000-TEU size ships on the main services. In a company statement MISC said the decision "comes at a time when the industry is plagued by overcapacity and operators are struggling to stay profitable."
"In view of the expected larger demand for investment in the liner industry, the cost for us to remain relevant in the business is untenable," said CEO Datuk Nasarudin Md Idris. MISC will now sell off its fleet of container vessels.
MISC has lost US$789 million in its container division over the last three years. It earlier announced a strategy of focusing on intra-Asian trades but has instead decided to leave the container business and re-focus on its core business including energy transport.
MISC's decision follows a recent statement by Maersk CEO Nils Andersen that it would be "natural if the smaller players in this business, or their banks, start questioning whether it's a good idea to keep competing.

Maersk to idle ships
As a result of the impact of the euro-zone crisis on international trade, Maersk Line plans to idle some of its shipping capacity as from this week.
According to Tim Smith, Maersk's chief executive for the North Asia Region, overcapacity remains a key concern for the global container industry. "I think it's very clear now that we've seen, collectively, we're ordering more capacity than we really need for the short term," he said during a shipping conference in Hong Kong, as reported by Cargonews Asia.
Smith indicated that the idling of ships would commence after the Lunar New Year which is on 23 January 2012.
News continues below...

SEKUNJALO AWARDED MAINTENANCE CONTRACT FOR SEA FISHERY FLEET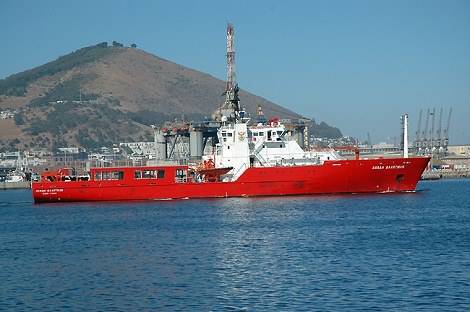 The sea fishery patrol vessel SARAH BAARTMAN. Picture by Ian Shiffman
Sekunjalo Investment, which is regarded as South Africa's second most black empowered company, has been awarded a five year contract worth about R800 million by the Department of Agriculture, Forestry and Fisheries.
The consortium awarded the contract includes Sekunjalo Industrial Holdings as well as ship building company KND. It will conduct technical maintenance, infrastructure and personnel support to eight state-owned research and patrol vessels including the Algoa, the Ellen Khuzwayo and the Sarah Baartman for a five-year period.
"The deal will accelerate much-needed enterprise development and skills transfer in technical areas of the maritime industry, where barriers to entry have previously been high," said Sekunjalo chairman Iqbal Survé. "Our goal is to provide as many job opportunities through this deal as possible."
Sekunjalo CEO Khalid Abdulla said the contract is a significant business deal for Sekunjalo which will create value for the group's current business operations and would significantly improve the group's profitability and cash flow through subsidiary Sekunjalo Industrial. He said the unit was one of the only black-owned companies in Africa with the technical and engineering expertise to manage a contract of this magnitude.
"Today, Sekunjalo not only manages technical maintenance of its own fleet, but conducts maintenance and provides technical services to vessels from around the world," he said. The deal is expected to accelerate broad-based participation in Cape Town's concentrated maritime industry.
According to the minister of Agriculture, Forestry and Fisheries Tina Joemat-Pettersson, the contract is the first of its kind awarded to a black-owned company. Black-owned firms have traditionally shied away from technical areas of South Africa's maritime sector, she said.
"I am confident that Sekunjalo Industrial Holdings has the requisite skills and capabilities to fulfill this contract, based on its fleet management experience and its experience in managing maintenance projects on international vessels."
Sekunjalo received criticism from some of its shareholders earlier this month after it announced it would sue two former executives it said were responsible for losses amounting to R65 million. These related to a major subsidiary company, Premier Fishing, which provides about 50% of the group's revenue.
The action was brought in the Western Cape High Court in June this year against former Premier Fishing CEO Kevin Patel and another unnamed former group director, for damages it said were suffered due to alleged breaches of contract and the closing of a plant at Saldanha. Patel decried the allegations as a publicity stunt by Sekunjalo.
Sekunjalo, a JSE listed company, was founded as a means of providing former African National Congress freedom fighters with retirement funding. The company has since been tarnished with claims that it was bailed out by murdered mining tycoon Brett Kebble, who was facing the likelihood of fraud charges at the time of his apparent assisted suicide.
News continues below…

PIRACY: UN WANTS MORE ACTION BUT EUNAVFOR SAYS FLEET WILL BE CUT BACK

French warship FS NIVOSE inspecting suspect Somali pirate whaler
Just as the United Nations is again calling to what it calls a "comprehensive international response to piracy", it appears that the European Union's naval presence in the Somali region, code-named Operation Atalanta, will be under strength for four critical months from December.
Operation Atalanta has a normal requirement of between four and six warships but it appears this quota won't be met during the months of December through to March next year. This is however a period when the north-east monsoon blows and naval forces and merchant shipping will be hoping this will mean less pirate activity because of sea conditions.
In recent months the naval forces and other measures being taken by merchant shipping to counter pirate activity has seen marked success with a much lower 'success' rate by the pirates in terms of ships highjacked. A slackening of defences however could see them regain the ascendency.
Statistics in fact show that the pirates have been much less successful this year than last, although this is leading to fears that the Somali pirates may be encouraged to become more desperate. It is felt that there could be more pressure placed on the pirate groups by the criminal world now believed to be behind much of the Somali piracy. As these groups see revenue decreasing pressure will be increased on ordinary Somali groups to take to the sea to hunt more ships.
The drop in pirated ships numbers coincides with an increase and improvement in counter-piracy measures being taken by shipping, including the use of best management practices and a higher number of 'guard' ships helping to escort merchant shipping through the affected waters. At the same time more ships are carrying armed guards with or without their flag state's knowledge or permission.
Greece has meanwhile become the latest state to agree to ships under the Greek flag being armed when sailing through threatened waters off Somalia. "To improve safe sailing and crew safety aboard Greek ships crossing seas with increased piracy cases, an initiative has been taken to draft legislation for the embarkation of armed individuals on commercial ships," the ministry in charge of security said late last week.
The new legislation will permit the hiring of a minimum of six armed guards per ship on six-month contracts that will be renewable, the ministry said. This will apply to Greek-flagged ships but could if necessary be extended to ships sailing through Greek waters. Greek-owned ships sailing under flags of convenience will also be eligible, it said.
News continues below…

HOPE AT LAST FOR TRANSNET PENSIONERS
By Francis Hweshe Cape Town – After years of calling for inflation-linked annual increases, Transnet Second Defined Pension Fund (TSDBF) pensioners may at last see an increase close to 75% of the Consumer Price Index (CPI).
The CPI measured changes in the price level of consumer goods and services purchased by households.
The TSDFB told MPs on Friday that it would now pay the pensioners an annual increase of between 63 and 68% of the CPI.
It said that its target was to reach 75% of the CPI, but that would largely depend on the performance of the fund.
The TSDBF is one of the biggest pension funds in South Africa. It's a closed pension fund with more than 80 000 members, all of whom are former Transnet workers who retired before or in 1990.
The average amount that TSDBF pensioners reportedly receive is R2,833 a month (US$355).
Since 2002, the pensioners are said to have been unhappy because their annual increases have been limited to 2% a year as the pension fund assets could not afford more.
The matter has been before Parliament's Portfolio Committee on Public Enterprise for the last 18 months.
The committee has since tabled proposals to the stakeholders in order to have the matter sorted out to the benefit of the pensioners.
The committee wanted a five-month pension payback, future pension increases to be pegged at 75% of the CPI and also a once off 3.2% base uplift in pension.
Transnet Director and fund chairperson Peter Moyo said if this proposal was implemented, it would have exhausted the current surplus and required an additional cash injection of R2 billion.
Moyo said of the five months pension back pay, two had already been paid out and the rest would be met before March next year. He told the committee that they could afford 63% of the CPI which would be increased to 68% should there be investment returns.
Depending on the performance of the fund, he said they would try to reach 75%.
He said the intention was to implement the proposal at a cost of R2.7 billion. Moyo underlined that increases were subject to affordability.
A larger portion of the committee members seemed happy with the resolution but indicated that they would want to keep working on the matter for the benefit of the pensioners. – BuaNews
PICS OF THE DAY – MSC AGATA
The container ship MSC AGATA (20,345-gt built 1982), now almost 30-years old, in Cape Town harbour recently. Picture by Ian Shiffman
Don't forget to send us your news and press releases for inclusion in the News Bulletins. Shipping related pictures submitted by readers are always welcome – please email to info@ports.co.za
Did you know that Ports & Ships lists ship movements for all southern African ports between Walvis Bay on the West Coast and Mombasa on the East Coast?
TABLE BAY UNDERWAY SHIPPING
SHIP PHOTOGRAPHERS
Colour photographs and slides for sale of a variety of ships.

Thousands of items listed featuring famous passenger liners of the past to cruise ships of today, freighters, container vessels, tankers, bulkers, naval and research vessels.
P O BOX 809, CAPE TOWN, 8000, SOUTH AFRICA
snai@worldonline.co.za
http://home.worldonline.co.za/~snai
South Africa's most comprehensive Directory of Maritime Services is now listed on this site. Please check if your company is included. To sign up for a free listing contact info@ports.co.za or register online
Looking for help? Try our MARITIME SERVICES DIRECTORY CLICK HERE