Ports & Ships Maritime News
27-28 October 2011
Author: Terry Hutson
Bringing you shipping, freight, trade and transport related news of interest for Africa since 2002
Improve your branding with your banner on this site and tap into our large readership - contact info@ports.co.za
TODAY'S BULLETIN OF MARITIME NEWS
Click on headline to go direct to story – use the BACK key to return
SEND NEWS REPORTS AND PRESS RELEASES TO info@ports.co.za
News continues below...

FIRST VIEW – MAGSENGER 2
The brand new Chinese bulk carrier MAGSENGER 2 (115,581-dwt, built 2011) seen being towed into Cape Town by the Smit Amandla after suffering a main engine failure off the West coast. Picture by Glen Kasner
News continues below…

TRANSNET POSTS STRONG HALF YEAR RESULTS
Transnet SOC Ltd has announced what it calls an impressive set of financial results for the six months to 30 September 2011, reflecting improvements in efficiency and productivity in certain areas.
Thanks to a 7.1% weighted average growth in volumes as a result of strong growth in iron ore exports and containers at the ports, revenue for the period has increased by 20.3% to R22.4 billion, compared with R18.7bn for the same period of 2010.
During the year Transnet said that although it has implemented numerous cost-saving exercises throughout the company, costs still managed to increase by 15.9% to R13 billion (R11.2bn in 2010). This it said was due to a number of factors including increases in material costs, personnel costs as a result of the 8% wage increase agreement with the unions and the 25% increase in electricity tariffs which pushed up energy costs.
"Our cost containment measures continue to yield positive results but the rise over the period is in line with our focus on addressing the challenges posed by aging assets and our determination to drive volumes.
"Consequently, earnings before interest, taxation, depreciation and amortisation (EBITDA) – Transnet's key measure of profitability – rose by 27,0% to R9,4 billion (2010: R7,4 billion) resulting in an EBITDA margin of 42,0% (2010: 39,8%)."
Profit from operations after depreciation and amortisation increased by 39,5% to R5,5 billion (2010: R3,9 billion).
From an operational perspective, iron ore export volumes increased significantly by 21.5% over the half-year to 24.9 million tonnes (2010: 20.5mt) thanks to improvements in operational efficiencies and additional capacity created through the capital investment programme.
Coal export volumes improved only marginally by 2,6% to 31,3mt (2010: 30,5mt). "This performance was primarily due to the extended period that the line was shut down for planned maintenance during the 1st quarter as well as various other operational challenges faced by the business," said Transnet. However, the company saw light at the end of the tunnel by saying that interventions implemented to address these challenges had resulted in the highest weekly output of 1,62mt in the last week of September 2011.
Transnet Freight Rail's general freight business, the group's biggest segment, recorded a 6,3% increase in volumes. TFR is continuing to gain market share in containers on rail where there has been a 23,5% improvement.
At the ports, the Pier 1 Container Terminal at the Port of Durban recorded a jump in productivity with gross crane moves per hour (GCH) improving to an internationally acceptable average of 28 GCH compared to 23 GCH achieved in the prior period.
Performance at Durban's Pier 2 however, the country's largest and busiest, dropped to an average of 20 GCH from 22 GCH in the previous period. This was a result on problems with the introduction of the Navis SPARCS N4 operating system at the beginning of the financial year. Where Transnet Port Terminals had anticipated a one month period of possible teething troubles, these are continuing although TPT says it is on the recovery path.
The terminal operator says it hopes to have returned to pre-Navis levels by the end of this year. TPT has meanwhile accelerated the acquisition of seven tandem-lift ship- to-shore (STS) cranes for the terminal and expects these to be installed during the 2012/13 financial year.
Performance Summary
Revenue up 20,3% to R22,4, billion
EBITDA up 27,0% to R9,4 billion
Cash generated from operations increased 25,6% to R10,0 billion
GFB volumes up 6,3%
Iron-ore volumes up 21,5%
Containers on rail up 23,5%
Coal volumes up 2,6%
Containers handled at ports up 9,9%
Overall weighted average volume growth up 7,1%
Capital expenditure amounted to R9,5 billion
R6 billion worth of capital projects accelerated to address strategic priorities of the business
Operational efficiency and safety a priority
News continues below…

SOUTH AFRICAN NATIONAL CADET TRAINING PROJECT GAINS MOMENTUM

Columbia Ship Management cadets
Simon's Town, 27 October – This week the South African Maritime Safety Authority (SAMSA) together with the South African Maritime Training Academy (SAMTRA) bade farewell to 16 cadets who will be going to sea to complete their training as seafarers.
The 16 are part of the SAMSA cadet project which is in line with SAMSA's skills development programme.
Following the launch of the SAMSA sponsored cadet project earlier this year, the number of companies participating has continued to grow to the extent that the 2011 intake of cadets has been fully recruited.
A spokesman for SAMSA said the objective is to obtain training berths with reputable companies on the basis that these companies will bear no training costs, other than victuals, whilst providing training to South African cadets.
"The benefit to these companies is that once qualified as Officer of the Watch in full compliance with International Maritime Organization's (IMO) Standards of Training, Certification and Watch Keeping for Seafarers (STCW) regulations, these cadets are available for employment by these same participating companies," he said.
Current participants in the project are Safmarine Container Lines, Smit South Africa, Columbia Ship Management, Klaveness Ship Management, Bernhard Schulte Ship Management, Odfjell Makana, Seaspan Corporation, DAL/Essberger and Amistad ERRV.
"Feedback on the cadet's performance, motivation and commitment has thus far been very positive," SAMSA says.
News continues below...

PORT INCREASES COULD LEAD TO JOB LOSSES – CAPE TOWN CITY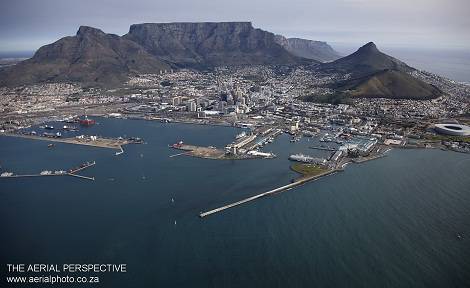 Picture courtesy of Aerial Perspective Photos
The City of Cape Town has opposed any port tariff increases, as this would result in massive job losses, reports Cape Business News
. In its submission to the Port Regulator, the City has objected to the 18% tariff hike proposed by Transnet's National Ports Authority as this was "unreasonably high and will undermine job-creation initiatives."
"A University of KwaZulu-Natal study has indicated that South African ports are already among the most expensive in the world. The study found that ports with much higher input costs such as Antwerp, New York and Rotterdam were less expensive than those in South Africa, as well as importantly being more efficient. For example port fees for a 20-foot container handled at a South African harbour can be as high as R3,190, compared to R620 in China. The financial model governing ports needs to be revised. South African ports need to be benchmarked against comparable international ports and costs kept in line with international best practise," says Alderman Belinda Walker, Mayoral Committee Member for Economic, Environmental and Spatial Planning.
"The manufacturing sector is heavily dependent on harbours. This is a sector that employs almost 50% of Cape Town's unskilled and semi-skilled workforce. Unrealistically high port fees could lead to the closure of factories, resulting in massive job losses," she says.
According to Cllr Brett Herron, Mayoral Committee Member for Transport, Roads and Stormwater, the tariff hike is unrealistic as South African ports are part of state-owned Transnet.
"In 2009, ports contributed 67% towards Transnet's group profits. These profits are apparently used to cross-subsidise other less-profitable operations. With the current profit margins, the National Port Authority should lower their charges and thus stimulate economic growth," he says.
The City says that the steep increase would also curb Cape Town harbour's potential as a job creator as this will hamper harbour-related industries such as boat-building. It will also have a damaging effect on Cape Town's global competitiveness as a port and as a city.
"The City believes that government should create economic environments in which the private sector can flourish and generate more jobs. One of the tools at the government's disposal is to keep administered prices such as transport and electricity costs as low as realistically possible," says Herron. source – CBN
News continues below…

YESTERYEAR: MAILSHIPS IN DURBAN HARBOUR
Another three postcard scenes showing mailships in Durban harbour from years gone by - see also YESTERYEAR in last Thursday's News Bulletin HERE - use your BACK BUTTON to return to this page.
These picture postcards are courtesy the collection of Willem Kruk
News continues below…

INDUSTRIAL DEVELOPMENT ZONES TO GET R25 BILLION

Port of Ngqura by night – govt hopes to stimulate growth in adjacent IDZ
Cape Town – The Minister of Finance Pravin Gordhan has revealed plans to provide R25 billion over the next six years to stimulate industrial development zones, boost investments in enterprises and job creation, support green initiatives and to get the private sector to partner with the public sector to invest in infrastructure.
Presenting the Medium Term Budget Policy Statement in Parliament, Gordhan said the package would include temporary mechanisms to bolster productivity and innovation in industries that have demonstrated long-term competitive potential.
Incentives are under consideration to attract businesses from employment-intensive industries and services into industrial development zones, which have the potential to export, become part of global supply chains and competitive logistics hubs.
Funding for the package over the next three years will come from that contained in the available fiscal envelope.
Gordhan said the R25 billion would include R8 billion in tax incentives for recently approved projects in the area of industrial development, technology support and training.
It would also include regulatory reform to assist small businesses, support for job creation and training projects and support to develop black businesses, including preferential procurement and finance facilities.
Added to this, export diversification would be encouraged, including forging new trade partnerships with fast growing emerging economies, while work would continue towards achieving regional integration in Sub-Saharan Africa.
Trade, investment and energy policies would also be aligned to support the transition to a green economy, including private-sector participation in South Africa's renewable energy production programme.
During a media briefing held ahead of the speech, the minister said the details of the package would be revealed soon by Minister of Trade and Industry Rob Davies. – BuaNews
EMC TO HOST DURBAN ANTI-PIRACY WORKSHOP

Spanish frigate SPS Infanta Elena and pirate whaler, April 2011
The eThekwini Maritime Cluster (EMC) in collaboration with the International Maritime Organisation (IMO) and the Port Management Association of Eastern and Southern Africa (PMAESA), will be hosting a two day workshop on Anti- Piracy in Durban at the Elangeni Hotel (North beach) on 1 and 2 November 2011.
The workshop's objective is to create a platform for participating countries in the Indian Ocean region to share best practices and to create an awareness of the latest technology and strategies in dealing with piracy in this region.
The workshop will feature various international and South African speakers who will scope a perspective on maritime safety and security, anti- piracy strategies, the implementation of the SOLAS user guide, securing maritime trade and various other matters related to maritime security, with special emphasis on the Indian Ocean and the PMAESA region.
Participating countries amongst others include Mozambique, Kenya, Namibia, Seychelles, Mauritius and Madagascar. The workshop will be commencing at 0h830 and finishing at 17h00 in both days.

Spanish warship SPS Infanta Elena boarding team and pirates
Further details and bookings to attend the workshop can be made to the project manager, Siphiwe Mdletshe, 031 311 4247, 072 205 0905 or email Mdletshesi@durban.gov.za
CRUISE NEWS: NEW SHIPS ON THE WAY
MSC Cruises signs MOU for developing Portuguese Island
The Minister of Tourism Fernando Sumbana Junior with Stefano Vigoriti of MSC Starlight Cruises, pose for the camera after signing an agreement regarding further development of Portuguese Island in Maputo Bay. MSC cruise ships make regular calls at the island during the summer cruise season, which kicks off in a fortnight's time with the arrival in Cape Town and later at Durban of the MSC SINFONIA.
The signing ceremony took place at the Mozambique Tourism Investment Seminar held in Rosebank, Johannesburg on 26 October 2011. Also in the picture at left is Ms Isabel Macie, Tourism Counsellor of the Mozambican High Commission in South Africa and in centre back is Dr Mohamed Harun, Executive Advisor to the Minister.
PORTS & SHIPS will be covering the official opening of the new facilities on Portuguese Island later in November.

Regent Seven Seas looks to build new ship

Seven Seas Voyager entering Nice harbour
Regent Seven Seas president Mark Conroy says the cruise line is in talks with a European shipyard to build a new ship, which if talks are successful will be delivered in 2014.
He disclosed that the proposed cruise ship would be in the 50,000-gt range and would carry 700 passengers, making her similar in size to Regent's three existing ships. These are the 490-passenger SEVEN SEAS NAVIGATOR, the 700-passenger SEVEN SEAS MARINER and the 700-passenger SEVEN SEAS VOYAGER.
If the deal goes through it will be Regent Seven Seas first new ship since 2003.
According to Conroy the 2010 and 2011 years have been the best ever years for Regent Seven Seas – this came after the line introduced a policy of having most of the shore excursions included in the fare which has increased the amount of commission for agents.

MSC reported to be looking at two new ships
According to Seatrade Insider, MSC Cruises is considering ordering two new ships for its modern fleet, each of which would be larger than the 138,000-gt Fantasia class, the current largest class of MSC Cruise ships.
The report also suggested that CEO Pierfrancesco Vago is negotiating with STX France for a hull of a ship that was ordered by a now-defunct Libyan cruise start-up. Seatrade said that if the newbuild order materialises, the ships would enter service in 2014 and 2015.
PICS OF THE DAY – MAGSENGER 2
The bulker MAGSENGER 2 which was towed into Cape Town from near Saldanha on Tuesday after having a complete engine breakdown during her maiden voyage. Pictures above and immediately below are by Ian Shiffman
Magsenger 2 on her berth in Cape Town harbour, which gives an impression of her size. This picture is by Aad Noorland
Don't forget to send us your news and press releases for inclusion in the News Bulletins. Shipping related pictures submitted by readers are always welcome – please email to info@ports.co.za
Did you know that Ports & Ships lists ship movements for all southern African ports between Walvis Bay on the West Coast and Mombasa on the East Coast?
TABLE BAY UNDERWAY SHIPPING
SHIP PHOTOGRAPHERS
Colour photographs and slides for sale of a variety of ships.

Thousands of items listed featuring famous passenger liners of the past to cruise ships of today, freighters, container vessels, tankers, bulkers, naval and research vessels.
P O BOX 809, CAPE TOWN, 8000, SOUTH AFRICA
snai@worldonline.co.za
http://home.worldonline.co.za/~snai
South Africa's most comprehensive Directory of Maritime Services is now listed on this site. Please check if your company is included. To sign up for a free listing contact info@ports.co.za or register online
Looking for help? Try our MARITIME SERVICES DIRECTORY CLICK HERE