Ports & Ships Maritime News
26 October 2011
Author: Terry Hutson
Bringing you shipping, freight, trade and transport related news of interest for Africa since 2002
Improve your branding with your banner on this site and tap into our large readership - contact info@ports.co.za
TODAY'S BULLETIN OF MARITIME NEWS
Click on headline to go direct to story – use the BACK key to return
SEND NEWS REPORTS AND PRESS RELEASES TO info@ports.co.za
News continues below...

We wish all our Hindu readers and friends a Very Happy Diwali and A Prosperous New Year. Thank you for the greetings received.
FIRST VIEW – TAISEI MARU 24
The refrigerated cargo ship (reefer) TAISEI MARU No.24 (4992-gt, built 1994) seen in Table Bay outside Cape Town harbour earlier this month. Picture by Ian Shiffman
News continues below…

GOVERNMENT TO BOOST INFRASTRUCTURE AND INDUSTRIALISATION
Cape Town – Amid concerns over a sluggish global economic recovery and the unresolved European debt crisis, the government plans to focus more on investing in infrastructure and boosting industrial capacity while looking to set up a special nest-egg fund to held build the economy, the Finance Minister Pravin Gordhan said in Parliament yesterday (Tuesday).
Presenting the Medium Term Budget Policy Statement, Gordhan said following the 2008 global financial crisis, the Euro zone crisis had brought new financial challenges and threats to global growth.
"Once again we face the prospect of declines in global trade, falling industrial demand, delays in investment, liquidation of businesses and stressed financial institutions, this time with the added risk that fiscal austerity in some parts of the world will extend the slowdown and deepen the crisis," said Gordhan.
This year's Medium Term Budget Policy Statement sets out the fiscal and budgetary dimensions of the government's response to the current crisis and its intention to focus spending on the creation of long-term public assets by investing more in infrastructure and job-creating assets.
Gordhan proposed R25 billion in funding over six years to boost industrial development zones and build up world-class businesses, incentivise firms to improve competitiveness and help support job creation and training projects.
While global economic recovery has slowed though moderate growth is expected over the next three years, the statement singles out the risk of the unresolved European debt crisis to bank recapitalisation and slow growth of the US.
The International Monetary Fund (IMF) has lowered its global growth forecast for 2011 and 2012, from 4.5% to 4%.
Gordhan said after their strong recovery last year, international trade volumes had flattened this year and added that South Africa remained heavily reliant on its traditional developed country partners of the US, EU and Japan, making exports vulnerable to a slowdown in advanced economies.
He called on exporters to improve their productivity and keep their input costs down to get more lasting benefits from a more competitive currency – which he said had fluctuated between January and October from R6.58 to the dollar to R8.25 to the dollar.
Gordhan warned that South Africa's current projected GDP growth remains too weak to meet the employment targets under the New Growth Path to create five million jobs by 2020.
In a media briefing earlier, the National Treasury's Director-General, Lungisa Fuzile, said South Africa's foreign exchange reserves were at about the right level now – at about six months worth of imports. - BuaNews

More focus on infrastructure development
Cape Town – Government is to place more emphasis on funding the development of long-term infrastructure the Minister of Finance Pravin Gordhan said yesterday.
Gordhan said public-sector investment in infrastructure – which has increased from 4.3% of the Gross Domestic Product (GDP) in 2005 to 7.5% in the first half of 2011 – remained central to the government's economic development plans.
"Infrastructure projects in energy, roads, rail, telecommunications and water will ease bottlenecks and reduce costs in the rest of the economy, crowding in private investment and improving access to export markets," said Gordhan.
Over the next three years the government plans to spend R802 billion on infrastructure – the lion's share in the areas of energy, transport and logistics and water and sanitation.
Included in these investments are Eskom's capital expenditure programme which is expected to double electricity generation by 2025 and the expansion of bulk freight rail which will help raise transport volumes from 47 million tons to 60 millions tons.
Of the R185.3 billion spent on public-sector infrastructure in the last financial year, over a third or R69.1 billion was invested in transport and logistics and R52.5 billion in energy, while water and sanitation made up R14.4 billion.
Also included in these investments was R6.7 billion in hospitals and clinics, R6 billion in schools and R3.8 billion in courts.
Gordhan said reforms to improve the quality of regulation and encourage increased private-sector participation would improve efficiency and lower costs in these sectors.
Speaking at a media briefing shortly before delivering the Statement in Parliament, Gordhan said South Africa had the capability to develop world-class infrastructure.
"We say we don't have capability – that's not true. South Africa delivered the World Cup, South Africa delivered the stadia on time. Look at Brazil today and the challenges they are having in getting their infrastructure right," said Gordhan.
He said the presidential commission on infrastructure would help to develop a 10-year pipeline on infrastructure developments, put in the capabilities from the private and public sectors and source the funding. – BuaNews
News continues below…

SHIPS AND SHIPPING LINE NEWS
Nigerian military authorities said on Monday that they had intercepted and detained a small tanker offshore of the Niger delta region which was being loaded with illegally obtained and refined petroleum products.
During the detention 46 people were arrested for being involved with the smuggling of petroleum products from Nigeria.
The thieves were ferrying the refined product in barrels to the tanker using 12 large wooden Cotonou boats and one speed boat. The ship is capable of carrying up to 1000 of these barrels. According to the military spokesman the petroleum product had been refined in one of the hundreds of illegal makeshift refineries that are hidden among the creeks in the delta.
The ship, whose identity was not revealed in the announcement, has been taken to the government jetty at Yenagoa.

Maersk launches its Daily Maersk service
Amidst a mixture of scepticism and wait and see and perhaps a little envy from its competitors, Maersk has launched its Daily Maersk service between China and Europe, in which a ship will sail on every day, seven days a week to provide a predictable daily service to selected ports in Europe.
See our earlier related report'Daily Maersk – a giant conveyor belt between Asia and Northern Europe' dated 13 September 2011. Use your BACK BUTTON to return to this page.
The service is to be operated with 70 container ships sailing from four ports in Asia to three in northern Europe and Maersk says the service will be reliable enough for them to pay compensation if a ship is delayed and is unable to arrive as per schedule. But while most shippers and customers in Europe (and elsewhere) have welcomed the innovation, which Maersk CEO Eivind Kolding has described as helping to revolutionise the industry, competing shipping lines have their own opinions of the matter.
French carrier CMA CGM's chief executive Rodolphe Saade commented at a conference in Shenzhen earlier this month that Daily Maersk was a new marketing campaign that had been introduced in a grandstand manner. "It's our duty to provide customers with reliable service and information. If you want to make a big marketing campaign about it, good for you," he said.

Container lines using the Cape of Good Hope route back to Asia
Shipping lines are returning to slow steaming to conserve costs (it also makes for good PR when they can say they are reducing the impact they make on the environment) but several are believed to have reverted to using the longer Cape of Good Hope route for the return journeys back to Asia.
Among these is CMA CGM whose 13,800-TEU giant flagship CMA CGM CHRISTOPHE COLOMB (153,022-gt. Built 2009) passed Cape Agulhas yesterday, bound for Port Kelang. – from an observation by Ian Shiffman.

NYK posts gloomy 2nd quarter result

NYK's Polaris Leader. Picture by Aad Noorland
NYK Line, the second largest Japanese carrier, has followed 'K' Line and MOL to lower its forecast for the results of the second quarter of fiscal year 2011 ending September 30 to an estimated net loss of JPY12 billion (US$156 million) from an earlier July 29 forecast of a loss of JPY5 billion, reports Schednet.
The world's 11th largest carrier said in a company statement that the deteriorating projected loss is due to the launch of large scale container vessels, demand-supply imbalance, lower-than-expected freight rates, higher-than-expected appreciation of Japanese yen and additional loss on sales of vessels even though volumes in both transpacific and Asia-Europe trades had some increase in summer. source - Schednet
News continues below...

CHINESE SEAMEN INJURED IN ROUGH SEAS EVACUATED FROM BULKER OFF PORT ELIZABETH

Mandarin Eagle. Picture by vesseltracker.com
A volunteer crew from NSRI Port Elizabeth was activated at 07h30 yesterday (Tuesday) to rendezvous with the 200 metre bulk carrier MANDARIN EAGLE, sailing from Gabon to Singapore, which had requested urgent medical assistance for two Chinese crew members, aged 56 and 24 years.
The two men were washed across the ship's deck and reportedly collided with a staircase after a wave swept over the deck on Monday.
"Following the incident at deep-sea the ship's captain set course for the nearest port while their ships medic attended to the patients, while also raising the alarm requesting the most appropriate casualty evacuation for the two injured sailors," reported Justin Erasmus, NSRI's deputy station commander.
He said that a Metro EMS duty doctor monitored the patients progress during the night via radio telephone, assisted by Maritime Radio Services.
"Our NSRI volunteer duty crew launched our sea rescue craft EIKOS RESCUER IV at 07h30 yesterday morning accompanied by a GuardMed ambulance services paramedic," said Erasmus. "We rendezvoused with the ship three nautical miles outside of port and the patients were transferred aboard our sea rescue craft accompanied by their ship's medic (as interpreter), and once safely ashore both men were transported to hospital by GuardMed ambulance in a stable condition. The 56 year old suffering a leg fracture and a laceration to his leg and the 24 year old suffering bruising and lacerations to his face with possible facial bone fractures." In another incident involving the Port Elizabeth NSRI, a request was made for urgent medical assistance from the 200 metre bulk carrier BEAUFIKS which was passing the South African coast and sailing from the United Arab Emirates to Brazil.
Erasmus said that once the rescue operation involving the bulker Mandarin Eagle had been concluded at 09h50 yesterday, the NSRI launched the EIKOS RESCUER IV once more to go this time to the aid of a 49-year old Filipino crewman, the head chef on board the Beaufiks, who was reportedly suffering from hypertension.
"On arrival on-scene NSRI medics stabilised the patient who was then transferred onto our sea rescue craft and brought ashore and transported, in a stable condition, to hospital for further examination and treatment," Erasmus said.
News continues below…

ANOTHER NEW PORT PROPOSAL FOR MOZAMBIQUE
Mumbai, India, 25 Oct – The Essar Ports Ltd company, a subsidiary of the Essar Group of India, plans to build a port in Mozambique in order to export iron ore extracted in neighbouring Zimbabwe, the company's chief executive said.
"Mozambique is wealthy in mining resources, and we are working to sign a concession agreement for construction of a port in the country," said Rajiv Agarwal, who gave no details about the investment needed to build the facility nor the site for the proposed port.
In August of last year, Essar Africa Holdings Ltd (EAHL) signed an agreement with the Zimbabwean government to acquiring the mining and steel making assets of state company Zimbabwe Iron and Steel Co. and to invest US$750 million in the project.
"In the 2015 financial year, 25 percent of forecast revenue will originate in third party companies," said Agarwal, noting that 98 percent of Essar Ports' current revenues came from business with other Essar group companies.
Essar Ports is listed on the Mumbai stock exchange and is the third ports company to be listed after Mundra Port and Special Economic Zone Ltd and Gujarat Pipavav Port Ltd. (macauhub)
News continues below…

PICS OF THE DAY – ULSNIS
The container ship ULSNIS (14,865-gt, built 1993) made for this good set of pictures in Cape Town harbour earlier this month. Pictures by Ian Shiffman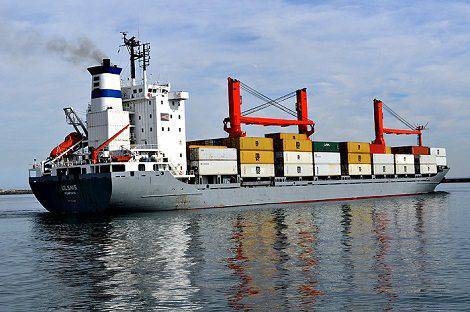 Don't forget to send us your news and press releases for inclusion in the News Bulletins. Shipping related pictures submitted by readers are always welcome – please email to info@ports.co.za
Did you know that Ports & Ships lists ship movements for all southern African ports between Walvis Bay on the West Coast and Mombasa on the East Coast?
TABLE BAY UNDERWAY SHIPPING
SHIP PHOTOGRAPHERS
Colour photographs and slides for sale of a variety of ships.

Thousands of items listed featuring famous passenger liners of the past to cruise ships of today, freighters, container vessels, tankers, bulkers, naval and research vessels.
P O BOX 809, CAPE TOWN, 8000, SOUTH AFRICA
snai@worldonline.co.za
http://home.worldonline.co.za/~snai
South Africa's most comprehensive Directory of Maritime Services is now listed on this site. Please check if your company is included. To sign up for a free listing contact info@ports.co.za or register online
Looking for help? Try our MARITIME SERVICES DIRECTORY CLICK HERE