Ports & Ships Maritime News
4 October 2011
Author: Terry Hutson
Bringing you shipping, freight, trade and transport related news of interest for Africa since 2002
Improve your branding with your banner on this site and tap into our large readership - contact info@ports.co.za
TODAY'S BULLETIN OF MARITIME NEWS
Click on headline to go direct to story – use the BACK key to return
SEND NEWS REPORTS AND PRESS RELEASES TO info@ports.co.za
News continues below...

FIRST VIEW – DENZIL 2
The Durban workboat DENZIL S which occasionally doubles as a fishing charter boat, returns to the jetty near Wilson's Wharf after carrying out a delivery to a ship outside port. Picture by Terry Hutson
News continues below…

SAFMARINE MERGES INTO MAERSK – CAPE TOWN NO LONGER A REGIONAL OFFICE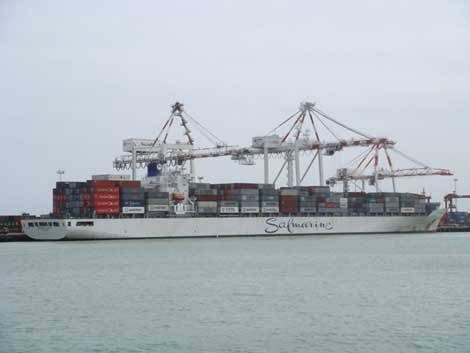 Safmarine Mulanje. Picture by Peter Blackett
Safmarine announced yesterday that it has been merged with parent company Maersk Line as Maersk strives to further reduce costs.
The surprise move means a loss of up to 240 jobs around the world, and the closure of Safmarine's head office in Antwerp, its regional offices and management in Cape Town, Antwerp, Dubai, Shanghai and Mumbai, and the centre support functions which have been carried out in Cape Town and Singapore.
South African branch offices will however continue as will the Safmarine brand as Maersk Line seeks to maintain the former South African company's unique method of trading based on the building of deep and lasting relationships with customers.
Safmarine's CEO Tomas Drybye is leaving the company and is to be replaced in due course.
According to the statement issued by Safmarine, the move is designed to boost efficiency and reduce costs within the AP Moller-Maersk Group but the Safmarine brand will be retained. "We are sad to have to consider losing some very strong colleagues, who have made an important contribution to the company and helped change the way we think about shipping," said Eivind Kolding, Maersk Liner Business CEO.
Safmarine will remain an important part of the Danish carrier's business, he said. "It has proven that a close focus on a particular approach can deliver stronger customer service and lasting relationships — this is core to our mission of redefining shipping."
He said it was Maersk's intention to strengthen the Safmarine brand. "Over its long history it has become a force to be reckoned with in its markets and customers value its distinctive approach to deep and lasting relationships."
The merger will not affect Safmarine's multi-purpose shipping operations, which will continue to be developed from its Antwerp base.
News continues below…

THE UPS AND DOWNS OF NIGERIA'S PORTS
Following the dredging of some of Nigeria's river ports, the Nigerian Ports Authority (NPA) has reported an increase in the number of containers handled and the number of ships that called during the month of July.
According to the NPA the ports handled a combined 64,188-TEU, an increase of 19.3% when compared with the same month in 2010. This figure related to laden containers.
The number of empties handled increased by 17% month on month to reach 41,675-TEU in July, for a combined total of 105,863-TEU.
Motor vehicles handled at the ports for the month amounted to 19,292 units, up 41% on the same month in 2010.
According to the NPA some of these increases can be attributed to the dredging of the ports, which it says has been made more accessible to shipping.

Congestion at Apapa after truckers go on strike
The Nigerian port of Apapa has been affected by industrial action from truck drivers protesting the delays they encounter when returning empty containers or taking delivery of boxes from the port, reports This Day.
The truckers accused the terminal concessionaire of not allowing them to enter the terminal to either return empty containers or take delivery of containers. This Day said that its sources had claimed that a lack of space was limiting the number of trucks able to enter the terminal.
As a result long queues were forming forcing truck drivers to encounter lengthy delays before they can access the terminal.
The truck drivers also complain of the amount of corruption they meet among security guards manning the terminal gate. A driver said the problem had become worse after certain drivers 'greased the palm' of security guards to allow them preferential access to the terminal. But once within the terminal there was not enough space to park and wait for the containers they had called to collect.
News continues below...

PIRACY – ICS CHAIRMAN SAYS IF PIRATES' HOSTAGES WERE AMERICAN OR EUROPEAN THEN WESTERN RESPONSE WOULD BE DIFFERENT
Governments have ceded control of the Indian Ocean to pirates and the small deployment of naval forces to the region is like putting a band-aid on a gaping wound - so says International Chamber of Shipping (ICS) Chairman Spyros M Polemis.
And in a damning indictment of western governments, Mr Polemis has controversially suggested they would be acting differently if the many seafarers held hostage off the coast of Somalia were 'Americans or Europeans'.
Speaking at this week's Maritime Cyprus conference in Limassol on Monday (3 October) Mr Polemis told shipping professionals: "The fundamental problem is the lack of navy ships that are committed to protecting shipping - a band aid on a gaping wound, although the navies do an excellent job under the circumstances and we commend them for this."
In a straight-talking speech Mr Polemis told delegates that "by their own admission, the military advise that no ship is completely safe".
He said, "Sadly, one can only conclude from the current response of many governments that those thousands of seafarers that have so far been captured have simply had the wrong nationality. If they were all Americans or Europeans, the governments' attitude might have been somewhat different. It is really unacceptable that so many governments seem to feel that the current situation can somehow be tolerated, and that a box has been ticked by making a relatively small number of navy ships available to police Somalia's waters and the entire Indian Ocean."
Apologising for his 'depressing' remarks he concluded with, "We appreciate that governments have many competing priorities, but I am afraid that they still seem to be lacking a coherent strategy to tackle the pirates head on."
While acknowledging that adherence to Best Management Practices and the use of private armed guards can both reduce the risks of capture, Mr Polemis said that the escalating use of armed guards represents a failure by the international community to find an effective solution to the situation and called for an increase in military force deployed to the Indian Ocean.
"I do wish to stress that, despite acknowledging their use, private armed guards do not represent a long term solution. Rather, their use actually signifies a failure on the part of the international community - and those governments with significant military forces - to ensure the security of maritime trade on which the whole world depends. Governments don't like it when we say this, but the reality is that they have ceded control of the Indian Ocean to the pirates.
"The use of private guards does not mean that military forces are no longer needed. Far from it - they are needed more than ever and should be greatly increased in number."
ICS says it remains in close contact with both EUNAVFOR and NATO discussing practical solutions to the problems in the Indian Ocean including a possible blockade of the Somali coast and tackling pirate 'motherships'. ICS is also in discussion with Flag States to ensure they take a coherent pan-industry approach to producing a proper framework for the use of armed guards.

Note: The International Chamber of Shipping (ICS) and the International Shipping Federation (ISF) are the principal international trade association and employers' organisation for shipowners, with member national associations from 36 countries representing all sectors and trades and over 80% of the world merchant fleet.
Spyros Polemis is speaking on the subject of "Countering Piracy" at Maritime Cyprus, organised by the Cyprus Department of Merchant Shipping, at the Evagoras Lanitis Centre, Limassol, from 2 - 5 October 2011.
News continues below…

CRUISE CONVENTION CONFIRMS GROWTH PROSPECTS

Seatrade Europe 2011 has exceeded our expectations – Chris Hayman, Seatrade CEO. Picture by Clinton Wyness
The Seatrade Europe Cruise & River Cruise Convention, which has ended at the Hamburg Messe exhibition centre in Germany, concluded that growth prospects for the international cruise industry continue to be excellent.
This despite the global order book for the construction of new cruise ships being currently smaller than in previous years.
"A number of new orders can be expected in the coming months," agreed many cruise line leaders and TUI Cruises made a start during the event, with chief executive Richard J Vogel signing a contract with STX Finland for a 97,000gt newbuild, with an option for a second ship, on the convention's opening day. The first vessel is due for delivery in 2014, with an eventual second ship - subject to approval by the TUI board - penciled in for 2015.
The industry's optimism was very apparent at Seatrade Europe, which welcomed 250 exhibitors from 50 countries and over 4000 participants. Numerous new elements to the programme further strengthened this convention's position as Europe's leading event for the ocean and river cruise industries.
Seatrade's Chairman, Chris Hayman, summed up the convention. "Seatrade Europe 2011 has exceeded our expectations, with a 30% increase in visitors and more convention delegates in comparison to 2009. This demonstrates how important Europe is for the cruise industry and applies to the entire market from shipbuilders through to suppliers of top quality, environment-friendly technologies and destinations."
Bernd Aufderheide, President of Hamburg Messe und Congress GmbH (HMC) underlined this, "Our exhibitors have told us that they were able to make first-rate contacts here. We have set a new course with the first Supplier Workshop and the Newcomers' Area, which received a fantastic response from the market. Over 120 suppliers at the Supplier Workshop alone made use of speed dates to present their products to chief procurement officers of leading cruise shipyards Fincantieri, Meyer and Neptun Werft as well as STX France, reporting excellent discussions which have eased their entry into the cruise industry."
This impression was mirrored by shipyard buyers at the workshop, "I am totally satisfied with the response of the participants to the new Supplier Workshop," reported Ralf Sempf, Head of Materials Management / Procurement and member of the board at Meyer Werft in Papenburg. "This is the best way to do business since it has a very personal character."
"We were able to make very interesting contacts here for our shipyard. They included companies which were totally unknown to us beforehand," said Bertrand Paquet, Chief Purchasing Officer at STX France.
News continues below…

18,000-TEU BOXSHIPS WILL NOT FLOOD THE MARKET – MAERSK LINE

Axel Maersk, one of the Triple-E class 13,000-TEU container ships
Copenhagen's AP Moller-Maersk, owner of the world's biggest container line, says its order for twenty 18,000-TEU vessels will not flood the market with super megaships, as rival say but rather 13,000 TEUers will become common.
Maersk vessel management chief Soren Andersen said the company's order did not amount to "aggressive expansion" because it did not exceed expectations for market growth, reports Reuters.
"We believe we are below the average of our competitors in fleet growth over the next three years and below the market growth," Andersen said. "We have tried to be conservative, and that is what is needed."
Mr Anderson said he did not believe the 18,000-TEUers, costing US$190 million each, would become the new industry standard like the more common 13,000 TEU ships with the expansion of the Panama Canal by 2015.
"Generally, it will be only very few companies who will go for these ships. Fuel is so much more important than five years ago. It is changing the whole industry, as we can see with slow steaming. These ships are designed for slow speeds [17-22 knots]. We are not adding horsepower," he said. Source - SeaNews Turkey
PICS OF THE DAY – NEW ERA and HANSA SALZBURG
With the 2011 Rugby World Cup now mid-way through and the quarter finals due to be played this weekend, what better time to return to the Land of the Long White Cloud for another look at some of its shipping. Here we see the New Zealand Dunedin-based hopper dredger NEW ERA (1240-gt, built 1985) working in the approaches to Lyttelton harbour. Picture by Alan Calvert
The newly-built container ship HANSA SALZBURG (18358-gt, built 2011) is seen in this view moving dead ship on her way to a laybye where she will undertake engine repairs. Picture by Alan Calvert
Don't forget to send us your news and press releases for inclusion in the News Bulletins. Shipping related pictures submitted by readers are always welcome – please email to info@ports.co.za
Did you know that Ports & Ships lists ship movements for all southern African ports between Walvis Bay on the West Coast and Mombasa on the East Coast?
TABLE BAY UNDERWAY SHIPPING
SHIP PHOTOGRAPHERS
Colour photographs and slides for sale of a variety of ships.

Thousands of items listed featuring famous passenger liners of the past to cruise ships of today, freighters, container vessels, tankers, bulkers, naval and research vessels.
P O BOX 809, CAPE TOWN, 8000, SOUTH AFRICA
snai@worldonline.co.za
http://home.worldonline.co.za/~snai
South Africa's most comprehensive Directory of Maritime Services is now listed on this site. Please check if your company is included. To sign up for a free listing contact info@ports.co.za or register online
Looking for help? Try our MARITIME SERVICES DIRECTORY CLICK HERE