Ports & Ships Maritime News
29 September 2011
Author: Terry Hutson
Bringing you shipping, freight, trade and transport related news of interest for Africa since 2002
Improve your branding with your banner on this site and tap into our large readership - contact info@ports.co.za
TODAY'S BULLETIN OF MARITIME NEWS
Click on headline to go direct to story – use the BACK key to return
SEND NEWS REPORTS AND PRESS RELEASES TO info@ports.co.za
News continues below...

FIRST VIEW – VARADA BUSIOS
A busy Cape Town harbour scene, with the anchor handling tug supply ship VARADA BUSIOS (1922-gt, built 2011) the main attraction. The Singapore-registered AHTS called recently for minor repairs, provisions and bunkers. Picture by Aad Noorland
News continues below…

PIRACY: ICS REPEATS CALL FOR WORLD GOVERNMENTS TO DO MORE FOR PROTECTING MERCHANT SHIPPING
To mark the occasion of IMO World Maritime Day and this year's chosen theme, the piracy crisis in the Indian Ocean, the International Chamber of Shipping (ICS), which represents 80% of the world merchant fleet, has produced a special brochure.

The brochure is intended to reiterate the urgent need for governments to do more to protect merchant shipping from being attacked by Somali pirates, with over 3,000 seafarers having so far been held hostage for ransom, and up to 60 having lost their lives.

The ICS brochure explains that the International Maritime Organization (IMO), the United Nations agency responsible for safety of life at sea, has had a pivotal role in orchestrating the response of the international community to the scourge of piracy, which is the theme of IMO World Maritime Day 2011. In co-operation with the shipping industry, IMO has been instrumental in bringing the seriousness of the crisis to the attention of the UN Security Council. However, the piracy crisis in the Indian Ocean has continued to spiral out of control.

ICS expresses appreciation for the efforts of IMO Member States and military navies to protect merchant ships and their crews from Somali pirates, but is deeply concerned that little real progress is being made towards developing any radical new strategy that will deliver immediate results.

It also recognises that the long-term solution will have to be found within Somalia itself, supported by practical measures such as the establishment of a local coast guard. But the industry seems to be faced with the utter frustration of an increasing number of attacks for the foreseeable future.

The international community depends on ships to transport trade and keep the world economy moving, and the eradication of piracy is the responsibility of governments, as stipulated by the United Nations Convention on the Law of the Sea. However, in the face of governments' seeming impotence, says ICS, the shipping industry will be forced to look at all possible options, including alternative routes, which could have a very dramatic effect on transport costs and delivery times.

Piracy is already estimated to cost the global economy US$12 billion a year. If increasing numbers of ships decide to divert around the Cape of Good Hope, this will almost certainly have a major impact on inventories and costs throughout the whole supply chain. It could also greatly damage the economies of Africa and the Middle East at this politically delicate time.

However, ICS says that the principal concern of the shipping industry is humanitarian. It is simply unacceptable that seafarers have been killed, while thousands more have been held captive for months at a time.

The brochure is being distributed via ICS member national shipowners' associations, but can be downloaded at www.ics- shipping.org


Cyprus to allow merchant ships to be armed against piracy

Cyprus is about to allow its merchant ships to carry armed guards, as the Cypriot government gets ready to rewrite one of its laws.

The Cyprus News Agency reported that government was preparing a bill to go before parliament that is aimed at allowing Cyprus-registered ships to protect themselves against piracy with weapons and guards.


Russian warships arrive in Gulf of Aden

Another Russian task force was due to arrive in the Gulf of Aden yesterday (Wednesday) to take up duties alongside ships of other nations in providing protection against Somali pirates.

The ships from the Pacific Fleet consist of the Udaloy class missile destroyer ADMIRAL PANTELYEV, the replenishment tanker BUTOMA and the salvage tug FOTIY KRYLOV.

Russia has been rotating its navy ships in the Gulf of Aden between ships of the Pacific and its Northern Fleets, during which they undertook such tasks as escorting convoys of merchant ships through at risk zones and escorting aid vessels into nearby ports. This is the second Somali deployment for the Russian destroyer Admiral Pantelyev. source RIA Novosti


MV Eagle is released after ransom is paid

Following payment of a ransom of an amount as yet undisclosed, the MV EAGLE, which was pirated on 17 January 2011 in position 490 nautical miles south of Salalah, Oman was recently released from pirate control off the coast of Somalia, reports EU NAVFOR. The ship is now on her way to a safe port.

The Cypriot flagged and Greek owned Eagle, deadweight of 52,163 tonnes and a crew of 24 Filipinos was on passage from Aqabar (Jordan) to Paradip (India) when it was attacked.

News continues below…

SHIPPING NEWS – EAST LONDON WELCOMES LARGEST CAR CARRIER SO FAR TO VISIT THE PORT

TIJUCA in East London port this week. Picture by TPT
Making her maiden voyage to South Africa, the 231 metre long car carrier TIJUCA became the largest car carrier to call at the Eastern Cape port of East London when she arrived on Tuesday this week.
The ship boasts 13 decks and was able to call at East London following the recent deepening of the berths alongside the car terminal, which were dredged and deepened from 9.3 metres alongside to a depth of 10.5 metres.
According to port manager Jacqueline Brown, the vessel's call highlighted the positive outlook in the new vehicles market. This, she said, was driven by the awarding of major automotive contracts to local original equipment manufacturers (OEM's), such as the Mercedes-Benz South Africa's (MBSA) contract with Daimler AG to produce the next generation C-Class at its East London plant.
As a result of this contract, R2,5-billion will be invested into the East London plant in preparation for production of these vehicles, which will be introduced to global markets in 2014.
"Last week we saw MBSA export its largest consignment ever of 3,168 locally built C-Class cars destined for the United States, and this week the port welcomes its largest carrier," Brown said. "These developments certainly point to the strategic importance of the automotive sector for this region, and the importance of this port in the overall logistics plan for South Africa."
She said South Africa's only river port had seen key investments by Transnet to meet the demands of the global automotive market and further capacity could be added should market forces necessitate the implementation of phase two plans.
Built in 2008 and operated by Wallenius Wilhelmsen Logistics, TIJUCA has a design capacity of up to 8,000 units of rolling cargo such as cars, high and heavy cargo and some breakbulk cargoes. The ship has an overall length of 231.6 metres and a gross tonnage of 71,673t. Her breadth is 32.26 metres and she has a summer draught of 11.3 metres when fully laden.
The ship also boasts a 'green Passport', issued by Lloyds Register according to the International Maritime Organization's (IMO's) guidelines. This confirms its application of the latest technology which ensures it operates in an environmentally efficient manner especially with low greenhouse gas emissions.
Tijuca's next port of call was Durban after which she sails for Melbourne, Australia.

DHL launches new ocean freight lanes to Africa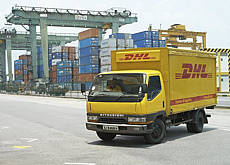 DHL Global Forwarding, the Deutsche Post DHL Group's specialist for air and ocean freight, has established three new direct ocean freight connections between Germany and the African continent.
Transit times for Less Than Container Load (LCL) shipments on the three new lanes between Bremen and Tema (Ghana), Cape Town (South Africa) and Mombasa (Kenya) will be shortened by 5 to 6 days.
"In 2010, Germany exported some 20 billion Euros worth of goods to Africa," Amadou Diallo, CEO, Africa and South Asia Pacific, DHL Global Forwarding said. "The new LCL services to Tema, Cape Town and Mombasa will help German companies transport their goods faster to Africa, enabling more efficient trade. These new direct ocean freight lanes allow additional savings of up to 10% in CO² emissions, when compared with the previous offering."
The movement of goods between Germany and Africa is on the upswing, says Peter Grabsch, LCL Gateway Manager Ocean Freight Germany. "We note a growing demand among our customers for transport to these emerging countries. Our LCL services take account of this demand."
Marc Meier, Senior Vice President, Ocean Freight & Head of Global LCL, DHL Global Forwarding, said that German companies from the energy, automotive and manufacturing sectors have long been conducting business in Africa, and have benefited from the existing Full Container Load services.
They can now benefit from the expansion of the LCL network to three important new destinations in Africa, he said.
News continues below...

CRUISE NEWS: EUROPE'S LEADING CRUISE EVENT OPENS

Costa Favolosa, which entered service in Europe in July
Leading European cruise event opens in Hamburg - record attendance expected
When the Seatrade Europe Cruise and River Cruise Convention, the leading congress and trade fair for the European cruise industry, opened its doors on Tuesday, it was the sixth time that Hamburg has become the meeting point of the European maritime tourism industry.
More than 250 exhibitors from 50 countries, including ports and tourism destinations, tour operators, hotel and restaurant outfitters, ship equipment suppliers, IT and communication companies, shipyards and shipbuilders have been showcasing products and services over the two-and-a-half days of the event.
Over 500 conference delegates were expected, among them some 220 cruise line executives representing all the major and medium sized brands active in the region.
This year's highlights include a Supplier Workshop with 120 suppliers meeting with chief buyers of leading cruise shipyards Fincantieri, Meyer Werft and STX France, and the much-anticipated presentation of the Seatrade Insider Cruise Awards 2011.
"'The conditions for Seatrade Europe could hardly be better," said Bernd Aufderheide, Chairman of the Management Board of Hamburg Messe und Congress GmbH, speaking on the occasion of the opening press conference this week. "No other sector of the travel industry shows such marked growth as cruise tourism." Over the past four years the number of European cruise passengers has risen by a double-figure percentage every year. Last year 5.5 million Europeans booked a cruise.
"We are in the right place at the right time," said Chris Hayman, Seatrade's Chairman. "Europe is growing in all sectors – either in terms of passenger numbers based on turnover or as a destination."
He said that 30% of cruise passengers worldwide now come from Europe and in keeping with these developments, cruise lines are pressing ahead with the construction of new ships. "Currently the shipyards have 18 new cruise ships on the order books, with a joint value of 12.8 billion US dollars," Hayman added.
In Europe too there is a trend towards bigger ships. "But niche products are also going to benefit from this," said Richard J. Vogel, Chief Executive Officer of TUI Cruises GmbH.
As a result of the differentiation of the ships, schemes and destinations, the additional capacity should result in a more varied range of services becoming available to a wide sector of the population. The TUI manager sees the German market as having particularly high potential. In spite of rising passenger numbers, so far only 1.5 % of Germans have taken a cruise. In the US, the market where cruises are most popular, market penetration is more like 3%.
But when it comes to river cruise, Germany is market leader. "430,000 Germans took a river cruise in 2010," stated Helge H Grammerstorf, Managing Director of SeaConsult HAM GmbH and Vice-President of IG RiverCruise, the syndicate of the leading European river cruise companies. With 190 ships, the organisation accounts for around 80% of the global market. And in this sector too, all the signs point to growth. Currently there are 25 new river cruise ships, with a total capacity of 4,300 beds, on order for delivery by 2014. This amounts to a growth in capacity of 14%.
These ships are already being financed, by as much as 25%, from public funds, an approach that has come to be common practice for commercial shipping but is still quite new in the cruise industry.
Yesterday the conference included a session dedicated to the financing of ocean-going and river cruisers.
Seatrade Europe finishes today (Thursday).
News continues below…

AUTOMOTIVE SECTOR KEY TO ECONOMIC GROWTH - ZUMA
Pretoria - Government is committed to boosting the country's manufacturing sector and in particular the automotive sector in a bid to create more jobs for South Africans, says President Jacob Zuma.
Speaking during the Automotive Industry Job Creation Meeting in Nelson Mandela Bay, Zuma said government had identified the automotive sector as a key growth sector in the economy.
The President said government would play its part and provide whatever incentives it could to boost the industry.
"Amongst other support measures, the IDC has announced a massive increase in the level of industrial funding. It will make R102 billion available over the next five years," he said.
Zuma also called on the industry to play its part by increasing localisation and contributing to skills development and training, in partnership with local academic and training institutions.
Government's approach was to take advantage of industries that had a strong competitive edge in the world, as was the case with the automotive sector, the President pointed out.
"We have exceptional production facilities, good communication facilities and readily available raw materials among many advantages, which we have over the years been utilising very optimally. We also have good access to markets in Africa and the southern hemisphere," he said.
It was because of all these factors that in recent years, South Africa had become one of the best performing motor vehicle markets in the world.
South Africa's vehicle exports were high enough to allow it to export to more than 70 countries – evidence of the country's achievements in this sector, Zuma noted.
The Motor Industry Development Programme, implemented by government in 1995, had paid dividends, he said. Through the programme, vehicle production increased from 388 442 units in 1995 to 534 490 units in 2007. Exports rose from 4% in 1995 to 32% in 2007.
The programme will be replaced by the Automotive Production and Development Programme from January 2013.
"The intention with the new programme, among others, as most of us are aware, is to expand the automotive vehicle production to 1.2 million vehicles per annum by 2020. The programme includes the Automotive Investment Scheme, which we expect should raise the number of jobs created," he said.
The new programme was developed in consultation with National Association of Automotive Manufacturers, the National Association of Automotive Component and Allied Manufacturers, the National Union of Metalworkers of South Africa (NUMSA) and other industry interest groups. – BuaNews
News continues below…

CALABAR DREDGING CONTRACT HELD UP AS BIDDERS ACCUSE NPA OF HAVING VESTED INTEREST

Port of Calabar – dispute halts dredging of channel
A stalemate has prevented any attempts at dredging an 86-km length of the Calabar River channel in Nigeria, 15 months after the programme was first announced.
The project came to an end before it could begin after objections were received at the awarding of a contract to dredge the channel which was given to the Lagos Channel Management (LCM), a subsidiary of the Nigerian Ports Authority.
One of the objectors, the firm of Jan de Nul has accused the NPA of having a vested interest in the contract, while other unsuccessful bidders say that LCM is not a dredging firm but a maintenance operator. They say that LCM came in at a distant fourth in the adjudication of the awarding of the contract. LCM is also accused of not having disclosed its ties with the NPA as required in the bid procedure.
At a meeting held in Abuja recently the unsuccessful bidders said that the way out of the dispute was for the NPA to respect the due process and to adhere to regulations of the Bureau for Public Procurement Act.
Delegates attending the meeting said they were told by the acting permanent secretary of the ministry not to continue with their opposition because there were a number of other contracts that were in the offing.
PROHIBITION OF HANDLING DANGEROUS GOODS (IMDG) EXTENDED IN PORT OF DURBAN TERMINALS
A decision has been made by Transnet to extend the deadline to the prohibition with regards to the handling of IMDG cargo at the terminals from 31 October 2011 for a period of a further six months.
It is to be noted that:

This extension excludes classes 1 and 7 (to which the prohibition remains of force and effect)
Transnet will require that terminal operators / shipping lines / shipping agents (as the case may be) will make rigorous disclosure to it of all IMDG cargo to be handled at the terminals in question
Bearing on the nature of the dangerous goods, suitable emergency services and equipment (as the circumstances may permit) will be expected to be on hand during the handling of such cargo
The parties will strive to maintain a turnaround time that is as brief as possible for such cargo's presence at the terminal
Transnet's statutory powers and duties remain extant and the relaxation of the aforesaid Directive is not to be construed as compromising, or the abandonment of, such powers and duties in any way
All parties affected by this directive are required to meet the terms accordingly. source DCCI
PICS OF THE DAY – NORSUL RECIFE
The Panama flagged, Brazilian-owned bulk carrier NORSUL RECIFE (45,384-dwt, built 1985) which called in Cape Town harbour this month. Pictures by Ian Shiffman
Don't forget to send us your news and press releases for inclusion in the News Bulletins. Shipping related pictures submitted by readers are always welcome – please email to info@ports.co.za
Did you know that Ports & Ships lists ship movements for all southern African ports between Walvis Bay on the West Coast and Mombasa on the East Coast?
TABLE BAY UNDERWAY SHIPPING
SHIP PHOTOGRAPHERS
Colour photographs and slides for sale of a variety of ships.

Thousands of items listed featuring famous passenger liners of the past to cruise ships of today, freighters, container vessels, tankers, bulkers, naval and research vessels.
P O BOX 809, CAPE TOWN, 8000, SOUTH AFRICA
snai@worldonline.co.za
http://home.worldonline.co.za/~snai
South Africa's most comprehensive Directory of Maritime Services is now listed on this site. Please check if your company is included. To sign up for a free listing contact info@ports.co.za or register online
Looking for help? Try our MARITIME SERVICES DIRECTORY CLICK HERE