Ports & Ships Maritime News
22/23 September 2011
Author: Terry Hutson
Bringing you shipping, freight, trade and transport related news of interest for Africa since 2002
Improve your branding with your banner on this site and tap into our large readership - contact info@ports.co.za
TODAY'S BULLETIN OF MARITIME NEWS
Click on headline to go direct to story – use the BACK key to return
SEND NEWS REPORTS AND PRESS RELEASES TO info@ports.co.za
News continues below...

FIRST VIEW – NEDLLOYD TESLIN
The container ship NEDLLOYD TESLIN which was in Durban harbour recently, seen in this picture taken through the glass window of another vessel, hence the slight reflection visible. Picture by Peter Lamb
News continues below…

MOMBASA GOES TO 24-HOUR OPERATION TO EASE PORT CONGESTION

Port of Mombasa, struggling with congestion
Increasing congestion at the port of Mombasa has resulted in the Kenya Ports Authority taking the decision to implement a full 24-hour operation at the port to help clear backlogs.
According to Transport Minister Amos Kimunya, the move means increasing the number of staff to facilitate a day and night 24-hour operation. He said he was optimistic this would help clear the backlog within the next ten days.
"We have been having a series of construction works within the port among them [the] building of berth 19 to extend the terminal quay by 160 metres hence affecting some other berths resulting in congestion at the port," Kimunya told Nairobi's Business Daily.
The minister said that the government and port authority had embarked on a number of projects aimed at improving the efficiency of the port. These include the recent arrival of three ship-to-shore cranes that are currently being installed which said should have an immediate effect on port productivity.
Speaking during a one-day tour to address challenges facing Mombasa, Mr Kimunya said the government has rolled out a number of projects to enhance efficiency at the port.
He said documentation was also a challenge which would be met by the Kenya Revenue Authority, adding that the constant outages of electricity at the port which affected night operations was being addressed.
On the question of increasing the number of private gangs to help load or offload ships' cargo, Kimunya said port security forces had been boosted to enable the employment of additional gangs where necessary. He hoped this would also help to reduce tensions between KPA management and the Dock Workers' Union.
"We are rationalising personnel deployed at the gates to speed up movement and checks to decongest the port," said the minister. source – Business Daily
News continues below…

SALDANHA RULED OUT AS MANGANESE PORT – ORE MUST GO TO NGQURA
Saldanha's loss is Ngqura's gain. This emerged last week when Transnet Freight Rail boss Siyabonga Gama said that the Sishen-Saldanha ore line has been ruled out for future manganese ore exports.
Instead, manganese would be railed to the Eastern Cape port of Ngqura, where a feasibility study concerning the upgrade of the railway line would commence in February 2012.
Manganese ore is currently exported mainly through Port Elizabeth, although some exports of ore mined in Mpumalanga and Limpopo province, and even limited volumes from the Northern Cape, are going through Durban.
Speaking to journalists at Tshipi e Ntle's Borwa manganese development near Hotazel in the Northern Cape, Gama said the capacity of the line to the Eastern Cape would be increased from the present 4 million tonnes a year to between 7 and 12 million tonnes by 2013. He said it was expected that the demand for the ore would rise to between 18 and 22 million tonnes a year by 2017 and that TFR would be catering for this capacity with increased investment and improvements to the railway line.
Miners are thought to have favoured the more efficient Saldanha route and will be disappointed at Transnet's decision. One is forced to wonder whether the decision to take the manganese to Ngqura instead of Saldanha was one made on purely business grounds or whether there is an element of political influence. Sadly that is the legacy of Ngqura. Nevertheless the manganese exports will make a welcome addition to an under-utilised port.
See also our shortened version of this news News in our 19 September edition.
News continues below...

COASTWATCH: UNUSUAL FELLOW (SEA) TRAVELLER
We are always interested in seeing wild life, usually birds, engaging with ships and harbours and have enjoyed occasions when birds and sometimes seals have entered the camera's frame ahead of the shutter being closed.
Some of our ports are of course wonderful havens for bird lovers, with for example Richards Bay and Durban experiencing an impressively wide variety of birds that have learned to co-exist in amongst the shipping industry. In Cape Town the harbour remains filled with both the sounds and sight of birds – many of them common seagulls but nonetheless always an enjoyable experience.
At sea seafarers will be used to a wide variety of seabirds, many of which live out of sight of land in the wide ocean while others range over even longer distances and seldom visit the continents or islands. But few if any of these are as colourful as this little stowaway on a ship sailing from Maputo to Durban one day about a week ago. "This was a rare visitor at sea. A lilac breasted roller hitched a ride on my vessel from Maputo to Durban," said Capt. Hugo Schuitemaker. "The roller was with us from departure at Maputo, he must have flown off when we closed in on Durban, after a good day at sea! I must say, I have only ever seen rollers in the Kruger Park. I'm quite used to the gulls, cormorants etc at sea and occasionally a finch or wagtail but the roller was a first!" Picture by Capt. Hugo Schuitemaker
News continues below…

PIRACY: ANOTHER SECURITY ALERT FOR KENYAN WATERS
Maritime Security Alert - Attacks off Kenyan coast
Another maritime security alert has been issued for the waters off the coast of Kenya after reported attacks on two vessels in recent days, reports GAC World.
A Chinese cargo ship MV AN NING JIANG, was approached by a pirate skiff 85 NM east of Mombasa on 17 September. The crew reportedly retreated to a safe room whilst an onboard security detachment used ship hardening methods which ultimately deterred the attack.
On 20 September, unconfirmed reports suggested the Greek-owned, Cyprus-flagged, general cargo vessel MV PACIFIC EXPRESS was attacked unsuccessfully around 180 nautical miles south-east of Mombasa at around 07:30 local time.
A subsequent report said that the ship had in fact been highjacked but since then it has been learned that contrary to all other reports the vessel was not hijacked, rather pirates set fire to the accommodation block after failing to take control of the ship. The crew, who retreated to a safe room during the attack, were later safely evacuated to Italian warship Andrea Doria which arrived in the area after pirates abandoned the attack.
The fire was reportedly caused by a rocket propelled grenade (RPG) fired at the accommodation block; the same tactic was used after the failed attack on the MV Brillante Virtuoso in the Gulf of Aden on 6 July, and is likely to be a last resort method to force crew out of safe rooms rather than simple frustration at a failed attack.
Vessel operators should ensure that fire extinguishers, smoke masks and fire safety equipment are well maintained and readily available throughout. First aid points should have ample burn medication, and vessels should ensure there is a wide distribution spread of life-craft in case some are not accessible due to smoke and flames. Fire hose deployment drills and training should be conducted regularly.
Vessel operators should remain vigilant when transiting high risk areas, as piracy incidents are expected to occur further south and east into the Indian Ocean as the monsoon season subsides and to ensure that communication lines are kept open in order for crew evacuation to be carried out if required.

Warning that piracy could come south

SAS Mendi sailing from Durban last week, bound for another deployment in the Mozambique Channel on anti-piracy patrol. Picture by Clinton Wyness
The Mozambique Channel is a target for piracy, an analyst has warned during a maritime security seminar held in Pretoria.
Defence analyst Helmoed-Römer Heitman warned that that with both sides of the Mozambique Channel being lightly populated and under policed, it provided an ideal area for pirates to operate. "There is also a lot of shipping moving through the channel," he said.
According to Heitman the danger would come from a different type of pirate to that found further north off Somalia.
Somali pirates, he said, were able to wait for ransoms to be paid because of the political situation in their country where there was no effective government.
Pirates operating in the Mozambique Channel however, would probably not hold a crew for ransom, but would kill them, loot the ship and then sink it. Heitman said that local government response should be one of pre-empting piracy in the region by improving the economic situation of local communities – in this instance people living in northern Mozambique and in Madagascar.
He said that SADC countries should address the issues that would arise from hot pursuit operations involving the crossing of territorial waters, as well as the legal framework for arresting and charging pirates they might capture.
The only SADC country with the wherewithal to carry out anti piracy patrols in this region is South Africa, which has already established a naval and air force presence in the channel. As realistic prospects for economic improvements in the region are unlikely in the short or even medium term, the military presence of the South African Defence Force can be expected to be a long one – Ports & Ships

Safe delivery of aid cargo to Bossasso
The German frigate FGS BAYERN, part of the Operation Atalanta counter-piracy mission off the Horn of Africa, has recently escorted the merchant vessel SEA MASTER I safely into the port of Bossasso on the northern coast of Somalia, reports EU NAVFOR, the European Union naval presence in the region.
The ship was loaded with humanitarian-aid as part of the World Food Programme aid to those in need in Somalia and her cargo consisted of several thousand tons of urgently needed food, including sorghum and vegetable oil.
EU NAVFOR Somalia is a counter-piracy taskforce operating in the area of the Gulf of Aden and the Indian Ocean responsible for deterring, preventing and repressing acts of piracy, for the safe escort of ships carrying humanitarian aid of the World Food Program and vessels of African Union Mission in Somalia (AMISOM) and to protect other vulnerable vessels. Additionally, EU NAVFOR also monitors fishing activity off the coast of Somalia.
Pirated ship released
The Vietnamese owned, Mongolian-flagged bulk carrier HOANG SON SUN has been released from pirate control after more than 240 days in captivity and was reported as underway to a safe port.
The ship has a Vietnamese crew of 24 and was seized approximately 520 nautical miles South East of the port of Muscat in Oman. The vessel was not registered with MSC(HOA) nor was it reporting to UKMTO at the time of its capture.
News continues below…

TPT SAYS DCT RECOVERY PLAN IS ON TRACK
Transnet Port Terminals has responded to criticism in the media, including PORTS & SHIPS, of recent delays at the Durban Container Terminal which have cause massive road congestion problems outside the terminal and delays to ship working. The following article was received from TPT on Thursday 22 September and is published in full without comment.
PORTS & SHIPS may respond with customer reaction and opinion in Monday's News Bulletin. Readers views are welcome and may be emailed to info@ports.co.za.

Transnet Port Terminals (TPT) responded quickly to keep freight disruptions at a minimum at Pier 2, Durban Container Terminal (DCT). The delays occurred after an unplanned downtime of the computerised operating system, NAVIS, early on Wednesday 14 September. By mid-afternoon, of the same day, the system was operational again.
The source of the challenge was identified as a communication failure between the two operating sides of the NAVIS software.
DCT Terminal Executive, Hector Danisa, says customers and industry stakeholders were immediately informed of the situation, through SMS messaging and email.
NAVIS is a reputable operating system used successfully internationally. It has been launched at all TPT operated container terminals and was rolled out at Pier 2 in April 2011. System users were trained extensively, however some Operator Lifting Equipment (OLEs) still had trouble with the transition. In addition functional challenges surfaced, these included straddle sarriers that were not receiving moves resulting in two minutes for the message to reach the equipment.
This manifested in yard congestion, which saw the stack occupancy increasing to 74% against a norm of 65%.
Another performance measure that was affected following the NAVIS launch is Ship Working Hour (SWH), which refers to the number of containers that have been moved by the number of cranes working on the vessel in one hour. It is a key performance indicator for customers.
Pier 2's SWH dropped from 63 moves in March to 44 moves in April 2011 against a target of 68 moves.
To address these teething problems, Transnet Port Terminals has recalled the supplier to the country to oversee the terminal's recovery plans and address the root causes behind these outages.
Subsequently, the straddle carrier awaiting moves has been reduced from two minutes to 76 seconds in July and even further in September to an average of 20 seconds. This recovery enables the straddle carriers to efficiently support the cranes with discharging vessels, resulting in a gradual improvement of Gross Cranes Moves per Hour (GCH). GCH had dropped to 18GCH post NAVIS launch and is now averaging at 22GCH. GCH is the common measure of productivity in the container handling business, which requires fast and efficient movement of containers by crane operators to reduce the overall cost of doing business.
Transnet's target for Pier 2 is 28GCH. Furthermore, the terminal's SWH has improved to an averaging of 54 moves.
A need for further training has been identified for Equipment Controller and Ship Planners. These resources are now deployed for manual intervention when the system presents challenges. The terminal's stack occupancy has since been reduced to 63% in September and allows more fluidity.
These, and other, recovery initiatives have produced some improvement in productivity levels of Pier 2. The main objective is to stabilize the business by improving productivity to the levels that were realised prior to the NAVIS launch, and ultimately grow the business. However, due to the dynamic nature of the Pier 2 business specific focus is still required to reach the performance targets and meet customer expectations.
Other initiatives include a Pre-Advice system for both Pier 1 and Pier 2 that will be rolled out in a phased approach from October 2011. This new process will improve the administration of trucks by the terminal and therefore improve the flow of traffic.
The follow-up to this project will be a Truck Booking system, planned for rollout in 2012, which as the name suggests will release containers to the truckers based on an appointment process, further enhancing the flow in the terminal.
FOUR CHARGED OVER ZANZIBAR FERRY DISASTER
Four charged over Zanzibar ferry disaster

Spice Islander being towed in the Indian Ocean in 2007 by the USS STOUT, after the ferry developed engine trouble. Picture US Navy
Four people involved with the ill-fated ferry SPICE ISLANDER that capsized and sank while crossing from Zanzibar to the island of Pemba in Tanzania have been charged in a Tanzanian High Court of having caused the death of more than 200 passengers.
The four who were not asked to plead include the captain of the ferry Spice Islander, Capt. Abdallah Kinyanyite, 58, who was not in court and was charged in absentia. Capt. Kinyanyite has not been seen since the sinking.
The others charged were Yusuf Suleiman Jussa, 47, reported as being one of the owners of the vessel, the ferry's first officer, Abdallah Mohamed Ali, 30, and an official of the Zanzibar Ports Authority in charge of passenger inspection, Silima Nyange Silima, 27.
The three were remanded in custody until the next appearance which is due next week. Bail was denied.
According to reports the ferry was badly overloaded with both passengers and cargo when she left Zanzibar for Pemba. She sank in waters up to 250m deep. South African Navy divers sent to assist have had to abandon their attempts of recovering bodies and searching for clues as to why the ferry capsized and sank because they lack suitable equipment for such deep water. source – The Citizen, Dar es Salaam
PICS OF THE DAY – FGS SACHSEN F219 and HMS EDINBURGH D97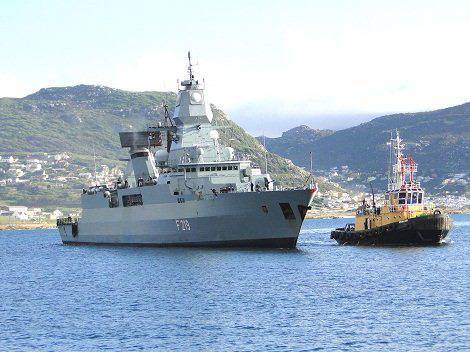 The German Navy frigate FGS SACHSEN F219 which has been using the South African Naval Base as a facility from which to operate while undertaking missile testing in the Overberg missile range, is seen in this picture arriving outside the base, with the navy tug UMALUSI in attendance. Picture by Bob Johnston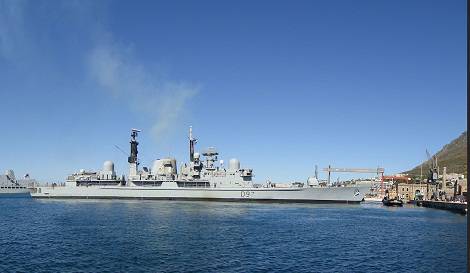 The Royal Navy destroyer HMS EDINBURGH D97, which has been on deployment in the South Atlantic for a number of months, recently visited Simon's Town prior to returning to the United Kingdom. The destroyer's journey home won't be the shortest most direct route, but goes via the Falkland Islands, then along the west coast of South America and through the Panama Canal to cross the North Atlantic and finally Britain. Picture by Bob Johnston
Don't forget to send us your news and press releases for inclusion in the News Bulletins. Shipping related pictures submitted by readers are always welcome – please email to info@ports.co.za
Did you know that Ports & Ships lists ship movements for all southern African ports between Walvis Bay on the West Coast and Mombasa on the East Coast?
TABLE BAY UNDERWAY SHIPPING
SHIP PHOTOGRAPHERS
Colour photographs and slides for sale of a variety of ships.

Thousands of items listed featuring famous passenger liners of the past to cruise ships of today, freighters, container vessels, tankers, bulkers, naval and research vessels.
P O BOX 809, CAPE TOWN, 8000, SOUTH AFRICA
snai@worldonline.co.za
http://home.worldonline.co.za/~snai
South Africa's most comprehensive Directory of Maritime Services is now listed on this site. Please check if your company is included. To sign up for a free listing contact info@ports.co.za or register online
Looking for help? Try our MARITIME SERVICES DIRECTORY CLICK HERE