Ports & Ships Maritime News
13 September 2011
Author: Terry Hutson
Improve your branding with your banner on this site and tap into our large readership - contact info@ports.co.za
TODAY'S BULLETIN OF MARITIME NEWS
Click on headline to go direct to story – use the BACK key to return
SEND NEWS REPORTS AND PRESS RELEASES TO info@ports.co.za
News continues below...

FIRST VIEW – BOW VICTOR
Odfjell's ageing products tanker BOW VICTOR (33,000-dwt, built 1986) seen sailing from Durban's Maydon Wharf yesterday. Picture by Terry Hutson
News continues below…

TANZANIAN FERRY DISASTER – DEATH TOLL MOUNTS
BBC/IFWtv You-Tube clip of an interview with Captain Neels van Eijk of Whirlwind Aviation, who was involved in the search for survivors of the weekend capsizing of the ferry Spice Islander CLICK HERE TO WATCH
The death toll in the Zanzibar ferry disaster has risen beyond 200 and may end up double that with the news that the ferry SPICE ISLANDER (836-gt, built 1967) was heavily overloaded with perhaps as many as 1200 people on board, in addition to tons of cargo packed into the ship. Spice Islander is certified to carry 645 passengers and 45 crew.
The RoRo ferry entered service in Greece in 1967 and was then named MARIANNA, changing names in 1988 to APOSTOLOS P. In 2007 the ferry changed hands again, this time to a Honduran company when she was renamed SPICE ISLANDER. The ferry regularly carried passengers and cargo among the Tanzanian islands.
Bodies recovered so far have been taken to a nearby soccer stadium on the mainland which is acting as a temporary morgue. It is believed that most if not all the passengers were local people including many who were returning home after the Eid and school holidays. Many of the passengers were children.
A team of South African Navy divers and a Defence Force medical team arrived in Zanzibar on Sunday night, after having been flown from South Africa in an Air Force C-130. They will assist in the recovery of body operations from the sunken vessel. The team consists of 11 navy specialist divers, four medical personnel aided by a range of highly specialised equipment including a diving chamber to assist in the operations.
"The President, who is the Commander-in-Chief, has ordered that the SANDF must do everything possible to help the Tanzanian Defence Force to recover all the bodies and to provide any other assistance required. We are ready to do so and the SANDF is very capable and has all necessary skills and equipment, we are always ready," Lindiwe Sisulu, the South African Minister of Defence said.
Meanwhile, the navy frigate SAS MENDI has been placed on alert to assist with salvage and recovery operations. SAS Mendi is scheduled to replace SAS Amatola on rotation on anti-piracy patrol in northern Mozambique and Tanzanian waters. SAS Amatola is expected back in South African waters and possibly Durban within the next day or so. Another navy ship, the combat support vessel SAS DRAKENSBERG is thought also to be heading for Dar es Salaam on an official visit, although the ship could take part in the recovery operations.

Spice Islander being towed in the Indian Ocean by the USS STOUT in 2007. Picture US Navy
News continues below…

DAILY MAERSK – A GIANT CONVEYOR BELT BETWEEN ASIA AND NORTHERN EUROPE

Maersk Brownsville. Picture by Trevor Jones
Earlier this year the Maersk Line's chief executive challenged the shipping world to find new ways of doing business, in the same way that the advent of containers had revolutionised shipping some 50 years earlier.
Yesterday the company took another step towards meeting its own challenge, by announcing that it was introducing 'absolute reliability' with a daily service on its Asia- North Europe trade lane, which it said will dramatically change the way shipping is done.
Containerised cargo, said Maersk, will now be delivered with unprecedented frequency and reliability. "Up until now, customers have had to adjust their production schedules and supply chains to accommodate shipping lines' unreliability, as they have never been able to trust their cargo will be on time. "Not anymore. The engine behind Daily Maersk is 70 vessels operating a daily service between four ports in Asia (Ningbo, Shanghai, Yantian and Tanjung Pelepas) and three ports in Europe (Felixstowe, Rotterdam and Bremerhaven)."
Maersk described this daily shipping service as akin to a giant ocean conveyor belt for the world's busiest trade lane.
"Regardless of which of the four Asian ports the cargo is loaded at, the transportation time, from cut-off to cargo availability is fixed. Daily cut-offs meant that cargo can be shipped immediately after production without the need for storage."
Maersk Line says it promises that cargo at the other end will be available for pick up on the agreed date.
"To underline that Maersk Line means business and how firmly the company believes in Daily Maersk, the promise is backed with monetary compensation, should customers' containers not arrive on time. This promise is a first in the shipping industry," Maersk said.
"We set out to design a service that takes the stress out of our customers' lives, to change shipping from the weakest to the strongest link in the supply chain. After all, shipping is only around two percent of our customers' total cost. And yet our unreliability has until now forced them to shape their production plans and inventory around it," said Maersk Line CEO, Eivind Kolding.
He said that today, shipping creates anxiety, not boredom. As a general rule, shipping lines serving the Asia-North Europe trade are unreliable, in effect providing customers with an uncontrollable conveyor belt, said Kolding.
44% of all containers are late. 11% are more than two days late – and even as much as 8% are more than eight days late.
"The lack of on-time delivery costs our customers large sums of money because it makes shipping more of an art than a science. Companies have to make up for an unreliable supply chain; they are forced to build a buffer in their supply chains and lose income when goods are not on time," Kolding said.
News continues below...

ADDED CAPACITY AT PE CAR TERMINAL PAYS OFF
Transnet Port Terminals (TPT) has added capacity at the Port Elizabeth Car Terminal costing R4 million that has enable the handling of an all time high number of fully built units in August 2011.
During August the Port Elizabeth Car Terminal handled 17,445 at a sterling performance rate of 200 units per hour. During the same period of 2010, 15,503 units were handled which reflects a year-on-year improvement of 14 percent.
When comparing year to date figures against a backdrop of the previous year, an increase of 11% has been realised, with 74,239 fully built units handled compared to 66,539 during the same period last year.
TPT says the increase in volumes is mainly attributed to the growing market demands, which means the confidence in the market is improving. The increase has been realised in both import and export volumes. The performance of the terminal was averaging 170 units per hour for the last three months, which is an 18% increase for August.
"This has been testimony that the Eastern Cape is indeed an automotive hub and TPT is pleased with the contribution it is making to the economy of the country and that of the Eastern Cape. The creation of capacity ahead of demand at the car terminal has come in handy when the high volumes reached our shores," says Siyabulela Mhlaluka, Terminal Executive Manager, Eastern Cape Terminals.
The Port Elizabeth car terminal can now house up to 5,000 fully built units with an option of using another 1,500 during off-peak season. A new staging area was part of the project to improve the traffic flow in the dispatching area.
"The higher performance has been enhanced by the collaborative effort from all key stakeholders. This includes joint operations and vessel planning, utilisation of additional resources like handheld terminals, as well as the great dispatching strategy between TPT and the clients," says Dries Gouws, Terminal Operations Manager.
See our related story Focus on PE as auto sector revs up
News continues below…

NAVAL NEWS: GERMAN NAVY TO FIRE MISSILES OFF SA COAST
The two German Navy frigates that have been at the Simon's Town Naval Base for the past week have left port and over the next few days will be conducting a missile firing exercise off the southern Cape.
The two ships, FGS SACHSEN F219 and FGS SCHLESWIG-HOLSTEIN F216 are in South African waters to conduct the exercise under the codename 'Missile Firing Exercise F 124 – 2011' and will be making use of the Overberg Test Range. This is one of a few suitable locations worldwide, allowing for the firing of live missiles while also being able to monitor and track the missiles for analysis purposes and enabling the German Navy to gather data and information about the precision of the missiles fired.
No South African naval units will be joining in the exercise. Acknowledgements to Volker Ruthner/Brazil and 'Seagull' for information.

French Naval ship visits Republic of Congo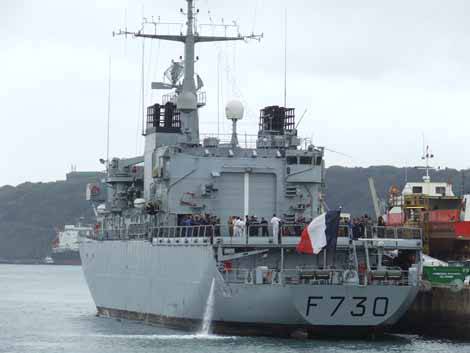 FS Floreal at Durban's Salisbury Island Naval Station. Picture by Terry Hutson
The French patrol frigate FS GERMINAL F735 recently visited Pointe Noire in the Republic of Congo on a courtesy visit, during which the ship's crew carried out both military and community exercises involving the Congo's navy and community personnel.
Training with the Congolese navy involved maritime security, weapons and target detections exercises and diving.
FS Germinal, which was commissioned in 1994 is one of six Floreal class patrol frigates, which are low-cost vessels built to commercial standards and which carry a complement of 99. The ship's armaments consist of two Exocet missiles, a 100mm gun and two 20mm guns, and a single helicopter. The Floreal class of patrol frigates are primarily deployed overseas among the French Dependencies in the Indian and Pacific Oceans where they are engaged in fishery patrols, although more recently in the Indian Ocean a Floreal class vessel has also assisted with anti-piracy work in the Gulf of Aden.

South Africa manufactures own periscopes
Pretoria - South Africa is steadily becoming a leader in the world of technology, with the recently locally-designed periscope set for use in submarines.
A new generation periscope for conventional attack submarines is now being developed and manufactured at Carl Zeiss Optronics in Centurion.
The 12-metre tall periscope is being manufactured in a specifically-designed building, which was officially opened recently by the Chief of the Naval Staff, Rear Admiral Robert Higgs.
The new periscope is designed to offer a price competitive solution for clients who require vital upgrades to their existing fleet of submarines.
The fully-assembled periscope weighs more than 850 kilograms and has a superb direct view optical channel. In addition, the periscope is fitted with an advance gyro stabilising system that enables it to perform optimally in the roughest possible sea conditions.
More than 70 different components of lenses, mirrors and prisms are used in a periscope optical channel.
Speaking at the unveiling of the periscope, Carl Zeiss Optronics CEO Kobus Viljoen said South Africa was one of the few countries in the world with the know-how and advanced manufacturing capacity to produce high-quality periscopes for modern submarines.
Viljoen said that the production of the periscope demonstrated the company's ability to design, develop, manufacture and deliver world class optronics that could be used by navies across the world.
More than 15 South African companies are involved as suppliers of parts and services in the production process, creating more than 100 jobs.
Carl Zeiss Optronics has a long history in the development and manufacturing of periscopes.
Rear Admiral Higgs said Carl Zeiss Optronics' ability to maintain and upgrade the local submarines periscopes ensures that the most advanced technology for fast surveillance and observation remain readily available.
"This will strengthen the capacity of the South African Navy to protect the country's coastline against intruders," he said.
Carl Zeiss Optronics is able to manufacture four to six periscopes per year.- BuaNews
News continues below…

PIRACY: GLOBAL SHIPPING INDUSTRY CALLS FOR ARMED UN FORCE AGAINST SOMALI PIRATES
The global shipping industry (represented by the Round Table of international shipping associations) has called for the establishment of a United Nations force of armed military guards to tackle the piracy crisis in the Indian Ocean, which it says is spiralling out of control.
In a hard hitting letter to UN Secretary-General Ban Ki-Moon, the International Chamber of Shipping (ICS), BIMCO, INTERTANKO and INTERCARGO demand a "bold new strategy" to curb rising levels of piracy which have resulted in the Indian Ocean resembling "the wild west".
The letter states: "It is now abundantly clear to shipping companies that the current situation, whereby control of the Indian Ocean has been ceded to pirates, requires a bold new strategy. To be candid, the current approach is not working."
Regretting the increasing necessity for shipping companies to employ private armed guards to protect crew and ships, the letter continues: "It seems inevitable that lawlessness ashore in Somalia will continue to breed lawlessness at sea."
The shipping industry organisations - which represent more than 90% of the world merchant fleet - say they fully support the UN's long-term measures on shore aimed at helping the Somali people but are concerned that these "may take years, if not decades, to have a meaningful impact on piracy."
Asking the UN to bring the concept of a UN force of armed military guards to the attention of its Security Council, the letter says: "The shipping industry believes that the situation can only be reversed with a bold approach that targets the problem in manageable pieces. We believe that an important element in this approach would be the establishment of a UN Force of Armed Military Guards that can be deployed in small numbers onboard merchant ships. This would be an innovative force in terms of UN peacekeeping activity but it would do much to stabilise the situation, to restrict the growth of unregulated, privately contracted armed security personnel and to allow those UN Member States lacking maritime forces - including those in the region most immediately affected - to make a meaningful contribution in the area of counter- piracy."
FIRE IN DURBAN HARBOUR
A fire on board a barge at Durban's Island View 10 berth last night caused momentary alarm among nearby Bluff residents who heard the alarm sirens and reported having heard a loud bang.
The alarm sirens were the only indication that something was amiss. A spokesman for Transnet National Ports Authority told PORTS & SHIPS that the fire had occurred on a barge belonging to Subtech Diving but had been quickly put out.
Island View berth 10 is usually used for bunkering purposes.
PICS OF THE DAY – SAIPEM FDS
SAIPEM FDS leaves Cape Town harbour for sea trials (above) after undergoing maintenance repairs and an upgrade. The lower picture shows the vessel alongside the quay with the J-lay Tower raised in the pipe-laying position, prior to going for sea trials.
The Saipem FDS is, as the name suggests, a Field Development Ship; a multipurpose dynamic position vessel. This extraordinary and flexible vessel was built in 2001 in Korea by Samsung and is able to lay pipes in a J-lay configuration in water depths from 170m to 2000m. Whist in Cape Town the maintenance work and upgrades included the following:-
Upgrading the J-lay tower system from 440t to 550t of pipe tension; the upgrade of the bulky item laying capacity from 32 to 70t and vessel reinforcements to increase the potential pipelay capability of the FDS to up to 750t of pipe tension.

More than 4000 pieces of steel have been installed on board FDS. For each piece it was necessary to identify the position; to clear obstructions to gain access; to fit, weld, test the weld, paint, and then re-install and if necessary re-route any items removed to gain access.

It has been calculated that the average weight of each piece of steel was 63kg and most of them had to be manouvered into position by hand.

the total weld was estimated to be more than 100km in length.

Once the work was completed the Saipem FDS departed from Cape Town, destination Nigeria for the next operation. Pictures and story by Frank Vennard

Don't forget to send us your news and press releases for inclusion in the News Bulletins. Shipping related pictures submitted by readers are always welcome – please email to info@ports.co.za

Did you know that Ports & Ships lists ship movements for all southern African ports between Walvis Bay on the West Coast and Mombasa on the East Coast?

TABLE BAY UNDERWAY SHIPPING
SHIP PHOTOGRAPHERS
Colour photographs and slides for sale of a variety of ships.

Thousands of items listed featuring famous passenger liners of the past to cruise ships of today, freighters, container vessels, tankers, bulkers, naval and research vessels.

P O BOX 809, CAPE TOWN, 8000, SOUTH AFRICA
snai@worldonline.co.za
http://home.worldonline.co.za/~snai




South Africa's most comprehensive Directory of Maritime Services is now listed on this site. Please check if your company is included. To sign up for a free listing contact info@ports.co.za or register online




Looking for help? Try our MARITIME SERVICES DIRECTORY CLICK HERE
Bringing you shipping, freight, trade and transport related news of interest for Africa since 2002