Ports & Ships Maritime News
5 September 2011
Author: Terry Hutson
Bringing you shipping, freight, trade and transport related news of interest for Africa since 2002
Improve your branding with your banner on this site and tap into our large readership - contact info@ports.co.za
TODAY'S BULLETIN OF MARITIME NEWS
Click on headline to go direct to story – use the BACK key to return
SEND NEWS REPORTS AND PRESS RELEASES TO info@ports.co.za
News continues below...

FIRST VIEW – KOTA ANGGUN
The PIL container ship KOTA ANGGUN (17,652-gt, built 1999) makes her way past Wilson's Wharf on her way to a berth at Durban's Maydon Wharf on Sunday morning. Picture by Trevor Jones
News continues below…

PHOENIX GOES TO WATERY GRAVE AS SELI 1 BELCHES OIL ONTO BEACH

The tugging begins and Phoenix soon began turning towards the sea as two tugs hauled on the cable connecting them to the grounded ship. Once turned and facing east and with the aid of a decent sized swell, the ship came clear of the rocks that have held the tanker captive since July. Picture by Aad Noorland
After almost 40 days of being held firmly on the rocks of Sheffield Beach, the tanker PHOENIX finally came off thanks to the efforts of two tugs, SMIT AMANDLA and SMIT SIYUNDA which pulled her clear shortly after 7am on Saturday morning, 3 August.
As the ship crashed through the swells and breakers the tugs began the haul to a pre-determined position 78km offshore and southeast of Durban where she was to be scuttled in about 2,000m of water.
Altogether the South African Maritime Safety Authority (SAMSA) spent about R35 million on getting the shipwreck off the beach. It had already been decided that the ship had to be scuttled, as a 2m wide gash in her hull in the engine room was considered not repairable at sea (the local ports of Durban and Richards Bay had already refused the ship entry). It was considered doubtful whether the tugs would even be able to get the ship as far as the selected scuttling point and several alternate sites closer inshore were selected in case they were necessary. In the event they weren't.
While the Phoenix drama was playing itself out to a satisfactory ending off the KZN North Coast, the wreck of the bulker SELI 1 off the beach near Bloubergstrand was belching oil into the sea and onto the neighbouring beaches as the ship broke up further.
Seli 1 went aground two years ago after the Turkish bulker, which earlier had loaded a cargo of coal at Durban and was headed for Gibraltar, experienced engine trouble and came to anchor in Table Bay while engineers on board the ship attempted to complete repairs. During heavy seas the ship dragged her anchors and went ashore, resisting subsequent attempts to refloat her.
In a dramatic rescue, members of the NSRI rescued all the crew safely (three NSRI members later received IMO commendations at a ceremony held in London – see that report NSRI coxswain and crew honoured by IMO). Use your BACK BUTTON to return to this page.
It is not clear how much oil remains in the Seli 1 and how much has been spilled. Local authorities immediately went to work to clear up the beaches.

The wreck of Seli 1 (with the drill ship PACIFIC MISTRAL in the background) showing a small amount of oil on the beach. Picture by Pat Downing
News continues below…

COASTWATCH: NSRI ASSISTS ITS OWN OFF HERMANUS
On Sunday (4 September) the NSRI Station 17 at Hermanus was called out to assist with the evacuation of a 19-year old male on board a 12m Bayliner motor vessel named Sweet Caroline 7 who was suffering from severe seasickness and needing to be taken ashore. The Bayliner boat had left Cape Town earlier that day on a delivery voyage to Durban and had on board the owner, Mr Kim Labuschagne of Durban, his two sons of 19 and 23, and three crewmen, one of whom was skippering the boat. The three happened to be Durban NSRI volunteers commissioned privately to deliver the boat to Durban.
In three to four metre swells the 19-year old man became severely ill from motion sickness. "The boat could have come into Hermanus harbor to offload the son but the voyage would have lost valuable time and they wanted to reach Mossel Bay before nightfall so the skipper called his NSRI colleagues in Hermanus and we were happy to launch a rescue craft to rendezvous with them at sea," said Deon Langenhoven, NSRI Hermanus duty coxwain.
NSRI Hermanus launched their rescue boat and rendezvoused with the Durban-bound boat.
"Once on-scene the father and the second son opted to join their family member ashore leaving their three crewmen to get on with the job of delivering their boat to Durban. Once safely at our sea rescue base in Hermanus the 19 year old started to recover and feel better and we have arranged for them accommodation at a local guest house and they will make arrangements to get home tomorrow.
"Their boat has continued on its voyage and they will meet up with their boat once she is safe in Durban's port."

Pipe layer vessel ship arrives for docking in Durban
The Isle of Man-registered pipe laying ship Subsea 7 SEVEN SEAS (18,367-gt, built 2008) has arrived in Durban and gone straight into the dry dock for maintenance and repairs.
The 151m long ship has been designed to perform specialised subsea pipelaying, engineering and construction work in the deepwater oil and gas industries. The ship can operate in waters up to 3,000m deep.
Seven Seas was built in the Merwede Shipyard in the Netherlands.

Save Our Seas to be lengthened by 15m on Sasdock

Save Our Seas on a previous visit to Durban. Picture by Trevor Jones
Southern African Shipyards in Durban seems to specialise in attracting some of the more unusual ship repairs or maintenance jobs. Recently it was a five month refit of the hospital ship AFRICA MERCY and now it is the research vessel SAVE OUR SEAS that is to undergo a 15m stretch to lengthen the vessel.
This is believed to be the first time that a vessel has been 'stretched' in Durban.
Save Our Seas has been a sporadic visitor to Durban in the recent past and appears to be undertaking research along the eastern African coast as far as Cape waters.
We hope to have more details of the ship's stretching in future editions.

Supertanker released from arrest off Durban
A 300,000-dwt supertanker named GC Guangzhou has been released from judicial arrest and allowed to sail after a lengthy court hearing over a presumed association of ownership of the ship.
The tanker was arrested in July and was deemed to have been in association with another tanker on which an arrest order was outstanding. After an initial order was given detaining the ship and a subsequent hearing was heard in the Durban High Court, the judge Mr Justice Ploos van Amstel ruled on Friday 2 September that the association had not been proved and the vessel was ordered to be released.
EAST AFRICA NEWS: COMPLAINTS OF PORT DELAYS BUG TWO PORTS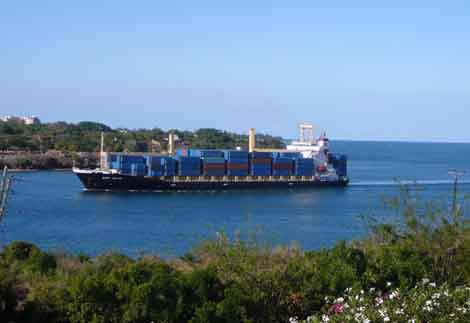 Dredging of the Mombasa Channel is said to be the cause for delays to shipping in Mombasa
Conflicting reports are being received about delays at the ports of Mombasa in Kenya and the Tanzanian port of Dar es Salaam.
News reports from Mombasa state that importers and their cargo handlers are "up in arms" over delays in berthing ships and because of a shortage of stevedores at the port. This they say is leading to shippers switching to Dar es Salaam in Tanzania and resulting in huge losses at the Kenyan port.
The report said that the Kenya Ports Authority had acknowledged the problem saying that dredging of the port for the new container terminal was the cause of the delays to berthing ships.
According to KPA's public relations manager Bernard Osero, a backlog of ships outside the port was the result of three ship-to-shore cranes that were being delivered, holding up other shipping. The vessel carrying the crane occupied the cargo berth for 10 days, he said.
The shortage of stevedores was blamed on a labour dispute between the KPA and the Dock Workers Union, who had been at odds over the provision of private loaders by shipping lines.
In another report it was claimed that one vessel, the CRUX took 27 days to discharge 31,000 tonnes of fertiliser instead of the expected 10 days.

Dar es Salaam also slow – report
In other East African port news, this time from Tanzania, it is being reported that it takes up to three or four weeks to clear cargo from the port of Dar es Salaam and local business are worried that shippers will move their business to other ports in the region.
One businessman said he had moved his cargo clearing to Zanzibar to avoid Dar es Salaam because of the delays. In Zanzibar it only takes two days, he reported.
Another businessman involved in trucking made a comparison between the dwell time for cargo, saying it took between two and four weeks at Dar es Salaam, nine days in Mombasa and only three days in Walvis Bay. He said as a result some traders in Lubumbashi in the DRC were switching to the Namibian port even though it was much further, 3,500km compared with 1,500km to Dar es Salaam.

New Lamu port to begin in December
Kenya's President Mwai Kibaki is expected to commission the start of the new Lamu port construction in December this year, despite the criticism that the project has and is receiving.
The local district commissioner said that the port project would be built at the same time as the new Mokoe Minjila road project. Referring to the port construction he said it would now go ahead without further delays and the future port would consist of between 22 and 25 berths when completed. The area involved for the new harbour has been identified as Hindi Magononi.
Sources The Nation and Guardian
News continues below…

PICS OF THE DAY – PACIFIC VOYAGER
The Isle of Man-registered crude oil supertanker PACIFIC VOYAGER (302,290-dwt, built 2009) made an impressive sight when she stopped in Cape Town whilst in ballast this past week. Pictures by Ian Shiffman
Don't forget to send us your news and press releases for inclusion in the News Bulletins. Shipping related pictures submitted by readers are always welcome – please email to info@ports.co.za
Did you know that Ports & Ships lists ship movements for all southern African ports between Walvis Bay on the West Coast and Mombasa on the East Coast?
TABLE BAY UNDERWAY SHIPPING
SHIP PHOTOGRAPHERS
Colour photographs and slides for sale of a variety of ships.

Thousands of items listed featuring famous passenger liners of the past to cruise ships of today, freighters, container vessels, tankers, bulkers, naval and research vessels.
P O BOX 809, CAPE TOWN, 8000, SOUTH AFRICA
snai@worldonline.co.za
http://home.worldonline.co.za/~snai
South Africa's most comprehensive Directory of Maritime Services is now listed on this site. Please check if your company is included. To sign up for a free listing contact info@ports.co.za or register online
Looking for help? Try our MARITIME SERVICES DIRECTORY CLICK HERE