Ports & Ships Maritime News
17 August, 2011
Author: Terry Hutson
Bringing you shipping, freight, trade and transport related news of interest for Africa since 2002
Improve your branding with your banner on this site and tap into our large readership - contact info@ports.co.za
TODAY'S BULLETIN OF MARITIME NEWS
Click on headline to go direct to story – use the BACK key to return
SEND NEWS REPORTS AND PRESS RELEASES TO info@ports.co.za
News continues below...

FIRST VIEW – PRIDE SOUTH SEAS
The semisub drill rig PRIDE SOUTH SEAS (built Mitsui 1977) was sailed from Cape Town behind the offshore vessel ALDEN J LABORDE (4544-gt, built 2006) after a lengthy occupation of Cape Town harbour, having arrived there in early June 2010 from another lengthy stay of 18 months in Saldanha Bay. In oil-drilling terms the rig was 'cold stacked' in Cape Town, first at the repair quay and later at A-berth, where DCD-Dorbyl Marine readied the rig for a new contract off West Africa, thought to be the Congo – confirmation anyone? Picture by Aad Noorland
News continues below…

ETHIOPIA SET TO IMPORT COAL FROM SOUTH AFRICA

One million tonnes of South African coal is to be shipped north to Ethiopia, according to Addis Abba
The Ethiopian Petroleum Enterprise (EPE) is set to import coal from South Africa as an alternative source of energy for the country's cement manufacturing industry, says a report in the Addis Fortune.
The article says this follows an unsuccessful attempt by the Ethiopian government to acquire pet coke for the country's cement factories, in what was an attempt to reduce foreign spending on heavy fuel oil. It then turned to finding a source for the importation of coal from countries in relatively close proximity and with cost effective prices.
Government also appointed an agency to identify the most appropriate port to handle the importing of large quantities of coal, settling on the port of Djibouti.
The EPE was appointed to handle the importing and distribution, based on its record of importing and distributing liquid petroleum.
The report says that Ethiopia has 12 cement factories possessing the infrastructure to use coal as an alternative energy source.
It says the coal will cost US$207.3 a tonne to deliver to Ethiopia, based on a FOB price of $120 a tonne and sea transport of $65 per tonne. Approximately 900,000 tonnes of coal will be imported during the 2011/12 financial year, which excludes delivery to two of the 12 factories that are not yet ready to burn coal for energy.
"Taking proximity and the existence of port facilities into account, the Port of Djibouti, located 927Km from the capital, was selected. The port has three berths with a maximum width of 12 metres, and the capacity to carry 50,000tn, making the Port of Djibouti a better alternative than the Berbera and Tajura ports in Djibouti, according to the team findings."
The Fortune says that since Djibouti does not have the required facility for unloading the coal, an additional investment of approximately $4.8 million is required for the construction of a coal terminal, based on research conducted by Ethiopia's Derba Midroc Cement Factory.
The team undertaking the research for the project has recommended that Berbera port be considered as a long term prospect. It says Berbera has the capacity to handle one medium sized and three smaller vessels with a capacity of 20,000 tons. - source Addis Fortune
News continues below…

PIRACY: NATO'S NEW WEBSITE; and INDIAN NAVY INTERCEPTS SHIP WITH A MYSTERY
Indian Navy intercepts mystery ship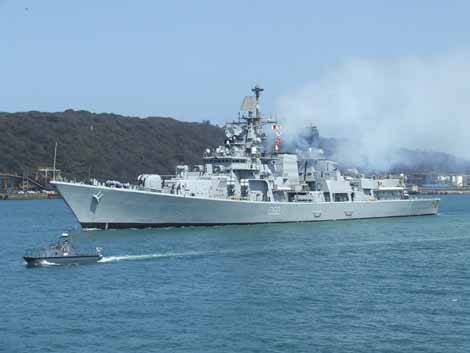 INS Mysore. Picture by Clinton Wyness
Mystery surrounds a small Iranian cargo ship, the NAFIS 1 (498-gt, built 1986) which it is thought had been highjacked earlier by pirates. Nafis 1 was boarded by Indian naval personnel from INS MYSORE about 170 n.miles north-west of Mumbai after having reported a machinery breakdown about three weeks previously. The navy suspects that the ship may have been used for smuggling contraband, possibly arms.
The crew found on board the vessel were five Yemenis, two Tanzanians, a Kenyan and a Somali. All possessed automatic weapons. It is not known what happened to the original crew or even whether some of those found on board the vessel are part of the original crew. All have been taken aboard the Mysore for questioning and will be transferred to Porbander in Gujarat.
According to the navy the men have given conflicting stories about themselves and the ship.

New NATO website for Shipping Community
A new, improved NATO Shipping Centre (NSC) website has gone live providing more comprehensive and timely information about pirate activity around the Horn of Africa for the shipping community.
Having received a briefing on the news website, the Commander of MC Northwood, Admiral Sir Trevor Soar KCB OBE said;
"Piracy is a serious threat for the shipping community and anything that can be done to deal with and overcome this issue is to be welcomed. The NATO Shipping Centre has listened to their users and responded to their needs with a new, more interactive and relevant website demonstrating that NATO and the shipping community are working together to tackle the scourge of piracy."
Over the past few months, new products have been developed specifically for the website with the aim of ensuring that the shipping community has relevant information a click away. A new fully scalable map covering the Gulf of Aden, Horn of Africa and Indian Ocean plots the latest pirate attacks allowing vessels to avoid pirate hot spots.
Electronic forms which are easier to complete will allow information processing to be quicker and surveys will make the site more interactive. The layout of the site has been simplified, giving a more professional structure and layout.
Contact details for the NSC remain the same. The web address is www.shipping.nato.int. The centre can be called on +44(0)1923 956764 or emailed on info@shipping.nato.int
The NSC has been in operation since 2001 and is the Alliance's primary point of contact for commercial shipping. At present, its main focus in NATO's counter piracy mission, Operation Ocean Shield. Since its inception, the NSC has participated in several NATO maritime operations such as Operation Active Endeavour (counter terrorism in the Mediterranean) and Operation Unified Protector off the coast of Libya.

Nato report courtesy Paul Ridgway, London
News continues below...

NIGERIAN PORTS ENJOY GOOD HALF YEAR
Nigerian ports have reported higher cargo handling for the first six months of 2011, compared with the previous year.
In the first six months of this year total cargo handled increased by 10.17%, reaching 40.653 million tonnes.
During the period full container volumes increased by an impressive 26.6% reaching 380,114 TEU. Empty containers rose 30.4% to 265,827 TEU, giving a combined total of 645,941 TEU.
Breakbulk cargo increased by 5.79% to 6.712 million tonnes, while dry bulk cargo rose 13.06% to reach 6.627mt. The balance is made up of liquid bulk cargo.
2010 Nigerian Port Statistics
The cargo throughput handled in the Nigerian ports in 2010 increased from 66,908,322 metric tonnes in 2009 to 74,910,284 metric tonnes in 2010 indicating a 12% increase, reports the Nigerian Ports Authority.
A breakdown from available statistics shows that Liquefied Natural Gas (LNG) shipment in 2010 stood at 19,369,047 metric tonnes, a growth of 40.7% over the 13,766,855 metric tonnes figure in 2009.
General cargo shipment in 2010 increased from 8,196,251 metric tonnes in 2009 to 9,047,030 metric tonnes reflecting a 10.4% increase. However a marginal drop of 10% was recorded in Dry Bulk Cargo which reduced from 11,985,383 metric tonnes in 2009 to 11,858,121 metric tonnes in 2010.
The total Refined Petroleum Shipment was 18,047,842 metric tonnes in 2010 an increase of 3.9% over the 2009 figure of 17,365,247 metric tons.
The Laden Container throughput was 668,697 TEU's in 2010, a growth of 8.8% as against 614,538 TEU's in 2009 while empty container throughput stood at 459,474 TEU's, an increase of 19.4% over the 2009 figure of 384,915 TEU's.
Motor vehicle traffic stood at 187,635 units, a rise of 16.3% over the 2009 figure of 161,396 units.
Crude oil shipment stood at 105,839,032 metric tons an increase of 41% over the 101,622,957 metric tons over the 2009 figure.
The NPA said the increase in cargo throughput witnessed in the year under review is a reflection of the regular dredging/maintenance of the channels embarked upon by the management in conjunction with the authority's Joint venture partners.
This development allowed for bigger draught vessels with large volume of cargo into Nigerian Ports.
Other performance indicators also reflected a significant improvement in operational activities. The average turn around time of the vessels for all the ports was 5.9 days compared with 6.7 days in 2009 while the average waiting time of vessels in all ports was 27.4 hours in 2010 compared with 50.4 hours in 2009.
In the same vein dollar revenue generated and collected stood at $592.2 million showing an increase of 15.3% over 2009 and $457.8 million a growth of 9.8% over 2009 respectively. – source Nigerian Ports Authority
News continues below…

SADC COUNTRIES TOLD TO ADOPT MARITIME SECURITY REINFORCEMENT MEASURES
Luanda — Southern Africa Development Community (SADC) countries need to combine their efforts to strengthen maritime security in the region.
This was said in Luanda at the weekend by the Mozambican defence minister, Filipe Nyusse.
The Mozambican minister was speaking to ANGOP at Luanda's 4 de Fevereiro International Airport, on arrival to attend the SADC Defence and Security council meeting which began on Sunday (14 August).
He added that there is also need for the countries of the region to have control of their own security, especially at sea.
The minister said that SADC will examine the situation of maritime security and illegal immigration, humans trafficking and other issues.
"Today, we have been facing the pirate phenomenon, mainly on the Indian ocean, mainly near Somalia, and we will discuss strategies, common efforts, common forces, common resources to overcome this problem," he said.
Questioned about the Mozambican reality regarding piracy and illegal immigration, Filipe Nyusse said no country is free from the phenomenon, as this can happen at any time and in any nation.
For that very reason, he said, during the participants at the SADC meeting will discuss maritime security as this issue is associated with many subjects, rather than the pirate phenomenon alone.
Speaking about cooperation with Angola in the military sector, Filipe Nyusse considered this as excellent, saying there are Mozambican students (armed forces officers) training in Angolan military academies.
"We have frequent meetings, share of information. The Angolan Defence minister, Cândido Van-Dúnem, recently paid a visit to Mozambique and the Armed Forces Staff of both nations have been in permanent contact," he said.
SADC is made up of 15 member states: they are Angola, South Africa, Botswana, Mauritius, Lesotho, Malawi, Madagascar, Mozambique, Namibia, DR Congo, Swaziland, Tanzania, Zambia, Seychelles and Zimbabwe. – source Angop
News continues below…

NAVAL NEWS – US WARSHIP VISITS DAR ES SALAAM; AND CHINESE AIRCRAFT CARRIER GOES TO SEA
The US Navy frigate USS SAMUEL B ROBERTS (FFG-58) earlier this month completed a visit to the Tanzania port of Dar es Salaam during which a five-day course on marine security and other related subjects was conducted as part of the Africa Partnership Station training programme.
On board the American ship were instructors from the US and Danish navies. They trained Tanzanian students in various techniques such as search and rescue planning, small boat operations, maritime intelligence, and fishery control measures.

Chinese aircraft carrier SHI LANG goes to sea on trials

PLANavy Shi Lang on sea trials
Contrary to our report of yesterday, the Chinese aircraft carrier is now reported to have gone to sea last week Wednesday to undergo sea trials. We haven't been able to independently confirm this but according to the Chinese Xinhua news agency, the ship left the Dalian shipyard in northeast Liaoning province on Wednesday morning to commence its sea trials.
"Military sources said that the first sea trial was in line with the schedule of the carrier refitting project and would not take a long time," the agency said.
PICS OF THE DAY – COSTA ATLANTICA and VENTURA
A couple more pictures from Trevor Jones' recent visit to Europe. The first shows Costa Cruises' 2,100-passenger COSTA ATLANTICA easing up to her berth in Warnemuende in near-ideal weather. Picture by Trevor Jones
"This was a location I was keen to try out and also quite pleased with the results," says Trevor Jones, referring to his recent European visit. "Here is P&O's VENTURA sailing from Bergen, and passing under the Askoy Bridge. Attractive setting, but it could have been more attractive. I was disappointed to find that the far more interesting Hurtigruten passenger do not normally go under the bridges." Picture by Trevor Jones
Don't forget to send us your news and press releases for inclusion in the News Bulletins. Shipping related pictures submitted by readers are always welcome – please email to info@ports.co.za
Did you know that Ports & Ships lists ship movements for all southern African ports between Walvis Bay on the West Coast and Mombasa on the East Coast?
TABLE BAY UNDERWAY SHIPPING
SHIP PHOTOGRAPHERS
Colour photographs and slides for sale of a variety of ships.

Thousands of items listed featuring famous passenger liners of the past to cruise ships of today, freighters, container vessels, tankers, bulkers, naval and research vessels.
P O BOX 809, CAPE TOWN, 8000, SOUTH AFRICA
snai@worldonline.co.za
http://home.worldonline.co.za/~snai
South Africa's most comprehensive Directory of Maritime Services is now listed on this site. Please check if your company is included. To sign up for a free listing contact info@ports.co.za or register online
Looking for help? Try our MARITIME SERVICES DIRECTORY CLICK HERE