Ports & Ships Maritime News
11 August 2011
Author: Terry Hutson
Bringing you shipping, freight, trade and transport related news of interest for Africa since 2002
Improve your branding with your banner on this site and tap into our large readership - contact info@ports.co.za
TODAY'S BULLETIN OF MARITIME NEWS
Click on headline to go direct to story – use the BACK key to return
SEND NEWS REPORTS AND PRESS RELEASES TO info@ports.co.za
News continues below...

FIRST VIEW – SEASAFE SALVO
The Brunei-owned utility vessel SEASAFE SALVO (2042-gt, built 2010), in Cape Town harbour. Picture by Ian Shiffman
News continues below…

FIRST VALE COAL ARRIVES AT PORT OF BEIRA
The first shipment of coal mined by Vale Moçambique in Moatize, in Mozambique's Tete province, arrived on Monday this week at the port of Beira. All 2,700 tons was carried by a train made up of 42 wagons and hauled by three locomotives, Mozambican newspaper Notícias reported.
The coal was to be unloaded over 48 hours and will remain in the open air at the port's coal terminal until, with the arrival of other loads, its reaches a total of 50,000 tons, when it will be exported.
According to the chairman of state port and rail company Portos e Caminhos de Ferro de Moçambique, Rosário Mualeia, the train will take 24 hours to return to Moatize to be loaded once again.
Mualeia said the first train arrived a little late, as it had left Moatize at 8 pm on Sunday and arrived at the port of Beira after 6 pm on Monday, travelling at a speed of around 65 kilometres per hour.
He said the first export of coal from Tete is expected to take place on 28 August and will be sent to the Brazilian, Indian, Japanese and South African markets.
For now, procedures are underway to prepare for exports, and initially the ships will carry between 50,000 and 60,000 tons of coal. By November the coal wharf at the port of Beira is due to be fully operational. (source: macauhub)
News continues below…

DHL INTRODUCES DIRECT LCL SERVICE BETWEEN NEW YORK CITY AND DURBAN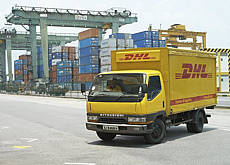 DHL, one of the world's leading logistics companies has announced it is now offering a new direct Less than Container Load (LCL) service from New York City to Durban, South Africa.
This service will serve as a gateway for US customers interested in breaking into the African market with the option of transporting small amounts of cargo. The LCL weekly service schedule that went into effect on 23 June, 2011 has sailings every Thursday from New York City.
The service allows South African importers and US exporters to ship cargo to and from New York City directly, rather than routing via Europe. This weekly guaranteed service will reduce transit times, freight costs and carbon footprint, ultimately benefiting customers interested in growing their business in the African market. Customers can now target Durban, Cape Town, Port Elizabeth, Johannesburg and Pretoria in South Africa, Gaborone in Botswana, Maputo, Beira & Nacala in Mozambique, Harare in Zimbabwe, Lusaka in Zambia, Port Louis in Mauritius, Maseru in Lesotho, Manzini in Swaziland, Luderitz and Walvis Bay in Namibia, Luanda and Cabinda in Angola and Matadi in Democratic Republic of Congo (DRC).
"Trade increase between the US and Africa is on the rise," said Amadou Diallo, DHL Global Forwarding CEO for Africa and South Asia Pacific. "According to the International Trade Administration, in the first quarter of this year US exports to Sub Saharan Africa increased by 30 percent compared with the same period last year. DHL Global Forwarding definitely sees potential in the US-Africa trade lane."
The Port of Durban handled over 74 million tons of cargo during the 2008/2009 fiscal year, with some of its main commodities including containers, motor vehicles, grain, metals, minerals, and oil and petroleum products, among others.
According to Joseph Oguta, Director of Ocean Freight and Head of LCL Management Africa, "Durban is the largest container terminal in the Southern Hemisphere, and is the ideal gateway for US customers interested in breaking into the African market with the option of transporting small amounts of cargo."
Marc Meier, Senior Vice President, Ocean Freight & Head of Global LCL, DHL Global Forwarding, said, "DHL currently operates the world's largest LCL network with close to 2,000,000 cubic metres of LCL freight handled annually via 45,000 point-pairs. As America aims at doubling its exports over the next few years, DHL is in prime position to help our US customers reach farther internationally, and with this new service, help them trade with Africa more easily and efficiently." As a global leader in LCL, DHL carries more than 97 percent of its total volumes in house. The in-house systems and strong global network enables the control of cargo flow, information flow, speed, accuracy, cost efficiency and reliability. Going beyond port to port, DHL LCL service also offers a complete end-to-end supply chain management that includes pick-up at origin, consolidation and deconsolidation, delivery at destination and customs clearance.
All LCL services are accompanied by DHL's first-class IT solutions such as DHL Track & Trace and other tools to allow full visibility throughout the whole supply chain. For complete peace of mind, DHL also provides insurance services to customers as a value-added service. DHL's Shippers Interest Insurance (SII) covers losses or damages of all cargo transported by DHL, as well as transportation costs.
News continues below...

NEWS OF SHIPS AND SHIPPING LINES
MSC introduces peak season surcharges Asia to South Africa

MSC CARLA (35,953-gt, built 1986) in Cape Town harbour. Picture by Ian Shiffman
Mediterranean Shipping Company (MSC) says it will be introducing peak season surcharges on cargo shipped from Asia to South Africa as from 15 August 2011.
The Asia-South Africa surcharge is US$150 per 20-foot container and $300 per 40-foot or 40-foot high cube container.

Second Cosco ship arrested
What is believed to be the second COSCO Holdings Co ship to be arrested in a month has been detained in Louisiana, USA. The arrest came about as shipowners chase overdue payments from China's largest shipping firm.
The vessel, the JIA LI HAI was attached as Classic Maritime Inc seeks US$2.7 million in fees and costs from Cosco's Cosco Bulk Carrier Co. A US judge signed the warrant on 3 August.
This follows another arrest made in Singapore a month ago in a case brought by Arlen Maritime Co which was seeking $8.58 million, according to Singapore court documents.
The dispute is a result of a drop in freight rates on vessels on long-term charter to Cosco. Cosco was paying $87,000 a day for the vessel involved in the Singapore case, before the sudden and dramatic drop in rates. This is said to be about eight times the current rate.
The matter is not being seen as an indication of Cosco being in any sort of financial trouble, but rather a dubious business practice whereby it no longer wants to continue paying the higher rates of its long-term charters. The Chinese shipping giant has described this as "pure business behavior" and is said to be trying to renegotiate its charters.
Another vessel, believed to be Chinese-owned although registered in Singapore, the 305,839-dwt crude oil tanker GC GUANGZHOU (built 1999) is reported to have been detained off Durban since last month.

Evergreen combines with MOL on Southern Africa service
Evergreen Line has joined with Mitsui OSK Lines (MOL) in a slot-charter agreement linking Asia to Southeast Africa.
The weekly Mozambique Zuid Africa Express (MZX) service departs Tanjung Pelepas today (11 August) and is the first of five ships on the 35-day transit.
Port rotation is Tanjung Pelepas - Singapore - Port Louis - Durban - Maputo - Tanjung Pelepas.
News continues below…

CHANGES TO WALVIS BAY ENTRANCE CHANNEL AND ANCHORAGE
Walvis Bay entrance channel and anchorage changes
The port captain of Walvis Bay, Capt. Mussa Mandia advises that ships can now anchor in the new anchorage area # 1 as indicated on the chart no.2611 SAN 1001. The area falls within the following coordinates: : Lat 22˚48.7' S -22˚ 51.36' S and between Long. 014˚ 30.4' E- 014˚ 31.1' E.
The depth in this area is between -17m to -22m Chart Datum.
The port captain also advises of a change in the pilot boarding station and anchorage area no.1 with immediate effect.
The maintained dredged depth in the Port of Walvis Bay has been increased from -12.8m CD to -14.4m CD and 14.0m CD. Underwater Surveys will give details to SANHO. (South African Navy Hydrography Office).
Buoy no. 18 has been removed and is currently undergoing repairs. It will be installed within a few weeks' time but at a different location, the coordinate of which is given on the attached table.
Four new buoys have been installed in the extreme outer channel. These are buoys no. A, B, C, and D.
Previously called Buoy's No. A and B is now renamed E and F respectively.
The fairway buoy has been moved further north to a new position of which the coordinates are shown on the attached drawing.
The position of Anchorage area no.1 and 2 has been changed. See attached drawing, depicting the changes in anchorage areas.
Acknowledgements to Paul van der Merwe of Walvis Bay Diving for providing above information.

Improvements to West Africa Container Terminal, Onne
Improvements in growth are being recorded at the West Africa Container Terminal at Onne, which serves Eastern Nigeria and the Port Harcourt region in particular. Since 2007 and following a strong commercial drive volumes handled at the terminal have more than doubled with current indications of another good year during 2011.
The terminal boasts a good safety record with LTI of 0 (zero), with safety being a top priority in terminal operations.
WACT has recently taken delivery of two new Kalmar Reachstackers, which have been able to further improve service delivery.

ICTSI appoints new senior VP and regional head for Africa operations
International Container Terminal Services (ICTSI) has appointed Jens O Floe as senior vice president and regional head of ICTSI's operations and business development in Africa.
Floe comes with a diverse background in shipping and port terminal business with an extended experience in portfolio management including establishing and operating container terminals and ports throughout Europe, Middle East and Africa.
"I'm very excited to join ICTSI. ICTSI is a fast growing organisation with a proven track record for superior solutions for container terminal and port projects in emerging markets. At ICTSI, we have the agility and speed enabling us to provide the tailor-made solutions to the local governments and authorities, ensuring short term results and long term strategy for growth and development," said Floe.
Prior to joining ICTSI, he was the country representative and chief executive officer for AP Moller-Maersk in Angola. He was also the chief executive officer of the Suez Canal Container Terminal from 2007-2010 in Egypt.
Floe holds an Executive MBA from IMD Switzerland. He also completed management and leadership courses at the Wharton School in the University of Pennsylvania in the United States and INSEAD Business School in France.

Nigerian port officials urged to present a good image
Public Relations officials working for Nigeria Ports Authority have been urged to project a good image of themselves and the organisation in both conduct and speech.
Thirty officials drawn from ports in Port Harcourt, Warri, Onne, Calabar and Lagos ports as well as the eastern and western zonal offices attended a three-day workshop on public speaking and efficiency. They were told that the 'era of unfriendliness without consequences' is over and that today's public is more enlightened and demands a better service.
Those attending the seminar were advised to utilise the training sessions as refresher courses and to question the way they have been relating to their various clients. Have they given a good account of themselves and their offices, they were challenged.
News continues below…

HŐEGH TROVE BECOMES FIRST VESSEL EQUIPPED WITH OCEANSAVER BALLAST WATER SYSTEM

Höegh Trooper in Durban. The car carrier was used to test the new ballast water treatment system. Picture by Terry Hutson
OceanSaver, a leading provider of class approved high capacity ballast water treatment (BWT) systems, has announced the successful commissioning of its first fully operational system onboard Höegh Autoliners PCTC (Pure Car Truck Carrier), HŐEGH TROVE.
"Höegh Trove is the first vessel in the world to have a fully operational OceanSaver BWT system. OceanSaver cost-effectively complies with pending IMO Ballast Water Treatment regulations," says Oistein Dahl, President of Höegh Fleet Services and Head of Ship Management at Höegh Autoliners (Höegh).
The global car carrier operator, Höegh has built a strong green brand through its ISO 14001 certification and ongoing eco-friendly initiatives, including scrapping 10 vessels and recycling garbage onboard other ships.
"We are looking for the best systems and products to give us a very green footprint. In addition to carefully evaluating our BWT system, we are replacing any product, from stern tube lube oil and cleaning products to cooling agents and light bulbs, to make our operation as eco-friendly as possible," says Dahl.
With a cargo capacity of 6500 ceu and max speed of 18.6 kts, Höegh Trove is a medium size vessel demanding sizable and easy ballast operations.
The OceanSaver delivery consisted of the supply and installation of two sets first generation ballast systems, each with a treatment capacity of up to 500 m3 /h. Höegh Trove features two C2E disinfectant units, two 50 micron filters and two C3T cavitation units. The system is fully integrated into the existing vessel automation system.
"A retrofit installation is challenging from many points of view for a vessel trading worldwide, but we are happy to see that OceanSaver system works very well. The crew finds the system very easy to operate." says Dahl.
OceanSaver's system is delivered as a complete design, equipment and commissioning package to achieve highly customized retrofit or newbuilding demands, while allowing owners and yards to choose their level of involvement.
"BWT systems are very new to the shipping industry and while some owners want a strong hands-on engagement with our engineers, others choose to delegate, opting for a more remote level of involvement," says Stein Foss, CEO of OceanSaver.
According to Foss, a common ambition with Höegh has been to deliver a simple to operate system with minimal maintenance and operational cost.
"We installed the BWT system at the most convenient location for Höegh and worked in strict compliance with the agreed-on design intent, executing all assembly and testing aspects in absolute highest quality. This is a very user, maintenance friendly system. And a major milestone for OceanSaver and Höegh," says Foss.
The BWT system has been through extensive on board testing before delivery incorporating all experience gathered from a similar system tested on Höegh Trooper since 2005.
"Höegh Trove's BWT system fulfilled all expectations of owners, operators and class society. And its self-explanatory operational system requires minimal on board training to fully operate the system," says Foss.
According to Tor Atle Eiken, Senior Vice President Sales & Marketing at OceanSaver, the industry has responded very favourably to OceanSaver's high-end technology for critical ballast water treatment applications.
"OceanSaver has now signed major contracts for 38 BWT systems thus propelling its position as a key supplier to the global medium to large vessel fleet," he said.
SOUTH AFRICAN CONDOLENCES FOR COMOROS AFTER BOAT ACCIDENT
Pretoria - President Jacob Zuma has conveyed condolences to the Indian Ocean islands of Comoros following a boat accident that killed over 50 people.
Media reports say the boat, carrying over 100 passengers, sank between the islands of Anjouan and Ngazidja in rough seas on Tuesday.
Zuma conveyed his heartfelt condolences to President Ikilillou Dhoinine, saying, "Our thoughts and prayers during this month of Ramadan are with you in this time of mourning and sadness."
Potentially a holiday paradise with picture-postcard beaches, the Comoros islands are no strangers to boat sinking. In 2006, an Al-Mubarak ship flying the Comorian flag sank off the Mahoran coast when it left Madagascar. – BuaNews
PICS OF THE DAY – EMPRESS
Pullmantur's cruise ship EMPRESS (48,563-gt, built 1990, formerly parent company Royal Caribbean's Empress of the Seas) docking in Warnemuende on a fine, sunny morning recently. A tiny bit of fuzz went over the sun when she passed the breakwater, but she then went up the river towards Rostock to turn and come back down towards the passenger terminal, so very easy to photograph in rather excellent conditions. Pictures by Trevor Jones
Don't forget to send us your news and press releases for inclusion in the News Bulletins. Shipping related pictures submitted by readers are always welcome – please email to info@ports.co.za
Did you know that Ports & Ships lists ship movements for all southern African ports between Walvis Bay on the West Coast and Mombasa on the East Coast?
TABLE BAY UNDERWAY SHIPPING
SHIP PHOTOGRAPHERS
Colour photographs and slides for sale of a variety of ships.

Thousands of items listed featuring famous passenger liners of the past to cruise ships of today, freighters, container vessels, tankers, bulkers, naval and research vessels.
P O BOX 809, CAPE TOWN, 8000, SOUTH AFRICA
snai@worldonline.co.za
http://home.worldonline.co.za/~snai
South Africa's most comprehensive Directory of Maritime Services is now listed on this site. Please check if your company is included. To sign up for a free listing contact info@ports.co.za or register online
Looking for help? Try our MARITIME SERVICES DIRECTORY CLICK HERE