Ports & Ships Maritime News
20 July 2011
Author: Terry Hutson
Bringing you shipping, freight, trade and transport related news of interest for Africa since 2002
Improve your branding with your banner on this site and tap into our large readership - contact info@ports.co.za
TODAY'S BULLETIN OF MARITIME NEWS
Click on headline to go direct to story – use the BACK key to return
Looking for help? Try our MARITIME SERVICES DIRECTORY CLICK HERE
News continues below...

FIRST VIEW – PACIFIC SCIROCCO
Several readers have asked about this drill ship which has been outside Cape Town since 25 June 2011. Now thanks to the photographer mentioned below we have a long-range image of her, the PACIFIC SCIROCCO which is en route to Nigeria, and like several others before her is laying up off the Mother City until the appointed time when she is required for duty by the French oil company Total in West Africa.
The newbuild arrived off Cape Town from the Samsung shipyard in South Korea, where she was launched/handed over at the end of March this year. The 228m vessel has a maximum speed of 11.5 knots and displaces 96,000 tonnes. She is designed to operate over water 12,000 feet deep (3,657m) and drill to 40,000ft (12,200m). Pacific Scirocco is owned by Pacific Drilling. Picture by Leon van der Westhuizen
News continues below…

LABOUR MINISTER CALLS FOR END TO PETROCHEMICAL STRIKE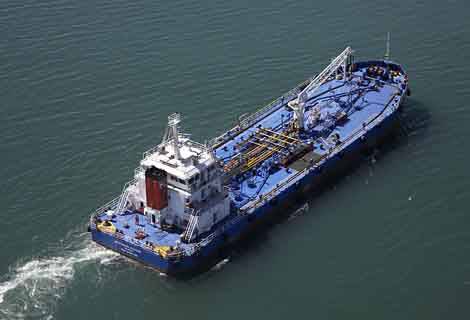 Deliveries of bunker fuel in Cape Town have been restricted since the strike began. Picture by The Aerial Perspective aerialphoto.co.za
Pretoria, 19 July – Labour Minister Mildred Oliphant has urged both labour and business to reach a speedy resolution in the ongoing petrochemical industry strike, saying the industry was critical to South Africa's economy.
"Prolonging the strike is not in the public interest… At the moment, negotiations are between the workers and the private sector. What we're offering as government is that there are structures that the government has, like the CCMA. That is when the government can intervene but we can't just impose ourselves," Oliphant said on Tuesday.
Today, unions took a revised wage offer to members. Workers are demanding minimum wages of R6,000 and transport allowances, among others.
On Monday, unions, including members of the Chemical, Energy, Paper, Printing, Wood and Allied Workers Union (Ceppwawu), held talks with the National Petroleum Employers Association in Johannesburg.
Oliphant emphasised that violent behaviour during strikes was not acceptable, as it undermined collective bargaining.
On labour broking, the minister said the central objective of the current round of amendments to labour legislation was to deal with the increase in the practice. One of the demands of striking employees is an end to labour broking, as it is seen as depriving many workers of basic protection under the labour law.
"It's a key challenge that faces us. It's a challenge that will involve expanding the scope of protection beyond those who are engaged in formal employment relationships," said Oliphant.
In December 2010, the department published bills containing amendments to dispute resolution processes and collective bargaining, among others. The department also seeks to have legal amendments to regulate fixed term contracts, temporary work and the temporary employment agency sector.
Oliphant said government has agreed to extend the timeframe to allow the National Economic Development and Labour Council (Nedlac) to broaden the scope of amendments, including equity and atypical work.
This is expected to be completed at the end of August.
"If not, they will probably request us also to extend, but we believe by the end of the year because that is what we have said … At least by the first quarter of 2012, those bills should be tabled in Parliament," said the minister.
Oliphant said workers who are calling for the end of labour broking in wage talks should separate that from wage issues.
She urged organised labour to inform members of Nedlac of developments.
Additionally, the department will receive R60 million from Treasury that will go towards the training and employment of inspectors to monitor labour brokers.
Nedlac will meet on Thursday with two other meetings scheduled for August. – BuaNews
Bunker deliveries at the port of Cape Town, which relies on supplies from the local Chevron refinery, have been affected although some bunker delivery is being reported.
News continues below…

UAL NEW SERVICE TO EAST AFRICA REVEALED
On Monday we published news of a new shipping service covering East Africa by Universal Africa Lines (UAL) - see that report here HERE. Use your Back Button to return to this page.
Further to that report, UAL advises that as part of it's growth and diversification strategy, the decision was made to offer an extended service to clients and partners by connecting services from the USA, West Africa and South Africa into the East African markets.
"The positive reaction from our client-base when we surveyed our interest in expanding our service to East Africa is a clear indication of the expected growth yields in this market. Given our experience and track-record in West Africa, our entrance into East Africa is the next logistical frontier for UAL," says Angelo Manzoni, Chief Operation Officer for UAL in South Africa.
Manzoni said that UAL will be offering this comprehensive service to fulfil the demands of the ever-increasing oil and gas industry by increasing UAL's footprint into a developing market in East Africa. To launch UAL's first service into East Africa, the multi-purpose vessel UAL CYPRUS will be positioned for Pemba, Mozambique with an eta of 7 August 2011.
UAL Cyprus was built in 2008, flies a Dutch flag and is strengthened for heavy cargoes with a length of 118,55m. The multi-purpose vessel is equipped with dual self-contained cranes capable of loading, carrying and offloading breakbulk, out-of-gauge project cargo, heavy lift and also containers with special cargo (such as reefers) into the most challenging East African destinations.
"Our modern multi-purpose vessels are ideally suited for these kinds of terrains, thus minimising costly delays. The strategy is to return the vessel back into Durban, Cape Town and onto West Africa, subject to cargo levels," says Manzoni.
The port rotation will be Houston (USA) Lobito, Porto Amboim, Luanda, Soyo (Angola) Pointe Noire (Congo) Cape Town, Durban, Pemba (Mozambique) and Mtwara (Tanzania) for September sailing. UAL's flexibility allows them to call on various ports on inducement.
UAL operates with a fleet of 22 modern cargo ships, including feeder vessels, coastal vessels and landing craft. The line has offered a service into West Africa from Europe, the USA and South Africa, specialising in its niche market in the oil and gas industry.

UAL Cyprus which is to inaugurate UAL's new East Africa service – see above
News continues below...

MSC SELLS 5,000-TEU CONTAINER SHIP AND CHARTERS BACK
Mediterranean Shipping Company (MSC) has sold its eight-year old 5,060-TEU MSC LINZIE (54,881-gt, built 2003) to Athens-based Costamere for US$55 million and will time charter her back for 63 months at a daily rate of $28,000. Costamere is financing the purchase with cash from operations and the use of an undrawn credit line.
On delivery to the Greek company between mid August and the end of September the ship will be renamed MSC ROMANOS.
Costamere will also extend charters of another two ships to MSC as well as create new charters for a further two. The ships whose charters are to be extended are as follows:
MSC MYKONOS (52,191-gt, built 1988, 4828-TEU) which has been extended to 1 September 2017 at a daily rate of $20,000
MSC MANDRAKI (52,191-gt, built 1988, 4828-TEU) which has been extended to 1 July 2017 at a daily rate of $20,000
The new charters are:
RENA (37,209-gt, built 1990, 3351-TEU) which has been chartered for five years at a daily rate of $15,000, and
ZAGORA (10,795-gt, built 1995, 1,162-TEU) which has been chartered for an 8-month time charter at a daily rate of $7,000.
The new chartering arrangements, including one other ship to Hapag-Lloyd (AKRITAS, built 1995, 3152-TEU) are worth approximately $181 million of contracted revenues with an average duration of five years.

MSC Emma sold and chartered

MSC Emma. Picture Hamburg Port Images
In another deal Athens-based Box Ships Inc has acquired the 5,060-TEU MSC EMMA (54,881-gt, built 2003) for the amount of $55 million and will charter her to Mediterranean Shipping Company for three years at a daily rate of $28,500. MSC will have an option to re-charter her at the conclusion of the three years at the same rate for an additional one year.
Box Ships chairman, president and CEO Michael Bodouroglou said the purchase formed part of Box Ships strategy of expanding its fleet. The acquisition of MSC Emma will increase the fleet's capacity to 33,237 TEUs and a weighted-average age to 3.6 years.
News continues below…

PIRACY – TANKER HIGHJCAKED AND THEN RELEASED OFF BENIN
The Greek-owned and Liberian-flagged tanker AEGEAN STAR (11,520-dwt, built 1980) has been seized by armed pirates off the coast of Benin, but has since been released, the ship's manager has confirmed.
Not much detail is available except that the crew of 20 is reported to be safe and unharmed. The vessel was en route from Ghana to Benin when the pirates attacked on Saturday, 16 July 2011 while the vessel was 30 n.miles off the coast.
Reports of ship attacks in the Gulf of Guinea and other West African parts have been slowly increasing, but it is known that many more ship attacks take place than are reported. Much of the pirate activity takes place off the Niger Delta.

Mystery over pirated Mozambican seafarers
Mozambican Fisheries Minister, Victor Borges says that two seafarers captured by Somali pirates off the fishing vessel Kayumas 227 in March last year, have appeared safe in Sri Lanka, presumably after having been rescued from their captors.
According to Mozambican authorities the Kayumas 227 was unlicensed to fish for tuna in Mozambique waters and this may be the reason why 10 of the 12 Mozambican crew on board the vessel made their own way back to Maputo "a long time ago" according to the minister, after having also been rescued. The fate of the other two was then still unknown.
The minister said that the authorities have no idea how the seafarers made their escape or were rescued. When the ship was seized no reports were made to Mozambican authorities, presumably because the vessel was not licensed. Minister Borges blamed the crewing company Navimar for failing to report the matter and also for not reporting that two other members of the crew remained missing (until now). He said an enquiry into the matter would be held.
It is thought that the fishermen were held in Somalia for a lengthy period, possibly eight months before going back to sea, in all likelihood as enforced crew on a pirate mothership. It also appears likely that the Mozambicans and others were abandoned at sea by the pirates, before being rescued and taken to Colombo. How 10 of the crew managed to return separately to Mozambique is also part of the mystery.

NATO piracy overview
NATO made the following piracy overview report yesterday (19 July):
The threat areas of concern remain the Southern Red Sea, Bab Al Mandeb and Gulf of Aden. Although there have been few substantiated reported incidents in the SRS/BAM during the last weeks, this remains an area of concern as it is an area where Somali Pirates have already targeted in the SW monsoon period and where a Pirate Action Group may appear, previously unknown and undetected.
Over the past several months pirate activity in the Gulf of Aden has remained low; the recent approach on a merchant vessel by a skiff in the intersection area of IRTC and Al Mukalla/Boosaaso route despite the presence of naval assets confirms the unpredictable and opportunistic nature of piracy is this area.
Although there have been reports of suspicious activity in the Gulf of Oman and Strait of Hormuz, there is insufficient information to relate these incidents to Somali piracy.
Extra vigilance and early adoption of BMP practices are recommended for all these areas. To assist counter piracy efforts ships masters are highly encouraged to provide detailed and descriptive reports of suspicious vessels' activity.
News continues below…

CHINESE COMPANY SEEKS CONTROL OF SUNDANCE – DEAL WOULD INCLUDE NEW CAMEROON PORT
China's Sichuan Hanlong Mining is reported to have made an offer to buy out Australia's Sundance Resources, which if the deal goes through will give the Chinese mining house control over the Mbalam iron ore project which straddles the Cameroon and Congo (Brazzaville) border.
Together with contractor CRCC China-Africa Construction, Sundance was building a railway from the mine to the Cameroon coast where a new deepwater iron ore port at Lolabe is to be built. The project envisages exporting about 35 million tonnes of ore a year.
In a statement last year CRCC China-Africa Construction Limited and Sundance Resources Ltd said they were pleased to announce that they had entered into a Memorandum of Understanding to establish the scope, cost and delivery programme for the railway track and rolling stock necessary to support Sundance's Mbalam Project in Cameroon and Congo West Africa."
The statement said the project called for an output of 35 million tonnes of iron ore a year from the proposed iron ore mines. "At the end of that work the parties may enter into a Delivery Contract for the Mine Railway Project." It said that neither party was bound to enter into the project if it was not prudent to do so.
Not long after this announcement, in June 2010 almost the entire board of directors of Sundance were killed in an aircraft crash in the Congo. They were flying to the mining site at Mbalam when their aircraft crashed. You can see that report here HERE. Use your Back Button to return to this page.
SEND NEWS REPORTS AND PRESS RELEASES TO info@ports.co.za
PICS OF THE DAY – MAERSK VALLVIK and APELLIS
The newbuild container ship MAERSK VALLVYK (20,927-gt, built 2011) at Cape Town yesterday. Picture by Ian Shiffman
The bulker APELLIS (33,261-dwt, built 2010) in Cape Town yesterday. Picture by Ian Shiffman
Don't forget to send us your news and press releases for inclusion in the News Bulletins. Shipping related pictures submitted by readers are always welcome – please email to info@ports.co.za
Did you know that Ports & Ships lists ship movements for all southern African ports between Walvis Bay on the West Coast and Mombasa on the East Coast?
TABLE BAY UNDERWAY SHIPPING
SHIP PHOTOGRAPHERS
Colour photographs and slides for sale of a variety of ships.

Thousands of items listed featuring famous passenger liners of the past to cruise ships of today, freighters, container vessels, tankers, bulkers, naval and research vessels.
P O BOX 809, CAPE TOWN, 8000, SOUTH AFRICA
snai@worldonline.co.za
http://home.worldonline.co.za/~snai
South Africa's most comprehensive Directory of Maritime Services is now listed on this site. Please check if your company is included. To sign up for a free listing contact info@ports.co.za or register online