Ports & Ships Maritime News
12 July 2011
Author: Terry Hutson
Bringing you shipping, freight, trade and transport related news of interest for Africa since 2002
Improve your branding with your banner on this site and tap into our large readership - contact info@ports.co.za
TODAY'S BULLETIN OF MARITIME NEWS
Click on headline to go direct to story – use the BACK key to return
SEND NEWS REPORTS AND PRESS RELEASES TO info@ports.co.za
Looking for help? Try our MARITIME SERVICES DIRECTORY CLICK HERE
FIRST VIEW – LINE UP IN CAPE TOWN
Line up in Cape Town. The two SMIT tugs, SMIT MONTSERRAT in the foreground, behind which is SMIT CAYMAN with the coastal patrol ship SARAH BAARTMAN beyond, seen in Cape Town this past weekend. Picture by Aad Noorland
News continues below...

OIL EXPLORATION OFF TANZANIA COULD MAKE FOR GOOD NEWS FOR DURBAN

Tanzania's Prime Minister Mizengo Pinda (second from left) looks on during the naming ceremony for Ocean Rig Poseidon in South Korea last week. The rig ship is due in Mtwara in September.
The news that Brazilian oil and petroleum company Petrobas intends starting exploring for oil and gas off the coast of Tanzania this September, could be good news for the South African ship repair industry, and in particular the port of Durban.
Despite it being early days exploration activity is hotting up off the coasts of northern Mozambique and Tanzania and this will inevitably result in increased numbers of support vessels as well as those involved in the exploration process, arriving off the African east coast much as has happened off the west coast.
The coast under study is already known to have significant gas deposits, 7.5 trillion cubic feet of proven gas reserves has been reported. This is more than sufficient incentive for Petrobas which has a sharing agreement licence for Block 5 and 6 deep offshore basin off Tanzania, to bring in the new exploration vessel OCEAN RIG POSEIDON. The ship will be in Mtwara from September after which Petrobas hopes to commence work, says a statement issued by the Tanzanian prime minister's office.
The Ocean Rig Poseidon, which was named in a ceremony in Korea last week, will sail shortly for the southern Tanzanian port of Mtwara The ship, which is owned by Ocean Rig UDW, is expected to remain at work off Tanzania for at least 20 months.
Petrobas will meanwhile spend US$14 million on improving infrastructure and facilities at the port of Mtwara.
At least 17 other companies hold licences to explore for oil off the coast and on land in Tanzania.
News continues below…

MULTIMILLION RAND YACHTS DISCHARGED FROM PIRATED CARGO SHIP IN DURBAN HARBOUR

Two of the yachts from on board the pirated Beluga Nomination, now in Durban's dry dock for repairs. Picture John van der Meer
Story by John van der Meer
One could hear a pin drop as the hustle and bustle of Southern African Shipyards' private repair jetty came to a momentarily halt recently as experts discharged a series of multimillion rand luxury motorized and sail powered yachts.
The BELUGA NOMINATION, a projects cargo vessel with nine yachts on deck and 7,800 tons of steel in her holds was headed for Port Victoria, Seychelles in January this year when she was hijacked by pirates approximately 90 miles offshore.
Little detail was released, but once the pirates had overpowered the crew – killing three hands - they sailed to Somalia where they kept the captain and remaining crew hostage for three months. A ransom was duly paid and the vessel and crew released.
According to Joerg Lex, Project Manager and Marine Engineer at Southern African Shipyards, the Beluga Nomination was extensively damaged during the hijacking and repairs are having to be made at Southern African Shipyards in Durban before she can be rated seaworthy again by B.V. class society.
SA Shipyards won the contract to carry out Class renewal, dry docking and repairs on the vessel.
"Before we could take her to the TNPA dry dock, the nine yachts had to be discharged, a very delicate operation given their value and weight. We approached Lovemore Bros whom we have worked with before and recommend for this type of project," said Joerg Lex.
Discharging the yachts ranging in weight from nine tons to 78 tons was a project for experts. On deck the yachts were stowed two abreast with very little space between them leaving no margin for error. Barges were tethered to the vessel's bow and stern to keep her steady as each yacht was removed using the two on-board Liebherr cranes and positioned side by side on the wharf.
The final yacht, a sleek 78 ton masterpiece of luxury could only be discharged at high tide. Of them all this was the most delicate operation. The biggest challenge was whether the Liebherr ship's cranes had the load capacity capable of doing the job. The two cranes are rated at SWL 40 tons / max outreach of 24 m each leaving very little spare such as the rigging.
This is when one could hear a pin drop. The vessel's master and crew, insurers, engineers from Southern African Shipyards and rigging staff from Lovemore Bros looked on anxiously as the cranes took in the slack and hoisted the yacht upwards.
It appeared to be effortless as the cranes swung towards the wharf with their valuable cargo hanging perilously – but secure – from the steel matted slings. Captain Costa Thurna, a cargo master from Sevenstar, a company that ships yachts around the world, patiently gave the crane drivers their instructions as, inch-by-inch, the last yacht was settled on her cradles safely on the wharf.
"We have worked with Lovemore Bros on and off for the past seven years with very satisfactory results. I can safely say that they are the most professional and safety conscious company in South Africa when it comes to major projects such as this," said Joerg Lex.
When the Beluga Nomination returns from dry docking and receives her seaworthy certification, the yachts will be reloaded and she will continue her journey to the Seychelles with the toys of the rich and famous.

One to go! The last yacht, a huge 78-ton craft required the most skill, and a little bated breath, to lift off the deck of Beluga Nomination. Picture by John van der Meer
News continues below...

NAVAL NEWS – THAI NAVY RETURNS TO SOMALIA FOR 2nd TOUR
Two Royal Thai Navy ships, the HTMS SIMILIAN and HTMS NARATHIWAT are heading for Somalia to take up a tour of duty with other international naval forces on anti-piracy patrol in the Gulf of Aden area.
HTMS Similan has already completed one tour off Somalia, but this is the first time for the other ship. The current mission will last 140 days and includes a helicopter group and a special forces Seal unit among the 389 men of the task force.
Several captured Thai fishing vessels, the Prantalay 11, 12 and 14 are currently in pirate hands and are being used as pirate mother ships in attacks on other vessels.

Russia to complete nuclear aircraft carrier by 2023

Admiral Kuznetsov, Russia's conventional powered aircraft carrier
by Oleg Lastochkin (RiaNovosti)
Russia will build and complete construction of its first nuclear powered aircraft carrier by 2023, the head of Russia's United Shipbuilding Corporation said on Thursday.
"We will start designing the Russian aircraft carrier in 2016, so that by 2018 we can start construction," company head Roman Trotsenko said. He also said that as the construction period was likely to be five years, the carrier would be put into service in 2023.
The Russian navy has one conventionally powered aircraft carrier, the Admiral Kuznetsov, construction of which began during the Soviet era and was finished in the early 1990s. President Dmitry Medvedev said in 2008 that Russia would build new carriers for the navy but did not specify how they would be powered. – source RIA Novosti

India and Russia to start sea trials of aircraft carrier INS Vikramaditya
According to Shipbuilding Tribune India and Russia will start sea trials of the former Russian aircraft carrier Admiral Gorshkov, now renamed as the Indian Navy's INS VIKRAMADITYA.
The 45,000-ton ship's hull was acquired from Russia in 2004 for free, with the condition that Russia would help modernize the vessel and equip it with Russian-built aircraft that India would buy. The ship is being outfitted at the JSC Sevmash shipyard in Severodinsk while a crew is undergoing training at St Petersburg. The 283-metre ship will be equipped with deck-based MiG-29 aircraft on a redesigned carrier deck.
Indian already has one aircraft carrier in service, the smaller INS VIRAAT while the locally built INS VIKRANT is still under construction at the Cochin shipyard.

Russia signs deal to build two tiger corvettes for Algeria

Russian Tiger class corvette of the type sold to Algeria
Russia's United Shipbuilding Corporation and state arms exporter Rosoboronexport have signed a deal with Algeria to build two new Tiger class corvettes, the corporation said on Thursday.
The agreement was signed on the sidelines of the recent International Maritime Defence Show, IMDS-2011, in St. Petersburg. The biennial naval show offered exhibits from 300 companies, including 30 foreign ones.
"We have signed two agreements together with Rosoboronexport to sell two corvettes to Algeria and three light [Molniya missile] corvettes to a former Soviet republic," said Roman Trotsenko, head of the shipbuilding corporation.
He said the contracts signed at the show so far were worth $1.3 billion and more contracts were expected before the show closed on 3 July.
Russia exhibited for the first time its newest Steregushchy class (Project 20380) corvette, the Soobrazitelny, at the show. The corvette can be deployed to destroy enemy surface ships, submarines and aircraft, and to provide artillery support for beach landings.
The demonstration part of the show involved 15 combat ships of the Russian Navy and three foreign warships: German frigate FGS Hamburg, Dutch frigate HMS Van Amstel and US Navy frigate USS Carr. The program of the show included exhibition firing from 10 ship artillery mounts and demonstration flights of aerobatic teams, helicopters and unmanned aerial drones. – source RIA Novosti
News continues below…

DRILLING OFF GHANA COULD BE DELAYED 6 MONTHS AFTER RIG IS DAMAGED
The oilrig Transocean Marianas that was damaged in an anchor handling accident off Ghana may be out of commission for some time. The rig was due to be handed over to the Ghanaian government on 10 July but now a force majeure has been declared. Meanwhile a substitute rig will be sent as a replacement as the Marianas rig will have to be taken elsewhere for repairs.
Apparently an anchor punctured one of her pontoons, leaving the rig to take on a list as water entered the pontoon. During efforts to control the list the rig suffered further damage to her chain lockers. The crew was later able to stabilise the vessel which now has a list of about one degree.
Nevertheless, only a skeleton crew remains on board, with all other personnel having been evacuated. The rig was preparing to leave an Eni SpA site about 40 n.miles off the coast of Ghana when the accident occurred. There was no risk of an oil spill as the rig was not drilling at the time.
Transocean Marianas was due to begin drilling the Cedrela-1 well in the West Cape Three Points Block off Ghana's coast.
No decision has been made as to where the rig will be repaired. A spokesman for Transocean said it would take at least a week to tow to where it can be inspected for damage.
Transocean Marianas is said by some to be an unlucky rig. In 2009 she received damage while drilling the Macondo well in the Gulf of Mexico, after being caught in Hurricane Ida. She had to be removed to a shipyard for repairs. In her place came Transocean's Deepwater Horizon, which exploded and sank in April 2010, resulting in the USA's largest offshore oil spill.
News continues below…

BEIRA DREDGING IN FINAL PHASE
Maputo, 11 July – Emergency dredging work at the port of Beira, in Mozambique's central Sofala province, is in its final stages and is expected to be finished by next week, said the chairman of port and rail management company Portos e Caminhos de Ferro de Moçambique-Centro.
Cited by Mozambican news agency AIM, Rosário Mualeia also gave assurances that dredging at the port of Maputo had been concluded, and the port was now able to receive large draught ships, weighing up to 60,000 tons.
The dredging work, costing US$15 million, began in September of last year and took around six months.
Emergency dredging work on the main access channel to the port of Beira, which is some 22 kilometres long, began on 28 July last year, and was expected to take 14 months.
Dredging work at the port of Beira cost around 43 million euros, of which 23 million were paid for by the government via funding from the European Investment Bank (EIB), 10 million in cash from port management company CFM and another 10 million came from a donation from the Dutch government's development initiative (ORET).
In order to carry out the work, which is being done by two dredgers working round-the-clock, Dutch company, Van Oord Dredging and Marine contractors bv was hired following an international public tender.
Dredging of the access channel will increase its depth to original levels allowing Panamax ships with a draught of up to 60,000 tons to enter the port. (macauhub)
News continues below…

CAPE TOWN FACES BUNKER SHORTAGE AS STRIKE GETS UNDERWAY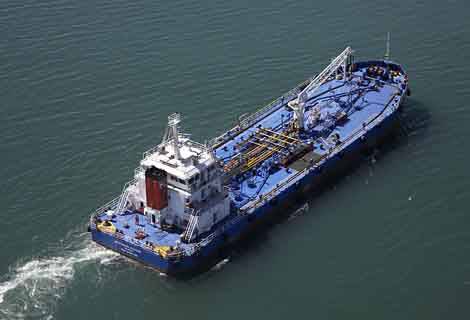 Cape Town's bunker barge, Unical's SOUTHERN VALOUR. Picture by The Aerial Perspective aerialphoto.co.za
Cape Town, 11 July - Bunker shortages should be anticipated following the start of a strike affecting JBS (Joint Bunker Services) in Cape Town.
Strikers downed tools yesterday morning from the 06h00 shift onwards as workers joined thousands of allied workers demanding higher pay.
As of yesterday the bunker barge on duty in the port has not been able to uplift any further supplies until the strike is lifted.
PICS OF THE DAY – TB KAMPAR and VERITAS VOYAGER
The classical lines of an older generation tug, the Indonesian vessel TB KAMPAR (146-gt, built 1970) seen over the Batu Berhanti reef in the Singapore Straits. Picture by Piet Sinke
The Singapore-registered and owned research vessel VERITAS VOYAGER (2943-gt, built 2005) seen here in Batam, Indonesia. Both Pictures taken in June this year by Piet Sinke.
Don't forget to send us your news and press releases for inclusion in the News Bulletins. Shipping related pictures submitted by readers are always welcome – please email to info@ports.co.za
Did you know that Ports & Ships lists ship movements for all southern African ports between Walvis Bay on the West Coast and Mombasa on the East Coast?
TABLE BAY UNDERWAY SHIPPING
SHIP PHOTOGRAPHERS
Colour photographs and slides for sale of a variety of ships.

Thousands of items listed featuring famous passenger liners of the past to cruise ships of today, freighters, container vessels, tankers, bulkers, naval and research vessels.
P O BOX 809, CAPE TOWN, 8000, SOUTH AFRICA
snai@worldonline.co.za
http://home.worldonline.co.za/~snai
South Africa's most comprehensive Directory of Maritime Services is now listed on this site. Please check if your company is included. To sign up for a free listing contact info@ports.co.za or register online