Ports & Ships Maritime News
9-10 June 2011
Author: Terry Hutson
Bringing you shipping, freight, trade and transport related news of interest for Africa since 2002
Improve your branding with your banner on this site and tap into our large readership - contact info@ports.co.za
TODAY'S BULLETIN OF MARITIME NEWS
Click on headline to go direct to story – use the BACK key to return
SEND NEWS REPORTS AND PRESS RELEASES TO info@ports.co.za
Looking for help? Try our MARITIME SERVICES DIRECTORY CLICK HERE
FIRST VIEW – SUN PRINCESS
Princess Cruises ship 1950-passenger SUN PRINCESS (77,441-gt, built 1995) performed the finale this past week to the recent South African cruise season when she arrived in Durban from Cape Town, en route back to Australia. Picture Trevor Jones
News continues below...

PORT AND RAIL NEWS – TPT LOOKS AT NAVIS SPARC UPDATES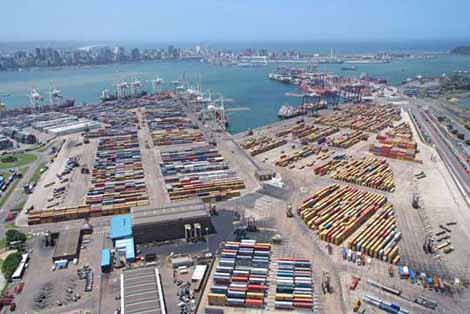 Durban Container Terminal – still having teething troubles with Navis SPARCS, but things gradually improving
South Africa – Transnet Port Terminals (TPT) is considering the introduction of advanced modules of the Navis SPARC N4 terminal operating system, after recently completing the system's installation in the final port terminal at Durban Container Terminal.
Two of the advanced systems under consideration are understood to be Navis AutoStow, which automatically compiles optimised stowage plans based on business rules and strategies set by vessel planners, thus avoiding manual planning, and Navis Prime Route which deals with optimising straddle carrier and terminal tractor utilisation.
Despite immediate 'teething troubles' at DCT, TPT is also pressing ahead with plans to install the basic system at its first large rail terminal, at City Deep in Johannesburg. The system will likewise be installed at other intermodal rail terminals and container depots in the Gauteng region.
The plan is to go ahead with City Deep in 2012, followed by about 13 other rail terminals across South Africa, by which time the entire TPT network will be complete. According to TPT this is essential for a fuller integration between the rail and port operations, particularly with the added emphasis of moving freight from road onto rail. The Navis SPARCS N4 system is seen as an integrated part of this process.
The seven port terminals already on the Navis system are controlled by the centralised terminal management system (SPARCS N4) from the TPT data centre in Durban, which TPT believes has allowed for an improvement in planning procedures, an increase in productivity levels and an improvement in customer services.
In 2010 TPT terminals handled a total of 4.02 million TEU, up from the 3.65 million TEU of 2009.
Grindrod plans expansions of its coal terminals
As Richards Bay Coal Terminal (RBCT) creaks and groans with reduced coal volumes available for export, another coal terminal operator in South Africa and Mozambique, the Grindrod Group, says it intends expanding operations at Richards Bay and Maputo.
The Grindrod terminals act as a safety valve for mines unable to crack the nut of becoming a favoured RBCT exporter, partly due to inadequate rail services by Transnet Freight Rail (TFR) but also because many emerging miners are simply unable to gain access to RBCT.
According to Grindrod expansion of its operations is subject to the availability of rail capacity between the mines in South Africa and the two ports of Maputo and Richards Bay, where Grindrod has its coal terminals. The company has recently increased capacity at the Maputo Matola coal and magnetite terminal to between six and seven million tones, of which five million is for coal and two million for magnetite (an iron ore).
Grindrod has been reported as saying it intends increasing the Matola terminal capacity to 20 million tonnes, which it hopes to have in service by the end of 2014.
The Matola terminal is unable to compete on equal terms with RBCT on account of the limited draught in Maouto Bay, which prevents the use of Capesize vessels. However, the reduced cost of transporting coal to Maputo from the adjacent Mpumalanga mines provides the Mozambique port with its own advantage.
"We believe that the demand to move cargo through the coal terminal will continue to grow and we are gearing up to accommodate this increased demand for capacity from both established and junior miners. We look forward to continued interaction with TFR and CFM, building on our relationship with the Mozambican Government and working together with all stakeholders to optimise trade through the port of Maputo," Alan Olivier, Grindrod's chief executive said last week.
Grindrod's terminal capacity at Richards Bay, which is distinct from the 91mt capacity RBCT, will see capacity more than double from 1.5 million tonnes a year to 3.2mt annually "within months". Grindrod says it believes it is capable of increasing that capacity by another 10mt within a year of obtaining the required rail capacity.
While Grindrod's further expansion of its coal and iron ore activities remains largely dependent on improved rail services to be provided by TFR, it is ironic that the company owns and operates its own rail services which so far it has been unable to use commercially on TFR tracks.
News continues below…

EAST AND WEST AFRICAN PORT NEWS
Nigerian port volumes increase 12%

Tin Can Island terminal at Lagos
Nigerian Ports Authority (NPA) has recorded a 12% improvement in cargo handled at the nation's ports having handled a total of 74,901,284 tonnes of cargo during 2010.
Revenue for the period also increased by 15.3% to US$592.2 million, reports the Lagos Daily Champion.
Containers handled by the ports totalled 1,128,171 TEU, of which 668,697-TEU were full containers (8.8% increase on 2009) and 459,474-TEUs were empties (19.4% increase).
Motor vehicles handled 187,635 units during the year, up 16.3% on the previous year.
General cargo (breakbulk) totalled 9,047,030 tonnes, a 10.4% increase on 2009.
The number of ocean-going vessels calling at the ports totalled 4,962 for the year, with a gross tonnage of 108,621,872 tonnes. Coastal vessel calls rose 26.1% to 21,950 ships with a gross tonnage of 6,818,827 tonnes.

Dar es Salaam disrupted by overdose of tractors
The Tanzanian Port of Dar es Salaam is reported to have 3,000 uncleared tractors that are being held because of a dispute over tax waivers. The tractors were imported by local Indian businessmen who saw an opportunity created by the Kilimo Kwanza (Agriculture First) initiative to import agricultural machinery. Kilimo Kwanza is a government initiative that seeks to increase and improve Tanzania's agricultural output through tax and other incentives.
Three thousand of the tractors imported have not been cleared because of a dispute between the importers and the country's revenue service; meanwhile the tractors remain at the port and inland container depots and have accumulated some US$3 million in storage/demurrage costs.
News continues below...

PIRACY – AUSTRALIAN CONCERN OVER ARMED SECURITY ON BOARD SHIPS
Australian authorities have expressed concern over the possibility of ships arriving from the Indian Ocean with armed security personnel and weapons on board.
This is a result of ship owners taking steps to secure their vessels, which have to sail through pirate infested waters in the Gulf of Aden and Arabian Seas en route to Australia. Faced with evidence that naval patrols are insufficient to guarantee the safe passage of ships through the region at risk, which has been extended almost to the coast of India, ship owners and operators are turning to other resources.
Meeting their demands are a growing number of operators, most of them former special forces or military personnel from a number of countries, including South Africa, who provide armed guard personnel whose responsibility is to prevent any pirates from coming on board.
To achieve this aim the guards are provided with weapons, from handguns to rifles and semi automatic weapons. While some countries on the fringes of the pirate-ridden region are sympathetic to ships arriving with weapons, others, including South Africa and Australia, are not.
In other instances, ship owners are entering into contracts with an increasing number of private 'escort agencies' – not the red-lighted version, but operators of smallish vessels equipped to provide escort duties for other vulnerable merchant vessels sailing through the at-risk area.
Pottengal Mukundan, director of commercial crime services with the International Maritime Bureau, has described ship owners as arming themselves out of desperation. "Owners are going to private armed teams who are armed with automatic weapons, long-range sniper rifles and things like that," he said.
The IMB is calling for "improved rules of engagement" for naval vessels patrolling the Indian Ocean and tougher punishments for captured Somali pirates. But, said Mukundan, the legality of the merchant ships arming themselves remains a grey area. "They are putting these armed teams on board where the legal framework is unclear," he warned.

Royal Thai Navy joins anti-piracy patrols
Bangkok: The Royal Thai Navy is the latest country to provide naval ships for anti-piracy patrols off the area under threat from Somali pirates.
Thailand is sending two ships to join with other international maritime patrol operations working against piracy in the Gulf of Aden and off the coast of Somalia. Vice Admiral Taweewut Pongpiptat, assistant navy chief-of-staff for tactical operations, told a media briefing that the 140-day mission will begin in July month with a Bt360m (US$12m) budget allocated for the joint operations with 25 other nations.
The Thai navy contingent is set to depart from Chuk Samet port in the eastern province of Rayong on 12 July 2011.

Orna no longer a mother ship
NATO has reported that the highjacked vessel ORNA is no longer being used by pirates as a mother ship, but remains in their hands as a pirated vessel.
News continues below…

LET'S CHANGE THE WAY WE THINK ABOUT SHIPPING, SAYS MAERSK HEAD

Eivind Kolding, Maersk Line CEO
Containerisation revolutionised the world because it fundamentally overturned the ingrained ways of thinking about global transportation, says Eivind Kolding, Maersk Line chief executive, who says the time has come to make that sort of change again.
"We had to change everything. Stevedores and longshoremen had to retrain almost overnight. A whole new class of ship, truck, equipment and port terminal machinery had to be built. And suddenly unimaginable complexities of schedules, equipments and timelines had to be factored in.
"It took time, effort, money and a belief in the future – and huge amounts of potential were unlocked, for both ourselves and customers. We all benefit from that change every day."
Maersk Line is calling on the maritime industry to join together in discussing further improvements in fundamental services and business practices. Fundamental challenges = Fantastic opportunities, it says. "The shipping industry is faced with three fundamental challenges: our unreliability, our complexity and our environmental impact. But instead of making excuses we should stop the repair work and see them as fantastic opportunities."
In identifying three challenges that shipping needs to address – On-time delivery, ease of business, and environmental performance, Kolding has invited the industry to join with Maersk in opening a debate that will redefine its future and help add tremendous new value to customers' supply chains worldwide.
"We need to ask ourselves these questions," he asks:
"Why shouldn't we be able to get cargo there on time, every time?
"Why shouldn't we make it easier and give customers instant prices and instant confirmation of their booking?
"Why shouldn't we hold ourselves to the highest environmental standards?"
"No more battles on rates," said Kolding. "Instead shipping lines should be giving customers what they really want."
The Maersk Manifesto also suggests the industry should enhance its information technology infrastructure to enhance automation. Making it easier to book online is a key development for the industry.
"If customers are offered a more automated booking process saving them money through supply chain and inventory optimisation then we will get better control of bookings and fewer no-shows.
"Because instant booking confirmation is a two-way process and a two-way guarantee, it means the customer is also confirming.
"If customers are presented with an immediate price, with a full breakdown of charges - so they can deselect options they don't need - and a possibility to follow their order then we create security for them and they enjoy an improved overall customer experience.
"If we automate customer interactions and thereby free up time spent on filling out forms, re-work and chasing loose ends then customers could enjoy an improved personal service as we could spend the time we free up to serve them when and where they need it."

The Debate can be followed www.changingthewaywethinkaboutshipping.com
CRUISE NEWS: RETURN OF THE TWO FUNNEL PASSENGER SHIPS
Some further news of the new 141,000 P&O Cruises ship that has been ordered from the Fincantieri shipyard in Italy – see our earlier report HERE - use your back button to return to this page.
It turns out that the new ship, which will cater for a British market and will be homeported in Southampton, will mark a return to the tradition of two funnels. The ship is apparently being designed to the same basic design as the two Princess Cruises ships, ROYAL PRINCESS and REGAL PRINCESS, which are to be introduced in service in 2013 and 2014 respectively.
The new and as yet unnamed ship is not the first to re-introduce two funnels, but perhaps it can be said that ships with two funnels never quite went away, with the just launched DISNEY DREAM being one of the more attractive recent versions. With the new P&O ship we will have to wait and see.

computer generated image of the recently launched Disney Dream

Not a hassle free cruise
Cruises are made out to be hassle free escapes from the hurly burly world we find ourselves in, but for passengers on board a P&O cruise to Alaska and other US destinations in late May, things were a little different.
The P&O Cruises ship ARCADIA was on a two and a half month cruise out of the UK and had reached Los Angeles, the ship's 10th call at an US port on this particular voyage. For the 2,000 passengers trying to go ashore it became something of a nightmare as Customs and Border Protection personnel went to the limit in providing full security checks on each and every passenger, including taking fingerprints and retina scans while asking passengers numerous questions about their backgrounds.
According to one report it took seven hours before the last passenger was cleared, by which time the British passengers had had enough.
P&O Cruises tried to play down the delays, saying the problem lay with Border Protection computer systems and was exacerbated, it said, by the impatient approach of some of the passengers who grew frustrated at the delay and took it out on the officials.
Ordinary seafarers that have to make calls at US ports, particularly those with Middle Eastern appearances (which for many US officials means anyone with a darker than white skin) will have lots of sympathy with P&O's British tourists.
News continues below…

PICS OF THE DAY – MSC ADRIATIC
The container ship MSC ADRIATIC (66,289-gt, built 2001) seen in Cape Town harbour earlier this week. The ship previously sailed as the ER PARIS and before that OOCL FRANCE. Pictures by Ian Shiffman
Don't forget to send us your news and press releases for inclusion in the News Bulletins. Shipping related pictures submitted by readers are always welcome – please email to info@ports.co.za
Did you know that Ports & Ships lists ship movements for all southern African ports between Walvis Bay on the West Coast and Mombasa on the East Coast?
TABLE BAY UNDERWAY SHIPPING
SHIP PHOTOGRAPHERS
Colour photographs and slides for sale of a variety of ships.

Thousands of items listed featuring famous passenger liners of the past to cruise ships of today, freighters, container vessels, tankers, bulkers, naval and research vessels.
P O BOX 809, CAPE TOWN, 8000, SOUTH AFRICA
snai@worldonline.co.za
http://home.worldonline.co.za/~snai
South Africa's most comprehensive Directory of Maritime Services is now listed on this site. Please check if your company is included. To sign up for a free listing contact info@ports.co.za or register online