Ports & Ships Maritime News
6 June 2011
Author: Terry Hutson
Improve your branding with your banner on this site and tap into our large readership - contact info@ports.co.za
TODAY'S BULLETIN OF MARITIME NEWS
Click on headline to go direct to story – use the BACK key to return
SEND NEWS REPORTS AND PRESS RELEASES TO info@ports.co.za
Looking for help? Try our MARITIME SERVICES DIRECTORY CLICK HERE
FIRST VIEW – MESSOLOGI
Maersk Line's container ship MESSOLOGI (52,181-gt, built 1991) presented somethig of an unusual sight when sailing from Durban harbour yesterday morning, with empty racks and very few containers in view. The ship arrived on Saturday from Port Louis and is scheduled for Port Elizabeth as her next port. Messologi moved to the outer anchorage, and will presumably reenter port later in the week. A change in charter perhaps? Picture by Trevor Jones
News continues below...

SOUTH AFRICAN PORT STATISTICS FOR MAY NOW AVAILABLE
South African port statistics for the month of May 2011 are to hand courtesy of Transnet NPA. These show that total cargo handled at all ports amounted to 20.506 million tonnes (21.628mt for the previous month) while containers totaled 366,336 TEUs, up from 316,545-TEUs for April.
The volumes compare favourably against May 2010, when a total of 18.742 million tonnes of cargo was handled (containers: 296,397 TEU). To compare individual ports for May figures year on year go to the following link CLICK HERE.
Use your BACK button to return to this page.
The port of Ngqura is continuing to average around 40,000 TEUs a month (42 236-TEU in May) and, as stated last month - unless there is an injection of new shipping lines to this port there seems little prospect of the numbers changing.
The country's two bulk ports each had average volume turnovers in May, with Richards Bay recording just over 6 million tonnes and Saldanha almost 4,8mt, both considerably down on last month.
As is our practice, the figures shown in this report reflect an adjustment on the overall tonnage to include containers by weight – an adjustment necessary because Transnet NPA measures containers by number of TEUs and no longer by weight resulting in the value of container cargo by weight being ignored in the Transnet reports.
To arrive at such a calculation, PORTS & SHIPS has used an estimated average of 13,5 tonnes per TEU to reflect tonnages, which may involve some under-reporting but until the IMO enforces the weighing of containers at all ports we will have to live with these estimates. Nevertheless, we continue to make this distinction to avoid South African ports from being under-reported internationally.
Figures for the respective ports during May 2011 are (with April 2011 figures shown bracketed):
Cargo handled by tonnes during May 2011
| | | |
| --- | --- | --- |
| PORT | May 2011 mt. | Apr 2011 mt. |
| Richards Bay | 6.020 | 6,817 |
| Durban | 6.510 | 5.868 |
| Saldanha Bay | 4.790 | 6.039 |
| Cape Town | 1.193 | 1.101 |
| Port Elizabeth | 0.954 | 0.906 |
| Ngqura | 0.570 | 0.570 |
| Mossel Bay | 0.194 | 0.138 |
| East London | 0.280 | 0.188 |
| | | |
| Total all ports m.tonnes | 20.506 mt. | 21.628 mt. |


Containers (measured by TEUs) during May 2011 (TEUs include Deepsea, Coastal, Transship and empty containers all subject to being invoiced by NPA)
| | | |
| --- | --- | --- |
| PORT | May 2011 TEUs | Apr 2011 TEUs |
| Durban | 228,425 | 185,153 |
| Cape Town | 59,786 | 56,398 |
| Port Elizabeth | 27,179 | 25,948 |
| Ngqura | 42,236 | 42,240 |
| East London | 4,234 | 4,605 |
| Richards Bay | 4,476 | 2,201 |
| | | |
| Total all ports TEUs | 366,336 TEUs | 316,545 |

Ship Calls for May 2011
| | | | | |
| --- | --- | --- | --- | --- |
| PORT | May 2011 vessels | gross tons | Apr 2011 | gross tons |
| Durban | 375 | 10,981,707 | 359 | 10,559,625 |
| Cape Town | 238 | 4,179,800 | 367 | 3,735,451 |
| Richards Bay | 127 | 4.140,824 | 162 | 5,108,354 |
| Saldanha Bay | 41 | 2,792,108 | 46 | 3,246,655 |
| Port Elizabeth | 96 | 2,525,806 | 96 | 2,342,503 |
| Ngqura | 32 | 1,339.519 | 31 | 1,448,468 |
| East London | 24 | 628,287 | 25 | 705,001 |
| Mossel Bay | 119 | 225,223 | 74 | 213,996 |
| | | | | |
| Total ship calls | 1,049 | 26,813,274 | 1,160 | 27,360,053 |


- source TNPA, but with adjustments made by Ports & Ships to include container tonnages
MONTHLY STATISTICS FOR RICHARDS BAY COAL TERMINAL
May figures showing the volume of coal exported through RBCT were not available at the time when this edition went live. The May statistics will be included as soon as they become available by retro-posting on this page, so please come back here later.

Throughput at the Richards Bay Coal Terminal showing exports in tonnes


| | | | | | |
| --- | --- | --- | --- | --- | --- |
| MONTH | Monthly exports | YTD exports | Annualised M/T/pa | Ships | Trains |
| Jan 2011 | 4,389,925 | 4,389,925 | 51.55 | 45 | 597 |
| Feb 2011 | 4,567,950 | 8,957,875 | 55.27 | 44 | 705 |
| Mar 2011 | 5,364,676 | 14,322,549 | 57.93 | 57 | 710 |
| Apr 2011 | 4,807,041 | 19,129,590 | 58,03 | 53 | 689 |
| May 2011 | 3,572,127 | 22,701,717 | 54,72 | 41 | 560 |
News continues below…

PIRACY: SOUTH AFRICA, MOZAMBIQUE JOIN HANDS TO FIGHT PIRACY
Pretoria – South Africa and Mozambique have signed a Memorandum of Understanding (MoU) that will see the two countries work together on issues of piracy and trans-border crime.
The MoU, signed on Wednesday by the Minister of Defence and Military Veterans Lindiwe Sisulu and her Mozambican counterpart, Filipe Nyussi, will have the neighbouring countries pulling together on the promotion of maritime security in SADC's Indian Ocean, with particular emphasis on the Mozambique Channel extending to the broader SADC waters. The partnership and cooperation include joint training, sharing of information, intelligence, joint patrols and ongoing support in military developments.
In February, the South African Cabinet mandated the Department of Defence to put together a strategy to address piracy issues in the SADC waters. The strategy was approved by Cabinet in April 2011.
At the signing ceremony, the ministers agreed that SADC countries must work together to stop piracy, which has the potential to negatively affect SADC trade and movements of goods.
As part of the agreement, the two countries agreed to working together in protecting rhinos. The ministers sent a warning to poachers that both governments have declared war on poachers.
"The government and people of Mozambique sent me to extend their appreciation of our cooperation and partnership. It is true what affects Mozambique also affects South Africa and we are committed to working with the SANDF in fighting piracy on SADC waters," Nyussi said.
"We also need to build stronger ties with all other countries within SADC in order to fight piracy effectively."
The Chiefs of SADC Defence Forces will meet in South Africa this week to discuss the Maritime Safety Strategy for SADC.
"The South African government will work with all SADC countries to fight piracy. This is our obligation to ensure smooth movement of goods in the SADC waters. We continue to work with all SADC countries and institutions to address piracy," Sisulu said.
The meeting also noted progress made in land and air border control in relation to stopping illegal activities, and cross border crime.
After the signing of the MOU, the minister's exchanged gifts and committed to a meeting in July and a joint exercise in the Mozambique and South African waters before September 2011.
South Africa and Mozambique will also work closely in all military matters, with Sisulu adding that assets of the SANDF were available to fight piracy and all cross border crimes. – BuaNews

The South African Navy frigate SAS AMATOLA is reported to be on station in northern Mozambique waters on anti piracy patrol, assisted by reconnaissance aircraft of the South African Air Force. The navy and air force have established forward bases at the port town of Pemba.
According to Defence Secretary Mpumi Mpofu, the deployment of maritime and air assets in SADC waters is intended to extend deterrence beyond South African waters. He pointed out that 30% of the world's oil supply goes through the Mozambique Channel and around the Cape and said that piracy lies at the heart of South Africa and the region's maritime security. There are many challenges, including the vastness of the areas affected, he said.

See also Norwegian air force planes to patrol Mozambique Channel
News continues below...

FURTHER $750 MILLION INVESTMENT PLANNED FOR PORT MAPUTO
US$ 225 million dollars was invested in Maputo and Matola Ports over the last 8 years and cargo handled has increased from 5 million tonnes in 2003 to predicted volumes of 12,6 million tons for this year.
These figures were quoted by Jorge Ferraz, CEO Maputo Port Development Company (MPDC) at a conference in Maputo last week. He went on to say that volumes handled are expected to double in the next four years and grow to about 50 million tonnes by 2030.
Investment in equipment and infrastructure has made a significant contribution to the growth and it is expected that a further $750 million will be invested over the next 20 years. The vision and leadership of the Mozambican government as well as the alignment of Transnet Freight Rail (TFR), CFM, Grindrod and DP World have all contributed to this success story.
"We commend TFR on improved efficiencies. By sweating their assets they have managed to reduce turnaround time of the trains from 200 hours to 90 hours on the Maputo corridor," said Dave Rennie, chairman of MPDC and CEO Grindrod Freight Services.
This was the good news communicated at the 1st Maputo Port conference hosted by MPDC, in which CFM, Grindrod and DP World are shareholders. The objective of the conference was to share with all stakeholders the achievements and successes of the port since the concession was granted 8 years ago. In 2010 MPDC received an extension to its port concession to 2043, providing a timeline for the implementation of a Port Master Plan and for the sub-concessionaires to undertake additional investments.
The Maputo Port Master Plan includes numerous projects. The first major capital project which was jointly undertaken by CFM, Grindrod and DP World was the dredging project and this was successfully completed in January of this year.
Also part of the Port's master plan is the development of Grindrod coal terminal (Terminal de Carvão da Matola). Phase 3 of this development which included the installation of a new ship loader and a new stacker / reclaimer was completed earlier this year. This recent expansion has increased the terminal's capacity to 6 million tons per annum. The terminal has operated at full capacity since TFR's upgrade to the rail infrastructure and since the improved efficiencies by TFR.
Phase 4, which will expand the capacity to 20 million tons and more, is in feasibility planning stage. This will require excavation and land reclamation, the construction of 2 new berths, a stockyard and railway infrastructure. The final terminal footprint will be in the region of 120 hectares (excluding any reclaimed areas).
Since rail infrastructure is a key aspect to the success of TCM and other terminals, Grindrod says it will continue to work closely with CFM and Transnet Freight Rail.
The Chairman of CFM, Rosario Mualeia, in his presentation to the delegates, said that CFM is fully committed to delivery of the master plan and is working together with the sponsors (Grindrod and DP World) to ensure its success.
Siyabonga Gama, the CEO of Transnet Freight Rail shared with the audience Transnet's improved efficiencies, how this will further be rolled out, future expansion plans, as well as Transnet's commitment to the development of the Maputo corridor.
Alan Olivier, CEO of Grindrod Limited, said, "We believe that the demand to move cargo through the coal terminal will continue to grow and we are gearing up to accommodate this increased demand for capacity from both established and junior miners. We look forward to continued interaction with TFR and CFM, building on our relationship with the Mozambican Government and working together with all stakeholders to optimize trade through the port of Maputo."
News continues below…

VALE TURNS TO ROAD TRANSPORT TO DELIVER COAL TO PORT OF BEIRA
Maputo, Friday 3 June – Coal exported by Brazil's Vale from Moatize in Mozambique will have to be transported in trucks from the mines, in Tete province, to the port of Beira, in Sofala province, in order to keep to the deadlines announced by the group, according to Mozambican newspaper,
Vale Moçambique, which has a coal mine in Moatize, recently announced that the first load of coal for export would be shipped in July from the port of Beira and, would supposedly be transported there along the Sena railroad.
But then Mozambique's Transport and Communications Minister, Paulo Zucula, last week announced that conclusion of work to rebuild the Sena railroad would be delayed until September and therefore if Vale plans to transport the coal to the port of Beira along the railway the company will not be able to meet its export deadline.
Zucula said that the reconstruction of the Sena line had been delayed because work was being carried out to correct some errors found in the work originally carried out by the contractors Ricon.
Indian consortium Ricon, made up of state companies Rites and Ircon, acquired 51 percent of the central Mozambique railway system for a period of 25 years via an international public tender in 2004. The Mozambican state owns 49 percent of the railway via state company Portos e Caminhos de Ferro de Moçambique.
The acquisition of the concession to manage railway company Companhia dos Caminhos-de-Ferro da Beira (CCFB) gave the Indian consortium the right to rebuild the Sena railroad linking Moatize in Tete province to the port of Beira. The railway has been at a standstill for 27 years following its destruction in the country's civil war. (macauhub)
News continues below…

NINE FISHERMEN RESCUED, ONE DIES WHEN CHOKKA BOAT CAPSIZES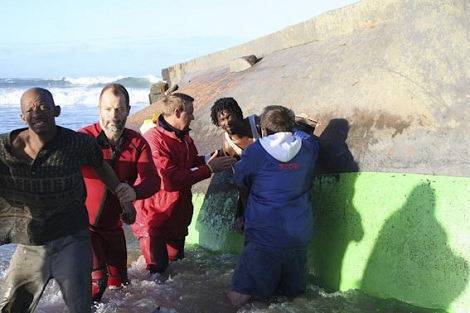 Fishermen are rescued through a hole cut into the upturned hull of the chokka boat Kowie
Nine chokka fishermen were rescued from within their capsized squid fishing boat in the early hours of yesterday (Sunday) after it had capsized east of Port Alfred.
According to NSRI Port Alfred Station commander Juan Pretorius, NSRI volunteers were activated following reports that a chokka boat with ten people aboard had capsized after being hit by lightning some seven miles east of Port Alfred.
"The skipper of the chokka boat had walked four kilometres to Riet River, a small town near Port Alfred, arriving at a house on the shore to raise the alarm. He told the NSRI that he had swum ashore, and that his boat, the 45 foot chokka fishing boat Kowie had been hit by lightning and had capsized close inshore.
"He did not know the fate of his remaining 10 crew and reported that the casualty boat had capsized approximately two nautical miles offshore and the upturned hull of the boat was being pushed towards shore by a 4-metre swell and a 10-knot South Westerly wind.
"We immediately dispatched a Sea Rescue 4x4 vehicle and a Sea Rescue quad bike along the beach to Piet Punt, 7 nautical miles East of Port Alfred."
Pretorius said the NSRI sea rescue boat Kowie Rescuer and Arthur Scales responded to the scene and a BK117 helicopter from the SA Air Force Charlie Flight, 15 Squadron, Port Elizabeth, with three NSRI rescue swimmers from Port Elizabeth aboard, responded. The SA Police Services, private ambulance service Guardmed and the Ndlambe Fire and Rescue Services also responded to the scene.
On arrival on-scene at high tide the upturned hull of the chokka boat Kowie was found in the surf line almost on the beach but just too far off-shore for rescue swimmers to immediately reach the upturned hull because of big sea conditions.
"The body of one fisherman was discovered washed up onto the beach and his body was handed into the care of Police and the Forensic Pathology Services but no sign of the remaining nine fishermen could be found."
Pretorius described how as the tide ebbed they were able to get NSRI swimmers Lynette Harbreght and Chris Kirchoff to the upturned hull onto which they climbed and when they banged on to it they were surprised to hear a very clear response by way of a banging coming back at them from inside the boat, signalling that there were survivors still trapped inside the upturned boat.
"One of our sea rescue volunteers works at a hardware store in Port Alfred and he immediately organised for the hardware store to be opened so that we could get tools to cut into the hull and free the men.
"The Air Force helicopter flew our NSRI volunteers to the Talisman Plant and Tool Hire hardware store and they collected a chain saw and axes and were speedily flown back to the scene and we used the tools to cut into the front section of the hull."
Marcus Oshry, NSRI Port Elizabeth rescue swimmer was on the hull when the hole was cut, and he takes up the story.
"We first cut a 30 x 30cm hole so that we could communicate with the crew. They told us there were nine of them still trapped. We asked them to move back and cut a larger hole so that they could be pulled out."
At 08h08 the first survivor was pulled free of the boat.
"Jubilation went through the large crowd that had gathered on the beach as one by one the survivors were pulled from the upturned boat and were assisted to safety through the surf by NSRI volunteers. The last survivor to be pulled free was carried ashore by Oshry.
"He was crying and I must be honest I broke down as well. It was very emotional," Oshry said. All survivors were flown to hospital by the Air Force helicopter to be medically checked and have all since passed a clean bill of health having suffered no physical injuries. SAMSA has been alerted to begin investigations into the accident and police have opened an inquest docket.
News continues below…

PICS OF THE DAY – FIVEL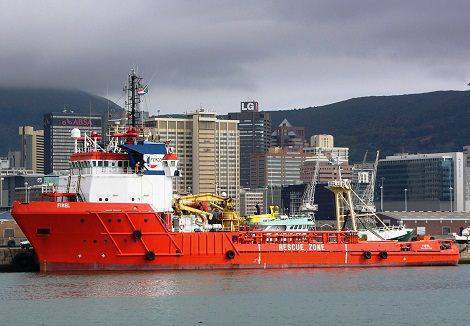 The Russian offshore supply vessel FIVEL (2019-gt, built 1984) seen in Cape Town harbour this past week. Pictures by Aad Noorland
Don't forget to send us your news and press releases for inclusion in the News Bulletins. Shipping related pictures submitted by readers are always welcome – please email to info@ports.co.za
Did you know that Ports & Ships lists ship movements for all southern African ports between Walvis Bay on the West Coast and Mombasa on the East Coast?
TABLE BAY UNDERWAY SHIPPING
SHIP PHOTOGRAPHERS
Colour photographs and slides for sale of a variety of ships.

Thousands of items listed featuring famous passenger liners of the past to cruise ships of today, freighters, container vessels, tankers, bulkers, naval and research vessels.
P O BOX 809, CAPE TOWN, 8000, SOUTH AFRICA
snai@worldonline.co.za
http://home.worldonline.co.za/~snai
South Africa's most comprehensive Directory of Maritime Services is now listed on this site. Please check if your company is included. To sign up for a free listing contact info@ports.co.za or register online
Bringing you shipping, freight, trade and transport related news of interest for Africa since 2002