Ports & Ships Maritime News
2-3 June 2011
Author: Terry Hutson
Bringing you shipping, freight, trade and transport related news of interest for Africa since 2002
Improve your branding with your banner on this site and tap into our large readership - contact info@ports.co.za
TODAY'S BULLETIN OF MARITIME NEWS
Click on headline to go direct to story – use the BACK key to return
SEND NEWS REPORTS AND PRESS RELEASES TO info@ports.co.za
Looking for help? Try our MARITIME SERVICES DIRECTORY CLICK HERE
FIRST VIEW – MSC AMERICA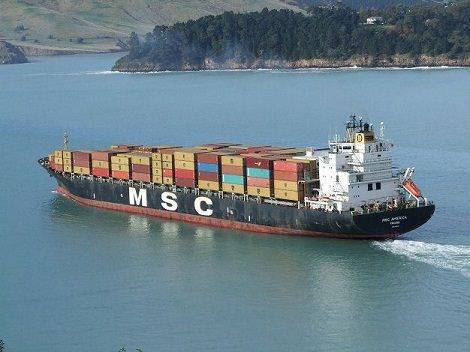 Mediterranean Shipping Company's container ship MSC AMERICA (34,231-gt, built 1993) sails from Lyttelton harbour, New Zealand earlier in May. Picture by Alan Calvert
News continues below...

SHIPS AND PORTS AND SHIPPING COMPANY NEWS
Shape up or ship out, shipping line executive tells Transnet

Macs Line's Golden Isle in Durban harbour. Picture by Terry Hutson
Inefficient and overpriced SA ports are hampering foreign companies' ability to do business with local operators, and the management of port terminals should be handed over to private operators, says Felix Scheder-Bieschin, MD of Maritime Carrier Shipping, better known as MACS Shipping.
Scheder-Bieschin, as quoted in the Financial Mail, said that delays at South African ports were becoming untenable for business, with port authorities and operators hampering rather than facilitating trade. Transnet Port Terminals, he says, has become "a monopolistic structure that is too inflexible to adapt to changing requirements of customers".
He cited Durban as being plagued by delays and high costs and says the port takes between five and seven days to discharge a ship, compared with two at Rotterdam. He said there was no justification for Durban's high costs.
Scheder-Bieschin said his company, which owns and operates 14 ships on the South Africa – Europe and South Africa North America services, might be forced to consider alternate routes. Ports outside South Africa such as Maputo and Walvis Bay were investing in productivity and displayed a can-do attitude and offered a much more dynamic environment, he said.
The full article can be read here Shape up or ship out

Dockside explosion in Gibraltar injures cruise passengers
An explosion in a dockside oil tank injured 12 passengers on board the cruise ship INDEPENDENCE OF THE SEAS yesterday and injuring several welders working on the tank. One of the injured welders is in a serious condition in hospital.
The explosion appears to have been caused by a spark from the welders which ignited fumes in the large sullage tank holding oil and water. A second tank also caught fire. Large plumes of smoke obliterated the famous Rock of Gibraltar from view, as firefighters from Algeciras and Gibraltar hurried to the scene.
The cruise ship was docked alongside at the North Mole but was moved away immediately after the explosion. The passengers on board the cruise ship who were injured are said to be suffering from minor burns to a fractured shoulder. They received medical help on board the Royal Caribbean Cruises' ship.
The port was evacuated as a precaution but is expected to reopen shortly.

Give us some of your savings, shippers tell lines
Cargo owners (shippers) want a share of the savings being made by shipping lines through slow steaming.
According to a worldwide survey, conducted by a US Philadelphia-based logistics company BDP International, the Centrx consulting unit of BDP, and Saint Joseph's University, which discovered that 70% of shippers say it is incumbent on shipping lines to share the savings they are making on fuel costs. The balance said the savings should be used to offset future rate hikes.
Ninety percent of those surveyed said that slow steaming was affecting their supply chain although 85% of them indicated they were willing to adapt to it. Quite a significant number said they were using air freight for smaller shipments or were sourcing materials closer to where they are produced and consumed.

CSAV replaces transhipment service with Far East-West Africa direct service
CSAV, the Chilean line intends introducing a direct, weekly Far East – West Africa service as a replacement for its transshipment service.
The new service combines the Far East - South Africa service (New Discovery), which is operated using eight ships ranging from 2,500 to 4,100 TEU, and the Durban-West Africa feeder service (WAE) that uses four vessels of 1,800-2,500 TEU.
The new service will call at ports in South Africa in both directions and will continue to be named the New Discovery service. Its port rotation is Ningbo, Shanghai, Shenzhen-Chiwan, Hong Kong, Port Kelang, Durban, Lagos, Cotonou, Tema, Abidjan, Durban, Port Kelang and back to Ningbo.
Ten 2,800-TEU ships will be deployed, drawn mainly from the existing New Discovery and WAE services.
News continues below…

DREDGING OF ZAMBEZI TO COST US4 100 MILLION

The Zambezi River, where expensive dredging will have to be carried out before a river barge system can be brought into service
Dredging of the Zambezi River to make possible the transportation of coal mined in Tete province is expected to cost around US$ 100 million, an official from Riversdale Moçambique told Mozambican daily newspaper Diário de Moçambique.
Ivo Lourenço, a community development analyst from the subsidiary of Australian mining group Riversdale Mining said that it would be necessary to dredge the river in several areas totalling some 180 kilometres to ensure that the navigation channel is both deep and wide enough to allow coal to be carried along it in barges.
Riversdale Moçambique, which plans to transport the coal from Benga, in Tete, along the Zambezi River, given the reduced capacity of the Sena Railroad, has ordered an environmental impact study, which has yet to be submitted to the Ministry for Coordination of Environmental Action.
A document recently presented by the company in the city of Beira said that the ideal channel for navigating the Zambezi was when at its lowest flow it had a minimum depth of 3 to 3.5 metres. These measurements are based on international standards for moving convoys of river barges and tugs.
Dredging will also be necessary along the sandbank at the entrance to the Chinde estuary in order to maintain enough depth for the barges to set off for cargo transfer locations at sea. (macauhub)
News continues below...

PIRACY UPDATE – NORWEGIAN AIR FORCE PLANES TO PATROL MOZAMBIQUE CHANNEL
Norwegian Air Force reconnaissance aircraft and ships of its navy could be deployed to patrol the Mozambique Channel from October this year.
That's the word from Norway's State Secretary in the Foreign Ministry, Erik Lahnstein, who said in Maputo on Monday that Norway intends supporting the African states of the East African coast in their fight against piracy.
"I have visited countries such as Kenya, Tanzania, Seychelles and Mauritius all of whom have problems related with piracy," said Lahnstein. "Norway wants to help these African countries in combating piracy, as we know that it may cause catastrophic effects for the economy of their countries, so we will patrol the entire [region]."
He was speaking at a workshop in the Mozambique capital, organised by the Norwegian Embassy.
He said that Norway has been supporting Mozambique in combating crime and piracy through a trust fund of 30 million Norwegian crowns (about US$ 5.6 million) allocated to the United Nations for this purpose.
Lahnstein said that, sometime between September and December, a maritime station will be set up in an east African country yet to be defined (but which could well be Mozambique) that will act as a base for sea and air patrols, scouring the Indian ocean for signs of pirate activity. Thus as from about October, Norwegian air force planes are likely to be patrolling the Mozambican coast.
"We haven't yet decided in which country we should place these resources, but since Mozambique is one of the countries that are on the pirates' route, and is committed to fighting against this phenomenon, it is probably here that patrol planes will be stationed," said the Norwegian official, quoted in Tuesday's issue of the independent newsheet Mediafax. - source AIM News

IMO reaches agreement for Djibouti regional training centre
A memorandum of understanding (MOU) to allow the International Maritime Organisation (IMO) to fund the building of a regional training centre in Djibouti, has been signed this week in Djibouti.
The purpose of the training centre is to promote the implementation of the Code of Conduct concerning the Repression of Piracy and Armed Robbery against Ships in the Western Indian Ocean and the Gulf of Aden (Djibouti Code of Conduct).
Following the signing ceremony, the meeting adopted a resolution to establish the mission and objectives of the regional training centre in Djibouti, the coordination process for regional maritime training, and the process for the programming of regional training.

Pirates release Khaled Muhieddine K
EU NAVFOR has announced that the Syrian-owned bulk carrier KHALED MUHIEDDINE K (24,022-dwt, built 1981), which was highjacked on 20 January this year, along with its crew of 22 Syrians and three Egyptians, has been released from pirate control. A ransom is presumed to have been paid by representatives of the owners.
News continues below…

CRUISE NEWS: ARABIAN NIGHTS FOR MSC CRUISES
Special flight deals available for South Africans joining departures aboard MSC LIRICA's new itineraries in Abu Dhabi and the United Arab Emirates

MSC Cruises' introduction of Abu Dhabi and the Emirates as a new cruise destination from October this year through to March 2012 has created a unique opportunity for South Africans wishing to experience the very best of this enchanting region by ship.
The luxury cruise ship MSC Lirica has a full schedule of nineteen 8 day-7 night cruises from Abu Dhabi, departing every Sunday from 30 October through to 4 March 2012 and alternatively from Dubai every Friday from 28 October to 9 March 2012.
The itineraries feature a vast array of fascinating shore excursions and the good news is that Emirates Airlines has special deals on offer for South Africans joining these weekly departures. In addition special arrangements have been made for South African passengers to start and end their cruises in Dubai.
MSC Lirica will stop at the ports of Khasab and Muscat in the Sultanate of Oman, Al Fujairah in the United Arab Emirates and include two unforgettable nights in Abu Dhabi and Dubai to ensure guests enjoy the region's most impressive attractions during a comprehensive range of excursions.
"We are delighted that Emirates Airlines has provided great fares for South African residents joining MSC Lirica in Dubai. It is a wonderful way to discover the magnificence of Arabia, her great cities, culture and people while cruising aboard the sister ship to MSC Sinfonia, a cruise liner they are already so familiar with," said Mr Allan Foggitt, marketing director for MSC Starlight Cruises, South Africa.
"It is a fabulous new destination and perfect for South Africans who are looking for somewhere quite different yet reasonably priced as a summer holiday option. Passengers are also welcome to extend their holiday with a stopover in Dubai before or after their cruise," said Foggitt.
As the only cruise company to call at Khasab on a regular basis, MSC Cruises offers privileged access to a little-known paradise. Dubbed the 'Norway of Arabia' for its rugged coastline, the area boasts spectacular fjord-like inlets dotted with picturesque fishing villages which guests of MSC Cruises can visit in traditional dhows, stopping to swim in the turquoise waters around atmospheric Telegraph Island.
Alternatives include a coach tour to the town's dramatic 17th century fort and the thrill of a jeep safari through breathtaking scenery to the mountain peak of Jebel Harim.
A similarly eclectic choice of outings is available from Muscat featuring dolphin-watching and 'dune bashing' in the Wahiba Sands wilderness, private dhow cruises and visits to castles and mosques.
From Al Fujairah guests can choose between a desert discovery trip, a scenic and cultural tour of the coast or a half-day of pure relaxation on the beach between the beautiful Hajar Mountains and the warm waters of the gulf.
The metropolis of Abu Dhabi makes for stunning city tours, as well as being the base for a behind-the-scenes look at the Yas Marina Formula 1 Circuit and a trip to the brand new Ferrari World Theme Park, where visitors can ride the world's fastest roller-coaster. For a change of pace, there is also a visit to the oasis town of Al Ain, known as the 'Garden City' for its lush greenery, a face-to-face encounter with majestic birds of prey at the Abu Dhabi Falcon Hospital or the chance to enjoy afternoon tea at the sumptuous Emirates Palace.
From the world's tallest building and its only 7-star hotel to a man-made island in the shape of a palm tree, Dubai is not short of spectacular modern landmarks to visit. And guests of MSC Cruises can enjoy much more besides, like shopping in a traditional souk, swimming with dolphins or taking a romantic sunset cruise in a traditional dhow.
By providing so many imaginative options for discovering this extraordinary part of the world, not forgetting the state-of-the-art leisure facilities on board MSC Lirica itself, MSC Cruises says it is confident of offering guests an unforgettable Arabian adventure.
The luxurious 59,000-ton MSC Lirica, which has capacity for a total of 2069 guests in 780 cabins, features a sophisticated and elegant decor, superb attention to detail in all areas, the finest Italian and international cuisine and a dazzling array of entertainment and activities. The luxury cruise ship boasts shops, a casino, a card room and the 713-seat Broadway theatre. Guests can choose between four different restaurants to dine in, or they can soak up the atmosphere of the Lord Nelson Pub, chill to a range of music in The Beverly Hills bar or dance their hearts out in the Blue Club Discotheque.
MSC Lirica's maiden southbound cruise from Genoa to Abu Dhabi this October will take her from the Mediterranean Sea to Naples, Italy, and then to Port Said, Egypt, through the Suez Canal to Aqaba in Jordan, Salalah and Muscat in Oman and finally to Dubai and Abu Dhabi in the United Arab Emirates.
Arabia will say farewell to MSC Lirica five months later, on 11 March 11 2012, when she starts her 18 day-17 night northbound return cruise from Abu Dhabi to Genoa in Italy. Scheduled stops are Al Fujayarah in the United Arab Emirates, Muscat and Salalah in Oman, Safaga in Egypt, Aqaba in Jordan, Port Sokhna in Egypt, through the Suez Canal to Port Said and finally to Naples and Genoa.
Ports of call during the Arabian itinerary include:

* Abu Dhabi is a cosmopolitan metropolis rich in splendours, from the magnificent Sheikh Zayed Grand Mosque, one of the largest in the world with its 800 domes and 1,000 columns, to the Heritage Village, Emirates Palace and Al Ain archaeological site with its palace museum. Guests can head into the desert to enjoy the thrill of a roller coaster ride through sand dunes or stay in the city for some of the finest, most sophisticated shopping on the planet.

* Dubai defies definition as an ultramodern city steeped in tradition, flanking the coast with a natural creek on the edge of the Arabian Desert. Guests will delight in its worlds within worlds, discovering Ajman's famous museum and souk, taking a leisurely tour of the city in a traditional Dhow after dinner, traversing the desert's golden dunes in a 4x4 or bathing in the natural pools at Hatta.

* Al Fujairah is a jewel of history and nature, set in majestic hillsides and wadis inhabited since the Iron Age. Visitors marvel at its atmospheric old city and 17th century fortress, Al Bithna Oasis with its prehistoric tomb, and the exquisite village of Masafi in the Hajar Mountains. Sun-seekers will find their own paradise in its scenic secluded beaches.

* Muscat has been renowned as one of the world's greatest ports since Ancient Rome. Guests can journey through time in the breathtaking Al Jalali and Al Mirani forts, the bustling souk, the magnificent Sultan Qaboos Mosque and the Beit Al Zubair museum. Then they can treat themselves to the timeless natural fragrances of the exclusive Amouage perfumery.
TRADE NEWS: PANAMA REPRESENTATIVES IN SOUTH AFRICA
Panama has new representatives in Durban. Operating from offices in Winder Street, the offices of Panama Maritime Services is able to offer a full range of services that include:
- Consular services
- Flag Registration
- Annual Safety Inspections (ASI)
- Consent to carry armed personnel on board a Panama flag vessel
- Crew Accommodation Certificate (CICA)
- Surveys and Class Certification
- Issuance of crew endorsements
- Legal services
- STCW courses
- Panama books (Crew List, Oil Record Book and Official Log Book)
- Issuance of ISM, ISPS and statutory certificates on behalf of the Registry
- Any other issue related with the Panama Maritime Authority.
The Durban office has a backup of a team of experts, including law firms in Panama that are ready to assist in any possible way. Publications are also available upon request. Endorsements are issued within the hour of receiving the right documentation. Flag Registrations are done in less than 8 hours once confirmed payment to the Panama Maritime Authority (PMA).
Panama Maritime Services also represents Panama Recognize Safety Organizations (RSO's) as well as a Training Seafarers Institution. Staff are available 24/7 by phone as well as in their offices located at 27 Winder Street, right next to the harbour.

Panama's Ship Registry is the most widely used registry worldwide. Due to the very low registration taxes as compared to other countries throughout the world, ship registration under the Panama flag is widely used by international shipping companies. The Panamanian Registry offers many advantages: no minimum tonnage required; possibility of dual registry; absence of restriction regarding nationality; acceptance of foreign tonnage certificates at the moment of registration, saving the ship to be dry docked prior to the registration; etc.
For more details of the services as well as general information about Panama Registry of vessels visit the webpage Panama Maritime Services or click on the advertising button on the Home Page of Ports & Ships.
News continues below…

SAAFF KZN HOLDS ANNUAL GOLF DAY ON 9 JUNE
The South African Association of Freight Forwarders (SAAFF), KZN branch is holding its annual Golf Day on 9 June at the Royal Durban Golf Course.
The annual golf day is open to members and service providers including shipping lines, truckers, warehousemen and the like.
This year the field will be playing for the 'Dave Sievwright Trophy', in memory of the late Regional Manager for the NSRI, who died on the Shelly Beach Golf Course on the day before Christmas last year. All proceeds will be going to the NSRI.
SAAFF KZN already has a full field of 144 confirmed.
PICS OF THE DAY – STRIKER and ID NORTH SEA
The South African trawler STRIKER manoeuvring into her berth at the fishing wharf near Maydon Wharf 1 in Durban harbour. Picture by Terry Hutson
The Danish bulker ID NORTH SEA (28,367-dwt, built 2009) in Durban harbour earlier in May. Picture by Trevor Jones
Don't forget to send us your news and press releases for inclusion in the News Bulletins. Shipping related pictures submitted by readers are always welcome – please email to info@ports.co.za
Did you know that Ports & Ships lists ship movements for all southern African ports between Walvis Bay on the West Coast and Mombasa on the East Coast?
TABLE BAY UNDERWAY SHIPPING
SHIP PHOTOGRAPHERS
Colour photographs and slides for sale of a variety of ships.

Thousands of items listed featuring famous passenger liners of the past to cruise ships of today, freighters, container vessels, tankers, bulkers, naval and research vessels.
P O BOX 809, CAPE TOWN, 8000, SOUTH AFRICA
snai@worldonline.co.za
http://home.worldonline.co.za/~snai
South Africa's most comprehensive Directory of Maritime Services is now listed on this site. Please check if your company is included. To sign up for a free listing contact info@ports.co.za or register online