Ports & Ships Maritime News
30 May, 2011
Author: Terry Hutson
Improve your branding with your banner on this site and tap into our large readership - contact info@ports.co.za
TODAY'S BULLETIN OF MARITIME NEWS
Click on headline to go direct to story – use the BACK key to return
SITUATIONS WANTED<><><><><><>SITUATIONS WANTED
I am a young, ambitious lady that is desperately seeking employment in the Richards Bay/Empangeni area. I am currently holding the position of Financial Controller for a well known hotel establishment as well as doing books to trial balance for 11 property companies. I am currently pursuing my NQF4 diploma and am a member of the Institute of Certified Bookkeepers. I am an extremely quick learner, having gained all my own knowledge in my current position as well as learning Pastel and Vip Payroll. I am a go-getter that is not afraid of work or new challenges, I just need someone to acknowledge my worth and hopefully place me in their establishment for many years of dedicated service. Nichole – breetzkenichole@gmail.com or 0784150873.
SITUATIONS WANTED<><><><><><>SITUATIONS WANTED
SEND NEWS REPORTS AND PRESS RELEASES TO info@ports.co.za
Looking for help? Try our MARITIME SERVICES DIRECTORY CLICK HERE
FIRST VIEW – DEEP VENTURE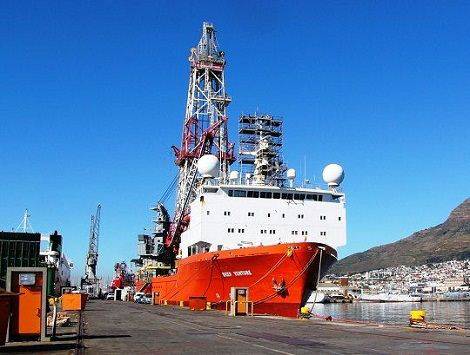 The Russian drill ship DEEP VENTURE (12,923-gt, built 1981) alongside at the Cape Town repair quay for some repairs. Picture by Aad Noorland
News continues below...

TRANSNET AND UNIONS DO A DEAL – NO WAGE STRIKES THIS YEAR!
The likelihood of fresh industrial unrest over wages in 2011 lessened following the announcement on Friday that Transnet and the two main unions, the South African Transport and Allied Workers Union (Satawu) and the United Transport and Allied Trade Union (Utatu), have agreed on an 8.5% across the board increase in basic pensionable pay.
Readers will recall that a year ago, just prior to the FIFA Soccer World Cup when South Africa was most vulnerable, the unions embarked on an 18-day strike over wage demands that crippled the ports and railway operations and which took months to clear once a settlement was reached.
"This milestone will go a long way towards strengthening relations with our most important stakeholder – our employees – and, I believe will have a significant impact on morale and productivity. Crucially, this settlement will enable us to focus on achieving our operational goals for the year," said Transnet chief executive, Brian Molefe.
He said it was also encouraging that this was done with no disruption to Transnet operations, "a positive sign for our relationship."
Observes might suggest that Mr Molefe's statement that its employees (instead of its customers) were its most important stakeholder was symptomatic of many of Transnet's problems.
Zenzo Mahlangu, Satawu's General Secretary said the union was happy with the agreement. "We are quite impressed that although there were issues, there was also a high level of maturity on both sides. That we were able to agree on terms without resorting to drastic measures shows that we are heading in the right direction and that we are growing."
Utatu President George Strauss said Utatu was happy with the settlement and given the financial circumstances, it was very good for its members. "We believe that it will have a positive impact on staff morale as it betters our working conditions and I am sure that our members will respond positively," he said.
News continues below…

SHIPS AND SHIPPING LINE NEWS
Farewell to the Santa class as Hamburg Süd and Maersk upgrade service

Santa Clara, which arrived in Durban in February where the ship was officially named. Picture by Trevor Jones
Hamburg Süd, Maersk Line and Safmarine have announced the upgrading of their joint service between the Far East and East Coast South America calling at South Africa.
The carriers will open a second service from July known as String 2 and operated with 11 4,200-TEU Panamax size vessels. This string will have a port rotation of Shanghai, Guangzhou-Nansha, Hong Kong, Singapore, Port Tanjung Pelepas (PTP), Durban, Suape, Sepetiba, Itajai, Santos, Port Elizabeth, Durban, Hong Kong and back to Shanghai.
String 1 or the current ASAS service will be operated with 12 ships of Hamburg Süd's 7,100-TEU Santa class (six) and Maersk's Sammax class (six) and a port rotation of Busan, Shanghai, Ningbo, Shenzhen-Yantian, Hong Kong, PTP, Singapore, Santos, Itapoa, Buenos Aires, Montevideo, Rio Grande, Itapoa, Paranagua, Santos, Singapore, Hong Kong and back to Busan.
The Sammax class (South America Max) has a nominal capacity of 7,450-TEU making this the biggest ship so far on the Far East – ECSA service. An example of this class is the MAERSK LIMA. The ships are 299m long and 45.2m wide with a 12.5m draught and carry 1,701 reefer plugs. Maersk has a total of 16 Sammax vessels under construction at the Daewoo Shipbuilding and Maritime Engineering yards. Both the Sammax and the Santa class of ships have included calls at Durban but this will stop after the end of June, with the smaller 4,500-TEU ships from String 2 taking over.

Maersk Lima, at 7,450-TEU the largest ship on the Far East – East Coast S.America service, but until July still calling in South Africa. Here she is at DCT 205 last week. Picture by Steve McCurrach www.airserv.co.za

CMA CGM goes for size
French container carrier CMA CGM is to enlarge three of its ships under construction from 13,800-TEU to 16,000-TEU. According to CEO Jacques Saadé, he does not rule out ships of 18,000-TEU with future orders.
Saadé was speaking at the naming of the company's latest container ship, the 11,400-TEU CMA CGM TITAN in Dunkirk, the 8th in a series of 12 ordered. CMA CGM Titan will enter service on the company's FAL3 service between Europe and Asia.

Maersk raises US – West Africa rates
Maersk Line has announced a rate increase on its services between the US and West Africa effective from 1 July 2011. Boxes will be raised US$ 150 per TEU and $ 300 per 40ft or 40ft high-cube and affects shipments to Mauritania, Senegal, Cape Verde, Gambia, Mali, Niger, Nigeria, Ghana, Guinea-Bissau, Guinea, Sierra Leone, Cote d'Ivoire, Benin, Togo, Liberia, Sao Tome & Principe, Angola, Democratic Republic of Congo, Chad, Cameroon, Equatorial Guinea, Gabon, Congo, Burkina-Faso and the Central African Republic.
News continues below...

MOTLANTHE PUSHES FOR MORE AFRICA-INDIA TRADE

Deputy President Kgalema Motlanthe
Pretoria - Deputy President Kgalema Motlanthe has reaffirmed the strategic importance of India's relationship with Africa, however, he underscored the need for burgeoning trade relations to be propelled to the next level.
"We need to ensure that capacity building is focused on further expansion and leads to increases in trade between and amongst the African countries and India, as well as in investment in infrastructure development," Motlanthe told the second Africa-India summit held in Addis Ababa last week.
Motlanthe commended the commitment of US$ 18 billion worth of projects to Africa by the Indian businesses at the Business Forum Conclave held early this year, as well as the credit line India offered to Africa during the first Summit in 2008 - commitments made in a harsh economic environment in the aftermath of the recession.
"We, as African countries, need to ensure that we fully utilise such opportunities to the benefit of our people, especially since the shortage of finance experienced by Africa in this current economic situation depresses investment, deters growth and undermines the ability of our countries to meet the Millennium Development Goals," said Motlanthe.
Currently, the World Bank estimates that Africa needs investment of $ 93 billion per year to address the infrastructure gap.
While the Deputy President acknowledged gains made in the agriculture, manufacturing and other sectors of the economy, he said there was still a need to explore ways of making more out of the partnership in order to stimulate employment creation in the various countries.
Motlanthe proposed that there should be a follow-up mechanism that will ensure monitoring and evaluation of progress made.
"With strict timeframes, this will assist Member States to remain focused and effectively implement the programmes and projects sponsored by this Forum," said Motlanthe.
With Africa still trying to break through India's highly regulated economic market and one of the world's fastest growing economies, Motlanthe was hopeful that gains would be made through partnerships like the Africa-India Forum, IBSA and BRICS.
Working in concert with India, he was also confident that Africa can push for the conclusion of the World Trade Organisation's Doha Round of negotiations, which will ultimately see a more equitable global trade system. – BuaNews
WEDDING BELLS ONBOARD THE MSC SINFONIA

MSC Sinfonia enters Durban harbour. Picture Trevor Steenekamp
The luxury cruise ship MSC SINFONIA (58,625-gt, built 2002) hosted a record 122 symbolic wedding, engagement and renewal of vows ceremonies at sea during the six month 2010/2011 summer season, reports MSC Starlight Cruises.
It says this indicates a steadily increasing preference for cruise ships as a perfectly romantic venue for South Africans.
In addition, hundreds more South Africans chose MSC Sinfonia and MSC Melody for dreamy honeymoon cruises out of Cape Town or Durban to Mozambique and the Indian Ocean islands of Mauritius, Madagascar and Reunion.
Romantic ceremonies on MSC Sinfonia were most popular for passengers from Gauteng with 46 couples from Johannesburg and 19 from Pretoria choosing to celebrate aboard ship. A further 28 couples from Durban, 19 from Cape Town and 10 from the rest of the country also enjoyed special ceremonies at sea.
"It is such a wonderfully exclusive setting and just so romantic that many couples even opt for a ceremony in which they simply declare their love for each other," said Allan Foggitt, marketing director of MSC Starlight Cruises.
"Better still they can invite friends and family to join them and make it a truly unforgettable experience that is as personal, festive and exotic an occasion as they wish," said Foggitt, adding that the biggest wedding so far aboard MSC Sinfonia included over 90 guests.
He said the guests enjoyed it so much that they are already planning a first anniversary cruise with the bride and groom next season!
Special Ceremony Package
MSC Starlight cruises offer a Classic Ceremony Package aboard MSC Sinfonia and MSC Melody for R1100. This includes a romantic ceremony attended by guests, an onboard wedding planner and ship's Officers, a reserved decorated lounge with ceremonial music (either recorded or live on request with a fee) and a personalised booklet detailing the ceremony signed by the ship's Captain (or other celebrant); a sponge wedding cake filled with fresh fruit and cream featuring the names of the special couple served with a bottle of J.C Leroux Le Domain sparkling wine (or orange juice); and a symbolic wedding certificate signed by the Captain (or other celebrant).
The there's a Deluxe Ceremony Package costing R1700 which offers the same basic ceremony package but with upmarket touches: A two-tiered wedding cake filled with chocolate mousse featuring the names of the bride and groom and served with a bottle of Pongracz Cap Classique sparkling wine (or orange juice); an exclusive bouquet for the bride and a boutonniere (floral button hole decoration) for the groom to make it an extra special occasion.
Couples wishing to hold a wedding ceremony aboard ship should remember though that in terms of local law they need to first legalise their marriage on South African soil.
A cruise ship honeymoon is a popular option for newlyweds around the world and it is proving no different for South Africans. It is a time they will cherish for the rest of their lives and because of this all honeymoon couples are given an upgrade on MSC cruise ships.
In order to secure this all they have to do is book the cabin category of their choice and they will receive a 10 percent discount plus a one cabin category upgrade (subject to availability). But they should note that no further upgrade is applicable if they are booked in a Category 10 or Category 11 suite or during Peak Season cruises. Upgrades to an outside cabin are also not offered if an inside cabin was booked. Honeymoon discounts also can't be combined with any other special offer.
Last year over 400 weddings alone were celebrated on the MSC Cruises fleet worldwide.
PIRACY – LIFE IN JAIL SAYS KOREAN COURT
A South Korean court has sentenced a Somali pirate, Mahomed Araye, to life in prison for his role in the attempted murder of the captain of the highjacked tanker SAMHO JEWELRY in January this year.
Araye was one of a number of pirates captured when South Korean Navy Seals boarded the ship to free the crew. He was charged with having fired at the captain, although his defence said the evidence was thin as no-one saw this. During the action eight pirates were killed and five captured. A fifth pirate who pled guilty will be sentenced this week
A second pirate received a sentence of 15 years and two others received 13-year terms. This was the first such trial to be held in Korea and was the first to be tried by a jury, with a judge having the final say in the decision.
During the trial it emerged that a mystery British man working in the insurance industry had played a role in trying to broker a deal for the ransoming of the ship's crew. This took place before the Korean Navy took action.

India softens its stance against pirates
India, which has adopted a somewhat hard stance against pirates including the use of deadly force, has decided not to arrest Somali pirates in future.
This about face comes as a result of the Somali pirates holding back seven Indian crewmen from the ship ASHPALT VENTURE after the vessel was ransomed earlier this month. The Indian government has confirmed that it has asked the Indian Navy not to arrest any more pirates, but instead to confiscate their weapons and spare fuel and other equipment used in the attack on ships, and to release them.
Indians provide about 10% of the world's seafarers and the response of Somali pirates is obviously a great worry to the Indian government, which sees the matter escalating if left on its previous course. Indian navy ships had adopted a rather tough response to pirates, almost akin to 'shoot first and ask questions later', which led to several embarrassing positions for them and the unfortunate death of innocent hostages.
A government official said of the pirates already captured, "They are neither terrorists nor are they of any other value to us. So we have booked them under Arms Act and violations of other Indian laws. We will have to take care of them now." – source Times of India
News continues below…

MAURITIUS TROCHETIA on ELDOCK and JOLLY ROSSO
The combined cargo and passenger ship MAURITIUS TROCHETIA is currently in the Durban ELDOCK floating dock undergoing a routine maintenance and survey. Next to Eldock is the empty TNPA floating dock – still out of commission after several years. Picture by Steve McCurrach www.airserv.co.za
A bird's eye view – or in this case an aircraft's – of what a RoRo operation looks like. The Italian Ignazio Messina Line RoRo JOLLY ROSSO (30,969-gt, built 1983) is seen at Durban's E shed on the Point discharging cargo the roll on roll off way. Picture by Steve McCurrach www.airserv.co.za
Don't forget to send us your news and press releases for inclusion in the News Bulletins. Shipping related pictures submitted by readers are always welcome – please email to info@ports.co.za
Did you know that Ports & Ships lists ship movements for all southern African ports between Walvis Bay on the West Coast and Mombasa on the East Coast?
TABLE BAY UNDERWAY SHIPPING
SHIP PHOTOGRAPHERS
Colour photographs and slides for sale of a variety of ships.

Thousands of items listed featuring famous passenger liners of the past to cruise ships of today, freighters, container vessels, tankers, bulkers, naval and research vessels.
P O BOX 809, CAPE TOWN, 8000, SOUTH AFRICA
snai@worldonline.co.za
http://home.worldonline.co.za/~snai
South Africa's most comprehensive Directory of Maritime Services is now listed on this site. Please check if your company is included. To sign up for a free listing contact info@ports.co.za or register online
Bringing you shipping, freight, trade and transport related news of interest for Africa since 2002