Ports & Ships Maritime News
24 May 2011
Author: Terry Hutson
TODAY'S BULLETIN OF MARITIME NEWS
Click on headline to go direct to story – use the BACK key to return
SEND NEWS REPORTS AND PRESS RELEASES TO info@ports.co.za

Looking for help? Try our MARITIME SERVICES DIRECTORY CLICK HERE
FIRST VIEW – DEEPSEA STAVANGER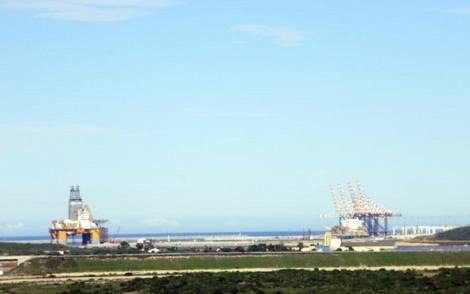 DEEPSEA STAVANGER is a sixth generation deepwater and harsh environment sem-submersible that was delivered last year and which has been operating for Ophir Energy plc offshore of Tanzania as the first drilling campaign ever conducted in Tanzania. The rig is also the first vessel to enter the port of Ngqura forthe purpose of repairs, bringing a new and somewhat unplanned dimension to the story of this emerging port.
Picture taken from the highway over some considerable distance, by Harry Ozinsky
News continues below...

IMO ISSUES MUCH AWAITED POLICY STATEMENT ON SHIPBOARD ARMED GUARDS
The International Maritime Organization has issued a much awaited policy statement on the use of armed guards on board ships voyaging in pirate-risk waters. Because of its importance, we are publishing the statement in full, particularly after the confusion resulting from a report on the BBC at the weekend that said the IMO had gone the distance and endorsed the use of armed guards. IMO's statement reads:

Interim guidance on use of privately contracted armed security personnel on board ships agreed by IMO Maritime Safety meeting
Briefing from the IMO Maritime Safety Committee (MSC), 89th session from 11th to 20th May 2011
Interim guidance on the employment of privately contracted armed security personnel on board ships transiting the high-risk piracy area off the coast of Somalia and in the Gulf of Aden and the wider Indian Ocean was approved by IMO's Maritime Safety Committee (MSC), which met at the Organization's London Headquarters for its 89th session from 11th to 20th May 2011.
The MSC approved an MSC Circular on Interim guidance to shipowners, ship operators, and shipmasters on the use of privately contracted armed security personnel on board ships in the High Risk Area, and Interim recommendations for flag States on the use of privately contracted armed security personnel on board ships in the High Risk Area. Both sets of guidance are aimed at addressing the complex issue of the employment of private, armed security on board ships.
The guidance to shipowners notes that flag State jurisdiction and any laws and regulations imposed by the flag State concerning the use of private security companies apply to their vessels. Port and coastal States' laws may also apply to such vessels.
The guidance notes that the use of Privately Contracted Armed Security Personnel (PCASP) should not be considered as an alternative to the Best Management Practices to Deter Piracy off the Coast of Somalia and in the Arabian Sea area (BMP) and other protective measures. Placing armed guards on board as a means to secure and protect the vessel and its crew should only be considered after a risk assessment has been carried out. It is also important to involve the Master in the decision making process.
The guidance includes sections on risk assessment, selection criteria, insurance cover, command and control, management and use of weapons and ammunition at all times when on board and rules for the use of force as agreed between the shipowner, the private maritime security company and the Master.
The interim recommendations for flag States recommend that flag States should have in place a policy on whether or not the use of PCASP will be authorized and, if so, under which conditions. A Flag State should take into account the possible escalation of violence which could result from the use of firearms and carriage of armed personnel on board ships when deciding on its policy. The recommendations are not intended to endorse or institutionalize the use of PCASP and do not address all the legal issues that might be associated with their use onboard ships.
An intersessional meeting of the Working Group on Maritime Security and Piracy will meet in the week commencing 12th September 2011, to develop recommendations to Governments (flag, port and coastal States) on the use of PCASP; review the interim guidance to shipowners, ship operators and shipmasters on the use of PCASP for any consequential amendments; agree an MSC circular for the promulgation of the recommendations to Governments on the use of PCASP; if necessary, agree a revised MSC circular on Guidance to shipowners, ship operators and shipmasters on the use of PCASP; and identify any necessary consequential amendments to the Recommendations to Governments for preventing and suppressing piracy and armed robbery against ships (MSC.1/Circ.1333) and the Guidance to shipowners and ship operators, shipmasters and crews on preventing and suppressing acts of piracy and armed robbery against ships (MSC.1/Circ.1334).
The MSC also adopted an MSC resolution on Implementation of Best Management Practice guidance, which strongly urges all parties concerned to take action to ensure better implementation of these important measures, recognising the urgent need for merchant shipping to take every possible measure to protect itself from pirate attack and that effective self-protection is the key to avoiding, evading and deterring pirate attacks.
The resolution strongly urges all those concerned to take action to ensure that as a minimum and as recommended in the Best Management Practices: ships' masters receive updated information before and during sailing through the defined High Risk Area; ships register with the Maritime Security Centre Horn of Africa and report to United Kingdom Maritime Trade Operations (UKMTO) Dubai; and ships effectively implement all recommended preventive, evasive and defensive measures.
The MSC also agreed Guidelines to assist in the investigation of the crimes of piracy and armed robbery against ships, which are intended to be used in conjunction with resolution A.1025(26) Code of Practice for the Investigation of the Crimes of Piracy and Armed Robbery against Ships. The guidelines are intended to assist an investigator to collect evidence, including forensic evidence, to support the submission of written reports which may assist in the subsequent identification, arrest and prosecution of the pirates that held the vessel and crew captive.
Formats for crew statements and logging of evidence are included, as well as guidelines on recovery and packaging of exhibits such as blood, clothing and weapons.
IMO Secretary-General Admiral Efthimios E. Mitropoulos welcomed the progress made by the Committee in addressing the piracy issue. He said,
"I am pleased with the progress the Committee was able to make on all the piracy related items it had set out to consider during the session and, in particular, on the development of guidance to the industry and recommendations to flag States on the use of privately contracted armed security personnel on ships scheduled to sail through Indian Ocean areas exploited by pirates launching their operations from Somalia or mother ships. The decision of the Committee to convene an intersessional working group in September to draft guidance to flag, port and coastal States shows its determination to deal with this sensitive issue in the most expeditious and effective manner."
He added, "I also welcome the Committee's decision to promote wider compliance of merchant ships with the industry Best Management Practice guidance, as I believe that their diligent implementation will contribute substantially to keeping pirates at bay."
The number of acts of piracy and armed robbery against ships reported to the Organization and which occurred in 2010 was 489, against 406 during the previous year, an increase of 20.4% from the figure for 2009. The areas most affected (i.e. five incidents reported or more) in 2010 were East Africa and the Indian Ocean followed by the Far East and, in particular, the South China Sea, West Africa, South America and the Caribbean. During the year, it was reported that two crew members were killed and 30 crew members were reportedly injured/assaulted, while 1,027 crew members were reportedly taken hostage or kidnapped. Fifty-seven vessels were reportedly hijacked, with one vessel reportedly still unaccounted for.
In the first four months of 2011, 214 incidents were reported to the Organization.

Acknowledgement to Paul Ridgway for obtaining the statement for PORTS & SHIPS.
News continues below…

SHIPS AND SHIPPING LINE NEWS
CSCL upgrades Far East to East Coast S.America service

CSCL Lima arriving in Durban. Picture Trevor Jones
CSCL will be upgrading their service linking the Far East to Brazil & Argentina from early next month, reports Paul Scannel, GM of South African General Agents, Seaclad Maritime.
The current service, which is in partnership with CMA, has a weekly eastbound call at Durban on the way back to the Far East using 11 x 4,500 TEU vessels.
From June 2011, CSAV will join the partnership and the service will be expanded substantially into two services. SEAS I will be operated with 11 x 6,500 TEU vessels on the following weekly port rotation - Pusan, Shanghai, Ningbo, Chiwan, Hong Kong, Port Kelang, Santos, Montevideo, Buenos Aires, Rio Grande, Paranagua, Santos, Durban, Port Kelang, Hong Kong, Pusan, Shanghai, Ningbo, Chiwan. Other Far East ports will be available on a transhipment basis.
SEAS II will be operated with 10 x 4,200 Teu vessels. Also calling on a weekly basis at the following ports - Shanghai, Ningbo, Xiamen, Kaohsiung, Hong Kong, Shekou, Port Kelang, Rio de Janiero, Santos, Paranagua, Itajai, Santos, Ngqura, Singapore, Hong Kong, Shanghai, Ningbo, Xiamen.
Scannel said that schedules are still being finalised and the first vessels to call at South Africa on the new service are expected at Ngqura at the end of July 2011 (SEAS II) and Durban in the first week of August 2011 (SEAS I) with weekly calls at both ports thereafter.
"Besides the introduction of Ngqura into the CSCL services here in South Africa, there will also be new direct discharge ports in the Far East for our South African exporters which have been included in the above port rotations."
Sailing schedules will be published within the next few days. In the meantime, enquiries can be made to CSCL general agents in South Africa, Seaclad Maritime, tel 27 31 327 9400.

PIL introduces Navis surcharge
According to a memo sent to clients, Pacific International Line (PIL) intends introducing a Navis surcharge, or 'fee' as it is described, of R80 per TEU with effect 1 June 2011.
MOZAMBIQUE: DRAFT ASSESSMENT TO USE ZAMBEZI RIVER FOR COAL SHIPMENTS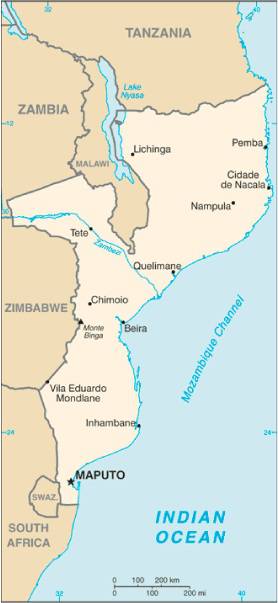 Maputo, 23 May – The Mozambican government is due to give its assessment of the environmental impact study (EIS) of the project to transport coal mined by Australian company Riversdale Mining in Tete province via the Zambezi River, according to Mozambican daily newspaper Notícias.
The paper said that the final public consultation meeting to gather suggestions for the EIS had taken place on Friday in Maputo. The draft version of the EIS is due to be submitted to the Council of Ministers in June.
Using the Zambezi River to transport coal is being proposed due to the limitations of the Sena railway line, which links the mining area in Tete and the port of Beira, as it cannot transport more than 6 million tons per year. This is considered to be a derisory amount, especially considering that several mining operators plan to use it.
Riversdale Moçambique, Ltd, which has the concession on the Benga reserves, has hired Environment Resources Management Southern Africa, in partnership with Mozambican company Impacto Associados, to carry out the environmental impact studies, the results of which have not brought up significant difficulties.
The coal will be transported on a convoy of up to eight small barges, pushed by an appropriate boat, and each barge will be able to carry 2,500 tons of coal.
If it is approved, river transport will reduce the logistical problems of distributing the coal ahead of building a railway from Moatize, in Tete, to the Northern Corridor to make use of the port of Nacala. (macauhub)

Cotton crop totals 70,000t
In other Mozambique news, raw cotton production in the 2010/2011 agricultural season in Mozambique is expected to total 70,000 tons according to the Mozambican Cotton Institute, cited in the news bulletin from the Confederation of Mozambican Economic Associations.
In the previous agricultural campaign – 2009/2010 – raw cotton production was low at just 42,000 tons. This was exported to Asia (99 percent) and Europe (1 percent), and had fallen 36.5% against 2008/2009, when 65,000 tons was produced.
According to the Economic and social Plan (PES) for 2010, the drop in cotton production in 2010 was due to the crop having been given up by many farmers because of low prices.
The low prices, according to the bulletin, influenced the number of producers that grew the crop as well as preventing them from treating the crop properly and at crucial times, such as flowering and maturing of the buds, which led to heavy losses.
Officials at the National Cotton Institute have said that producers and companies are focused on meeting targets because prices are now at an all-time high on the international market, rising from an average of US$ 1,000 to around US$ 4,500 per ton. (macauhub)
MAERSK LINE LAUNCHES SUSTAINABLE CONTAINER FLOOR

Maersk Daesan. Picture by Trevor Jones
Copenhagen, 23 May 2011 - Maersk Line announced on Monday a new policy to refrain from purchasing containers with floors made of uncertified tropical hardwood.
"Illegal logging is widely recognised as a serious threat to forests, people and wildlife. We feel obligated to use our purchasing power to push for higher standards and ensure that the timber we use for container floors come from responsible forestry," says Jacob Sterling, Head of Climate & Environment, Maersk Line.
Traditionally, shipping lines have had their containers fitted with tropical hardwood floors. It takes two cubic metres of hardwood to produce floors for three 40 foot containers. The container industry uses approximately 1.2-1.5 million cubic metres of hardwood annually to meet demand for new containers.
As a result of the new policy, all new Maersk Line containers purchased as of January 2011 have floors made of timber from sources employing responsible forestry practices or non-wood alternatives such as bamboo and recycled plastic. Any tropical hardwood used will be certified by the Forest Stewardship Council (FSC). As an interim solution applicable only in 2011, tropical hardwood verified as legally compliant will be accepted while other floor types are scaled up in production.
To date, Maersk Line has purchased 64,000 containers that comply with the new policy. Over the next five years, Maersk Line will purchase approximately 3 million containers (TEU), more than doubling its current container fleet. A large percentage of the container fleet will therefore have new alternative floorboards within a relative short time span. Certified floors will be in all Maersk Line containers within 18 years, the typical lifetime of a container.
"It will take a while before we can say that all our containers are fitted with the new floors but we trust that our customers will appreciate that the containers we buy to transport their cargo from now on will have more sustainable floor types." says Jacob Sterling.
The new alternative flooring solutions have been tested and developed in partnership with company suppliers.
Maersk Container Industry (MCI) in Dongguan, China produced its first FSC-labelled container for Maersk Line in April 2011. The container is fitted with hardwood floor from certified responsible forestry.
"We have spent several years testing alternative materials and developing suppliers to avoid the use of uncertified tropical timber. We are pleased to introduce a viable and competitive solution for our customers," says Peter Nymand, CEO, Maersk Container Industry.
FSC's Director General Andre de Freitas is satisfied with Maersk Line's policy. "Through preference for FSC certified products, Maersk has prioritised essential social and environmental criteria throughout its supply chain."
PIRACY: IRAN NAVY DETERS PIRATES FROM CAPTURING BOXSHIP DANDLE
The Iranian Navy says it came to the aid of the German-owned container ship DANDLE (36,014-gt, built 2000) which was under threat in the Sea of Oman by pirate suspects in four fast motor boats.
Deputy Commander of the Iranian Navy Rear Admiral Gholam-Reza Khadem Bigham said the pirates were armed with light weapons and RPGs and were approaching the Dandle from all sides, making it difficult for the container ship's crew to defend themselves.
With the approach of the Iranian Navy ships the pirates broke off the attack and fled the scene.
Admiral Bigham said his navy has increased its forces in the northern Indian Ocean and the Gulf of Aden and was ready to provide protection for any merchant ship that may be targeted by pirates in international waters. The Iranian Navy has been patrolling the region since November 2008.
Somali pirates go on trial in South Korea
Monday, 23 May 2011 - Four Somali pirates who were captured in a commando raid on a hijacked ship in January, went on trial in South Korea on Monday. They face possible sentences of life imprisonment if found guilty.
A fifth pirate will be tried separately after he plead guilty to the charges,
This is the first time that a trial is being held in South Korea involving Somali pirates and is being held in the port city of Busan.
The pirate suspects were captured by a force of Korean navy special forces who boarded the South Korean products tanker SAMHO JEWELRY six days after the ship was captured by pirates in the Arabian Sea. During the special forces' attack eight pirates were killed and five captured. The ship's master received bullet wounds and is currently in a hospital where his condition is described as stable.
According to evidence that will be presented to the court, some of the pirate suspects were also involved in the capture of another company ship in 2010, the 300,000-dwt supertanker SAMHO DREAM. A ransom of US$ 9 million was reported to have been paid for that ship's release.
News continues below…

PICS OF THE DAY – MAURITIUS TROCHETIA
Passenger ships have mostly relocated to warmer climes by now, it being the start of the southern winter, although the SUN PRINCESS has still to make her appearance in the ports of Cape Town and Durban on 31 May and 5 June respectively, but last week the MAURITIUS TROCHETIA arrived in the port of Durban for her routine inspection and maintenance on the Eldock floating dock. Mauritius Trochetia is a combined cargo/passenger ship, and together with a second such ship, the MAURITIUS PRIDE, she operates a regular service among the Mascarene Islands. Here the ship is seen moving into the Maydon Channel on the last minutes of her voyage from Port Louis. Pictures by Trevor Jones
Don't forget to send us your news and press releases for inclusion in the News Bulletins. Shipping related pictures submitted by readers are always welcome – please email to info@ports.co.za
Did you know that Ports & Ships lists ship movements for all southern African ports between Walvis Bay on the West Coast and Mombasa on the East Coast?
TABLE BAY UNDERWAY SHIPPING
SHIP PHOTOGRAPHERS
Colour photographs and slides for sale of a variety of ships.

Thousands of items listed featuring famous passenger liners of the past to cruise ships of today, freighters, container vessels, tankers, bulkers, naval and research vessels.
P O BOX 809, CAPE TOWN, 8000, SOUTH AFRICA
snai@worldonline.co.za
http://home.worldonline.co.za/~snai
South Africa's most comprehensive Directory of Maritime Services is now listed on this site. Please check if your company is included. To sign up for a free listing contact info@ports.co.za or register online
Bringing you shipping, freight, trade and transport related news of interest for Africa since 2002