Ports & Ships Maritime News
9 May, 2011
Author: Terry Hutson
Bringing you shipping, freight, trade and transport related news of interest for Africa since 2002
Improve your branding with your banner on this site and tap into our large readership - contact info@ports.co.za
TODAY'S BULLETIN OF MARITIME NEWS
Click on headline to go direct to story – use the BACK key to return
SEND NEWS REPORTS AND PRESS RELEASES TO info@ports.co.za
Looking for help? Try our MARITIME SERVICES DIRECTORY CLICK HERE
FIRST VIEW – SAN TONGARIRO and PROFESSOR KHROMOV
The inshore trawler San Tongariro is seen sharing the Lyttelton dry-dock with the Russian flagged passenger ship Professor Khromov (1759-gt, built 1983). During the summer months the Khromov runs a series of expedition cruises from New Zealand ports to offshore wildlife reserves and outlying sub Antarctic reserves.
Behind the Khromov's funnel the remains of the original dry-dock pumphouse can be seen. This building was destroyed in the February earthquake. Picture taken in late February 2011 by Alan Calvert
News continues below...

NAVY SHIP IN EMERGENCY DASH TO TRISTAN DA CUNHA

SAS Isandlwana, currently engaged on a mercy dash to Tristan da Cunha. Picture by Ian Shiffman
A South African Navy frigate, SAS ISANDLWANA (F146) is currently making an emergency voyage to the lonely South Atlantic island of Tristan da Cunha after the navy was requested to assist in a medical emergency by the Maritime Rescue Coordination Centre (MRCC) of the South African Maritime Safety Authority (SAMSA).
The frigate sailed from Simon's Town last Tuesday, 3 May with a helicopter on board plus a South African Health Service team and other "state security departments' on board. The reason for the urgent dash across the South Atlantic was an explosion on board a Taiwanese fishing vessel LAI CHING with a crew of 37 on board, of whom five had died and four were reported to be missing.
The remaining 28 crew members had abandoned ship and were picked up by their sister vessel, the SHIANG MAN CHING, which was heading for Cape Town after landing 11 seriously injured men on Tristan da Cunha for emergency medical treatment. The transfer of the 11 injured men was made in the dark at 9pm on 2 May with the help of three of the island's RIBS, including one that was recently donated to the island by the salvage team from Svitzer, which was involved in the cleanup of the wrecked bulker OLIVA.
An island report says the transfer of the injured men was made thanks to great skills and bravery as the rescuers risked heavy swells and the darkness. Teams in the little harbour erected portable lamps at the end of the breakwater to help show the way home while others waited to move the injured crew to the island's small hospital.
The fishing vessel Shiang Man Ching is expected in Cape Town today (Monday, 9 May 2011).
The purpose of sending SAS ISANDLWANA to the remote island is to provide medical support to the limited medical services on Tristan da Cunha and to stabilise and prepare the 11 injured seamen for the journey back to South Africa.
It is expected that the operation will be executed over the period 2 – 12 May 2011. While en route to Tristan da Cunha the frigate reported having experienced bad weather with rain and strong winds.
SAS ISANDLWANA has a fully equipped medical facility consisting of an emergency operating theatre with resuscitation and triage capabilities. On this voyage the ship has two doctors on board, four advanced life support paramedics and five rescue technicians.
News continues below…

VALE STARTS MINING COAL IN MOATIZE, MOZAMBIQUE
Cape Town – Vale Mozambique was due yesterday (Sunday, 8 May 2011) to have started mining coal in Moatize and initial production is expected to total 1 million tons per year, Mozambique's natural resources minister said in Cape Town last week.
The minister, who travelled to the South African city to take part in the Economic Forum for Africa, said that with the start of operations of the Mozambican subsidiary of Brazil's Vale, Mozambique would begin producing coal on a large scale which would gradually increase until it reached 10 million tons per year within 10 years.
"That level of production will be an important contribution, not only because of the taxes that the company will pay, but also because of the employment it will generate. We also want this project to attract other industries not only based on coal, but which can also provide services," she said.
Esperança Bias said that production at other projects would also kick off this year, specifically the Benga coal project owned by Australia's Riversdale Mining and tantalum mines in Moiane, Gilé district.
"We want mining activities to be an integral part of the economy and make a great contribution to Mozambique's development. We also want the mining sector to have companies that add value to our minerals," she said.
Amongst the projects that are expected to launch production this year, Bias also noted a phosphate mining project in Nampula province. (macauhub)
News continues below...

NEWS OF SHIPS AND SHIPPING LINES
CMA CGM launches Shaka Express service to cater for growing market
French shipping company CMA CGM has announced that as from yesterday (8 May) it has launched a new service linking Asia, the Indian Ocean Islands and South Africa to cater for what it says is a rapidly growing market.
Known as the 'Shaka Express', this new weekly service will deploy six vessels of between 4,500 and 6,500 TEU, and will feature new reefer capacity for exports from Durban and Port Elizabeth/Nqura to Singapore and Hong Kong.
The new service will also connect with CMA CGM's global network of shipping lines via Hong Kong for cargo to and from Northern China as well as northbound and southbound calls in Port Louis in Mauritius. This will allow the relay of cargo to and from all the Indian Ocean Islands by connecting to the CMA CGM Mascareignes service, which serves the Gulf, Pakistan and wider Indian Ocean.
The service rotation is Fuzhou, Xiamen, Kaohsiung, Hong Kong, Chiwan, Singapore, Port Louis, Durban, Port Elizabeth (Ngqura), Port Louis, Singapore and back to Fuzhou.

Ignazio Messina brings larger ships onto African trade

The Ro-Ro vessel Jolly Zaffiro, due in Durban this week
After operating for a number of years with the same class of ships deployed on the Italy – East Africa – South Africa service, with vessels that averaged 30,000-gt, Italian Ro-Ro line Ignazio Messina appears to be bringing two larger ships onto the service.
The ships are the JOLLY ZAFFIRO (38,963-gt, built 1978) which is due in Durban on 13 May and the JOLLY CORALLO (38,969-gt, built 1979) due in Maputo on 21 June 2011.
Other ships currently deployed on the Italy, Red Sea, East Africa and South Africa service include the JOLLY BIANCO, the JOLLY ROSSO and the JOLLY VERDE.
Messina Line is the second largest Ro-Ro container fleet owner in the world, with 14 ships. All vessels fly the Italian flag.
PIRACY: BULKER SEIZED IN INDIAN OCEAN

Jelbut dhow 33 which is thought to be a pirate mothership
GAC reports that the Panamanian registered bulker FULL CITY (26,758-dwt, built 1995) has been highjacked by Somali pirates while sailing approximately 450 n.miles offshore from Mumbai.
The ship is believed to have a crew of 24 on board but little other information is available of this highjacking.
NATO in its weekly situation report dated Sunday 8 May says that following two weeks of unusually low piracy activity throughout the region, activities have significantly increased prior to the onset of the SW Monsoon.
"The piracy threat remains high based on the fact that there are a number of pirate ships underway, some of them remaining unlocated.
"There has been one attack and one approach in the last 24 hours period. Several regional dhows remains under pirate control, loaded and ready for departure and some of them are missing from their usual anchorage and should be considered as potential mother ships.
The report does not identify ships involved in attacks, but an Evergreen container ship is believed to have come under attack by pirates in the Arabian Sea during which several RPG (rocket propelled grenades) were fired at the ship, which nevertheless made its escape.
Central Somali Basin: Two Jelbut-dhows and FV JIH CHUN TSAI 68 are underway. One Jelbut dhow which was responsible for the recent attacks has been identified by air assets and located in pos.1210N 05920E heading North east. FV JIH CHUN TSAI 68s which is currently being followed by naval assets was approx in position 0900N – 05710E heading West. The other dhow was sighted in approximate position 0000N - 05200E heading north east a couple of days ago.
Arabian Sea: A pirate mother ship (most likely a dhow) is assessed to be operating in this area.
Southwest Somali Basin/ Coast of Kenya/Tanzania: Two pirate action groups (at least one of them a dhow) were active off the coast of Kenya/ Tanzania and towards the Mozambique channel. No new information was received during the latest week.
DHL TO LAUNCH FOUR OIL & ENERGY CENTRES OF EXCELLENCE ACROSS AFRICA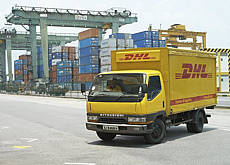 DHL Global Forwarding has announced plans to launch four Oil & Energy Centres of Excellence across Africa in the next 12 months.
Amadou Diallo, the CEO of DHL Global Forwarding for the Africa and South Asia Pacific region said the new centres would be in Cape Town, Luanda, Accra and Mombasa. The centres will offer customers specialist expertise in oil and energy logistics. He said this was because the African continent had become a global energy powerhouse.
Oil and energy production within Africa grew from 370 million tonnes in 2000 to 459 million tonnes in 2009 and the continent is expected to maintain, if not exceed, this growth rate in the medium-term. African oil production capacity is anticipated to reach 7.4 million barrels a day by 2014 and with the growing global demand for energy Africa has become a key investment destination.
"With 10% of the world's oil in Africa, a swiftly growing economy, businesses and investors around the world are tapping into the potential of Africa," said Diallo. "DHL's Oil and Energy Centres of Excellence will give customers the ability to consult our logistics experts who not only know logistics, but understand the intricacies of the oil and energy sector, to build an effective supply chain solution that can leverage our connections across 220 countries and territories around the world."
By the second quarter of 2012, DHL's Oil and Energy Centres of Excellence in Africa will comprise of a team of industry professionals who will consult with, design and implement logistics solutions for oil and energy companies that will allow them to overcome common sector- and region-specific challenges relating to, amongst other factors, diverse customs environments as well as remote production locations.
Sam Ang, CEO, Southeast Asia and Head of Oil and Energy for Africa and Asia Pacific, DHL Global Forwarding, said that DHL, as the only international logistics player present in all African markets for 30 years, was well-positioned to expand its offering to oil and energy companies who wish to operate in Africa, and to transfer industry best practices through DHL's Oil & Energy Centers of Excellence.
"Africa's most important economic driver remains its resources, this is in spite of the continent's rapid urbanisation and industrialisation. With investment interest in the continent growing, it is essential that Africa build on the current momentum and develop its business infrastructure in order for the continent to remain globally competitive." said Diallo.
News continues below…

PICS OF THE DAY – HORIZON and ULSNIS
Ocean Africa Container Lines' HORIZON (15,783-gt, built 1995) seen here in Cape Town harbour. Picture by Ian Shiffman
The German-owned container ship ULSNIS (14,865-gt, built 1993) also in Cape Town harbour. Picture by Ian Shiffman
Don't forget to send us your news and press releases for inclusion in the News Bulletins. Shipping related pictures submitted by readers are always welcome – please email to info@ports.co.za
Did you know that Ports & Ships lists ship movements for all southern African ports between Walvis Bay on the West Coast and Mombasa on the East Coast?
TABLE BAY UNDERWAY SHIPPING
SHIP PHOTOGRAPHERS
Colour photographs and slides for sale of a variety of ships.

Thousands of items listed featuring famous passenger liners of the past to cruise ships of today, freighters, container vessels, tankers, bulkers, naval and research vessels.
P O BOX 809, CAPE TOWN, 8000, SOUTH AFRICA
snai@worldonline.co.za
http://home.worldonline.co.za/~snai
South Africa's most comprehensive Directory of Maritime Services is now listed on this site. Please check if your company is included. To sign up for a free listing contact info@ports.co.za or register online