Ports & Ships Maritime News
5-6 May, 2011
Author: Terry Hutson
Bringing you shipping, freight, trade and transport related news of interest for Africa since 2002
Improve your branding with your banner on this site and tap into our large readership - contact info@ports.co.za
TODAY'S BULLETIN OF MARITIME NEWS
Click on headline to go direct to story – use the BACK key to return
SEND NEWS REPORTS AND PRESS RELEASES TO info@ports.co.za
Looking for help? Try our MARITIME SERVICES DIRECTORY CLICK HERE
FIRST VIEW – MSC SINFONIA
MSC Sinfonia makes a magnificent sight as she pulls away from her berth in Cape Town harbour, prior to setting off on an 18-day voyage to the Mediterranean, where she will 'winter over' before returning to South African waters in November. Picture MSC
News continues below...

KEEPING TABS ON THOSE HAZARDOUS CARGOES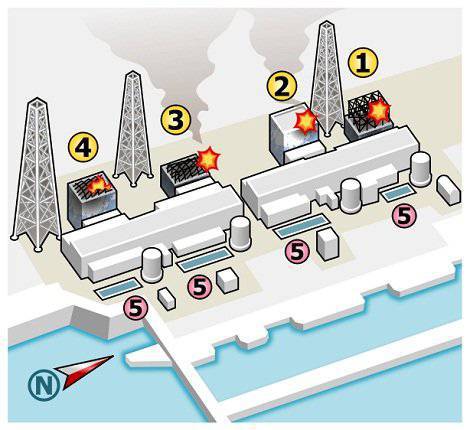 The Fukushima Nuclear Plant, showing damaged sections. Graphic by Wikipedia Commons
by Terry Hutson
A memo has gone out to all ships agents drawing attention to existing radiation contamination precautions in place at the Port of Durban. This follows the Japanese earthquake and tsunami, but it also serves to highlight an ongoing project that is aimed at upgrading safety systems surrounding the movement of dangerous goods through the ports.
The project is being undertaken by Transnet National Ports Authority's Marine Safety & Environment division, under the management of Captain Sanjoy Sen.
Although he's a product of India, Captain Sen has lived in Durban and worked for Transnet NPA since the early 1990s. His move here came after he had completed 24 years at sea, of which 13 years were as a qualified and practicing ship's master. "I came ashore to complete my studies in maritime law and later to gain a Masters in Business Administration," he said. Since 1995 he has been looking after marine safety issues.
Captain Sen explains that recently, because of a worldwide concern over radiation contamination of ships' cargoes, the National Nuclear Regulator adopted a proactive stance of inspecting and monitoring all cargoes that are being imported from Japan since March 2011.
If this reads like an over-reaction consider the fact that already one container ship has been turned away from a Chinese port after the discovery of higher than usual levels of radioactivity in some of the cargo. This was after the ship called at a Japanese port while en route from the United States to China. In addition, Japanese automakers have undertaken voluntary checks for radiation before exporting vehicles.
Despite the risks being extremely low, precautions are being applied in Durban and at the other ports and Transnet National Ports Authority requires items of information from ships agents concerning all vessels coming from Japan. This will enable the TNPA's Marine Safety and Environment division to monitor and if necessary isolate or prevent any suspect cargo from entering the country.
Captain Sen explained that TNPA had already embarked on a project to improve safety of cargo in the South African ports. Phase 2 of a 4-phase project was nearing completion, he said, and is due to be completed by June this year.
Dangerous or hazardous goods require safe handling, safe storage and safe transportation, and the International Maritime Organisation (IMO) has set out recommendations for just this in port areas.
"The carriage of goods by sea has been in existence since ancient times, but over the last 40 years or so, the business of international transportation has undergone rapid change. The increase in world trade and globalisation, together with trans-nationalism of production, generates continual growth in sea trade," he said.
Captain Sen pointed out that in the past year South Africa's ports handled over 4 million containers. "If we assume that between 5% and 10% of the total cargo is dangerous goods under the classification, then between 200,000 and 400,000 containers will be carrying hazardous cargo. In addition there are the millions of tonnes of liquid bulk, of which much will fall under the various categories of dangerous goods, and millions of tonnes of solid bulk cargoes."
He said that by the late 1990s it had been realised that all South African ports needed to upgrade their safety management systems. "It was not only inevitable, it was mandatory," he said.
The IMO has an International Code Book which lists dangerous goods under nine categories – Explosives; Gases; Flammable Liquids; Flammable solids or substance; Oxidising substances or agents and Organic Peroxides; Toxic and Infectious substances; Radioactive substances; Corrosives; and Miscellaneous substances and articles. Within those nine categories the international code book identifies 3400 Dangerous Goods with each having been assigned a UN number.

Captain Sanjoy Sen, Marine Safety & Environment Manager, Transnet National Ports Authority
"The movement of dangerous goods are governed by a plethora of rules and regulations," Captain Sen said. "International rules originate at the IMO but locally we have many national Acts such as Explosives Act, Occupational Health & Safety Act, various environmental Acts, transportation Acts and so on. These Acts have a direct impact on the movement of dangerous goods."
In addition local legislation is dictated by city authorities and port rules must also be taken into consideration.
In both 1995 and again in 2007 the IMO passed resolutions and circulated recommendations regarding 'Safe Transportation of Dangerous Cargoes and Related Activities in Port Areas.' "The IMO has been urging its member states to implement these recommendations," Sen said, "but in any case the upgrading of safety management systems has become obligatory."
"Firstly, the movement of dangerous goods generates very high risks in port areas, and remember, ports are the conduits through which this cargo must move. Ports therefore needed to reduce such risks to an acceptable level to protect its people, property and environment. One needed to comply with the age-old 'Safety First' policy."
He pointed out that there was also a need to comply with international, national and local legislation, including Port Rules, of which most are National Acts and therefore mandatory. "TNPA has its own SHEQ management policy and compliance is necessary, but there was a need to create a uniform operational 'standard' in all South African ports in terms of the movement of hazardous cargo.
"Such standards have to be in par with global best practices and acceptable to stakeholders all over the world."
For these reasons the TNPA undertook in 2005/06 an upgrade of the Dangerous Goods Safety Management System, which has been approached in four phases. Phase 1 was to analyse all dangerous goods operations into various processes, with key hazards identified and then a quantified risk assessment carried out.
Phase 2 required the writing of new procedures for all functions and processes, which would take into account all high risk areas and try to mitigate the risks into an acceptable level.
"For all dangerous goods operations we needed to develop 'standards' that were benchmarked against the standards of some advanced ports in Europe, Australia etc."
Phase 3 calls for the new processes and procedures to be implemented. "Some of the old practices are to be discontinued. Training of operational personnel is of vital importance, and constraints due to port layout and infrastructural limitations have to be addressed." The 4th and final phase requires implementation of a Quality Management System for dangerous goods, followed by regular audits and reviews.
When Phase 1 was completed it became the first time in the history of the TNPA that a thorough Risk Assessment on the movement of dangerous goods had been carried out in detail and documented. Phase 2 commenced in August 2010, and should be completed by June this year.
According to Captain Sen the impact of TNPA setting out on this project has had a direct impact on its customers all over the world who deal with dangerous goods on a regular basis. In the meantime however, ships agents are reminded of the need to advise his department of all ship movements coming from Japan.

This article first appeared in The Mercury Network Ports & Shipping page on 27 April 2011.
News continues below…

KENYA: INTENSE LOBBYING COULD DELAY CONSTRUCTION OF MOMBASA'S 2nd CONTAINER TERMINAL

Mombasa's existing container terminal
Intense lobbying over award of tenders at the Mombasa port in Kenya is threatening to delay construction of the second container terminal which is funded by the Japanese government.
by Chris Mgidu (xinhuanet)
According to officials at the Kenya Ports Authority (KPA), some individuals who are connected to the firms that tendered for the job have been accused of lobbying for award of the multi-million dollar tender, even as the process awaits completion by the Japan Ports Consultants Limited (JPC).
KPA evaluated the three Japanese firms that submitted tender documents in March, after which they were submitted to JPC for concurrence. The three firms are TOA Corporation, TOYO Construction and Penta Ocean. "After one of the individuals discovered the firm he has interests in might have been technically knocked out, the person who is being supported by a senior official in transport ministry of the Kenyan government has been lobbying for the cancellation of the process so that it can start afresh," the official who did not want to be named told Xinhua on Wednesday.
The Kenya Anti Corruption Commission (KACC) said it was concerned about the manner of cancellation of some government tender processes, which ended up costing concerned parties millions of shillings besides scaring away investors. "Although we have not received official complaint over the matter, those who are trying to interfere with various tendering processes should be warned that we are on the look-out," KACC spokesman Nicholas Simani said.
The award of the tender is expected to be announced soon since the winner should start the job by next month, according to KPA.
The project involves construction of two container handling berths and a smaller berth for pilots, mooring and tug boats.
Procurement of equipment, two ships to shore gantry cranes and four Rubber Tired Gantry cranes is part of the US$ 250 million project, partly funded by the Japanese government to the tune of 200 million dollars through the Japan International Cooperation Agency (JICA) with the rest of the finances being provided by the government.
Recently, KPA allayed fears that the strong opposition against privatisation of the port and cargo handling operations at the port would lead to withdrawal of the Japanese support in the construction of the terminal, which is expected to increase the port's cargo handling capacity by 1.1 million TEU per year.
During a meeting to hear various stakeholders' views on the planned privatisation of the port held in Mombasa last month, Kenya's Transport Minister Amos Kimunya said the loan might be withdrawn unless the process went ahead.
However, according to a port official who is familiar with the agreement between KPA and JPC, which will oversee and supervise the six-year construction, the privatisation of Mombasa port did not feature in the contract.
"The negotiation process of construction of the terminal was completed in 2007 long before the 'gazettement' of privatisation in 2008 and the project was not tied in any way to privatisation of the port," said the official in a recent interview.
However KPA Managing Director Gichiri Ndua is upbeat about the status of the facility saying that the authority has lined up a number of projects towards infrastructure investment.
This, he says includes the purchase of more equipment including three ship-to-shore gantry cranes, two mobile harbour cranes, 10 tractors and four reach stackers which will create capacity and improve efficiency as we prepare for the projected growth.
"Soon, the planned dredging of the port would commence, as well as construction of the second container terminal which is expected to increase the port's annual cargo handling capacity by 1.1 million TEU," said Mr Ndua while releasing the KPA 2010 performance report.
News continues below...

NEW PLANS TO COMPLETE BENGUELA RAILWAY LINK WITH ZAMBIA
PMAESA (Port Management Association of Eastern & Southern Africa) reports that Africa's leading copper producer, Zambia, may soon have another railway line to Angola to foster increased trade.
The project, which according to the proposal would be financed by The African Development Bank (AfDB), involves rebuilding the railway line between the DRC border and the Port of Lobito in Angola. In colonial days the line was completed all the way to the border at Dilolo, a distance of 1347 kilometres, where it connected with the North/South railway network from DRC south into Zambia, Zimbabwe and South Africa.
The railway known as Caminho de Ferro de Benguela (CFB) began under a private concession as a metre-gauge line in 1895 but was later abandoned after the concession holder got into financial difficulty. When in 1899 the firm of Tanganyika Concessions Ltd was awarded mineral rights in Katanga in southern Belgian Congo (now DRC), the group followed up by acquiring the concession to build a railway connecting the Congo with the port of Lobito on the Atlantic coast. Construction of a Cape gauge line (1067mm) commenced in 1903, with the contract to build the line subsequently being awarded to the famous company owned by George Pauling. The border with the Congo was reached in 1928. At the time it was considered to have been one of the more difficult railways to build in Africa.
Tanganyika Concessions Ltd incidentally might appear at first glance to be something of a misnomer, as the company has never operated in Tanzania. It is however named for the Tanganyika District in Katanga, DRC.
The railway suffered badly during the Angolan civil war leading to the need for a total rehabilitation of the permanent way.
According to the planned project, the railway line will facilitate regional and international trade, especially for bulk cargo such as copper of which production is projected to rise to more than a million tonnes by 2015.
The reopening of the line would have obvious benefit for Zambia by providing it with another alternate route to the sea.
In a statement from the Zambian Embassy in Washington DC, AfDB president, Donald Kaberuka told Zambia's Finance Minister, Situmbeko Musokotwane that: "The project is important for regional integration aimed at improving infrastructure development."
Mr Musokotwane said Zambia was interested in the construction of the railway line to link it to the Benguela network that leads to the Port of Lobito in Angola.
NEWS OF SHIPS AND SHIPPING

MSC Aurelie in Durban. Picture by Trevor Jones
Container Ships Set Record for Capacity Growth
The shipping analyst Alphaliner reports that record deliveries of container ships in the next few months is going to add further downward pressure on ocean freight rates which will reverse the rally in vessel charter rates.
Thirty-two ships with an aggregate capacity of 226,500 TEUs will be delivered in April, the highest level of monthly deliveries, the market analyst said.
Shipyards are set to hand over a further 41 vessels of 204,000 TEUs in May, bringing total deliveries in the first five months of the year to 688,000 TEUs.
This flood of new capacity is hitting the market at a time when demand growth shows signs of slowing down. South China ports increased throughput only 2.2% in the first three months of the year compared with 23.7% in the same period in 2010.
The 430,000 TEUs of new capacity to be delivered in April and May is equivalent to 3% of the total cellular container fleet. Total deliveries in 2011 are expected to reach 1.35 million TEUs, based on Alphaliner's figures, which are adjusted for delivery deferrals.
A large number of the ships already delivered this year were deferred from 2009 and 2010. Many vessels were fully completed in 2010 but their commissioning was delayed at their owners' request.
As a result, the cellular container ship fleet is projected to increase 8.6% this year, including provisions for scrapping of older tonnage.
"Hence the demand-supply balance is gradually moving against the ship-owners' favor," Alphaliner said. – source Journal of Commerce

2010 Cosco shipping earnings up 151%
Cosco Shipping posted a 150.89% year-on-year increase in 2010 net profit to 340 million yuan, reports China Securities Journal, citing a company filing. Revenue rose 12.95% to 4.41 billion yuan. – source capitalvue.com

Mozambique crack-down on unsafe ferries
The recently appointed maritime administrator in the central Mozambican province of Sofala, Antonio Vilanculos, has ordered the destruction of all passenger vessels that do not meet minimum safety standards.
Antonio Vilanculos announced this initiative during a meeting in the city of Beira with the maritime operators.
The administrator said that, in general, passengers are transported on unsafe boats from Beira to Buzi, Chiloane, Machanga, Barada and Ampara.
According to Vilanculos, passengers should be transported with dignity and in comfort. However, "what we have seen is very worrying, since passengers travel in overcrowded boats which do not even have life-vests" said Vilanculos.
The maritime operators confirmed the situation outlined by Vilanculos, pointing out that one boat with a capacity of 15 people was in fact transporting more than 45 passengers along with freight. According to the operators, boats carry oil drums in place of the life jackets.
"I am worried about the overloading and how people are transported. It is an unacceptable way to carry humans. We cannot call these carcasses boats," said Vilanculos.
"I am going to destroy boats that do not meet the necessary conditions, because they just create shipwrecks, claiming lives."
The last shipwreck in Sofala was in November, when twenty people died on an overcrowded boat travelling between Machanga and Beira. – source AIM
CRUISE CORNER: MSC SINFONIA LEAVES FOR EUROPE AFTER RECORD BREAKING 2010/2011 SUMMER

MSC Sinfonia preparing to leave Cape Town on her return voyage to the Mediterranean after spending the southern summer in South African waters. Picture MSC
Departure of luxury cruise ship from Cape Town at sunset yesterday marks end of summer cruise season
The luxury cruise ship MSC Sinfonia, which has enjoyed a record breaking summer cruise season in Southern Africa and the Indian Ocean islands, departed Cape Town at sunset on Tuesday, 3 May for the start of an 18 night northbound re-positioning cruise to Genoa, Italy, where she will spend the European summer cruising in the Mediterranean.
The magnificent cruise liner which has been operating out of Durban since November last year has become one of the most popular vacations of choice for thousands of South Africans. The boom of her sirens last night signalled a fond 'arrivederci' (Italian for 'until we see each other again') until she returns to the country later this year in November. Her departure also marks the end of the summer cruise season in Southern Africa.
Mr Allan Foggitt, marketing director of MSC Starlight Cruises, said it was a record breaking season for both the 2,100 capacity MSC Sinfonia and the smaller 1,500 capacity MSC Melody which hosted a combined total of over 110,000 passengers cruising out of Durban and Cape Town.
"We are clearly seeing a new trend in local tourism where cruising features high on the list of options," said Foggitt. He said the phenomenal public response and enthusiasm for cruising had endorsed the company's decision to bring two ships to South Africa during the 2010/2011 summer season.
"We are confident in the South African market and committed to growing it further. Cruising is clearly one of South Africa's best value and most exciting local holiday options especially with children up to the age of 18 cruising and eating for free," said Foggitt.
Together MSC Sinfonia and MSC Melody were able to offer a greater range of cruise destinations at competitive prices to Mozambique and the Indian Ocean islands of Mauritius, Madagascar and Reunion. The new Cape Collection of cruises out of Cape Town to Walvis Bay and Mossel Bay and the weekend Atlantic Ocean 'cruise to nowhere' had also proved enormously popular.
"In addition we are capturing an increasingly significant sector of the conference and incentive corporate market. The wonderful romance of cruising has also opened new options for couples celebrating their weddings, renewing their vows and honeymooning.
"We are looking forward to an even better cruise season in 2011/2012 when MSC Sinfonia and MSC Melody return to our shores later this year," said Foggitt.
MSC Sinfonia and MSC Melody (which departed for Europe in March), will spend the South African winter cruising in the Mediterranean Sea. MSC Sinfonia returns to South Africa on 8 November while the smaller 1,500 capacity MSC Melody returns on 6 December.
MSC Sinfonia's northbound re-positioning cruise to Genoa, Italy, will enjoy port visits in Walvis Bay, Namibia, Dakar in Senegal, Santa Cruz de Tenerife in the Spanish Canary Islands, Funchal on the Portuguese island of Madeira, Malaga in Spain and Civitavecchia, the port of Rome.
News continues below…

PIRACY: HARSH 439 YEAR JAIL SENTENCE HANDED DOWN

Spanish frigate SPS Infanta Cristina on piracy patrol work off the Horn of Africa
Spain's High Court sentenced two Somali pirates to 439 years in prison each for their part in the hijacking of a Spanish fishing boat in the Indian Ocean in 2009, according to a court statement released on Tuesday.
The court also found that the government had paid a ransom to gain the freedom of 36 crewmembers — including 16 Spaniards — on the ALAKRANA fishing boat that was held by pirates for 46 days. The government repeated its denial that it had paid a ransom.
Cabdiweli Cabdullahi and Raageggesey Hassan Aji were found guilty on charges ranging from kidnapping to violent robbery after a court appearance on Monday (2 May). But they were cleared of charges of terrorism, belonging to an armed gang, and torture.
The two men were part of a group that took control of the Alakrana and were captured in an operation led by the Spanish navy which the rest of the pirates managed to escape. The crew was freed in November 2009, and the pirates said they received US$ 3.5 million as a ransom fee.
The Spanish court said there was no doubt the fee was paid.
"The government has already said it did not pay a ransom and I reiterate that," Foreign Minister Trinidad Jimenez told reporters on Tuesday.
The defendants had tried to have the case thrown out arguing Spain had no jurisdiction in the case, but the High Court said in December it had jurisdiction under international law and because it was a Spanish ship.
Pirate activity has been increasing and the first three months of 2011 were the worst on record with 77 attacks and hijackings, according to the European Union.

Daily Piracy Overview
In its daily piracy overview NATO repeats an earlier report that several dhows remain under pirate control, that some of them are missing from their usual anchorage and that they should be considered potential mother ships.
Central Somali Basin: No pirate mother ship reported in this area during the last 24 hours.
Arabian Sea: A pirate mother ship (most likely a dhow) is assessed to be operating in this area.
Southwest Somali Basin/ Coast of Kenya/Tanzania: Two PAGS, (Pirate Attack Groups) at least one of them a dhow are active off the coast of Kenya / Tanzania and towards the Mozambique channel. One of them was probably responsible for the attack on pirated vessel MT GEMINI off the coast of Kenya on 30 April 2011.
PICS OF THE DAY – SNOW PETREL and IVAN PAPANIN
The former German mine sweeper now operating as SNOW PETREL, seen in Cape Town alongside Quay 502. Picture by Aad Noorland
The Russian-owned Antarctic supply vessel IVAN PAPANIN (14,184-gt, built 1990) back in Cape Town after her sudden visit to deliver clean up and salvage teams to the island of Tristan da Cunha in the South Atlantic, following the sinking of the bulker OLIVA off Nightingale Island. The Russian ship had fortuitously returned to Cape Town from a supply trip to the Antarctic when she was chartered by the P&I Club. Read that report HERE Picture by Aad Noorland
Don't forget to send us your news and press releases for inclusion in the News Bulletins. Shipping related pictures submitted by readers are always welcome – please email to info@ports.co.za
Did you know that Ports & Ships lists ship movements for all southern African ports between Walvis Bay on the West Coast and Mombasa on the East Coast?
TABLE BAY UNDERWAY SHIPPING
SHIP PHOTOGRAPHERS
Colour photographs and slides for sale of a variety of ships.

Thousands of items listed featuring famous passenger liners of the past to cruise ships of today, freighters, container vessels, tankers, bulkers, naval and research vessels.
P O BOX 809, CAPE TOWN, 8000, SOUTH AFRICA
snai@worldonline.co.za
http://home.worldonline.co.za/~snai
South Africa's most comprehensive Directory of Maritime Services is now listed on this site. Please check if your company is included. To sign up for a free listing contact info@ports.co.za or register online