Ports & Ships Maritime News
4 May, 2011
Author: Terry Hutson
Bringing you shipping, freight, trade and transport related news of interest for Africa since 2002
Improve your branding with your banner on this site and tap into our large readership - contact info@ports.co.za
TODAY'S BULLETIN OF MARITIME NEWS
Click on headline to go direct to story – use the BACK key to return
SEND NEWS REPORTS AND PRESS RELEASES TO info@ports.co.za
Looking for help? Try our MARITIME SERVICES DIRECTORY CLICK HERE
FIRST VIEW – SEALADY
The Greek-owned and operated bulker SEALADY (42,183-dwt, built 1995) loading woodchips in the port of Buchanan, Liberia. Picture by 'Stevedore'
News continues below...

NAVIS SPARCS N4 BLOWS A FUSE OR TWO AT DCT

DCT, looking towards the harbour entrance
The introduction of the terminal operating system known as Navis SPARCS N4 at the big Durban Container Terminal produced few sparks but lots of blown fuses as container handling dropped to alarming levels within the first few days.
Readers will recall that in March Transnet Port Terminals announced that it would shut down the terminals on the night of 26/27 March for a period of 12 hours to facilitate the changeover from the old COSMOS operating system at DCT to Navis. At the same time DCT's new automatic gates would come into service on the Sunday morning.
It had been hoped that following a fairly successful launch of Navis at Pier 1 Container Terminal in Durban in 2009, followed by equally successful Navis introductions at terminals in Ngqura, Port Elizabeth and Cape Town, that the switchover at Durban would proceed without too much drama. Unfortunately that wasn't to be.
Things didn't go to plan and early on parts of the terminal ground almost to a halt. Moshe Motlohi, Business Unit Executive at DCT said everyone lost money, customers, the trucking industry and TPT. But, he says, things have improved since those first dramatic days and are fast moving to the sort of levels TPT was hoping for.
"Our major challenges came from four main areas," he says. These were Equipment Control; Planning Capability; Radio Server Crashes; and 3rd Party related issues, such as drivers with no ID or unsure of how to use their cards. Trainers brought in from other TPT terminals were unfamiliar with the straddle carrier modus operandi at DCT and had to learn to adapt.
Other problems related to locating containers within the terminal, and not having enough working straddle carriers available to keep things running smoothly, all of which led to DCT slowly grinding down early in the changeover.
But TPT's responded quickly and brought in outside help, including specialists from Sri Lanka – no strangers to DCT – as well as from a few other areas. Since those first scary days early in April things have begun looking up at DCT and although it is not yet back where it should be, Motlohi is confident they are on the right path.
Container crane moves are now averaging between 20 and 22 an hour, he says, while acknowledging that this is still not good he says it is a great improvement on the 12 or 14 an hour soon after the changeover. TPT has targeted 26 moves an hour and Motlohi is confident DCT will achieve this. He said truck turnaround time has also improved. In early April it took up to 15 hours to turn a truck around and was averaging out at more than 4 hours, which was a disaster for the road haulier industry – particularly among those that are owner/drivers.
Motlohi said that by Thursday last week (28 April) trucks were taking an average of 56 minutes to turn around in the terminal. The day before they averaged 78 minutes, he said.
"Our target with truck turnaround time is 35 minutes," says Motlohi. He says the terminal should be operating normally within the next three to six weeks and will be self-supporting, without outside help by September.
"We learned lessons from this and with the assistance of specialist operators brought in from Sri Lanka were getting on top of the problems. The one thing we are pleased about is that the problems experienced at DCT did not affect the other container terminals." TPT intends introducing the Navis Sparcs N4 operating system at the City Deep rail terminal in Johannesburg in January 2012. Ultimately Navis will operate seven marine terminals in different ports and 14 rail terminals, including the inland terminals.
News continues below…

MSC CRUISES ACQUIRES STARLIGHT CRUISES

Allan Foggitt, marketing director of MSC Starlight Cruises
MSC Cruises, the fourth largest cruise company in the world and market leader in the Mediterranean, South African and Brazilian markets, has announced the acquisition of Starlight Cruises, their sales agents in South Africa of almost 20 years.
The new company will trade as MSC Starlight Cruises with effect from 1 May 2011. The agreement gives MSC Cruises overall control of Starlight Cruises. It also allows for the continued management by former owners, the Foggitt family, who have operated as sales agents for cruise liners in Southern Africa and the Indian Ocean islands for over 30 years.
Mr Pierfrancesco Vago, who as CEO of MSC Cruises oversees an ultra-modern fleet of 11 cruise ships and 43 offices around the globe from headquarters in Geneva, Switzerland, welcomed the formalisation of the company's first office in the sub-Saharan Africa.
"This is an important acquisition that affirms the close relationship we've shared with Starlight Cruises since 1991. It also endorses our commitment to the future success of South Africa and continued growth of cruise tourism in the region," said Mr Vago.
Mrs Daphne Osborne (nee Foggitt) who becomes managing director of MSC Starlight Cruises said the two companies had enjoyed an excellent business and personal 'engagement' for almost two decades. "It has been a marriage on the cards for years now, and in the wake of two successive record breaking seasons, and sure signs of a continuation of this trend, it would seem the time is right."
Mr Allan Foggitt remains marketing director of MSC Starlight Cruises. Mr Stefano Vigoriti, who has headed up MSC Cruises in South Africa until now, becomes Operations Manager for the new company.

Stefano Vigoriti, Operations Manager at MSC Starlight Cruises
The relationship between Starlight Cruises and the larger Mediterranean Shipping Company (MSC) Group, the largest privately owned and second largest container shipping company in the world, began soon after the company's first venture into cruise shipping in the late 1980's and subsequent deployment of the Achille Lauro and MSC Monterey to South Africa.
When MSC Cruises was established as a subsidiary of the MSC Group in 2003 after several years of unprecedented growth and a 5.5 billion euro investment programme, the popular cruise liners MSC Rhapsody and MSC Melody were added to the local line-up.
The deployment of the luxurious 2,100 passenger liner MSC Sinfonia to Southern Africa in 2009 proved a turning point for local cruising and established a new trend where cruising has become an increasingly popular vacation of choice for local holidaymakers. Referred to as the "finest floating hotel" ever to operate out of South Africa, MSC Sinfonia returned for a second bumper season in November 2010 when she operated in conjunction with MSC Melody.
Both MSC Sinfonia and MSC Melody return to South Africa later this year for the 2011/2012 summer cruise season which will again feature a full schedule of exciting cruise destinations in the Indian and Atlantic Oceans out of Durban and Cape Town.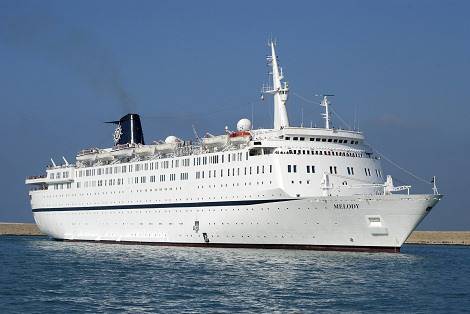 MSC Melody in Livorno, Italy. Picture by Trevor Jones
News continues below...

NEWS OF SHIPS AND SHIPPING LINES
CSAV and Libra shorten service into pure South Africa-Indian Subcontinent rotation
The combined service operated by CSAV and Libra and embracing calls from the Indian Sub-continent to east coast South America via South Africa has been dramatically adjusted, with South America dropping completely out of the loop.
Calls at Itajai, Santos, Paranagua and Rio Grande have been eliminated and the number of ships deployed on the service reduced from nine to six. Of these CSAV is providing four of the vessels and Libra two, each with an average capacity of 2600-TEU.
The new rotation is Durban, Cape Town, Jebel Ali, Karachi, Nhava Sheva, Durban.

Hamburg Süd takes slots on three services

Hamburg Süd's Santa Clara which is deployed on the Far East – South Africa – East Coast South America service. Picture Trevor Jones
Germany's Hamburg Süd container line is joining three services as a slot buyer.
One of these is MOL's CSW service between China and east coast South America via South Africa. The service rotation is Xingang, Dalian, Qingdao, Busan, Shanghai, Hong Kong, Singapore, Ngqura, Santos, Buenos Aires, Montevideo, Paranagua, Sao Francisco do Sul, Santos, Rio de Janeiro, Cape Town, Ngqura, Singapore, Hong Kong and Xingang which is operated with 12 MOL ships, each having an average capacity of 4,500-TEU.
Hamburg Süd also operates its own service on the trade, sharing with Alianca and Maersk Line, with Hamburg Süd providing nine of the 11 vessels. The German line has also joined another MOL service, MZX between Singapore and south-east Africa with a rotation of Singapore, Port Louis, Durban, Maputo, Tamatave, and Singapore, although Hamburg Süd is only marketing space on the leg between Singapore and Durban. Five ships averaging 2,260-TEU operate this service.,P> The other service that Hamburg Süd has joined is an Evergreen dominated service between China and India. – source American Shipper
PORT NEWS: NEW JETTY IN CABINDA TO START OPERATING SEPTEMBER 2012
Cabinda, Angola, 3 May – The new jetty at the port of Cabinda in Angola may start operating as of September 2012, which would make it possible for two 130-metre ships to moor there at the same time, says the provincial deputy governor for business and the economy, Romão Macário Lembe.
Cited by Angolan news agency Angop, Macário Lembe said that steel section of this project, which will provide the port with a 319-metre long and 32-metre wide jetty, was being manufactured in China.
Construction of the jetty is in the hands of the China Gezhouba Group Company (CGGC).
Lembe also said that the new jetty would provide the province with a new economic dynamic by providing safer conditions to receive large ships and to handle cargo. (macauhub)

German ports gear up for influx of Maersk Triple-E mega vessels
The German Port's of Hamburg and Wilhemshaven are moving ahead with further infrastructure projects as they ready themselves for the arrival of 18,000-TEU mega container ships of the Maersk Triple-E class.
Port Authority MD Wolfgang Hurtienne announced this at the Coastlink 2011 conference which was held in Hamburg recently. He said the terminal would be upgraded with new twin-lift container cranes and fully automatic stacking blocks, where containers can be stacked five-high.
"Also, the rail capacities for combined freight transport to the hinterland will double from 2.6 million TEU to 5.2 million TEU," Hurtienne said.
He announced plans to expand the Eurogate terminal in Hamburg port, saying that it is intended to expand the western wing of the terminal by 40ha and with three additional berths.
In addition several old harbour basins will be filled in to create a new container terminal to be called Steinwerder, which will occupy 125ha with berthing to accommodate the larger ships. "The navigation channel of the lower Elbe will not only be deepened, but will be especially equipped with a widened stretch where even the largest containerships and bulk carriers can pass each other without problems," Hutienne said.
Meanwhile, the trade paper IFW reports that the Triple-A Port of Wilhelmshaven will also be able to accommodate the world's largest vessels at its planned Eurogate container terminal.
The terminal has ordered some of the biggest cranes available, which can handle rows of containers 25-wide and the Triple-E class Maersk Line vessels. The terminal also has no tidal restrictions and will be able to accommodate vessels with a draught of up to 18 metres. - source IFW
CRUISE CORNER: CRUISING ALONG THE GAMBIA RIVER
The 'Rivers of West Africa' cruise takes tourists to southern Senegal and up the Gambia River to see tiny villages and wildlife
Story and picture by Ellen Creager, McClatchy-Tribune News Service
Tendaba, the Gambia - If Kunta Kinte could see the Gambia River, he wouldn't believe it. Picture a white yacht flying a blue Greek flag. Sitting on the deck are 25 people having lunch, a little white wine, a little pasta. The yacht, Pegasus, is the only vessel on the shimmering, warm river. It glides past the shore, headed back from nearly a week cruising far up-country, to places where the heat hits 40° C, where those aboard have seen birds and crocodiles, chimps and monkeys, been escorted by a Gambian member of parliament on a village tour and been carried on a horse cart over a flooded road.
The incongruous sight is due to a one-of-a-kind cruise, Rivers of West Africa. It began on 31 December through a Greek small-ship line, Variety. The cruise originates in Dakar, Senegal, and sails to southern Senegal, then 190 km up the Gambia River in the Gambia.
While most North Americans have at least heard of Senegal, the Gambia is barely on their radar, except for one thing - it is the legendary home of Kunta Kinte of Alex Haley's 1974 novel, 'Roots'.
This cruise has air-conditioned cabins, excellent food, semi-regular cell phone service and a professional crew. On the other hand, the itinerary is not for sissies. You have to take malaria medicine. There is dust and heat ashore. Buses have only African air-conditioning - open windows.
And monkeys might steal your lunch.
One morning while anchored mid-river in the village of Tendaba, the plan is to board a local canoe, called a pirogue (pea-ROGUE), and visit the Kissi Bolong national wetland reserve. But as the pirogue heads up the river, the motor dies, gasps and dies.
"Please check the engine," says trip director Christian Ceplak, with remarkable calm under the circumstances.
Finally the boat operator does. He swings around and drifts toward a collision with the Pegasus, tossing a deckhand the line just before we are swept downriver on the swift current. A sad-looking replacement pirogue is sent from shore, but instead of everyone jumping into that rickety craft, their engine is swapped for ours, and four unfortunate tourist camp passengers in that pirogue have to jump from their boat to ours, mid-river. After that, fish begin jumping out of the water, and a mullet jumps right onto the lap of Ann Bleckman of Port Washington, N.Y. However, it all proves worth it as we pass into huge mangrove swamps. The Gambia no longer has lions or elephants, which vanished in the early 1900s after too much hunting. But one thing it never lost? Its birds, its millions and millions of birds.

This article appears in the pages of the Vancouver Sun. You can read the full account of this unusual 'Rivers of West Africa' cruise HERE
Use your Backspace Button to return to this page.
You can find out more about Variety Cruises by going HERE
News continues below…

PICS OF THE DAY – MOL DELIGHT
The Japanese container ship MOL DELIGHT (39,906-gt, built 2008) in Cape Town this past week. Pictures by Ian Shiffman
Don't forget to send us your news and press releases for inclusion in the News Bulletins. Shipping related pictures submitted by readers are always welcome – please email to info@ports.co.za
Did you know that Ports & Ships lists ship movements for all southern African ports between Walvis Bay on the West Coast and Mombasa on the East Coast?
TABLE BAY UNDERWAY SHIPPING
SHIP PHOTOGRAPHERS
Colour photographs and slides for sale of a variety of ships.

Thousands of items listed featuring famous passenger liners of the past to cruise ships of today, freighters, container vessels, tankers, bulkers, naval and research vessels.
P O BOX 809, CAPE TOWN, 8000, SOUTH AFRICA
snai@worldonline.co.za
http://home.worldonline.co.za/~snai
South Africa's most comprehensive Directory of Maritime Services is now listed on this site. Please check if your company is included. To sign up for a free listing contact info@ports.co.za or register online