Ports & Ships Maritime News
7-8 April 2011
Author: Terry Hutson
Improve your branding with your banner on this site and tap into our large readership - contact info@ports.co.za
TODAY'S BULLETIN OF MARITIME NEWS
Click on headline to go direct to story – use the BACK key to return
SEND NEWS REPORTS AND PRESS RELEASES TO info@ports.co.za
Looking for help? Try our MARITIME SERVICES DIRECTORY CLICK HERE
FIRST VIEW – CMA CGM AFRICA THREE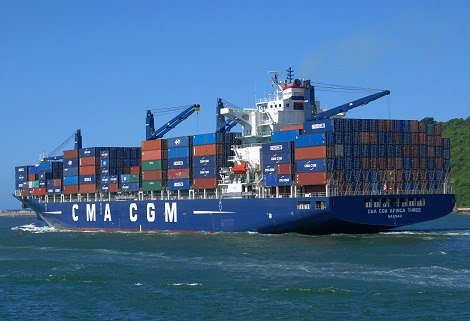 Yesterday we published a picture of the rather smart looking CMA CGM Africa Two arriving in Durban, pictured in the Esplanade Channel. We wondered whether this mjay have been the biggest container ship to go to a Maydon Wharf berth so heavily loaded. Comments anyone (send them to info@ports.co.za). Today we feature a sister ship from an earlier visit made in February this year, of the 3,650-TEU CMA CGM AFRICA THREE (40,500-gt, built 2010) departing Durban for West Africa. Picture is by Trevor Jones
News continues below...

DILEMMA FOR SHIPS ARRIVING IN SA PORTS WITH ARMS ON BOARD

A Somali pirate, captured in an engagement at sea, is taken away in handcuffs to appear in a Seychelles court on charges of piracy. Armed guards on merchant ships are enjoying considerable success in protecting the vessels, crew and valuable cargo but legal complications ashore in places like South Africa are now complicating the matter.
The American P&I Club has issued an Alert advising of what it calls a 'clampdown on 'gun' ships arriving at South African ports, and warns that failure to comply with strict local laws can result in the arrest of the ship's master – as has already happened in several recent cases.
The matter received some publicity in a weekend newspaper, following the confiscation of guns on board the general cargo ship AFRICAN LION and the products tanker JO KASHI – both regular callers at Durban or Richards Bay, which operate regularly in the Horn of Africa region.
In the instance of the African Lion, the ship had four ex-Royal Marine security officers already on board – there to provide security against pirates as the ship sailed north to Middle East ports.
Police found and confiscated four STIG firearms during their raid on the Jo Kashi.
Alan Reid, managing director of P&I Associates, told PORTS & SHIPS that there had been an about-face by the South African Police Services, which had initially agreed to allow some flexibility in the regulation that states that a 21 day period is required to obtain a permit allowing weapons to be on a vessel in a South African port (the outer anchorage is regarded as part of the port). This flexibility had been agreed locally with a senior police officer after representation was made.
Since then however, police headquarters in Pretoria have rescinded the flexibility agreement and are insisting that ships coming to a South African port must comply with the 21 day regulation, as set out in the Fire Arms Control Act 60 of 2000. The right of the Durban office to issue permits was revoked with immediate effect.
But this leaves a ships' master with a dilemma – what does he do with weapons on board if he arrives well within the 21-day period? Reid painted the following scenario, which he said was representative of the challenges facing shipping. A ship sailing from the Mediterranean for East Africa would call at Djibouti where armed guards and properly licensed weapons would be taken on board for the passage past the Horn of Africa. On arrival in Mombasa the ship, according to the ever changing nature of ship fixtures, could be instructed to go on to Durban or Richards Bay to load or deliver cargo.
This section of the voyage will take five or so days, meaning that if an application was made while the ship is still in Mombasa it will arrive off Durban or Richards Bay well within the 21 day requirement for a permit, therefore breaking the law and facing arrest.
The alternative is to divert via Port Louis or Madagascar where the guns can be handed over to a legal authority, with the master in effect 'signing off' the weapons, leaving him able to head back to Durban, making for a voyage of far greater length and therefore cost.
If the ship is heading north, as with the case of the African Lion, the ship will have to go via Mauritius to collect weapons for the passage past the Horn of Africa.
It has been suggested that another alternative is to throw the weapons overboard once the ship had reached safe waters, but the weapons are licensed and listed on an international register in Djibouti and countries such as the UK and have to be accounted for without raising the spectre of illicit gun-running. Ironically, suspicion of gun- running was apparently one of the reasons proffered by the SAPS for them having seized the guns.
In defence of the police, illicit gun running is common in Africa and ships are one of the means of 'running' weapons into countries – see Plotting to sink Africa's pirates below.
The whole process is now plagued by bureaucracy and a total lack of understanding of the situation, which is the reason behind the need to place armed guards on merchant vessels and the fact that the 21 day permit time is totally impractical with the ever changing nature of the fixtures, said Reid.
Nevertheless, the 21 day ruling stands and applies in all cases and the ball is now with SAASOA (South African Association of Ship Operators and Agents) who have been charged with taking up the matter and reaching an understanding with the SAPS in Pretoria.
The latest application of the Fire Arms Control Act is reminiscent of the time when a P&O Nedlloyd container ship was detained in Port Elizabeth (shortly before the takeover by Maersk Line) because it was carrying containers of small arms and ammunition that were in transit to another country not in Africa. Because of ignorance the contents hadn't been declared ahead of arrival and no permit was obtained – in the eyes of the law the weapons were now in South Africa illegally. The matter was eventually sorted out and the ship continued with its contested cargo (as did a second ship following with similar cargoes) but not before a senior representative of the line had to appear in court where he was found guilty and fined a sizeable amount.
In a related matter, it is being reported that an increasing number of South Africans are joining the queue to become armed guards on merchant ships, including from among those who are currently employed in some form or other in countries such as Afghanistan and Iraq. See article below, which presents a number of alternate scenarios and perhaps helps to understand the SAPS point of view. See Piracy: Plotting to sink Africa's pirates below.
News continues below…

PIRACY: PIRATES REMAIN ACTIVE AS OIL TANKER IS HIGHJACKED
Pirates active – fears that Korean tanker is captured
A South Korean oil tanker appears to have been captured by Somali pirates off the coast of Somalia. The attack took place on Sunday within the shipping lanes several hundred kilometers from the Horn of Africa.
The ship's name has not been released but the owner is Samho Shipping, a South Korean company that runs a fleet of nine tankers and which held a press conference on Monday to say they had lost contact with one of their vessels after a distress signal was sent. There is a reported crew of 19 Filipinos on board. The tanker was loaded with a cargo of crude oil at the time which could have a value of US$ 160 million depending on the extent of its cargo.

NATO warns on continued pirate attacks
A senior NATO commander from the NATO task force operating in the Horn of Africa region says it would be wrong to think that the pirates have remained weather reliant, as they have been in the past.
He said that with the use of larger ships as 'mother ships' the pirates have gained an enhanced capacity and the world navies will have to be ready for a continued surge in piracy, said Commodore Michiel Hijmans, the naval commander of the NATO forces. He said NATO was conducting counter-piracy operations close to shore in an effort to deprive pirates of their safe haven.

Australia hands over command of Combined Task Force 150
Canberra, 6 April - The Australian command of coalition maritime operations in support of counter-terrorism operations in the Gulf region of the Middle East has passed to the French Navy.
Commodore Greg Sammut of the Royal Australian Navy handed over command of Combined Task Force 150 (CTF 150) to Rear-Admiral Jean-Louis Kerignard of the French Navy on 4 April at a ceremony in Bahrain. Commodore Sammut said it was a personal privilege to have been entrusted with Australia's second command of CTF 150.
"The close co-operation, professionalism and dedication of the many participating nations remain the foundations of the success of CTF 150. I am very grateful for the support of our Combined Maritime Force partners and regional friends in promoting security and stability throughout the area of operations. The Australian Defence Force takes pride in contributing to coalition efforts to maintain maritime security in such a vital region for the stability and economic prosperity of the world at large."
CTF 150 is a multinational task force consisting of the following nations which have participated: Australia, Canada, Denmark, France, Germany, Italy, Republic of Korea, Netherlands, New Zealand, Pakistan, Portugal, Singapore, Spain, Turkey, the United Kingdom and the United States. – source Australian Dept of Defence and Paul Ridgway/London.

Finnish warship breaks up pirate party

Armed forces from the Finnish warship FNS Pohjanmaa take 18 Somali pirates prisoner after it is believed they took part in an attempt to highjack a merchant ship in the area on the previous day. Picture courtesy EUNAVFOR
During the early morning of 6 April, the EU NAVFOR Finnish warship FNS POHJANMAA identified a suspected Pirate Action Group (PAG) consisting of a dhow and two attack skiffs approximately 250 n.miles south east of Salalah, Oman.
The PAG is believed to have been responsible for an unsuccessful attack on a merchant vessel in the area the day before. When FNS Pohjanmaa approached the PAG, the dhow tried to flee the scene and the suspected pirates were observed throwing equipment overboard. The warship was forced to fire warning shots to stop the dhow. After stopping the PAG and boarding the dhow, 18 suspected pirates were discovered and detained. A significant amount of pirate-related paraphernalia was found and seized by the boarding team.
The suspects have been detained onboard the FNS Pohjanmaa whilst legal negotiations take place regarding a possible prosecution. This is the third disruption in less than ten days by EU NAVFOR warships. Since the beginning of the operation in December 2008, EU NAVFOR has disrupted more than 80 Pirate Action Groups.

Plotting to sink Africa's pirates: Security strategies abound, but the lasting solution lies in Somalia itself
by Casey Christie, managing director of Concept Tactical Worldwide
Some of the best minds in the security business have just met in Portsmouth in the UK to brainstorm new tactics to counter the growing threat of piracy at sea.
They have come up with some bizarre ideas, including a laser rifle which, it is claimed, can temporarily blind and disorient an attacker up to a kilometre away.
South Africans were strongly represented. Many ex-South African police and army members who have been working in Iraq and Afghanistan have now gravitated to life at sea, repelling pirates. Maritime hijacking has become a multimillion-dollar business, and there were more attacks and hijackings in 2010 than ever before.
Remarkably, this was in spite of the fact that a substantial number of international ships now patrol the Gulf of Aden.
Action Stations, the maritime security conference in the Portsmouth dockyard, took place in the face of the mounting crisis – which could have an impact on food and fuel prices.
Solutions highlighted at the conference included long-range acoustic devices, green lasers, armed security teams, escort vessels, barbed wire, pepper spray, 'citadels', airborne reconnaissance and surveillance, and real- time anti-piracy intelligence.
The conference organiser was John Dalby, respected in the maritime insurance world as the repo man of the industry. He has been using men with special skills to recover hijacked and stolen ships since the 1990s. His reported minimum fee is US$ 1-million a vessel.
Now, however, the focus has changed from recovering hijacked ships to putting systems in place to thwart pirate attacks.
Not only is providing security services at sea a specialised concern, but the legal hurdles which have to be cleared to arm the security teams are complex and daunting. Ship owners and operators have to evaluate the various laws that relate to the national flag of the ship, the security crew and their countries, as well as the laws that apply in the various waters and ports where the ships travel.
And, of course, there is the crucial issue of whether the weapons on board are legally held.
One of the easiest ways to get legal weapons on board the ships is through South Africa – getting SA-licensed weapons with an export permit on board through a security officer registered with the Private Security Regulatory Authority (see article Dilemma for ships arriving off SA ports above).
The rest of this highly interesting article can be read CLICK HERE. To return to PORTS & SHIPS use your BACKSPACE button. Article source - Waves Maritime Newsletter

Christie is a South African who lives in London, where he is an international security consultant and managing director of Concept Tactical Worldwide.
News continues below...

WEST AFRICAN NEWS: GHANA PORTS NEED CASH and NIGERIA UNVEILS ITS PORTS MASTER PLAN
Ghana's ports need cash injection to become hub ports
Port of Tema, Ghana's largest port. Picture courtesy OTAL
Ghana Ports & Harbours Authority (GPHA) general manager Wisdom Segbefia has highlighted the challenges facing the country's ports if they want to become important hub ports.
Speaking at a seminar organised by the Tema branch of the Chartered Institute of Logistics and Transport, Segbefia said the ports lacked proper infrastructure, had inadequate funds for development, inadequate space and cumbersome cargo clearing procedures. Other constraints included having large volumes of uncleared cargo, congestion of trucks and lack of competition in the stevedoring business due to cargo allocation.
Segbefia urged government to inject the needed capital into the operations of the two major ports in the country and to provide the necessary infrastructure for development and expansion. He pointed out that GPHA had the potential of developing Tema into a regional container gateway and Takoradi into a regional oil and gas services hub.

Nigerian Port Master Plan unveiled

Tin Can Island port – new container stacking promised. Picture courtesy OTAL
After years of tinkering to suit the dynamics in the maritime world, the Nigerian Federal Government has finally unveiled a 25-year Ports Master Plan for sustainable development of the nation's seaports.
The implementation of the master plan is meant to maximise the opportunities and potentials of the nation's seaports in the years ahead.
Minister of Transport, Alhaji Yusuf Suleiman, who disclosed this at a ministerial briefing in Abuja, also revealed that plans have been concluded for the rehabilitation of Koko port, Tin Can Island port quay wall, and Julius Berger terminal.
Suleiman said the rehabilitation of the Tin Can Island port quay wall and apron as well as rehabilitation of Port Harcourt quay were in progress, just as the procurement process for the construction of Bonny Jetty, Calabar Finger Jetty, Port Harcourt Finger Jetty and Marina Jetty, CMS, have started in earnest.
He said other key initiatives of his ministry were port expansion, channel and towage management, safety of navigation, protection of marine environment, provision of additional car parks and container stacking at Kirikiri and Tin Can Island ports.
He said the concession of Kirikiri Lighter Terminal, which was stepped down in 2004, had started. He explained that Nigerian territorial waters, with a total coastline of about 800 kilometres, had numerous opportunities for investment in Greenfield port development and shipbuilding. These include Tarkwa Bay, Ogogoro Island, Snake Island, Lagos, Lekki Free Trade Zone and Lagos Free Trade Zone. He flayed the bureaucracy in the nation's seaports, pointing out that the practice of customs procedures imposed on containers and Roll on/Roll off (RORO) vessels had remained a challenge to ports operations. He added that interference by multiple government agencies at the ports also posed a major challenge to port operations.
The minister expressed dismay that the Single Window Electronic Trade Facilitation initiative, which could resolve the cumbersome problem of clearing procedures and the associated delays in cargo clearance, is yet to be resolved.
"This system eliminates human contact and the use of discretion, which have been identified as major causes of delay in the clearance procedure," he said, adding that the electronic system would not only facilitate trade but also ensure improvement in revenue generation and higher turnover.
Suleiman said the system would also incorporate a system for truck control, which would ease movement of cargo out of the ports. However, for the most part of the period ended December 2010, cargo handling deliveries had improved.
The minister said dredging of Lagos and Bonny/Port Harcourt channels was being assisted by the removal of wrecks to improve the rate of channel development and achieving the required depths.
He added that simulations that will usher in the pilotage and berthing of vessels with deeper drafts in the Lagos pilotage district were being undertaken by the Federal Government. The minister added that the resumption of Calabar channel dredging was being pursued.
According to Suleiman, the dredging of Warri channel was being approached by first employing the services of a consultant for the rehabilitation of the North and South Escravos mole and breakwaters.
On the matter of port concessioning, Suleiman said a committee had been appointed by the ministry to evaluate the performance of the concessionaires so far. He disclosed that the tariffs charged by the concessionaires in the nation's seaports were undergoing review.
He argued that the review would eliminate arbitrariness and ensure parity with other ports, particularly those of neighbouring countries. "Port tariffs must be competitive and also have to be commensurate with services rendered," he said.
He said that to reduce the cost of doing business in Nigerian ports, the Nigerian Shippers' Council (NSC) had abolished service charges, bank charges, commission on turnover and concessionaires' service charges.
In addition, the NSC had abolished port administrative charges and sorting charges, and was implementing the Inland Container Depots (ICDs) project on a Build Own, Operate and Transfer (BOOT) basis to bring shipping services to the doorsteps of shippers.
Suleiman said the ICDs would also assist in decongesting the seaports and make them more user-friendly. He said the ICDs would also help revive and modernise the railway as a primary mode for the long distance haulage of cargo.
According to the Minister the ICDs would also assist in the reduction of overall cost of cargo and create employment within the localities of the ICDs.
By John Iwori (allafrica)
NEWS OF SHIPS AND SHIPPING LINES
Safmarine to increase capacity of Far East – South America service
Safmarine has announced plans to provide its customers with significantly increased capacity on the growing South America-Far East trade.
"The Far East is an important market for Safmarine South America, not only for exports of reefer goods but for imports and exports across all sectors and Safmarine, together with our partners in this trade, are responding to the market by significantly upgrading capacity during 2011 on our SAX service to/from the Far East," said Johan Van De Peer, Latin America (LAM) trade General Manager.
"We will begin by introducing larger vessels on the existing SAX service from Quarter 2 this year. New Santa/SAMMAX type vessels, which have been purpose-built for operations in the East Coast of South America, will be gradually phased in and will provide a total capacity of 7,100 to 7,400 TEU as well as increased reefer plug capacity.
"Then, as of July 2011, customers will have the option of using two SAX services. The first will be an exclusive South America – Far East service (excluding South Africa) while the second will cover both South Africa and Asia. More details about each of these services will be provided in due course."

Oman investor buys into Hapag-Lloyd
An Omani investment fund is reported to have taken a 15% stake in the German container carrier Hapag-Lloyd. Although Hapag-Lloyd declined to comment on the reports they are considered credible, with Dow Jones reporting that Onyx Investments has confirmed the deal.
Hapag-Lloyd has confirmed that preparations for an IPO for the container line are in place and that the German container tourism group TUI is continuing to look for an anchor investor for the box line.

Maersk orders two drill ships, options for another two

The oil rig Maersk Inspirer – Maersk intends adding up to four drill ships to the fleet
Maersk Drilling has signed a contract with Samsung Heavy Industries in South Korea for the construction of two ultra deepwater drillships. Announcing this yesterday (Wednesday), the company said the drillships are scheduled for delivery in the third and fourth quarters of 2013, respectively.
The total project cost for the two drillships is close to US$ 1.3 billion. This includes a turnkey contract with the yard, owner furnished equipment, project management, commissioning, start-up costs and capitalised interest. The contract includes an option for the construction of two additional drillships.
"We see an increasing share of the global oil and gas production coming from deepwater, and this trend will drive a solid growth in the demand for ultra deepwater drilling services in areas such as Brazil, West Africa and the Gulf of Mexico," says Claus V. Hemmingsen, CEO of Maersk Drilling and member of the Executive Board of the AP Moller– Maersk Group.
"These will be the first drillships in Maersk Drilling's ultra deepwater fleet. They will complement our existing three deepwater semi-submersibles and they will add a new important aspect in our offering to our customers in the ultra deepwater market," he said.
The 228 metre long drill ships will be able to operate at water depths up to 12,000 ft (3,650m) and will be capable of drilling wells of more than 40,000 ft (12,200m). With its advanced positioning control system (Dynamic Positioning System) the ships will automatically maintain a fixed position in severe weather conditions with waves up to 11 metres and wind speeds up to 26 metres per second.
Similar to the design philosophy on Maersk Drilling's ultra deepwater semi-submersibles the drillship design includes features for high efficiency operation including a dual derrick, which allows for parallel and offline activities. The extensive storage areas and tank capacities provide an advantage when operating in areas with less developed infrastructure and limited presence of suppliers. Together with the higher transit speed the increased capacity will reduce the overall logistics costs for the oil companies. The drillships will have accommodation capacity for 230 people.
"This order follows our recent order for two highly advanced ultra harsh environment jack-up rigs placed in February and implements our strategy of growing our business within the most attractive market segments; ultra deepwater floaters and high specification jack-up rigs," Hemmingsen said.
DHL SPELLS OUT RENEWED FOCUS ON AFRICA AS TRADE GROWS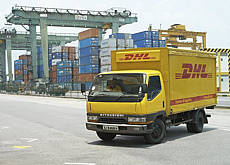 Nairobi, 6 April 2011 – Leading logistics company DHL today announced its renewed focus on Africa aimed at helping to ease the movement of goods within and out of the fast- growing continent and boost trade within regional economies.
The company is aiming to help expand trade in core sectors such as oil and energy, industrial projects, life sciences and healthcare, aid and relief and the consumer segment through simplified, reliable and cost-efficient supply chains that will drive growth in the region.
"DHL has been supporting business in Africa for more than three decades now and we're committed to keeping Africa well-connected to the rest of the world while identifying new opportunities in the intra-African market," said Amadou Diallo, CEO, Africa and South Asia Pacific, DHL Global Forwarding. "To support the region's vast growth potential, we are using our deep knowledge of the markets to help spur growth and enable businesses discover new opportunities in Africa."
Plans for Pan-Africa Road Solution
Diallo revealed that DHL will soon roll out a new road freight solution in Africa connected by three main hubs in East, West and Southern Africa serving respective regions and helping link inter-regional movement of goods. Dubbed Africa Connect, the service will be offered from Mombasa and Dar es Salam (East), Spain and Morocco (West) and Johannesburg and Cape Town (South).
DHL is banking on rapid cross-sector growth chiefly driven by increasing population, rising consumer spending and technology-driven economic transformation. From 2005 to 2008, consumer spending across the continent increased at a compound annual rate of 16 percent, more than twice the GDP growth rate, indicating that economic growth is also resulting in wealthier communities and greater demand on the continent.
"A significant amount of growth in our business is resulting from Small and Medium Enterprises (SMEs). This group is going to be one of DHL's main focal points as we look at how we can help these companies expand beyond current limits and leverage more opportunities in and out of Africa. We welcome the ongoing infrastructural investment by governments in the East African Community, and especially Kenya, because this will have a significant multiplier effect on regional communities," said Mr Diallo.
"Already, DHL serves key markets such as South Africa, Nigeria and Ghana three to five times a week by air, offering capacity in excess of 2000 tons a month. A new road freight solution that balances cost and transit times is just what the market needs next to respond to fast changing demands driven by rapid growth in key sectors." added Diallo.
Africa's 50-plus economies are growing at a remarkable pace across the region, with real gross domestic product having increased by an average of 4.9 percent a year between 2000 and 2008. Foreign direct investment increased to US$ 62 billion in 2008 from US$ 9 billion in 2000. DHL says it is also keenly watching the inter-continental growth between Africa and Asia which reached US$ 100 billion in 2010.
DHL has the largest group of logistics experts dedicated to Africa and its major trading lanes, particularly Asia. With Africa fast revealing a future worth investing in, it says that companies need a partner with first-mover knowledge, expertise and experience. In 2010, DHL Global Forwarding saw significant volume growth in Africa in both its regular operations and charter operations connecting all regions with Africa.
News continues below…

PORT & LOGISTICS NEWS: NEW MOMBASA CONTAINER DEPOT – DURBAN HARBOUR STRIKE AVERTED – LAND BRIDGES ACROSS ASIA
Mombasa freight station opens
A new container depot has been opened at Changamwe, Mombasa by Kenya vice president Kalonzo Musyoka. Known by the somewhat pretentious name of Transami Mombasa Container Terminal (MCT), the container freight station or container depot will be available to boost the container and vehicle handling capacity of the port of Mombasa.
The vice president complimented Bollore Africa Logistics for their investment in the terminal and activities elsewhere in Africa. Your investment at MCT is an excellent illustration of how Public Private Partnerships can be constructed to achieve multiple benefits to participating partners, he said.
The freight station has a container capacity to handle 2,200 TEU and 650 motor vehicles.

KZN harbour strike called off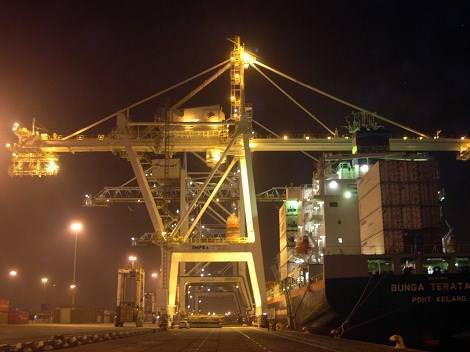 Durban Container Terminal – the lights stay on as strike is averted.
The threatened strike by members of the South African Transport and Allied Workers Union (Satawu) at the ports of Durban and Richards Bay has been called off at the last moment after a final meeting on Wednesday night.
The strike had been called in protest against changes in work methodology and would have resulted in additional congestion taking place at the Durban Container Terminal, where this morning there were 24 container ships with cargo for Durban (10 vessels in port and 14 outside). Yesterday (Wednesday) there was a total of 28 container ships at Durban.
Some of the congestion arising from the container terminals has been blamed on the changeover to the Navis operating system at DCT – Navis was previously in operation at Pier 1 Container Terminal. But seasoned port users say the changeover isn't the problem at DCT which lies elsewhere, partly in the work ethic.
The threatened strike resulted from Transnet National Ports Authority (TNPA) attempting to standardise shifts by berthing crews into a quad-shift system, which met with strong objection by workers.
Road congestion
Meanwhile road congestion along the Bayhead routes is continuing to be a major bottleneck, exacerbated by road widening which is underway near the Iran Road junction and the notorious entrance into the Cutler Complex (Island View), where only a set number of vehicles are admitted at a time. The area receives both tanker lorries and heavy tip vehicles carrying grain and minerals. Arriving heavy vehicles have been forced to park along the narrowed section of Bayhead Road causing problems for other traffic trying to move past. The reason? Because there is nowhere else for them to go.
As part of the solution Transnet National Ports Authority has proceeded with widening Bayhead Road to Pier 1 and is at last building a truck stop in the vicinity.

DB Schenker reveals quicker new rail link with China
Germany's DB Schenker has operated a trial train from China to Germany that completed the journey in just 16 days – about half the time it takes to ship a container from China to Germany. The new route uncovered by the blocktrain of containers saved 2,000km by going a different route than the traditional Trans-Siberian train journey through Russia.
Instead the route chosen was from Chongqing and then going south of Mongolia (the Trans-Siberian goes north) through Kazakhstan, Russia, Belarus, Poland and into Germany to Duisburg, a total of 10,300km.
Meanwhile a new rail service between Vladivostok and Russia which connects China, Korea, Japan, Taiwan and South East Asia with the emerging markets of Russia and the CIS countries has been inaugurated.
Introduced by Weiss Röhlig, the new Trans-Siberian container service from the Russian Far East to Russia and Central Asia commences close to the Russian Pacific ports of Vladivostok and Vostochny and links into the Trans-Siberian rail network. This operates directly with Moscow with connections from there into east European and CIS destinations, connecting with more than 2,000 railway stations along the way.
Transit times from either of the two Pacific ports to Moscow are between nine and ten days plus one or two days for clearance at the port. A regular service has commenced.
PICS OF THE DAY – ID HARBOUR and MSC SARDINIA
The Danish owned and managed bulk carrier ID HARBOUR (28,760-dwt, built 1990) arriving in Lyttelton harbour, Christchurch on 25 March to load logs for China. Picture by Alan Calvert
The Greek-owned, MSC operated containership MSC SARDINIA (36,270-gt, built 1986) arrives in Lyttelton on 31 March just in time to catch the sunset. Picture by Alan Calvert
Don't forget to send us your news and press releases for inclusion in the News Bulletins. Shipping related pictures submitted by readers are always welcome – please email to info@ports.co.za
Did you know that Ports & Ships lists ship movements for all southern African ports between Walvis Bay on the West Coast and Mombasa on the East Coast?
TABLE BAY UNDERWAY SHIPPING
SHIP PHOTOGRAPHERS
Colour photographs and slides for sale of a variety of ships.

Thousands of items listed featuring famous passenger liners of the past to cruise ships of today, freighters, container vessels, tankers, bulkers, naval and research vessels.
P O BOX 809, CAPE TOWN, 8000, SOUTH AFRICA
snai@worldonline.co.za
http://home.worldonline.co.za/~snai
South Africa's most comprehensive Directory of Maritime Services is now listed on this site. Please check if your company is included. To sign up for a free listing contact info@ports.co.za or register online
Bringing you shipping, freight, trade and transport related news of interest for Africa since 2002