Ports & Ships Maritime News
29 March, 2011
Author: Terry Hutson
Bringing you shipping, freight, trade and transport related news of interest for Africa since 2002
Improve your branding with your banner on this site and tap into our large readership - contact info@ports.co.za
TODAY'S BULLETIN OF MARITIME NEWS
Click on headline to go direct to story – use the BACK key to return
SEND NEWS REPORTS AND PRESS RELEASES TO info@ports.co.za
Looking for help? Try our MARITIME SERVICES DIRECTORY CLICK HERE
FIRST VIEW – CAPTAIN MICHALIS S
The tug CAPTAIN MICHALIS S (389-gt, built 1971) which arrived in Cape Town harbour this past week towing the dredger DCI Dredge BH 1. The tug is an 'oldie' having been built at the Canteiri Navale M&B Benetti at Viareggio in Italy in 1971. Her current owner is listed as Laposa Tugs, a Greek company and she is managed by Atlas Salvage and Towage also of Greece. Picture taken by Aad Noorland
News continues below...

PIRACY – INDIAN NAVY RETAKES IRANIAN SHIP
Reports indicate that the Indian Navy has recaptured an Iranian trawler named MORTEZA which was being used by the pirates as a mother ship in the area west of the Lakshadweep islands. The crew of sixteen consisting of 12 Iranians and 4 Pakistanis were rescued unharmed.
The report stated that the ship was retaken after a three hour battle with the pirates and involving the Indian Navy ship INS SUVARNA and the Coastguard vessel SANGRAM which makes it remarkable if the crew did not receive any injuries. This incident follows the Indian Navy recently capturing 61 pirates from the Mozambique fishing vessel VEGA 5 which was set on fire and destroyed during the engagement. The crew on Vega 5 was also rescued unharmed.
It appears the pirates on board the Morteza were involved in an attack on the MAERSK KENSINGTON when the navy ships arrived.

Meanwhile in another incident in the Arabian Sea on Thursday, 24 March the US warships USS ENTERPRISE and USS LEYTE GULF responded to a mayday from the Philippines bulk ship FALCON TRADER II (54,924-dwt, built 2009), whose crew of 20 had retired to a citadel within their vessel where they could retain control of the ship's navigation.
The US warships sent two helicopters to investigate and on arrival fired warning shots in the hope of discouraging the pirates. The pirates subsequently began abandoning the ship and headed back towards their mother ship in their skiff. As one of the helicopters began flying towards the mother ship they came under fire from AK47 rifles. The aircraft retired to a safe distance and continued monitoring the situation. At the weekend the US Navy was reported to be still monitoring what they called a 'suspected pirate mother ship.'

The fishing vessel JIH CHUN TSAI 68 which is currently operating as a pirate mother ship in the northern Arabian Sea. Picture NATO
On Monday 28 March the NATO pirate centre issued a note saying that a merchant ship had been attacked by pirates in position 15.36N and 057.04E. The attack came from two skiffs and RPG and small arms were used against the merchant ship, which has since been highjacked. We don't have a name for this vessel.

In a statement the NATO piracy centre said the following:
"The relatively quiet last 24 hours does not change the general situation about the continuing threat from Pirate Attack Groups (PAG) operating from the northern Arabian Sea down to the southern Somali Basin. The pirated fishing vessel JIH CHUN TSAI 68 and at least one dhow based PAG are assessed operating in the northern Arabian Sea and at least two additional dhow-based PAG's in the south western Arabian Sea.
In the Somali Basin at least one whaler-based PAG is assessed operating close to the Seychelles and two more in the southern Somali Basin as well as off the coast of Kenya, Tanzania and towards the Mozambique Channel. The weather forecast further supports increased activity as the monsoon transition period seems to finally have settled. In the Gulf of Aden weather conditions for the next 24 hours are also favourable for small boat activities and pirate attacks in this area can occur at any time without warning."
News continues below…

MOZAMBIQUE NEWS – CONCERN OVER RAIL SERVICE AND COAL DELAYS
CFM poised to take over Sena Railway

Port of Beira – may have to wait for the first coal shipment
The warning signs have been evident for some time, but it now appears increasingly likely that Mozambique's state-owned rail and port company CFM will take over the operation of the Sena Railway, on which rehabilitation is still incomplete.
According to the Portuguese news agency Lusa, exports from the Moatize coal mines operated by Brazil's Vale will be delayed due to complications over the linking of the Sena railway with the mine.
At the nearby Benga mine which is operated under concession by Riversdale, the Australian-based company is plotting its own course and has arranged to import 11 diesel- electric locomotives from Croatia, which will be arriving at Beira within a short period according to Ports & Ships own sources.
Riversdale is also arranging for rolling stock (wagons) for the haulage of coal to the port at Beira.
The Sena railway was due to be completed at the end of March 2011 in time for coal to be railed to Beira a little later in the year. CFM gave Rites and Ircon, the Indian company holding the concession to firstly rehabilitate the railway and then operate it, until 24 March to have completed all construction work but it seems this latest deadline was not reached. CFM's chief executive Rosario Mualeia was quoted by Lusa as saying the latest delay was not significant but he gave no details.

Six suspended over illegal timber exports

Port of Pemba in northern Mozambique. Picture by Terry Hutson
An attempted illegal export of unprocessed timber and of ivory from the northern Mozambique port of Pemba in January, has led to the suspension from duty of six inspectors working for the Cabo Delgado Provincial Forestry and Wildlife Services, reports Saturday's issue of the Maputo daily Noticias.
The six inspectors witnessed the loading of the logs into 161 x 20-foot containers, and, it is alleged, although they knew that the planned export was illegal, they did nothing to stop it. To make matters worse, when the containers were reopened, it was found that the amount of wood they contained was much greater than that which had been officially declared.
The timber belonged to five companies owned by Chinese citizens – namely Mofid (89 containers), Tienhe (30), Pacif (20), Sinlan (15) and Alphaben (7). The containers were loaded onto the KOTA MAWAR, a ship operated by Pacific International Lines (PIL) and were destined for China.
The illegal shipment came to the notice of somebody in the defence and security forces who ensured that it was aborted. When the containers were unloaded and checked, in addition to Class 1 hardwoods (which may not be exported unprocessed), the authorities found 126 elephant tusks. Elephants are a protected species, and the export of ivory is prohibited.
The ivory was in containers belonging to Mofid, which is a repeat offender, caught on two previous occasions (in 2004 and 2007) trying to export logs illegally.
The logs have now all been removed from the containers, but are exposed to the elements and at serious risk of deterioration. – AIM News

Mozambique sugar production up 12 percent
Maputo, 28 March – Mozambique's sugar production in 2010 totalled 281,700 tons, reflecting a year on year rise of 12 percent, according o a report from Mozambican newspaper Notícias, citing sources from the Centre for Commercial Agriculture Promotion (Cepagri).
Sources told Notícias that the record amount was even more important when taking into account it was produced with just four factories in operation as compared to the six units operating just after the country's independence from Portugal in 1975.
Currently all the sugar factories – Marromeu, Mafambisse, Xinavane and Maragra – are operating at maximum capacity and an increase in sugar production has also been influenced by considerable improvements in agricultural yields, which have been increasing, although the quality of sugar cane has been affected by adverse weather conditions.
The 2010 sugar campaign resulted in production of 2.7 million tons of ground cane, 281,700 tons of sugar and 117,000 tons of molasses, from a total harvesting area of 38,584 hectares.
Against 2009 this production represents rises of 19 percent, 12 percent and 23 percent in production of cane, sugar and molasses, respectively, and there was an increase in production area of 9 percent.
Also according to Cepagri, sugar sales in the domestic market continue to increase, in line with the sector's development and growth of domestic consumption.
In 2010 most of the production was taken up by sales on the domestic market and, although production increased, the industry began the year with a much reduced stock levels and production was immediately channelled to the domestic market, and thus exports fell by 11 percent.
In 2010 the sector exported a total of 107,900 tons of sugar and posted revenues of US$ 50.7 million, with 82,900 tons of sugar exported to the European Union as part of the Everything but Arms (EBA) initiative and 24,900 tons to the United States market. (macauhub)

Support for artisanal fishing in Mozambique
Rome, 28 March – The International Fund for Agriculture and Development (IFAD) is to provide a US$ 21.1 million loan to Mozambique to support artisanal fishing and the income of families in fishing communities, under the terms of an agreement signed Friday in Rome.
In a statement IFAD noted that the waters off the coast in many areas of Mozambique were being depleted of fish due to the use of fishing techniques such as large nets that are able to catch the entire shoal, which was reducing not only the fish but also fishermen's incomes.
The aim of the Project to Promote Artisanal Fishing is to persuade fishermen to go to deeper waters and to diversify the areas in which they work, which according to IFAD will increase fishermen's income and provide incentives for them to stop fishing in waters that are too close to the coastline.
IFAD said that this project would directly benefit 40,000 families that depended on fishing and fishing products and a further 40,000 families that indirectly depend on it.
This project increases the support provide by IFAD to artisanal fishing in Mozambique to US$ 45 million. Overall in Mozambique it has provided US$196.2 million. (macauhub)
News continues below...

SHIPS AND SHIPPING LINE NEWS
Safmarine and Maersk refocus on Africa trades

Safmarine Bayete. Picture by Koos Goudrain via Robert de Lange
AP Moller-Maersk CEO Nils Andersen said recently that the group was going to focus heavily on the developing world for its future growth, saying that the AP Moller-Maersk is strong in Africa and has a good footprint in South America.
In evidence of this, Maersk Line announced last week that it would be moving one third of its ship calls from Hong Kong to its third South China gateway at Nansha. This has been followed up by an interview between the South China Morning Post and John Boudreau, Safmarine's Shanghai-based regional executive, who advised that three additional port calls would be made in China to coincide with the delivery of larger container ships to Safmarine, ships that are designed for the Asia – West Africa trades.
Safmarine has two services between West Africa and China already calling at Nansha, in addition to the ports of Fuzhou, Ningbo and Yantian. One of the services also calls at Hong Kong. A third service connects West Africa with Tanjung Pelepas in Malaysia and this loop is going to be extended to China once the first of Safmarine's three 4,500-TEU container ships is delivered next month (April).
The Maersk Group including Safmarine has 22 ships on order that are suitable for the West Africa trades, which they refer to as 'Wafmax' vessels.
Boudreau said the strengthened service would cut the transit time between West Africa and East China/South Asia by at least a week because there will be more direct calls without the need for transshipping cargo through multiple ports.
He pointed out that Safmarine (and Maersk) had recently upgraded their Far East-East Africa services with a direct shipping service between Nansha and Yantian to Mombasa and Dar es Salaam. This, he told the paper, was to satisfy demand from customers by adding more capacity and frequency of services.
The type of cargo carried, he said, was meat, poultry, citrus fruits and other perishables, consumer goods and semi-finished manufactured products. It also included raw materials such as palm oil.

Kenyan livestock shipments resume
Shipments of livestock from Kenya to Mauritius has resumed after having been grounded last year when ship owners decided the risk of piracy so close to Somalia was too great.
Global Livestock Traders Limited director Mohamed Mursal said an Australian-bound ship had agreed to take the livestock to Port Louis. However he wasn't sure whether he could find more ships to continue the trade.
Australia exports sheep and other livestock in considerable numbers to the Middle East and the ships usually return empty, so a load for part of the way must act as a temptation for any ship operator, even with the risk of running through pirate-infested seas.
Mursal said that in 2010 he was able to export only 5,000 animals to Mauritius. Kenya was losing out to South Africa and Mozambique, he claimed.

Beluga's woes continue

Beluga Intonation of Beluga Projects in Durban harbour. Picture by Trevor Jones
Additional companies within the Beluga grouping have opted for insolvency following the discovery of financial irregularities at head office.
Beluga's woes came to a head not long after it sold a 49.5% stake to American Oaktree Capital. A subsequent investigation into the company's financial statements revealed irregularities which led to the laying of a charge of fraud against Beluga's founder and CEO, Neils Stolberg, along with a number of his directors. Stolberg has denied the charges but has been arrested and is appearing in court.
Beluga's headquarters have meanwhile been searched by prosecutors looking for evidence but Oaktree, which had taken effective control of the company has begun filing for insolvency for a number of the subsidiary and group companies. These include Beluga Chartering, Beluga Shipping, Beluga Fleet Management, Beluga Sea Academy, Beluga Off-Shore Crewing and Beluga Travel Lounge.
Meanwhile it is reported that several Beluga ships have either been detained in ports around the world or are still at sea with 'nowhere to hide'. According to Voytenko Mikhail's Maritime Bulletin, these include Beluga Shanghai which is at anchor near the coast of South Korea and running short on provisions, Beluga London which entered Richards Bay yesterday while reportedly short on fuel, Beluga Festival at anchor outside Richards Bay, and Beluga Mumbai under arrest in Indonesia, with a lack of fresh water and no funds to buy more. The report says the crew are forced to gather rainwater to survive.
Mikhail's Bulletin includes a copy of a letter written by management and addressed to all crews. To read the text go HERE
CRUISE NEWS: MSC CANCELS CALLS IN TROUBLED ARAB LANDS

MSC Fantasia – one of the MSC cruise ships not affected by the port cancellations
MSC Cruises has announced that it has decided to extend the cancellation of the call at the port of Tunis (la Goulette) up to the end of the 2011/2012 winter season as part of its commitment to always 'putting the safety and comfort of its guests first'.
In a statement issued yesterday, MSC Cruises added that all calls to ports in Egypt and Bahrain would be substituted with other 'exciting' ports of call with immediate effect through to the end of the 2011/2012 winter season.
The change will affect the itineraries of the following ships: MSC Armonia, MSC Lirica, MSC Magnifica, MSC Melody, MSC Opera, MSC Orchestra and MSC Splendida.
TRADE NEWS: WILHELMSEN SHIPS SERVICE GROWS ITS LOGISTICS BUSINESS
Clarence Bothelo has been appointed as Ships Spares Logistics (SSL) Manager in the Customer Services Department at Wilhelmsen Ships Service for the Africa, Middle East and Black Sea (AMB) regions.
Located at the company's Dubai, UAE office, he is responsible for driving the sales of Wilhelmsen Ships Service's SSL offer in the AMB region and for building SSL expertise in Customer Services.
Ships Spares Logistics is a service offered by Wilhelmsen Ships Service which has a single point of contact for managing the delivery of spare parts from manufacturer to vessel, with total visibility on data and associated prices. The service combines the use of a central Freight Forwarding Centre with an online service which provides its contract customers with the ability to see the location and status of their orders, as well as offering a number of unique reporting features.
"We have seen an increasing interest in our Ships Spares Logistics service. Our focus on 'track & trace' capability, performance reports and especially on the one-point contact in our customer service is seen as a superior benefit by our customers. We are looking forward to seeing more agreements in the Africa, Middle East and Black Sea region," said Bothelo. "Furthermore, we have been receiving an increasing number of trial orders from India, Dubai, Turkey, Ukraine and Bahrain, and customers have now begun to show interest in the SSL offer and look at us as a global solutions provider," he adds.
Bothelo holds a Master's degree in Financial Management from Mumbai University. Prior to joining Wilhelmsen Ships Service, he was the key account manager with a major logistics company in Mumbai for six years. He also worked with other freight forwarding companies in various positions.
News continues below…

TRADE NEWS: DHL APPOINTS GLOBAL RETAIL HEAD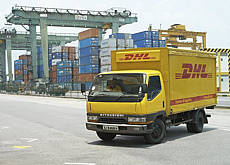 Singapore – The retail industry is changing fast with key trends powered by the multi-channel purchasing options customers prefer, says DHL Global Forwarding. The company has just restructured its global consumer sector by launching retail as a separate division to provide global retailers and their customers with specialist logistics solutions.
"The result is that retailers must seek new and specialised logistics solutions to meet customer demand," said Amadou Diallo, DHL Global Forwarding's CEO for Africa and South Asia Pacific.
"Developing such solutions for retailers has played a starring role in the excellent growth of DHL Global Forwarding over the past two years and we believe a dedicated global retail sector managed out of Singapore will allow DHL to be even more proactive. It's the right place at the right time because the centre of growth for both retail sourcing and selling lies in emerging markets in the Asia-Pacific."
In addition to having to manage fast growth and multi-channel sales, global retailers face numerous new challenges in the local market such as infrastructural constraints and local buying behavior.
It has been estimated that the top 10 import and export retail markets make up about 60% and 80% of total ocean trade volumes and 70% and 80% of total air trade volumes respectively.
According to Kelvin Leung, CEO, DHL Global Forwarding North Asia Pacific, retail sector clients span across the industry and include fashion, apparel and luxury goods, as well as specialty retailers and general merchandisers such as supermarkets and hypermarkets.
"The newly-created retail division will offer cost-effective customised logistics solutions designed not only to deliver the goods but help retailers better understand their sales supply chains," he said.
Mark Lau, previously Senior Director for the Consumer and Retail Sector for Africa and Asia Pacific, has been named DHL's first global head of the retail sector business, based in Singapore. The newly created retail sector includes fashion and apparel, luxury goods, tourism, hotels, restaurants and catering as well as specialty retailers, general merchandise and supermarkets.
YESTERYEAR – THOSE CLASSIC SHIPS - ALMKERK and ANENKERK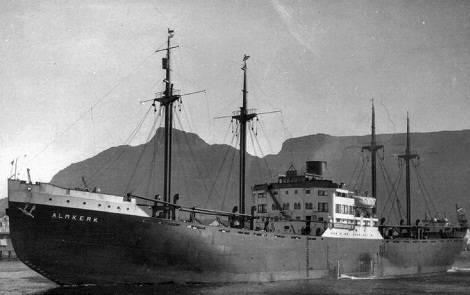 Two of Holland Africa Line's 'Kerks' each separated by time and circumstance make up our 'Yesteryear' feature, which offers a glimpse at those classic (and some not so) ships of years gone by. Above is the distinct shape of the ALMKERK (6810-gt, built 1923) at the Nederlansche Scheepbouw Mij. in Amsterdam. The ship ended her days during World War 2 when she was torpedoed by the German U-boat U-106 off Cape Verde in 1941. Picture from Willem Kruk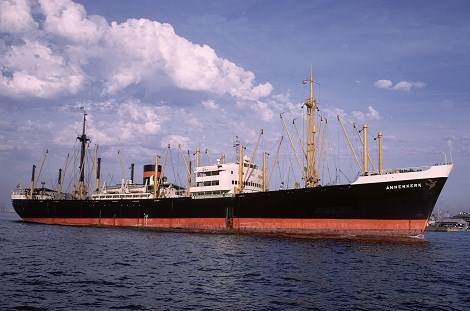 The second picture is considerably more modern, and yet it is a little sobering to realise that the picture is already 41 years old! The ship is the freighter ANENKERK (8052 -gt, built 1947) which was built for Holland Africa at the Wilton Fijenoord, Schiedam yards. When this photograph was taken from the Bluff ferry station in Durban harbour in 1970, the ship had at most just a few weeks or months to go in service with the Dutch line, for she was transferred to Trans-Lloyd the same year and scrapped in China the next. Picture was taken by Trevor Jones
Don't forget to send us your news and press releases for inclusion in the News Bulletins. Shipping related pictures submitted by readers are always welcome – please email to info@ports.co.za
Did you know that Ports & Ships lists ship movements for all southern African ports between Walvis Bay on the West Coast and Mombasa on the East Coast?
TABLE BAY UNDERWAY SHIPPING
SHIP PHOTOGRAPHERS
Colour photographs and slides for sale of a variety of ships.

Thousands of items listed featuring famous passenger liners of the past to cruise ships of today, freighters, container vessels, tankers, bulkers, naval and research vessels.
P O BOX 809, CAPE TOWN, 8000, SOUTH AFRICA
snai@worldonline.co.za
http://home.worldonline.co.za/~snai
South Africa's most comprehensive Directory of Maritime Services is now listed on this site. Please check if your company is included. To sign up for a free listing contact info@ports.co.za or register online