Ports & Ships Maritime News
24-25 February, 2011
Author: Terry Hutson
Bringing you shipping, freight, trade and transport related news of interest for Africa since 2002
Improve your branding with your banner on this site by tapping into our large readership - contact info@ports.co.za
TODAY'S BULLETIN OF MARITIME NEWS
Click on headline to go direct to story – use the BACK key to return
SEND NEWS REPORTS AND PRESS RELEASES TO info@ports.co.za
Looking for help? Try our MARITIME SERVICES DIRECTORY CLICK HERE
First View – E.R. VITTORIA
The offshore supply vessel E.R. VITTORIA which was in Cape Town harbour last December. Picture by Aad Noorland
News continues below...

Temporary terminal shut down as TPT goes live with Navis and Auto-Gate
All TPT terminals in Durban, Cape Town, Ngqura and Port Elizabeth face a planned shut down of a minimum of 12 hours during the night of Saturday, 26 March to facilitate the switchover from the old COSMOS operating system at Durban Container Terminal, to the new web-based Navis SPARCS N4 system which is already in use at the other terminals.
The shutdown will take place at 18h00 on Saturday evening and if all has gone well, all systems will go back live as from 06h00 the following morning, Sunday 27 March.
At the same time a new automated entry gate system for trucks will go live.
With Durban Container Terminal (DCT) being one of the biggest and busiest container terminals in the Southern Hemisphere it was felt that teething problems and delays around the changeover from COSMOS might prove to be a problem, despite the Navis operating system having already been introduced at the Cape Town, Ngqura, Port Elizabeth and East London terminals. The size and complexity of DCT however makes this a real risk of something causing a hiccup during the changeover, hence the decision to shut down the terminals overnight for 12 hours.
At a briefing in Durban yesterday, business terminal executive Moshe Motlohi said TPT had already engaged with customers in the shipping and trucking communities to ensure they were aware of the changes.
"Obviously DCT will be an entirely different ball game because of the size and significance of the terminal," he said. "We have learned valuable lessons since Navis was introduced at other terminals. The main thing is that we have contingency plans in place but require the understanding and cooperation of our customers and all our stakeholders in ensuring a smooth changeover. We assure everybody that the benefits will be worth enduring any teething problems, but we will minimise these as far as possible."
TPT became the first operator worldwide to manage a multi-site set up of the Navis system from a central server location at its head office in Durban, which fed across up to seven marine and 14 rail terminals. The system is currently in operation at the neighbouring Durban Pier 1 Container Terminal which opened in 2007, as well as at the East London and Port Elizabeth port terminals. In Cape Town Navis is in use with the multi-purpose terminal.
The benefits of Navis, other than being web-based, include paperless operations, real-time tracking of cargo, a single point-of-entry for both port and rail customers, reduced costly errors, greater control and visibility of cargo movements for customers, improved customer support, lower operating costs, increased stacking yard capacity, advanced reporting features and enhanced, and instant communication with TPT via web-based electronic data interchange.
News continues below…

Piracy: SAS MENDI on patrol off Mozambique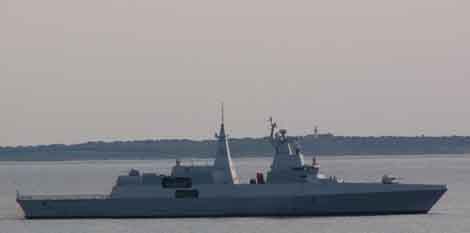 SAS Mendi on patrol off Cape Town during the FIFA Soccer World Cup. Picture by Aad Noorland
A South African Navy frigate, SAS MENDI is on patrol off the Mozambique coast, 'collecting information on piracy and to ensure maritime security in southern African waters', says Defence Minister Lindiwe Sisulu.
This has been a long time coming but is nonetheless welcome for all that. When Sisulu made the announcement earlier this week she was only confirming what most maritime observers regarded as an inevitability - that South Africa could not go on remaining aloof to the threat of piracy, particularly once it entered the Mozambique Channel.
The problem with piracy is that it is not a static object but is something that feeds on itself and is evolving, with new developments constantly occurring. Two months ago the pirates were operating over longish distances in open boats and with the occasional use of larger 'mother ships', usually fishing vessel types captured by the pirates that were turned into a means of going further offshore.
All that has changed and now they are using ocean-going tankers and other large ships, on which the legitimate crew is forced to work for them and do their bidding. As such there are no limits as to how far they may range, save fuel. Already fears have been expressed that the Somali pirates may move into Malaysian waters – which has provided rich pickings for Indonesian and other pirates in recent years. Any thought therefore that the waters off South Africa are "too rough and too far' and otherwise unsuitable need to be rethought.
Another scenario that is changing comes as a result of events of recent weeks. This involves the considerable number of pirates that have been captured after military forces stormed on board pirated ships to rescue the legitimate seafarers and their vessels. This brings with it an inherent risk of loss of life. In addition there has been the trial and conviction of pirates in the United States, where very heavy sentences have been handed down. On top of that is the case reported yesterday of four yachtsmen who were killed, reportedly by pirates before US naval forces could intervene. A large number of pirates were captured live in this instance, but four middle-aged Americans lost their lives, and the full story of what transpired will only emerge later – possibly only at the eventual trial of the Somalis which will presumably be in the United States.
Everywhere there is divided opinion on how to deal with the problem of Somali piracy. The approach of NATO and European naval forces has been criticised as being too faint- hearted, but there are grave risks when a more 'gung-ho' approach is introduced, such as that carried out by Indian and South Korean naval forces in recent months. Then there are increasing numbers of mercenary types who are being employed as armed guards on merchant shipping, while various private 'patrol boats' are being noted and reported as active in the region.
All this time, the risks are escalating, and regrettably we may have seen a manifestation of this in this week's killing of four innocent yachties.
Either way, there is a need for full transparency and open debate, if only to ensure that the 'sheriffs on the block' don't begin dispensing justice as they see fit and in the process become as guilty as those they are acting against.
News continues below...

News of ships and shipping lines
Maersk makes US$5Bn profit
Danish shipping giant Maersk yesterday announced having made a profit for the year of US$5 billion, which it said was in line with expectations.
"The Group delivers a strong 2010 result, and we are very satisfied. Our people have done a truly great job. We have become more competitive and our improved service across the Group has led to continued increases in customer satisfaction. We have increased our financial strength and are ready to make significant investments in our businesses," said Group CEO Nils S Andersen.
Maersk said the group results were a positive reflection on the recovery of world trade but also showed a continued improvement in competitiveness through cost savings and alignment of activities. Average freight rates for the group's container activities had increased by 29% in 2010 following a decline of 28% in 2009. Volumes increased by 5% from 2009 and both freight rates and volumes were close to those set in 2008.

Rickmers names two more giants
Two more 13,100-TEU container ships for the Rickmers Group have been named in ceremonies in Ulsan, South Korea. They were the LEO RICKMERS, which is to enter service with Maersk as its MAERSK EDMONTON, and SCORPIO RICKMERS which will be renamed MAERSK ELBA.
The two ships, part of a series of eight 13,100-TEU container ships, were built at Hyundai Heavy Industries and will go on ten-year charters to Maersk Line. Four similar ships have already been delivered in 2010. Each ship has a length of 366m and beams of 48,2m and will be capable of transiting the 'new' Panama Canal after its completion. Each is powered by a single Hyundai-Wärtsilä diesel engine which produces a maximum speed of 24.3 knots at an output of approximately 68,000kW. The main engine is designed for slow speed running at a considerably lower output, reducing both CO2 and SOx emissions.
Rickmers fleet now sits at 116 vessels.

Leo Rickmers, renamed MAERSK EDMONTON at its launching in S Korea. The ship was named by Manuela Steffens, wife of Jan Boje Steffens, CEO and Managing Partner of Rickmers Holding, while Joan Engelstoft, wife of Morten Engelstoft, Senior Vice President and COO of Maersk Line, named Scorpio Rickmers. The photograph shows Rickmers Group Chairman Bertram RC Rickmers standing between Mr and Mrs Steffens on the left and Mr and Mrs Engelstoft on the right.

Hamburg Süd names second 7,100-TEU ship
Hamburg Süd executives are having a busy period. On Monday this week they were in Singapore to name the second of ten identical 7,100-TEU 'Santa' class container ships, the SANTA ISABEL, which passed through Durban recently.
This coming Monday (28 February) officials will be in Durban for the naming of the first ship of the class, SANTA CLARA. They are the largest container ships ever built for Hamburg Süd and with their 1,600 reefer plugs, are the ships with the biggest reefer capacity currently available worldwide.
Both ships are in service on the company's New Good Hope Express loop connecting Asia with South America via South Africa. The ship named this past week, Santa Isabel was named after a successful training ship of the German company in the 1950s. The new container ship is 299.9m in length, has a beam of 42.8m and a draught of 13.5m. Her engine output is 45,760kW giving her a speed of 22.2knots.

Santa Clara sailing from Durban earlier this month. Picture by Terry Hutson

CMA CGM concerned over events in Libya
French shipping line CMA CGM says it is concerned over events taking place in Libya where the ports and terminals are currently closed to shipping. The company has set up an Emergency Response Team to follow the situation 24/7, assisting with its operations in the North African country, keeping in touch with its customers and assessing the safety and security of its employees.
CMA CGM is represented in Libya by a third party agent, OSCL which has offices in Tripoli, El Khoms, Misurata and Benghazi, with 62 employees including one expatriate.
The spreading face and scourge of piracy
IMB says Malaysian waters not safe
Somali pirates have the capability of reaching Malaysian waters using the bigger and better equipped vessels which they have hijacked.
That's the forecast of International Maritime Bureau (IMB) piracy reporting centre head of Asian region, Noel Choong, who said Somali pirates were using the vessels which they had hijacked to go further from their base.
He said the pirates were now attacking ships in the Indian Ocean, off the coast of India and Maldives.
"If they move further, they will reach Sri Lanka and eventually the Straits of Malacca. Two years ago, nobody would have predicted that they would reach India. It is hard to believe they would reach the Straits of Malacca, but it is possible," he said.
According to Choong, many of the pirates converted the hijacked ships into motherships that could be used to launch attacks against other vessels. He said IMB's initial advice to ships was to keep clear of all small boats.
"But now, with (the use of) hijacked ships, unsuspecting ships may think it is a merchant ship. The advice is to monitor merchant ships which are lowering skiffs into the sea," he warned. - Shiptalk

Pirates warn of no mercy for Americans, Koreans and French
Barely one day after the killing of four middle-aged Americans who had been highjacked on their yacht Quest by Somali pirates, a well-known Somali pirate by the name of Ali Hirsi has issued a dire warning to other Americans, Koreans and French who are captured that they are at great risk.
Speaking on the Somaliweyn website early yesterday morning Hirsi, who comes from the Hobyo district in central Somalia, said he was speaking on behalf of the other pirates.
"I would like to inform the nationals of America, French and South Korea that from today henceforth if they come into our trap we are not going to do any favour, but the knife will be on their throats. We never used to kill foreigners whom we take as hostages, but instead demand for ransom, but the case is quite different. I reiterate again the citizens of the three countries which I have stated should keep off from the vast Indian Ocean, or else will have rough time with us," he said.
Hirsi acknowledged having lost two pirates who died when the US Navy boarded the yacht this week, along with 13 other pirates that had been taken captive, but said they (the pirates) were not scared of death and were ready to face the worst from the United States, France or South Korea.
Freight Forwarding: Dachser links up with Jonen Freight
International freight forwarder Dachser has set up a joint venture with South African company Jonen Freight, which has been trading locally since 1979. Dachser will have the majority share in the venture. The company employs 133 staff and provides logistics services at Johannesburg, Durban and Cape Town.
The JV will provide Jonen with access to Dachser's international network, while the German group, which handled almost 30 million tonnes of freight in 2009, will be able to expand its air and ocean freight distribution activities in the southern African region.
SAAFF Congress 2011 to tackle issues facing freight forwarders
The South African Freight Association of Freight Forwarders (SAAFF) which will be holding a two-day congress on 8 and 9 June 2011 at Emperor's Palace in Johannesburg, says it will focus on critical issues facing the industry including customs affairs, cargo security, supply chain costs, industry transformation, the impact of the Duty Bill and Control Bill, the Consumer Protection Act and Companies Act, skills development, insurance and various other challenges facing the freight forwarding industry globally and in sub-Saharan Africa.
The association will also hold a two-day industry exhibition as well as a full-day SAAFF Seminar on Wednesday 8 June, covering important issues such as the frameworks for vocational training and BBBEE opportunities, HR and employment equity in the freight forwarding industry, the TETA qualifications landscape, the FIATA diploma, FIATA Supply Chain programme, available skills programmes and learnerships for the industry and an overview from FIATA Advisory Body for Vocational Training and more – all critical issues for personnel and HR managers and directors in the freight forwarding industry.
"Freight Forwarding plays an essential role in international trade and our members are dedicated to facilitating this activity through their involvement in the management of transportation, customs clearing, documentation, third party payments and many other elements of international supply chains," says Dave Logan, CEO of the South African Association of Freight Forwarders.
Further details of the congress can be obtained from Teresa Settas Communications on tel 011 894 2767 or e-mail Nadine@tscommunications.co.za mlyonga@iir.co.za
News continues below…

Watch out for the Bounty Hunters
Something to tax your brain a little as the weekend approaches. We've all heard of the Bounty Hunters, which usually describes tough-talking Americans whose job it is to go out and track down fugitives from justice and bring them back to face trial. In American terms today's Bounty Hunters can trace their background to the days of the old Wild West, but do you know the actual origin of the name, a Bounty Hunter? Here's a clue – remember this is a maritime publication! Answer in our next News Bulletin on Monday, 28 February.
Pics of the Day - PALLIETER
Dredging International's hard-working hopper dredger PALLIETER (5,005-gt, built 2004), looking a little the worse for wear, seen arriving in Cape Town. Pictures by Aad Noorland
Don't forget to send us your news and press releases for inclusion in the News Bulletins. Shipping related pictures submitted by readers are always welcome – please email to info@ports.co.za
Did you know that Ports & Ships lists ship movements for all southern African ports between Walvis Bay on the West Coast and Mombasa on the East Coast?
TABLE BAY UNDERWAY SHIPPING
SHIP PHOTOGRAPHERS
Colour photographs and slides for sale of a variety of ships.

Thousands of items listed featuring famous passenger liners of the past to cruise ships of today, freighters, container vessels, tankers, bulkers, naval and research vessels.
P O BOX 809, CAPE TOWN, 8000, SOUTH AFRICA
snai@worldonline.co.za
http://home.worldonline.co.za/~snai
South Africa's most comprehensive Directory of Maritime Services is now listed on this site. Please check if your company is included. To sign up for a free listing contact info@ports.co.za or register online