Ports & Ships Maritime News
10-11 February 2011
Author: Terry Hutson
Shipping, freight, trade and transport related news of interest for Africa
Improve your branding with your banner on this site by tapping into our large readership - contact info@ports.co.za
TODAY'S BULLETIN OF MARITIME NEWS
Click on headline to go direct to story – use the BACK key to return
SEND NEWS REPORTS AND PRESS RELEASES TO info@ports.co.za
Looking for help? Try our MARITIME SERVICES DIRECTORY CLICK HERE
First View – HESPERIDES
The Spanish Antarctic support vessel HESPERIDES (2682-gt, built 1991) seen in Cape Town this week. The ship was built in Spain at the Cartagena Shipyards and was delivered in April 1991. Hesperides carries nine officers and 46 other crew and has accommodation for up to 30 scientists. The ship can remain at sea for up to 90 days. Picture by Ian Shiffman
News continues below...

Apapa faces challenges, says APM Terminals

Port of Apapa Container Terminal – picture OTAL
Apapa Container Terminal has faced some very challenging times recently but APM Terminals' management presents a positive face saying that there have been improvements following negotiations to sort out the delays.
Port Strategy quotes Koen de Backker from APM Terminals as saying that Customs and release procedures have proved very cumbersome, which results in cargo remaining on the trucks for days at a time before the final release is obtained.
According to de Backker, APM Terminals, which runs the Apapa terminal under a concession, has recommended changes to the method of scanning containers and has even offered to take over the logistical side of driving the boxes through the scanner on its own equipment.
"Customs were initially very reluctant, but we are in an advanced stage of negotiation and we expect to get the go-ahead to implement the new process in the first quarter of the year," he told Port Strategy.
The new process envisages approximately 40% of the containers being scanned, compared with 70% at present being physically checked. The aim of the new process is to lower congestion from external trucks.
Apapa Container Terminal is expecting to take delivery of three rubber-tyre gantry cranes, three empty handlers and six reach stackers which ought to also improve productivity. In addition a yard expansion programme should be ready by the end of February and the new gate structure will be fully operational in March. – source Port Strategy
News continues below…

MSC Melody returns to Cape Town for more cruises

MSC Melody arriving off Cape Town
The gracious cruise liner MSC Melody returns to Cape Town on Saturday 26 February for a second mini- season of just three cruises out of the mother city before saying 'arrivederci' to South Africa and heading north again to Italy.
The ship, much loved by local cruising enthusiasts for her olde worlde grace and style (and spacious cabins), is currently cruising the Indian Ocean islands. She departs Durban for Cape Town on 23 February.
Cruise enthusiasts can opt for a fun and festive two-night Atlantic Ocean "cruise to nowhere" out of Cape Town and back from 26 – 28 Feb, a four-night cruise to Walvis Bay from 28 – 4 March where the accent will be on the regions rich bird and marine life; and a unique three-night cruise to Mossel Bay from 4 – 7 March with a choice of fascinating Garden Route excursions.
And, of course, passengers arriving and departing Cape Town will be enthralled by the simply magnificent views of Table Mountain and the Cape Peninsula mountains from the sea – a treat in itself even if you live in the area.
"These three short very special cruises represent a rare opportunity to cruise out of Cape Town. They are just long enough to totally relax and unwind in a fun environment of sheer escapism: an endless range of non-stop onboard entertainment, shopping and spa treatments, delicious meals and unique excursions," says Allan Foggitt, marketing director of MSC Starlight Cruises.
The two night "cruise to nowhere" out of Cape Town is the ultimate way to be transported into a whole new world of life on the ocean where laughter and new friendships are sure to be part of the package. With capacity of just 1,500 passengers MSC Melody is big enough to do your own thing but small enough to quickly get to know like-minded folk.
Booking is already heavy for the four-night west coast Walvis Bay cruise led by renowned birding expert Ian Sinclair. It is the last of the three Walvis Bay cruises which have proved so popular this summer when passengers have been spellbound by the rich bird and marine life off the famed Diamond and Skeleton coasts.
The author of 25 books and a highly entertaining lecturer with the gift of the gab, Sinclair hosts sunrise whale watching and birding sessions out on deck followed by a lecture later in the day.
In Walvis Bay passengers can visit the local museum, the Birdlife information centre and huge natural lagoon where over 120,000 birds were recently counted, including large flocks of flamingos and pelicans which are joined annually by 200,000 migratory birds that fly south for the summer.
Other options include a visit to the nearby holiday resort of Swakopmund famed for its German restaurants, coffee and cakes and excursions into the desert.
The Mossel Bay cruise departing Cape Town on Friday 4 March, gives passengers the rare treat of sailing past Cape Point where the Atlantic and Indian Oceans meet, as well as Cape Agulhas, Africa's most southerly tip - both spectacular landmarks which led early explorers to declare the region the "Fairest Cape of them all".
Weather permitting, excursion highlights of the Mossel Bay cruise include the Tsitsikama Forest Canopy adventure, dune sand boarding, a quad bike safari, a predator walk as well as game viewing by 4x4 at a safari lodge.
Passengers can also opt to spend a lazy day on board ship, on the beach or enjoying the many natural, cultural and historical features of this seaside resort made famous by Portuguese navigator Bartolomeu Dias who landed there in 1487. A must visit is the Bartolomeu Dias Museum Complex which features the 500 year old Post Office Tree used by passing ships, a life size replica of the Dias Caravel, a Shell Museum, an Aquarium and an Ethno-Botanical garden.
MSC Melody is the smallest ship in the MSC Cruises' fleet and is both welcoming and intimate. It offers high standards of Italian style and sophistication in a relaxed and informal environment and it's said that for many guests the ship is the destination itself.
The public areas are spacious and well appointed and especially attractive to families as she is one of the few cruise liners that have 5 bed cabins available.
Another special feature is the ship's retractable, transparent Magrodome which allows guests to enjoy one of the two swimming pools and whirlpools even if the skies cloud over.
Entertainment and activities cater for all interests and age groups. There is deck quoits, shuffleboard, table tennis or volleyball games to play on deck or simply a comfortable chair or lounger to relax in and watch the waves go by. A gymnasium, aerobics classes, dance lessons, bridge and other card game competitions, duty-free shopping and even a crèche to leave the kids in while enjoying a short siesta; a session in the MSC Aurea SPA; or a movie in the ship's cinema or the comfort of your own air- conditioned cabin.
Night time entertainment includes a floorshow, cabaret artists, comedians, dancers, magicians and three bands performing every night at sea. The casino offers blackjack, roulette and slot machines and the disco will have you dancing until the early hours.
MSC Melody says 'arrivederci' to South Africa on 7 March when she departs Cape Town on a 18 night north bound cruise to Genoa, Italy. She will cruise the Mediterranean during the European summer months and return to South Africa again at the end of the year for the 2011/2012 season.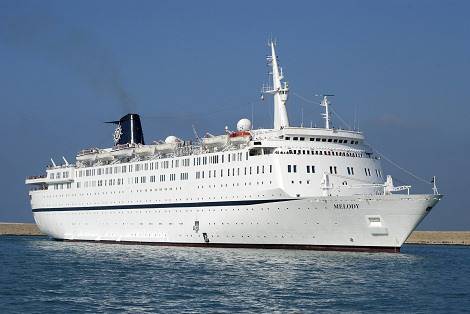 MSC Melody in Livorno, Italy. Picture by Trevor Jones
News continues below...

Safmarine improves Far East – Indian Subcontinent coverage
Safmarine has upgraded its existing Far East - Indian Subcontinent services by introducing a new direct service, FMX, which will connect the Far East and main ports in West India and Pakistan. The service commences on 17 February 2011, with the sailing of the vessel CARDONIA from Xingang. The service is operated by Simatech with Safmarine operating under a slot purchasing agreement.
"The enhancement of this service is yet another example of our commitment to serving these growing markets," said Trade Director Kris Van Den Brande. "Apart from a new direct service from North China, (Xingang, Qingdao) and East China (Ningbo) to India (Nhava Sheva) and Pakistan (Karachi), the FMX service will offer our customers improved transit times i.e by an average of five days for shipments from Xingang, Qingdao and Ningbo."
Port rotation for the new direct Far East – Indian Subcontinent Service (FMX) is Xingang – Qingdao – Shanghai - Ningbo – Hong Kong – Singapore – Tanjung Pelepas - Port Klang – Nhava Sheva – Karachi – Colombo.
News continues below…

Piracy: Another VLCC tanker captured

Irene SL. Picture courtesy EU NAVFOR
Somali pirates struck again this week and have captured yet another Very Large Crude Carrier (VLCC), the IRENE SL (319,247-dwt, built 2004) which came under attack and surrendered to the pirates about 350 n.miles south east of Muscat in the North Arabian Sea.
The Greek flagged tanker was en route to Suez from Fujairah and has a crew of 25 on board – seven Greek, one Georgian and 17 Filipinos. Communication with the ship was lost and there is no information concerning the condition of the crew but a spokesman for the company managing and operating the ship, Athens-based Enesel said the attackers had come in skiffs and were armed. The ship was not registered with MSC(HOA) but was reporting to UKMTO.
Irene SL is carrying a cargo of two million barrels of oil valued at about US$200 million. The last time a VLCC was ransomed it earned the pirates $9.5 million, according to most sources.

Pirate attack off Bakassi coast
GAC reports of an attack on an installation off the Bakassi coast (Cameroon) in which 11 persons have been kidnapped. Two local gendarmes were shot in a separate attack in the same region.
The government suspects the local rebel group the Africa Marine Commando (AMC) to be behind the attacks. The group is known to carry out kidnappings to demand the release of their fighters held by the authorities. AMC is a splinter faction of the Bakassi Freedom Fighters group which is seeking compensation on behalf of Nigerians forced to leave the Bakassi Peninsula after the land was handed over to Cameroon in 2008.
Piracy incidents are spreading outwards from the Niger Delta, with the Bakassi peninsula being an area of particular concern. - source GAC

Indian concern over piracy in its waters
India's defence minister AK Antony says he believes that an outside force is behind the recent pirate attacks on shipping in Indian waters.
"Our waters are not safe like before. There are other forces helping them (the pirates)," he said. "We cannot remain mere spectators." The minister admitted the forces he referred to had not yet been identified.
He said the incidents pointed out that India's coasts were not protected and that the navy and coastguard would therefore step up their surveillance along the Kerala – Lakshadweep – Tamil Nadu coast where the recent pirates attacks took place. More naval and coastguard vessels and aircraft would be deployed to increase surveillance, he said.

Failure to pay ransom has deadly effect
At least five seafarers on board Thai fishing vessels captured by pirates have starved to death after being deprived of food and receiving no care when they fell ill. This shocking story has been revealed following the capture of Somali pirates off Lakshadweep by the Indian Navy.
The captured pirates revealed that the 49 men on the Thai fishing trawlers Prantalay-11, Prantalay-12 and Prantalay-14 and during a 10-month hostage drama faced increased danger when the owner refused to pay the $9 million ransom demanded. A number of the fishermen subsequently died from starvation and others fell ill.
CFM takes journalists to show that Sena railway is not ready for use
The publicly owned ports and rail company CFM has taken the step of taking journalists to the provinces of Sofala and Tete to show that the Sena railway is not ready for use, despite claims to the contrary by the Indian consortium Ricon, reports news agency AIM.
During the 600 kilometre journey from the city of Beira to the town of Sena, journalists were shown building work at railway stations that has not been completed, with various problems including poor drainage. In addition journalists saw sections of track lacking ballast and equipment in a very poor state, according to Tuesdays edition of the newspaper 'O Pais'.
In the stations of Semecuesa and Berundi, 55 kilometres out of Beira, journalists noted misaligned rails, with some points either having too much or not enough ballast. As a result there were humps in the track in some sections.
The problem of a lack of drainage means that there is no guarantee that the route will be secure and passable in times of heavy rain. The absence of clean ballast in the correct amount can stop rainwater from eroding the trackbed and given the large volume of coal expected to be transported, this could create operational problems, explained CFM´s director of communications, Antonio Lebombo.
Of the stations situated between Beira and Sena, only Muaza and Ihamitanga have been finished. In the opinion of Lebombo, along with other shortcomings, this is an indication that the Sena line is not fit for traffic.
According to the chairperson of CFM, Rosario Mualeia, his experience of working with Ricon over the last six years has led him to believe that they will not conclude the rebuilding of the Sena line in the time stipulated, due to the technical and financial incapacity of Ricon. As a result Mualeia argues that they should return the management of the line to CFB by 24 April.
On Tuesday the journalists left Sena for the town of Moatize, in the province of Tete, along the remaining 258 kilometres of line.
In 2004 the Indian consortium of Rites and Ircon (Ricon) won the international tender to manage the Beira rail system, which consists of the Machipanda line from Beira to Zimbabwe, and the Sena line from Beira to the Moatize coal basin. The Beira Railroad Company (CCFB) was then set up, in which Ricon is the major shareholder with 51 per cent.
Key to the lease was that CCFB/Ricon had to rebuild the Sena line to a standard that could carry millions of tonnes of coal exports a year from Moatize.
But Ricon kept missing deadlines. It had promised to deliver the Sena line, fully rehabilitated, by September 2009 but when the line was still not ready by December 2010, the government set in motion the procedures to cancel the Ricon contract.
Ricon then promised to finish all major work on the line by 31 January, but this promise was not enough to prevent the government from notifying Ricon on 24 December that it intended to terminate the lease. – source AIM

Riversdale to buy own locos and wagons
In a related matter, the mining firm of Riversdale says it will acquire its own locomotives and wagons to rail export coal from the Riversdale Benga concession near Moatize to the port of Beira.
The investment of US$ 46 million will purchase 11 diesel-electric locomotives and 200 wagons for delivery beginning April this year, which indicates the locos and rolling stock are secondhand and not new.
At one point Riversdale investigated the possible use of barges on the Zambezi River but while no statements have been made it would now appear that this proposal has been abandoned.
The Benga mine is expected to start producing 5.3 million tonnes of coal a year from September this year.
News continues below…

Business and labour looking forward to State of the Nation address
Pretoria, 9 February – South Africa's business and labour sectors are looking forward to President Jacob Zuma's third State of the Nation Address, tomorrow evening, hoping job creation will be placed on top of government's agenda.
Speaking ahead of the address, economist Chris Hart said job creation and poverty reduction should be at the forefront of the President's address.
"From an economist's point of view, if we are serious about poverty and unemployment, we should place resources to the investment side of the economy instead of shifting resources to consumption. We need investment; consumption spending does not reduce poverty. We also need to do something about taxes and investments," Hart said on Wednesday.
Statistics South Africa yesterday released the results of the Quarterly Labour Force Survey for the fourth quarter of 2010, which showed that employment increased by 1.2 percent from 25.3 percent in the third quarter.
Hart said the economy was on the mend, however, more jobs need to be created.
President Zuma, who was expected to spend the day resting and putting the final touches to his address, is expected to focus on economic transformation and basic service delivery. Government's five priorities of health, fighting crime, education, jobs and rural development are expected to feature strongly in the President's address.
One of the top things on trade federation Cosatu's wish list is a concrete plan to address job creation. The federation has welcomed the publication of the New Growth Path. Cosatu is also hoping to hear how government will ensure decent work and the introduction of laws to regulate contract work.
On education, Cosatu said the public education system was still facing problems with underfunded and understaffed schools, while also calling for the construction of universities in the Northern Cape and Mpumalanga, which will contribute to job creation.
Hart said although there were success stories in education, the challenge lay in the management of schools. "It is not a resource issue but that of management."
Meanwhile, the Independent Democrats (ID) expects the President to clarify what aspects of the growth path will be implemented. "The President must give the nation an inspiring vision, with practical actions that will be taken to ensure that the three most pressing issues are addressed simultaneously; namely poverty, unemployment and inequality," ID parliamentary leader Joe McGluwa said.
The party was also keen on knowing how government intends to tackle corruption in both the public and private sectors, and broader environmental issues.
"The ID expects the President to commit to ambitious targets for renewable energy generation so as to place South Africa in a leadership position as hosts of the Climate Change COP-17 at the end of the year," said the ID of the all-important meeting, which will be held in Durban.
Tim Harris, shadow minister of trade and industry of the Democratic Alliance, said Zuma should address "broad and deep reforms" of the labour market, while also announcing drastic reform of wage bargaining arrangements.
"This should include repeal of the one-size-fits-all extension of wages that forces small businesses to comply with conditions negotiated by large firms in their sector," said Harris.
The party also called on the President to request Parliament to undertake an urgent review of the existing labour laws to relieve small businesses from their more onerous provisions. "The provisions relating to employment in the Basic Condition of Employment Act should be relaxed for small businesses with fewer than 50 workers."
The South African Chamber of Commerce and Industry (SACCI) said it was looking forward to clarity on policy direction and implementation of government's programmes to support and develop SMMEs.
The creation of a nurturing business environment and new strategies to address corruption, and measures to reduce red tape for business are also some of the matters industry is looking forward to hearing more on.
The SONA will be delivered to both the National Assembly and the National Council of Provinces in Parliament at 7pm. – BuaNews
Stevedores and Longshoremen
Thanks once again to those who took part in finding an explanation for the terms 'Stevedores' and 'Longshoremen'. As usual much use was made of Wikepedia and various nautical almanacs, and why ever not!
The following response from Cape Town marine surveyor Dennis Henwood sums up the majority.
Stevedore – a person employed at a port to load and unload ships. Spanish estibador < estibar to stow cargo, Latin stipare – pack down, press.
Interestingly, says Mr Henwood, the dictionary compares stevedore with the word STEEVE.
Steeve – steeved, steeving – a long derrick or spar with a block at one end, used in stowing cargo. Verb – to stow (cargo) on the deck or in the hold of a ship.
The other meaning of Steeve – (verb) (of a bowsprit) to extend upward of an angle rather than horizontally with the keel. (verb) to set (a bowsprit or spar) at an angle upward. (noun) the angle upward of a bowsprit.
He writes: "I also found the following:
In Two Years Before the Mast the author describes the steeving of a merchant sailing ship. This was the process of taking a mostly-full hold and cramming in more material. In this case, the hold was filled with hides from the California hide trade up to four feet below the deckhead (equivalent of 'ceiling'). "Books" composed of 25-50 cattle skins folded into a bundle were prepared, and a small opening created in the middle of one of the existing stacks. Then the book was shoved in by use of a pair of thick strong pieces of wood called steeves. The steeves had one end shaped as a wedge which was placed into the middle of a book to shove it into the stack. The other ends were pushed on by means of block and tackle attached to the hull and overhead beams and hauled on by sailors.
"However, I could not find anything particular about Longshoremen other than they are men of the long shore (American). The American law apparently confuses longshoreman with stevedores as it categorises stevedore wages and seamen wages as lien on a ship."
Alan Preston of the ocean export firm of Davies Turner in Manchester, UK has the following to offer:
The word 'stevedore' originated in Spain or Portugal, and entered the English language through its use by sailors. It started as a phonetic spelling of Spanish estibador or Portuguese estivador = 'a man who stuffs', here in the sense of 'a man who loads ships', which was the original meaning of 'stevedore'; compare Latin stipāre = 'to stuff'. In the United Kingdom, men who load and unload ships are usually called dockers while in the United States and Canada the term longshoreman, derived from "man-along-the-shore," is used.
So there you are. Most of your responses concurred with these. Thanks to everyone who took part and if you have any suggestions for other terms or names used in the maritime and transport industry, we can always find space for some more.
Pics of the Day – STENA TRANSPORTER
Stena's latest ferry STENA TRANSPORTER which called at Cape Town on Wednesday morning to take bunkers and fresh supplies. The ship is on her delivery voyage from South Korea to Europe. Pictures by Aad Noorland
Don't forget to send us your news and press releases for inclusion in the News Bulletins. Shipping related pictures submitted by readers are always welcome – please email to info@ports.co.za
Did you know that Ports & Ships lists ship movements for all southern African ports between Walvis Bay on the West Coast and Mombasa on the East Coast?
TABLE BAY UNDERWAY SHIPPING
SHIP PHOTOGRAPHERS
Colour photographs and slides for sale of a variety of ships.

Thousands of items listed featuring famous passenger liners of the past to cruise ships of today, freighters, container vessels, tankers, bulkers, naval and research vessels.
P O BOX 809, CAPE TOWN, 8000, SOUTH AFRICA
snai@worldonline.co.za
http://home.worldonline.co.za/~snai
South Africa's most comprehensive Directory of Maritime Services is now listed on this site. Please check if your company is included. To sign up for a free listing contact info@ports.co.za or register online