Ports & Ships Maritime News
Feb 1, 2011
Author: Terry Hutson
Shipping, freight, trade and transport related news of interest for Africa
Improve your branding with your banner on this site by tapping into our large readership - contact info@ports.co.za
TODAY'S BULLETIN OF MARITIME NEWS
Click on headline to go direct to story – use the BACK key to return
SEND NEWS REPORTS AND PRESS RELEASES TO info@ports.co.za
Looking for help? Try our MARITIME SERVICES DIRECTORY CLICK HERE
First View – TRANS FRIENDSHIP II
Alan Calvert in Lyttelton. New Zealand reports: One month old today (7 January) the Hong Kong flagged bulk carrier TRANS FRIENDSHIP II is seen at Lyttelton discharging phosphate. The ship sailed direct from her builders CSSC Guangzhou Huangpu Shipbuilding Co Ltd to Cailan, Vietnam to load phosphate for discharge at three New Zealand ports.
Most of the cargo was loaded from river barges before she departed for Napier, Lyttelton and Dunedin. The phosphate is very dense and doesn't flow well through discharge hoppers. As can be seen in the photo the cargo is discharged on to the wharf before being loaded into trucks by front end loader. Picture and commentary by Alan Calvert
News continues below...

Port of Nacala statistics for 2010 – hits record high for containers
The northern Mozambique port of Nacala has experienced a year of growth in cargo handling with containers in particular increasing by 34 percent.
Container handling for the year reached 71,112 TEU for 2010, according to reports accredited to a source within the Northern Development Corridor and quoted by the Portuguese language Maputo newspaper Noticias.
The report said that as a result of the increase in freight handled certain "large operators were looking into the possibility of creating a new hub alongside the existing one at the port of Durban." Nacala is linked by rail to the landlocked country of Malawi and from there are rail links extending just into eastern Zambia. There is however as yet no complete rail link with the Zambian or DRC copperbelt.
Total cargo handled at Nacala was 1.2 million tonnes, which exceeded the amount achieved in 2009. The number of ships calling at Nacala also increased, from 273 as against the 236 in 2009.
Since the concession to handle the port and railway was awarded in January 2005 the following container handling figures have been recorded, measured in TEUs:
2005 – 31,118
2006 – 3,128
2007 – 44,687
2008 – 49,770
2009 – 53,199
2010 – 71,112
source Noticias
News continues below…

News from the Ships and Shipping Lines
Zanzibar ship sinks near Seychelles
The combined passenger and cargo ship RAS KIGOMASHA (3,999-gt, built 1974, IMO 7355234) sank in heavy seas near the Seychelles on 28 January 2011, reports Maritime Bulletin (Voytenko Mikhail). The crew of 13, all Pakistanis, were saved.
The ship was sailing from Zanzibar to Dubai for maintenance and refitting. Although still flying the flag of Tanzania the ship is reported to have been recently sold by the Zanzibar Shipping Corp, a government-owned company. Capable of carrying 750 passengers and 1,500 tonnes of cargo, Ras Kigomasha acted as a ferry between the Tanzanian ports and carrying the name MAPINDUZI. – source Maritime Bureau

CMA CGM ex-chief returns as CEO
Jacques Saade, former CEO and founder of French shipping giant CMA CGM, has returned in force to the company he founded as its new chief executive. He had previously been reduced in rank by the banks and lenders during the time when the company was experiencing severe financial difficulties in restructuring a US$ 5 billion debt.
Since then the Turkish Yildrim Group has waded in with a US$ 500 million investment, while the shipping line's fortunes appear to have made a remarkable turnabout in its trading, particularly in the container division.
"This investment enables the group to substantially strengthen its balance sheet and secure its investment plan, while providing additional funds to support expansion," said CMA CGM while confirming Saade's appointment.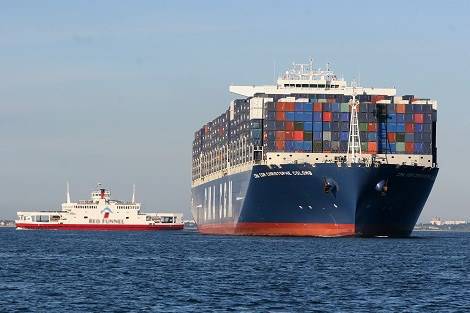 CMA CGM Christophe Colomb

Maersk raises 2011 container forecast
Danish shipping company AP Moller-Maersk has increased its 2011 container division forecast, made in November, from 6 percent growth to 8 percent.
"We don't think we'll lose any market share this year," CEO Nils Andersen said at last week's World Economic Forum in Davos, Switzerland, where he expressed confidence that Maersk would retain 14.4 percent of the global cellular fleet. This was after Maersk Line recorded heavy losses in 2009 during the economic downturn. Andersen later told Bloomberg that he expected a year of record profits after the 2009 losses damaged Maersk's volumes.
Andersen recently said that AP Moller-Maersk was going to focus heavily on the developing world for its future growth, saying that the company is strong in Africa and has a good footprint in South America.

MOL takes a cut in 3rd quarter profit
Japanese shipping giant Mitsui OSK Line (MOL) has reported a reduction in net income for the third quarter of the 2010 financial year and has revised its full year forecast to 1,530bn Yen, down from an earlier forecast of 1.550bn Yen.
Safmarine website goes mobile
Safmarine recently launched a mobile website offering for the benefit of its customers. The new service can be accessed by all major mobile devices and smart phones.
"Since e-Business has become the norm in shipping we have gone one step further and extended this by offering mobile solutions," said Tomas Dyrbye, Safmarine CEO. "The new mobile functionality offers Safmarine customers on-the-go instant access to functionalities such as being able to search and track cargo by simply using a booking, bill of lading or container number. Since the launch of the new mobile service, we have seen increased usage on a daily basis."
Another solution offering allows mobile users to retrieve the shipping schedules (by location) functionality. This is in addition to the schedules and tracking applications already available on Safmarine website. Safmarine agency and office details are also accessible using the mobile site.
Customers may also access the service directly via http://m.safmarine.com
Mailbag: Why AN XING HAI was in Cape Town
Dear Terry Port and Ships Maritime News had a nice shot of the AN XING HAI on Wednesday, 26 January, which mentioned that she was a Refrigerated Fish Carrier in Cape Town for Bunkers. I saw her alongside a commercial berth, E Berth, on Friday 21 January, when I sailed out of Cape Town on MSC Melody. So I assume she was offloading cargo, or possibly onloading stores. In fact she is not a refrigerated fish carrier in that sense, but rather a pelagic factory stern trawler. The windows aft of the bridge, and lack of cargo handling gear, give some clue to her real 'raison d'être'.
An Xing Hai is operating with a fishing license issued by the Convention on the Conservation of Antarctic Marine Living Resources (CCAMLR). CCAMLR are a part of the Antarctic Treaty, set up to regulate fishing in the treaty area in order to prevent overfishing. The CCAMLR license issued to An Xing Hai is valid from 1 December 2010 to 31 May 2011 and allows her to fish solely for Antarctic Krill (Euphausia Superba) using midwater gear only. The license also grants her fishing rights only in three CCAMLR operating areas, which are areas 48.1 (Antarctic Peninsula), 48.2 (South Orkney Islands) and 48.3 (South Georgia).
As stated she was built in 1987, in Ukraine, and previously sailed under the name DUVANKOY. She is currently owned by Liaoning Pelagic Fisheries of Dalian, China (her port of registry) and is operating in Antarctica in a collaborative venture with J Marr Seafoods Ltd, of Hull in England. She was purposefully designed to catch KRILL, which explains why she is doing what she is doing.
She is one of a class of seven vessels built under Soviet 'Project 16080', and known as the 'Antarktida' class, and all seven vessels were built between 1984 and 1988. They were unique insofar as this class of trawler was specifically designed purely for KRILL trawling, and for operations in Antarctic waters. They were all built at the Okean Shipyard in Nikolayev, Ukraine, and they were all fitted out for Processing, Freezing, Canning, Fishmeal and Oil production of the catch.
When An Xing Hai was built as Yard Number 85 at the Okean Shipyard and completed on 12 August 1987 it was as GENERAL PETROV, before being renamed Duvankoy in 2003. She was purchased by her current owners and renamed An Xing Hai in 2009.
An Xing Hai received her first CCAMLR license on 15 December 2009, for the 2009/2010 Antarctic fishing season, which indicates that her current owners bought her for that particular purpose. It is also noteworthy that 2009/2010 was also the first ever season that the Chinese Government officially applied for CCAMLR licenses, and for just two vessels, one of them being the An Xing Hai.
It must have been a successful first season for them as, for the current 2010/2011 season, the Chinese Government increased their activities in Antarctica and applied for CCAMLR licenses for five vessels, again with An Xing Hai being one of them.
I hope this helps shed light on why she was in Cape Town.
Jay Gates
Cape Town
Readers who wish to comment about anything in PORTS & SHIPS are welcome to write to editor@ports.co.za
News continues below…

Training: SAMTRA launches ship simulation and bridge teamwork course
Simon's Town-based South African Maritime Training Academy (SAMTRA) has announced that it has included the Ship Simulation and Bridge Teamwork course, which conforms to IMO Model course 1.22, to its course listing.
Trainees who successfully complete this course will have gained experience in handling ships under various conditions and will make a more effective contribution to the bridge team during ship manoeuvring in normal and emergency situations. Specific issues that trainees will gain include:
Familiarisation with the use of engines and helm for ship manoeuvring.
An understanding of the effects on the behaviour of the ship in wind, current, shallow water, banks and narrow channels and conditions of loading.
A greater awareness of the importance of planning a passage or manoeuvre and the need for an alternative plan.
A greater understanding and awareness of efficient bridge procedures and bridge teamwork during watchkeeping and ship handling, in normal and in emergency situations.
A greater understanding and awareness of a good interactive communication style and benefit of building up a common shared mental model of the planned passage.
The first course is scheduled to be held from 14 – 18 February 2011. SAMTRA can be contacted via Petula Maurer, tel 021 786 8400 or by emailing to pmaurer@samtra.co.za

Bridge Teamwork course underway in the simulator
Date set for national road strike
Trade Unions have set a provisional date for the national road freight strike to take effect from 13 February. This was announced by spokesmen for the four trade unions involved although two of the unions needed to take the matter back to their members for final confirmation.
The four unions represent a total of over 57,000 members and possess the ability of effectively preventing the movement of freight in South Africa, such is the dominance of road over rail.
The unions have demanded wage increases of 20% spread over two years whereas the Road Freight Employers Association (RFEA) are offering 7.5% for 2011 and then 7.5% for 2012. Unions also want a housing allowance of R500 and working hours to be restricted to 40 hours a week for non-mobile workers. Overtime should be reduced to a maximum of nine hours, while four weeks leave a year should become the norm, say the unions. There are further demands for cash-in-transit workers and for the banning of labour brokers from the industry.
News continues below…

Rail News – Coal line back in business after derailment
The Richards Bay coal line has been restored to service after the derailment of 22 January, which saw the line being closed for about three days while cleanup and repairs were undertaken.
The accident occurred when 40 wagons from a 200-wagon coal train derailed between Intshamanzi and Enqolothi near Ermelo. There were no injuries and Transnet Freight Rail is investigating the cause of the accident, which is hardly a good start to the year.
In 2010 Richards Bay Coal Terminal and Transnet Freight Rail failed to achieve targets set of 65 million tonnes because of TFR's inability to deliver the required volume of coal to the port, although by the end of 2010 rail volumes had increased dramatically. RBCT had meanwhile during the year increased its terminal capacity to 91 million tonnes annually, completely outstretching TFR's ability to supply. The terminal ended the year having exported 63.43 million tonnes, an increase of 3.8% on the previous year but still short of that 65mt figure.
TFR and RBCT have achieved exports of up to 70 million tonnes in the past but in recent years a spate of derailments caused by lack of sufficient or qualified maintenance on the line, plus unsuitable conditions at some of the mines, such as being unable to accept long trains for loading, have seen this figure decrease steadily towards the 60mt mark.
According to TFR the implications of the latest derailment are that 90 export coal trains had to be cancelled because the line was closed between 13h20 on 22 January when the accident occurred and 16h00 on 25 January when the line reopened.
"Insofar as trying to make up for these lost tonnes, we are obviously doing our very best to make up same," said TFR acting chief executive Tau Morwe. "However, a lost slot is exactly that, and trying to make up for lost capacity is difficult in an environment that is already under strain."
China to Europe by rail

Container train on the line outside Durban. This is a 50-wagon train being hauled by four electric locomotives but what's important to note is that each container wagon has only a single 20ft box instead of two – and therefore only half the possible load of 100 TEUs that this train could haul. Where are the rest? On the road of course! That's the challenge facing Transnet. Picture by Steve McCurrach www.airserv.co.za
In other rail news German rail company DB Schenker says it intends having a regular rail service in operation moving containerised cargo from China to the port of Hamburg in Germany.
"We will probably start it early in the second quarter," said Steve Dearnley, DB Schenker Asia-Pacific's CEO. Transit time is expected to be 21 days and each train will carry 100 TEUs. Dearnley said this couldn't be considered as competition to ocean transportation. "It's another offering," he said.
Several pilot trains have operated between Asia and Europe to test the feasibility of a regular operation but various factors have mitigated against the setting up of a regular service. Apart from changes of rail gauge, there are political challenges to overcome.
China is making a deliberate effort to increase its use of rail transport and has introduced a number of high speed passenger trains within China itself. The country is exporting its expertise in this department by becoming involved with several high speed rail projects elsewhere in the world, including in South Africa and the proposed HS rail services between Johannesburg and Durban, Johannesburg and Polokwane and Johannesburg and Cape Town, which is being driven by the national Department of Transport.
DB is already involved in supervising five construction sites involving high speed train routes in China. The intention of launching regular container trains across Europe and Asia is essentially a pick up from what has been available for some time, with block trains operating between Berlin and the Pacific port of Vladivostok. From Berlin freight is moved to Rotterdam and Antwerp either by barge, road or rail.
In 2007 Panalpina launched a rail-air service along the same lines as the sea-air service operated successfully at the port of Sharjah since the mid 1990s. Panalpina's rail- air service involves railing time-sensitive freight from China to Urumqi in China's westernmost province, from where it is air-freighted to Europe or other destinations by cargo aircraft. Several other similar services are also in operation from other railheads in western China.
High speed rail is currently limited to passenger services but once it extends into the profitability of freight services, only then might one see some real competition between rail and road. As for shipping, 100-TEU trains will never compete with 14,000-TEU ships, except perhaps where time sensitive freight is concerned.
Pics of the Day – INDEPENDENCE and NEXOE MAERSK
The Greek-owned and operated container ship INDEPENDENCE (41,413-gt, built 1986), once the Sealand Independence but which has carried a series of names since then. Currently on charter to MSC, the ship is seen arriving in Durban earlier in January. Picture by Trevor Jones
The Danish flagged and owned container ship NEXOE MAERSK (27733-gt, built 2001) sailing from Durban recently with a light load of boxes. Picture by Trevor Jones
Don't forget to send us your news and press releases for inclusion in the News Bulletins. Shipping related pictures submitted by readers are always welcome – please email to info@ports.co.za
Did you know that Ports & Ships lists ship movements for all southern African ports between Walvis Bay on the West Coast and Mombasa on the East Coast?
TABLE BAY UNDERWAY SHIPPING
SHIP PHOTOGRAPHERS
Colour photographs and slides for sale of a variety of ships.

Thousands of items listed featuring famous passenger liners of the past to cruise ships of today, freighters, container vessels, tankers, bulkers, naval and research vessels.
P O BOX 809, CAPE TOWN, 8000, SOUTH AFRICA
snai@worldonline.co.za
http://home.worldonline.co.za/~snai
South Africa's most comprehensive Directory of Maritime Services is now listed on this site. Please check if your company is included. To sign up for a free listing contact info@ports.co.za or register online