Ports & Ships Maritime News
Jan 26, 2011
Author: Terry Hutson
Shipping, freight, trade and transport related news of interest for Africa
Improve your branding with your banner on this site by tapping into our large readership - contact info@ports.co.za
TODAY'S BULLETIN OF MARITIME NEWS
Click on headline to go direct to story – use the BACK key to return
SEND NEWS REPORTS AND PRESS RELEASES TO info@ports.co.za
Looking for help? Try our MARITIME SERVICES DIRECTORY CLICK HERE
First View – AN XING HAI
The Chinese refrigerated fish carrier AN XING HAI (2621-gt, built 1987) which called at Cape Town yesterday for bunkers. Picture by Aad Noorland
News continues below...

Ban on Ivory Coast cocoa exports in the offing

Abidjan. Picture courtesy OTAL
Uncertainty has been raised over exports of cocoa from Cote d'Ivoire after a call for a ban on shipments was made by Alassane Ouattara, the country's would-be president who is holed up in a hotel room and guarded by UN troops. Oattara called for a month-long ban on cocoa exports in the hopes of bringing about a cash-crisis for his rival, former (existing?) president Laurent Gbagbo who has the loyalty of the Ivory Coast army and holds the presidential palace as well as controlling road and rail links to the ports.
Gbagbo needs the cash generated by cocoa exports to pay for the loyalty of his army and will do everything possible to keep the export route open. While he has appointed an administration he lacks any international recognition.
Meanwhile cocoa traders are in the dark over these developments but are keenly watching as events evolve in Cote d'Ivoire. Major traders have taken steps to secure themselves, said one trader in Europe. He implied that traders had laid in stocks and could ride out any short-term crisis.
Ivory Coast produces about a third of the world's production of cocoa.
News continues below…

News of ships and shipping lines
Maersk confirms targeting Emerging Markets in 2011

Maersk Brownsville in Durban, by Trevor Jones
Danish shipping giant AP Moller-Maersk has confirmed remarks made last year that it intends targeting emerging markets such as Africa in the coming year. See our previous reports Africa becoming more important to Maersk Line and AP Moller-Maersk has strong third quarter.
Nils S Andersen, CEO of AP Moller-Maersk writes in the current issue of Maersk Post, the company in-house magazine that a priority has been set for this year towards Latin America and Africa.
"We are very well positioned in both areas, but maybe particularly in Africa," he said. "We have an organisation that understands the markets very well and we have local managers coming up through the ranks who feel committed to our company. We are very strongly placed there to help and take advantage of business opportunities.
"In Latin America, we don't have quite the same strong position, but we've been there for many years and have a strong customer base, and a strong and experienced organisation. We will have opportunities to expand and are ready to invest in new vessels, port infrastructure and oil-related activities."
Andersen said Maersk must take advantage of these emerging regions. "The window of opportunity is now, because we are already active in, for example, West African and Latin American countries, and we have more knowledge than most investors coming into the markets," he said.
"Therefore we are able to go into projects faster and in a more qualified way compared to many of our competitors. In addition, we are also in the fortunate situation that we have recovered very quickly from the crisis. We are making very good cash flows and good profits, which means we have the strength to invest at the moment, probably also more strength than many of our competitors."

Australian floods' first shipping line victim
South Korea's Korea Line Corporation has filed for bankruptcy protection in the Seoul courts after failing to negotiate long-term charters in the wake of floods in Australia, which saw dry bulk freight rates crumble. The company also cited considerable numbers of new builds entering the market as another factor in its downfall. – source Seatrade Asia

SAL launches world's largest heavy lift ship
German ship operator Schiffahrtsknotor Altes Land (SAL) has launched the world's largest heavy lift ship named SVENJA, which has a lifting capacity of 2,000 tonnes and can operate at speeds up to 20 knots. SAL will launch a sister ship in March this year. Both vessel were built at the Siestas shipyard in Germany and surpass the previous largest heavylift, owned by Jumbo Shipping with a lifting capacity of 1,800 tonnes. – source Seatrade Asia

Refit of former Soviet aircraft carrier VARYAG by Chinese nears completion

Chinese J-15 shipborne fighter aircraft
China is nearing the completion of a refit of the former USSR Kuznetsov class aircraft carrier VARYAG which it now says will be used as a training ship. The 300-metre long aircraft carrier was purchased from the Ukraine in 1998 minus her engines, electrics or propulsion system.
The vessel, by then little more than a hulk, was towed to China in 2002 amid some minor controversy over China's real intentions. It was said that she was to become a floating casino but few believed that story. After a period of lay-up in a Chinese port China then announced that her 'owners' were unable to obtain a casino license. In 2005 workers swarmed on board and began the task of sandblasting her hull and upperworks and applying a coat of grey paint – the same shade of grey as used by the People's Liberation Army Navy (PLAN).
This was followed with more specialised workers and engineers going on board, accompanied by the news that China was looking to buy Su-33 jet fighter aircraft from Russia, an aircraft highly suited for use on aircraft carriers. In the event the sale never occurred – the Russians feared another technology leak - but the Chinese went ahead and developed an aircraft of their own, the J-15 which Russia says is a copy of the Su-33.
Other experts consider it to be based on the Soviet T10K which China received from the Ukraine, an aircraft variant also known as the Su-27, which in turn is considered as comparable to the US F-15 Eagle.
News continues below...

Piracy: Kenya's cruise sector takes a dip

Spirit of Adventure on a previous visit to Durban. Photograph copyright SHIPHOTO INTERNATIONAL shack@iafrica.com
Kenyan reports say that the threat of piracy is having a disastrous effect on the cruise tourism sector in the East African country.
According to an article in the Daily Nation, the number of cruise ship visits has dropped in 2010 by 95%. "There were no cruise arrivals for the period under review following cancellations due to fear of pirate kidnappings off the Kenyan coast," the Central Bank of Kenya's Monthly Economic Review for October 2010 reported for the period between January and August last year.
Kenya's Tourist Board backs this up with statistics that show a decrease in the number of cruise ship visits from 15 vessels carrying 12,096 passengers in 2009, to just four vessels with 508 visitors in 2010. All of these arrived in the final quarter of 2010. And in 2011 so far, already one cruise ship en route to Mombasa, the SPIRIT OF ADVENTURE (which is due in South African waters at the end of this month) was forced to take evasive action after being pursued by a pirate skiff between Madagascar and Zanzibar.
Seatrade Africa will be holding its first ever Cruise Workshop in Durban in May this year to promote the region as a future cruise destination.

Samsung develops anti-piracy system
Meanwhile, attention is being taken up with new developments aimed at helping deter the attentions of pirates. South Korea's Samsung Heavy Industries has just unveiled a system that it claims will detect and fend off pirates.
The system works by detecting small boats in the vicinity that often evade conventional marine radar systems. The Samsung system issues an alert whenever a small craft is detected and which does not respond to usual ship-to ship radio communications or shows unusual navigating patterns and speed. It allows sailors in a navigation room to remotely control water cannons on the ship's deck that can shoot up to 70 metres when pirates attempt to climb aboard. "That way, crew will be safe from potential shooting attacks from pirates when firing the water cannons," said the Samsung spokesman. He said the system is applicable to most existing ships.

BAE Systems version is a non-lethal laser
UK-based BAE Systems has demonstrated a non lethal laser deterrent to be used against pirates threatening a ship at sea. The system is said to leave only temporary effects on people but is capable of distracting and deterring potential attackers from a distance.
The laser beam is capable of providing a visual warning to pirates at distances greater than 2 kilometres, and of disorientating attackers sufficiently at lesser distances so that weapons cannot be targeted effectively. At all times the power levels of the laser remain eye safe. A spokesman said the effect is similar to when a fighter pilot attacks from the direction of the sun. The glare from the laser is intense enough to make it impossible to aim weapons such as AK47s and RPGs.
News continues below…

Dar es Salaam wants back its lost glory
Tanzania's Deputy Minister of Transport says much is being done to convince landlocked countries and shippers that they should make use of the Port of Dar es Salaam.
In a report in the Citizen (Dar es Salaam), Dr Athuman Mfutakamba said the government has directed the Tanzania International Container Terminal Services (TICTS) to return berth 8 to full use complete with the necessary infrastructure and to ensure that it remains active at all times.
The government would also build two additional berths to boost the capacity and efficiency of the port and at the same time would win back customers who have turned towards Mombasa or the Mozambique ports.
The design (of the berths) is ready, tender documents are also ready and we are only waiting for funds, he said.
The deputy minister said construction of the new berths would go hand in hand with widening the main channel at a cost of US$ 500 million. "We need to impress upon all landlocked countries to use Dar es Salaam port because third and fourth generation ships will be docking here since it will be better equipped," he said.
Feature: SA must proceed cautiously with BRIC countries, say analysts
Cape Town – South Africa's invitation to join the exclusive Brazil, Russia, India and China (BRIC) grouping has been welcomed by many but some analysts caution that the country needs to tread carefully if it is to avoid being taken advantage of by its much larger fellow BRIC members.
Last month, South Africa was invited by the BRIC (Brazil, Russian Federation, India, China) to join the grouping and for President Jacob Zuma to attend its next summit to be held in Beijing in April.
South Africa, which is ranked as the 27th largest economy according to the International Monetary Fund (IMF), is dwarfed by China, the second biggest economy in the world after the US; Brazil the eighth biggest economy; India, which is ranked 11th and Russia the 12th largest economy.
Mzukisi Qobo, who heads the emerging powers programmes at the South African Institute of International Affairs (SAIIA), warns that it is important for the South African government to devise an effective foreign affairs strategy if the country is to benefit from being a BRIC member.
He believes that there has been no sign – even in the Department of International Relations and Co-operation's White Paper on Foreign Policy submitted to Cabinet last year – that the South African government has held a serious process to map out how it will contribute to and benefit from being on the informal BRIC forum.
But the department stands firm that it has developed a strategy on how it will relate to other members of BRIC.
International Relations Deputy Director-General for Public Diplomacy, Clayson Monyela, says the department has also looked at how it will use its BRIC membership to forge a new foreign policy strategy.
The department has also studied a number of key areas that BRIC countries are involved in, including their respective development banks, their role in bilateral meetings and G20 meetings, involvement of civil society and research institutions.
A Standard Bank research paper, released in November last year, predicted that the BRIC's share of Africa's total trade would increase from one-fifth to one-third in the next five years, with China making up more than half of all trade with the continent.
Some who say China's inroads into Africa may represent a new plundering of Africa might remain sceptical of South Africa's invitation to join the BRIC grouping, arguing it may signal a new run on the country from BRIC member countries.
But, Standard Bank chief economist, Goolam Ballim, believes that the move does not represent a new threat of neocolonialism in Africa. Ballim does, however, caution that South Africa needs to "keep its eyes wide open" when it attends the BRIC summit in April.
He says the risk if South Africa did not bargain hard, was that other, more sizeable BRIC members could take advantage of the country and the continent as a whole - all the more so as Africa lacks cohesive partnerships.
African countries have to steer away from the perception that BRICS would "lean more sympathetically" to them when it came to trade and economic issues.
South Africans have to realise that membership in the BRIC forum will not result in an automatic inflow of billions of rands in foreign direct investment, Ballim warns.
He says foreign investors are particularly astute and have a qualified mandate that precludes them from being tripped by the "veneer of BRIC".
Despite concern that South Africa could lose out to other BRIC members when it came to trade and investments on the continent, an earlier Standard Bank research paper released in July last year, titled "South Africa: leading or lagging the BRICS' thrust in Africa?" argued that despite increased trade by BRIC countries to Africa – particularly China – South Africa was still in a better position.
The report pointed out that South Africa still had historical and logistical advantages over Southern Africa when compared to other BRIC members and that the proposed merger of the Common Market for Eastern and Southern Africa (Comesa), Southern African Development Community (SADC) and East African Community (EAC) trading blocs, would support the country's move to increase regional trade.
Building on the benefits of regional integration would remain key to South Africa exacting great benefit from being part of the BRIC club, says emerging markets expert Martyn Davies.
Davies, the chief executive of Frontier Advisory, argues that the 'S' in 'BRICS' should really represent SADC, which had a market of over 250 million people – bigger than that of Russia and Brazil.
He says one way to speed up regional integration is to integrate capital markets by, for example, opening the Johannesburg Stock Exchange (JSE) up to include companies in the entire SADC region.
He says companies based outside of South Africa stood to benefit from such a move, particularly as 95 percent of portfolio investment inflows on the continent were to the JSE.
Davies dismisses those skeptics that may interpret South Africa's invitation to join the BRIC forum as a bid by its existing members to re-colonialise Africa, adding that more than anything, China's demand for resources had helped at least triple growth on the continent.
Similarly, Professor Steven Friedman, director of the Centre for the Study of Democracy, says he was not convinced that China's invitation to South Africa to join the BRIC forum was based solely on an attempt by members to take advantage of Africa.
He points out that China and India have demonstrated that they are very capable of forging business links on the continent without the help of South Africa. Added to this was the very 'ambivalent attitude' that the rest of the continent held towards South Africa, he explains.
"South Africa would gain more from being in BRIC than BRIC members would gain from us," says Friedman.
Despite this, he says the other BRIC members still saw a significant benefit in South Africa being a part of the exclusive club.
He points out that while the continent has about five percent of the economy, it produced 26 percent of its output.
"They want us in, as they see us as an economy with immense potential, given support," says Friedman.
Analysts point out that Africa's most populous state, Nigeria, has the potential to pass South Africa's economy soon.
A report, 'The World in 2050', released earlier this month, predicted Nigeria's growth would average 7.9 percent between 2009 and 2050 – compared to South Africa's 5 percent.
Nigerian Ayodele Akanbi, a senior economist at Pan-African Capital, says one could not compare Nigeria with South Africa.
He believes Nigeria's economy should be ahead of South Africa's if it were able to "get itself together" but has been hamstrung by poor political leadership and corruption.
Akanbi also believes South Africa's invitation to join the BRIC forum was not a precursor to a new colonialisation of Africa. – BuaNews
News continues below…

Uganda government to take over lake steamer KALANGALA
Uganda's government has announced that it intends taking over the management and operation of the lake ferry KALANGALA until a new company can be found to take over the operation.
New Vision reports that this follows the expiry of a three year contract awarded to Mulowooza & Bros to run the vessel, which operates on the Nakiwogo (Entebbe) to Kalangala route.
MV Kalangala returned on Sunday from Mwanza in Tanzania, where it had gone for routine maintenance and repair.
The transport ministry said the ship is expected to resume operations once the department's chief mechanical engineer has approved its sea-worthiness.
The spokesman said that several companies including Mulowooza & Bros have submitted bids to operate the vessel. - source New Vision
News continues below…

Pics of the Day – MICHAELA S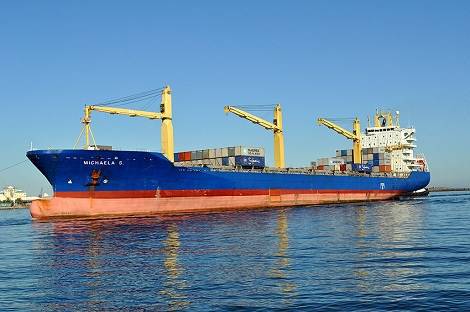 The German owned and flagged container ship MICHAELA S (25,361-gt, built 1997) was in Cape Town recently. The ship has previously operated with the names MSC CRISTOBAL and MAERSK NANTES. Pictures by Ian Shiffman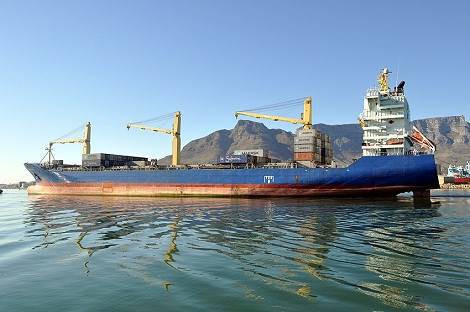 Don't forget to send us your news and press releases for inclusion in the News Bulletins. Shipping related pictures submitted by readers are always welcome – please email to info@ports.co.za
Did you know that Ports & Ships lists ship movements for all southern African ports between Walvis Bay on the West Coast and Mombasa on the East Coast?
TABLE BAY UNDERWAY SHIPPING
SHIP PHOTOGRAPHERS
Colour photographs and slides for sale of a variety of ships.

Thousands of items listed featuring famous passenger liners of the past to cruise ships of today, freighters, container vessels, tankers, bulkers, naval and research vessels.
P O BOX 809, CAPE TOWN, 8000, SOUTH AFRICA
snai@worldonline.co.za
http://home.worldonline.co.za/~snai
South Africa's most comprehensive Directory of Maritime Services is now listed on this site. Please check if your company is included. To sign up for a free listing contact info@ports.co.za or register online