Ports & Ships Maritime News
Jan 18, 2011
Author: Terry Hutson
Shipping, freight, trade and transport related news of interest for Africa
Want to advertise on the website using your Banner? - contact info@ports.co.za
SEND NEWS REPORTS AND PRESS RELEASES TO info@ports.co.za
TODAY'S BULLETIN OF MARITIME NEWS
Click on headline to go direct to story – use the BACK key to return
Looking for help? Try our MARITIME SERVICES DIRECTORY CLICK HERE
First View – JANUS
Set against a backdrop of the slopes of Table Mountain is the offshore tug JANUS (2789-gt, built 1989) which arrived in Cape Town after assisting with the tow of the rig Norbe VI, which is en route to Brazil. Picture by Aad Noorland
News continues below...

News out of West and Southwest Africa
There have been mixed reactions to official Nigerian responses to an incident involving the detention of a ship in Port Harcourt. The Philippine-flagged, American owned bulker ALABAMA BELLE (41,808-dwt, built 1986) was arrested by immigration officers because seafarers on board did not possess visas for Nigeria although they did have valid Seaman Books.
The over eager immigration officers also queried the presence of cadets on the ship. In the event the Federal Minister of the Interior intervened after he had been appraised of the circumstances and ordered the unconditional release of the vessel and the seized Seaman Books.
The incident led to calls for proper training of immigration and other port officials at Nigerian ports to avoid a repetition of such incidents.

NIMASA called on to help Nigerian ship owners
The Indigenous Ship Owners Association of Nigeria (ISAN) says it wants the Nigerian Maritime and Safety Agency (NIMASA) to assist local ship owners in taking their rightful place in the maritime sector.
Saying that foreign ship owners and operators have a stranglehold on Nigeria's maritime industry, ISAN says the real problem is that local ship owners lack the opportunity of making an impact.
ISAN chairman, Chief Isaac Jolapamo said ISAN had gone abroad to meet multinational shipping companies with a view towards Nigerian ship owners partnering with foreign operators and acquiring ocean going ships including crude oil carriers.
He called on NIMASA to support ISAN's call for ensuring that Nigeria's Cabotage Act is implemented and made to succeed. NIMASA's Director-General, Ziakede Akpobolokemi said the new leadership of NIMASA had the backing of the Presidency and would be setting out to improve the lot of local ship owners. "The only challenge we are going to get is from Nigerians that are fronting for these people who don't want change, but I will fight them to the last," he said. - source Daily Champion

Angola's Luanda to Mulanje train back in service

CFL (Luanda Railway) coaches being prepared for loading on a ship at Durban harbour. A number of ex Transnet coaches were converted and delivered in 2003, these being some of them. Picture by Terry Hutson
Angola Press reports that the Luanda Railways Company (CFL) has commenced rail operations on the refurbished Luanda to Mulanje railway as from last Thursday, 13 January 2011.
The new service began with a passenger train leaving Luanda Station for Mulanje. Passengers are required to board the train in Luanda or Mulanje at least two hours before departure. There is no indication when freight services will recommence.

Moçamedes Railway to buy Chinese locomotives
According to the CEO of the Moçamedes Railways Company (CFM), nine diesel-electric locomotives are on order from a Chinese locomotive manufacturer along with 54 railway carriages. He said the purchase of this equipment was part of the rehabilitation and modernisation of the CFM which is expected to be operational by December this year. The current investment has a value of US$ 200 million. source Angop
Large ship off Swakopmund excites locals
A large ship seen approaching the Namibian seaside town of Swakopmund resulted in considerable interest recently, according to a report in the Namibian. Locals raised questions such as "There's a ship heading straight for us," and "It definitely hit a sandbank," and "What if everyone on board is dead because they have a disease, and now no-one is steering the ship?"
The excitement was all about a cable ship, Ile de Brehat (13,978-gt, built 2002) which is laying the 14,000km South Africa-Far East and Southern Africa-West Africa-Portugal fibre optic subsea cable and had just sailed from the Port of nearby Walvis Bay. A port official said the phone began ringing non-stop once the ship began approaching Swakopmund, which is where the cable is to come ashore. source The Namibian
News continues below…

Piracy Report: Somali pirates arrested in Tanzania as more ships get taken
The risk of Somali style piracy spreading further afield has been further demonstrated with news that Tanzanian police have arrested six Somalis pirates after they came ashore in the Mafia District last Thursday (13 January).
The police, who were tipped off by locals, discovered the pirates still in possession of their weapons. They were spotted coming ashore in their open boat by anglers along the shoreline, who guessed what they were and advised the local police. The six men were arrested in a nearby village later that day as they were gesturing to villagers in an attempt to make it known that they needed food.
After their arrest the police went searching for the pirates' boat, which when discovered revealed guns and ammunition.
The pirates were able to explain to police that they originally had two boats but one had capsized and they did not know what had happened to the occupants.
There have been several attacks on ships off the southern Tanzanian coast and northern Mozambique in recent months as Somali pirates take advantage of a lack of naval presence further south. source The Citizen (Dar es Salaam)

Bulker EAGLE captured by pirates
EU NAVFOR, the European Navy task force operating near the Somalin coast to escort food and other aid ships through pirate-infested waters, and also to provide anti-piracy services to merchant shipping, reports that the Greek bulk carrier EAGLE (52,163-dwt, built 1985) has been captured by Somali pirates.
The vessel was taken in the early hours of yesterday morning (17 January) by the pirates in a single skiff, who fired on the ship with small arms and a RPG before boarding. The attack took place in the Gulf of Aden, 490 n.miles south west of Salaam in Oman. Contact with the ship has since been lost.
Eagle has a crew consisting of 24 Filipinos and was on passage from Aquabar to Paradip in India. There is no information about the welfare of the crew.

Pirated ship MOTIVATOR released
The pirated products tanker MOTIVATOR (13,065-dwt, built 2007), which was captured in the southern Red Sea on 4 July last year with a crew of 18 Filipinos, has been released approximately 160 n.miles south west of the island of Socotra facing the mouth of the Gulf of Aden. EU NAVFOR says it has a ship assisting the crew. The release of the Greek-owned ship took place on Sunday 16 January.
News continues below...

News from the world of shipping lines
Odfjell sells two ships

BOW PIONEER, another Odfjell ship no longer in service with the Norwegian company, seen in this picture nearing Durban. Picture by Terry Hutson
Norwegian tanker specialist Odfjell is in the process of selling two of its Kvaerner class products tankers to Stolt-Nielsen. The two ships are BOW CENTURY (37,438-dwt, built 2000) and BOW FAVOUR (37,438-dwt, built 2001). Both ships will be delivered within the first quarter of 2011. Odfjell says the sale price was close to the construction price when the two ships were built 10 or 11 years ago.
This will leave 14 Kvaerner class tankers in the Odfjell fleet. Additionally, the older products tanker BOW PANTHER (40,263-dwt, built 1986) is going for recycling in India. Odfjell says the ship will obtain a Green Passport and the buyers have given an undertaking that the recycling yard will obtain a working plan corresponding to IMO guidelines for ship recycling.
In addition, Odfjell says it has cancelled three of its six newbuildings placed with a Chinese shipyard. "The decision to sell is a sensitive business decision to make," said Odfjell president and CEO Jan A Hammer. "We still have 14 Kvaerner vessels in our fleet, which together with the eight modern Polish ships will continue to be our core fleet for many years."
Odfjell maintains an office in Durban and company ships are regular callers in southern and east African ports. – source Odfjell
Falklands to lose shipping link with S America
The Falklands stand to lose their only shipping link with the South American continent from July, when South American Atlantic Service Limited (SAAS) withdraws its single ship service.
Chairman of SAAS, Hamish Wyley said the move had been forced by his partners, who are reluctant to continue operating at a loss because of an absence of substantial fish exports and the loss of the South America business. As a result SAAS which operates with a single ship, the vessel SCOUT, intends ceasing trading. source Falkland Island News Service
Hapag-Lloyd's releases more detail on new cruise ships EUROPA 2 and COLUMBUS 2
Additional information and detail regarding their two new cruise ships is now available courtesy of Hapag-Lloyd Cruises. The ships are to be named EUROPA 2 and COLUMBUS 2 - see our report of 12 January New ships for Hapag-Lloyd
New York, NY, 17 January - Hapag-Lloyd Cruises is strengthening their existing luxury cruise line by extending their fleet with a new ship in 2013, the MS EUROPA 2 and a premium charter ship, the MS COLUMBUS 2 beginning April 2012. Entering service in the spring of 2013, the luxury segment will welcome the EUROPA 2 with 258 suites, accommodate a maximum of 516 passengers and Hapag-Lloyd Cruises' Premium segment will welcome the COLUMBUS 2, offering 349 spacious cabins to accommodate a maximum of 698 passengers.
"We are pleased to be increasing our product diversity with both ships with the aim of reaching new target groups," says Hapag-Lloyd Cruises Managing Director Sebastian Ahrens. He added, "The COLUMBUS 2 achieves the demand for a relaxed, small premium ship with a modern concept and the EUROPA 2 is the logical further development of a contemporary interpretation of a luxury ship sailing alongside the EUROPA, and will be positioned as a lifestyle-oriented, informal sister ship on a 5- star level."
The EUROPA 2 will have veranda suites, with a minimum of 28 sq.m, spa suites, penthouse and family suites. The ship boasts 11 decks, seven restaurants, including a Sushi Bar, two lounges and four bars for culinary diversity and a multi-faceted entertainment program.
The EUROPA 2 will also offer a variety of sport and health-oriented facilities to encourage current trends towards active holidays and well-being, plus a large wellness and spa zone. EUROPA 2's 7-day cruises to the Mediterranean in the summer months and distant destinations in the winter, meets the needs of cruisers who work, and families looking for casual holidays set in elegant ambiance at sea.
Equipped with a fleet of Zodiacs, the EUROPA 2 will also offer passengers small harbor and bay landings for those looking for a little exploration off customary routes.
DIMENSIONS
length: 225.25 m
width: 26.70 m
draught: 6.30 m
max. speed: 21.3 knots
staterooms: 258 (dimension: min. 28 m²)
decks: 11
max. passenger capacity: 516
crew: ca. 360

Columbus 2
In April 2012 Hapag-Lloyd takes delivery of Oceania Cruises' INSIGNIA (30,277-gt, built 1998) on a two-year bare-boat charter. The ship will then be renamed COLUMBUS 2.
The COLUMBUS 2 has only 28 inside cabins, 89 outside cabins, 170 balcony cabins, 52 penthouse suites, four Vista and six owner suites. The spacious cabins have a standard size of over 215 sq ft.
Passengers will have the choice of four restaurants and three bars with the diversity of catering facilities ranging from casual to sporty yet elegant. Various stages and lounges are available for the recreational and entertainment programme. The pool deck with its stage offers the prospect of summer events in the open air. The ship will be equipped with a large spa and wellness zone, a pool and Jacuzzi, a jogging course, and a golf driving range for active relaxation on the high seas. W-LAN will be available throughout the entire ship, as well as Internet access points in the ship's Library and Observation Lounge.
Passengers can expect to sail the COLUMBUS 2 on seven-day combinable routes in the Mediterranean in the spring and fall while also having the option in the summer to book twelve-day cruises visiting Nordic countries and sailing on the Baltic Sea. The COLUMBUS 2 will also offer two to three-day "introductory" cruises, for cruisers to get to know the ship. Winter months are also set aside for a world cruise to distant destinations. Reservations will be accepted for the COLUMBUS 2 starting on January 25, 2012.
What on Earth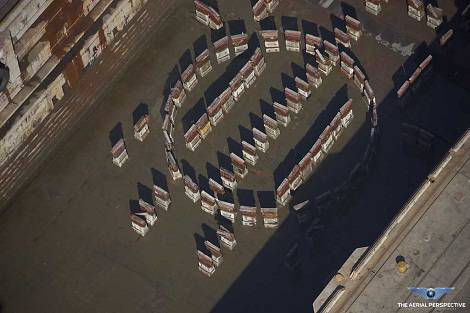 Picture by The Aerial Perspective aerialphoto.co.za
Thanks to all those who responded. No prizes or names up in lights for those with correct answers else we'd have to list most of you, there were so many that were spot on. So perhaps this one was too easy! The picture shows blocks laid in the Sturrock dry dock in preparation for the dry docking of a vessel with a rotating type propulsion – probably a Voith type propulsion system such as found on the Cape Town harbour tugs.
A suggestion has already been made that we turn this into a weekly photo quiz, although this can only work provided we receive sufficient images with an element of unusualness or puzzlement (maybe with some cropping of photographs as necessary) to raise that question mark. The ship repair industry comes readily to mind as one place that must be a mine of photographic opportunities! Strange looking ships are another.
Naturally we require the answer in addition to the puzzling picture, so don't forget to tell us what it is. We don't know everything, you know!!
News continues below…

Pics of the Day – EXEMPLAR and PATARA
The Belgian-flagged LNG carrier EXEMPLAR (100,361-gt, built 2010) made her maiden call at Cape Town yesterday when she called to load bunkers. The giant ship was commissioned on 30 September 2010. Picture by Ian Shiffman
The Maltese-flagged, German-owned and operated chemical products tanker PATARA (16,979-dwt, built 2007) in Cape Town harbour recently. Picture by Ian Shiffman
Don't forget to send us your news and press releases for inclusion in the News Bulletins. Shipping related pictures submitted by readers are always welcome – please email to info@ports.co.za
Did you know that Ports & Ships lists ship movements for all southern African ports between Walvis Bay on the West Coast and Mombasa on the East Coast?
TABLE BAY UNDERWAY SHIPPING
SHIP PHOTOGRAPHERS
Colour photographs and slides for sale of a variety of ships.

Thousands of items listed featuring famous passenger liners of the past to cruise ships of today, freighters, container vessels, tankers, bulkers, naval and research vessels.
P O BOX 809, CAPE TOWN, 8000, SOUTH AFRICA
snai@worldonline.co.za
http://home.worldonline.co.za/~snai
South Africa's most comprehensive Directory of Maritime Services is now listed on this site. Please check if your company is included. To sign up for a free listing contact info@ports.co.za or register online
PROVIDING INFORMATION TO THE MARITIME INDUSTRY