Ports & Ships Maritime News
Jan 10, 2010
Shipping, freight, trade and transport related news of interest for Africa
Want to advertise on the website using your Banner? - contact info@ports.co.za
SEND NEWS REPORTS AND PRESS RELEASES TO info@ports.co.za
TODAY'S BULLETIN OF MARITIME NEWS
Click on headline to go direct to story – use the BACK key to return
Looking for help? Try our MARITIME SERVICES DIRECTORY CLICK HERE
First View – PANGAEA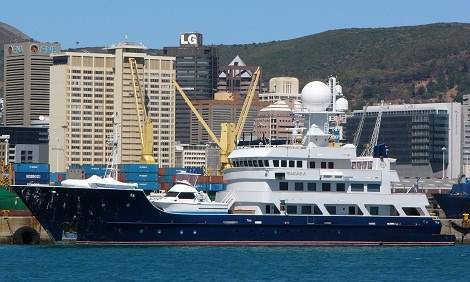 The luxury motor yacht PANGAEA is considered to be one of the safest yachts in the world, and is capable of going places where many others cannot. Powered by twin 1000hp Caterpillars and equipped with Quantum Zero Speed stabilisers the Pangaea is equipped to explore the most exotic waters in confort and style.
The 56m yacht was built in 1999 and underwent a refit in 2002. Possessing six cabins she sleeps 12 plus a crew also of 12. The yacht has a maximum speed of 14.5 knots and cruises at 12.5kn.
Pangaea, named after the supercontinent that included all the landmasses prior to the Triassic separation, has been in Cape Town recently and was berthed in front of the Table Bay Hotel at the V&A Waterfront. Pictures by Aad Noorland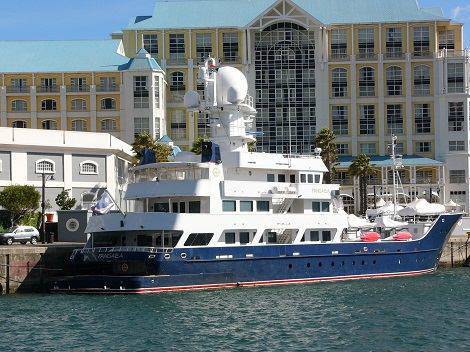 News continues below...

Shipping News – new services and increased capacity
MSC increase its South Africa-Europe capacity

MSC MAEVA sailing from Durban loaded with 7000-TEU. Picture by Trevor Steenekamp of www.nauticalimages.co.za
Mediterranean Shipping Company (MSC) has confirmed that the capacity of its North Europe – South Africa service has been increased with the inclusion of two 8,100-TEU container ships – the MSC MAEVA and MSC LUCY. Earlier we revealed that these ships were entering the South African service but in the case of the MSC Maeva it was indicated that she was operating on the company's Cheetah service between South Africa and the Far East. It now appears that was a single repositioning voyage.

SAECS increases capacity with additional service for reefer season
The South Africa Europe Container Service (SAECS) will operate an additional shipping service to cater for anticipated increases in refrigerated export cargo. The first ship to sail with the additional services, dubbed Reefer Express (REX) commences from Cape Town on 15 February.
"The REX service is an additional, 'purely reefer', container service designed to provide added capacity for refrigerated exports during the peak reefer season months of February to August," SAECS said in a statement.
It added that the REX service will be 'flexed' in terms of frequency and ports of call according to seasonal demands on the perishable refrigerated products market, and will supplement the capacity provided by the main weekly SAECS core service.
The ports of call will be Cape Town, Rotterdam (Uniport), Tilbury, Cape Town, using a transit times similar to those on the SAECS core service.

Safmarine and Maersk upgrade East Africa – Far East service
The joint service provided by Safmarine and Maersk between the Far East and East Africa (Mombasa and Dar es Salaam) has been strengthened by way of a direct service connecting Tanjung Pelepas and the south Chinese ports of Nansha and Yantian with East Africa.
"Our strengthened Mashariki Service offers a weekly connection to Mombasa and Dar es Salaam with competitive transit times; cargo from Nansha to Mombasa, Kenya is delivered in just 19 days and to Dar es Salaam, Tanzania in 26 days," said Safmarine in a statement.
It said that the enhanced Mashariki service, developed to serve the needs of Safmarine and Maersk customers, was based on the importance of the growing market between the Far East and East Africa.

FEW3 port of calls changed by Maersk and Safmarine
Maersk Line and Safmarine have announced that they are changing the port rotation of their East Asia-West Africa (FEW3) service. Ports that are being removed are Shanghai and Durban, while calls at the Chinese ports of Fuzhou and Ningbo are being added. The service will also add the West African ports of Onne and Douala to the rotation, which will now be Ningbo, Yantian, Nansha, Tanjung Pelepas, Pointe Noire, Tincan Island (Lagos), Onne, Douala, Tanjung Pelepas, Nansha, Fuzhou and Ningbo. The service will continue with 11 ships each of 2,500-TEU capacity.

Safmarine warns of scam using its name
Safmarine says that it has received reports from its Portuguese and Cameroon colleagues of a fraud involving a fake company calling itself Safmarine Shipping Lines SA. The fake company has been sending chain messages out to importers regarding shipments and is also using a fake website www.safmarineshippingline.com .
"The matter is being dealt with by our legal department," says Safmarine, and asks that if anyone receives communications from this company to kindly alert the local country Safmarine representative.

MSC to commence a West African feeder service next month
MSC says it will be commencing a West African feeder service connecting ports in Liberia and Sierra Leone to Cote d'Ivoire, as from early February. The service will have a port rotation of San Pedro (Cote d'Ivoire), Monrovia (Liberia), Freetown (Sierra Leone), and San Pedro, using a single container vessel. The feeder service will connect San Pedro with MSC's services to Europe via transhipments at Valencia and Las Palmas. Initially OBT Shipping will act as the MSC agent for Liberia and Sierra Leone but MSC intends opening its own offices in both countries at a later stage.

Hapag-Lloyd increase rates between Europe and South Africa
Hapag-Lloyd has announced increased rates for all cargo and all container types on the trades between North Europe and South Africa. With effect 1 February the increased rates will be:
North Europe to Southern Africa US$200 per 20ft and US$ 400 per 40ft. Southern Africa to North Europe US#200 per 20ft and US$ 300 per 40ft.

European Advance Cargo Declaration comes into effect
Europe's new regulation requiring shipping companies to pre-alert customs authorities of goods entering or leaving the EU, Switzerland and Norway by means of an advance cargo declaration (ACD), has come into effect as from 1 January.
According to Wilhelmsen Ships Service (WSS), which offers compliance services, all shipping lines are required to establish computer networks connecting them with customs offices in the EU. These import control systems have been individually adopted by EU member states.
"Carriers failing to comply will run the risk of being penalised by individual member states in accordance with their national legislation," says WSS. As a result of ACD shipping companies have begun introducing a number of surcharges aimed at covering the additional costs of compliance. Among these, Maersk Line says it will introduce a US$ 25 per bill of lading (BoL) Cargo Data Declaration fee but has delayed its introduction until 14 January. CMA CGM is raising $25 per BoL, while European feeder line Unifeeder is charging $23 per BoL.

Detained IRISL ships released
The three Iranian ships that have been detained in Singapore since September over mortgage-default payments, as a result of US and European-based sanctions on banking transactions involving IRISL, have been released by order of the Singapore High Court. The three ships, TUCHAL, SABALAN and SHAND were registered to separate companies. IRISL stands accused by the US of having assisted Iran circumvent international nuclear sanctions. See our previous report IRISL to fight detention of three ships.
News continues below…

Mkwanazi takes over as Transnet Group CE, pending new appointment

Mafika Mkwanazi, new chairman of the Transnet Board and acting GCE. Picture by Terry Hutson
Mafika Mkwanazi, who in December was appointed as chairman of the Transnet Board, has been asked to take over the role of acting group chief executive from Chris Wells. This change took effect from 16 December 2010.
According to a Transnet statement, Mkwanazi assumes all the responsibilities of the GCE role until the company finds a permanent candidate.
"As chairman, finding a suitable candidate for the vacant position of group chief executive will be one of Mr Mkwanazi's main responsibilities, after which he will return to his normal role. To that effect, the Board has appointed a Corporate Governance and Nominations Committee to run the process of appointing a GCE," said the Transnet Board in a statement.
"The current acting GCE, Mr Chris Wells, who had resigned from the company with effect from 31 March 2011, has been at the helm since March 2009. He had joined Transnet as chief financial officer in 2005.
"Mr Wells had indicated to the Board that he did not wish to be considered for a permanent role. In addition, Mr Wells' resignation included a proviso that he would stand down from his current position as soon as an alternative was appointed - if prior to 31 March 2011. Accordingly, Mr Wells will relinquish the GCE position with immediate effect but will remain with the company until the end of the financial year to assist Mr Mkwanazi with the handover and other matters to be agreed upon," the statement continued.
"We wish to thank Mr. Wells for the sterling role he has played in keeping the business together over the last couple of years as acting group chief executive," said Mkwanazi. "He leaves in place a strong team led by capable executives, and a financially stable company. He has also played a significant role in Transnet maintaining an unprecedented capital investment programme for several years."
Mkwanazi added that these achievements provide an excellent platform for Transnet to deliver on its mandate of creating and managing an efficient and productive logistics network in line with South Africa's New Growth Plan.
"I thoroughly enjoyed my stay and responsibilities at Transnet and it was a great pleasure to have an opportunity to contribute to both the company and the country," said Wells. "I am still available to assist whenever I am needed. Finally, I wish the Board and my colleagues all the best in future."
Mafika Mkwanazi is no stranger to the role of Transnet chief executive, having served there previously.
News continues below...

Australian warship disrupts pirates in Arabian Sea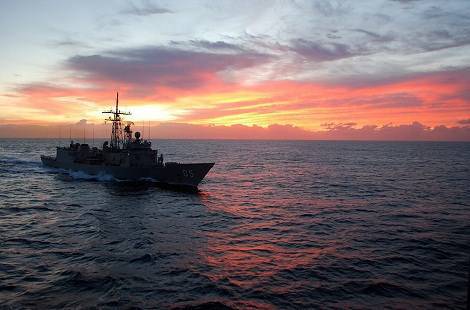 HMAS Melbourne on patrol. Picture courtesy Australian Navy
by Paul Ridgway, Correspondent, London
The Royal Australian Navy frigate HMAS Melbourne has disrupted a pirate attack on a tanker in the Arabian Sea, it was reported from Defence HQ in Canberra on 5 January.
HMAS Melbourne went to the aid of the UK-flagged chemical tanker MV CPO China, which had been boarded by pirates in the Arabian Sea at approximately 13h45 local (Bahrain) time on 3 January. When initially alerted to the incident HMAS Melbourne was approximately 267kms north of the MV CPO China but was able to cover that distance in just over six hours.
While sailing to the aid of the MV CPO China, Melbourne's helicopter launched and on arrival in the vicinity of the tanker was able to deter the pirates from attempting to take control of the ship. As a result the pirates aborted the attack and left the vessel when the warship arrived on the scene. The crew of MV CPO China had successfully secured themselves in the ship's citadel (an anti-pirate stronghold) from where they could maintain satellite communications and control the ship. Engine room controls and steering equipment for the tanker are located in the citadel.
"This is a terrific example of how Australia's maritime contribution to the Middle East Area of Operations provides another layer of security for the region and to the conduct of trade and suppression of criminal activities," said the Commander of Joint Task Force 633, Major-General John Cantwell. He added, "One of our objectives for operations in the Middle East is to assist the efforts of the international community in reducing acts of piracy. Our men and women aboard HMAS Melbourne deserve recognition for their role in providing maritime security and countering piracy in the Arabian Sea. This is one of those occasions where their efforts have become highly visible."

HMAS Stuart sails for the Gulf of Aden
Meanwhile, reports Paul Ridgway, the Royal Australian Navy's HMAS Stuart sailed for the Middle East Area of Operations on 30 December, where she will relieve HMAS Melbourne on Operation Slipper. This is the fourth time that Stuart has been deployed to the Gulf and the RAN's 25th rotation since September 2001.
With a ship's company of approximately 190 men and women, Stuart was bid farewell by Minister for Defence Science and Personnel and the Minister for Veterans' Affairs the Hon Warren Snowdon, Chief of Navy Vice-Admiral Russ Crane and Commander Australian Fleet Rear-Admiral Steve Gilmore, as well as family and friends.
"The work that the men and women embarked in Stuart do is vital in strengthening maritime security in the Gulf of Aden and the environment around the Horn of Africa. I have no doubt that Stuart's ship's company will rise to the challenge and continue the good work of her forbears," Snowdon said. He added, "The thoughts and best wishes of the nation are with Stuart as she sails to undertake this important task."
While deployed, Stuart will conduct maritime interdiction and counter-piracy operations, which will see her provide a deterrent presence and escort for merchant ships in the maritime corridor of the Gulf of Aden. She will also track and report on piracy activities.
Commanding Officer HMAS Stuart Commander Brett Sonter commented, "My ship's company are looking forward to this deployment, following a demanding, yet very-rewarding intensive training period. It is a great honour to be undertaking this important role on behalf of the Australian people. The prolonged of absence will be made easier knowing that we have the support of our families and friends. This support to date, combined with the training we have been given, ensures that we are extremely well placed to succeed in our mission."
HMAS Stuart participated in a mission-readiness assessment in November, which followed months of concentrated work-up training aimed at preparing the ship for operational deployment.

HMS MONTROSE arrives home from anti piracy patrol
by Paul Ridgway, Correspondent London
The Royal Navy frigate HMS Montrose arrived back in the UK to a party atmosphere on 22 December after nearly five months away on a hard-hitting counter-piracy patrol.
Her ship's company are expecting a warm welcome from about 400 families and friends seeing her home to HM Naval Base, Devonport, after her action-packed deployment and just in time for Christmas. A festive flavour was promised with families given gifts and entertainment provided for children, all accompanied by Her Majesty's Band of the Royal Marines.
The ship's commanding officer, Commander Jonathan Lett, commented, "It has a been very rewarding deployment where we have sent a very clear message to the Somali pirates, that coalition forces are still willing to take the fight to them, but it is now time to hand the baton to our successors and return to the UK for a very well-earned break."
The rousing welcome was reward for a successful and high-profile deployment on anti-piracy patrol in the Gulf and Aden and the Somali Basin.
HMS Montrose took part in Operation Ocean Shield as part of a dedicated multi-national NATO counter-piracy task force comprising HDMS Esbern Snare (Flagship) from Denmark, USS Kauffman and USS Laboon from the USA and ITS Bersagliere from Italy.
Montrose had notable successes against pirates with the destruction of pirate whalers and the freeing of the crew of the freighter MV Beluga Fortune following a piracy attack (Beluga Fortune was en route to Durban at the time – editor). Montrose's first action came while patrolling internationally recognised protected transit shipping lanes in the Gulf of Aden, however she has been mostly patrolling the Somali Basin deterring and disrupting piracy.
As well as destroying pirate whalers, Montrose conducted operations to disrupt large merchant vessels which pirates have been using as floating bases or mother ships. The ship's Lynx helicopter, from Royal Naval Air Station, Yeovilton, Somerset, has been flying many hours of sorties along the coast of Somalia conducting intelligence, surveillance and reconnaissance missions of the known pirate camps to gather details for the coalition on piracy camp and vessel movements. As well as policing the seas and coast, HMS Montrose has promoted and sustained international diplomatic relations. This included visiting the Seychelles and Tanzania to provide engineering support and training in shipping board-and-search techniques so their defence forces can take a greater role in anti-piracy operations.
Some lucky family members had an early reunion with their relatives by joining the ship in Gibraltar for the final leg home across the Bay of Biscay. First off the ship in Devonport (ahead of the Captain) was the ship's helicopter ground crew who remained on board after the helicopter flew off the ship to return to her base at Yeovilton. But this is not a case of jumping the queue to be off first - the flight paid for this distinction by donating cash to an 'auction of promises' to be the first to meet up with their loved ones on the jetty. The auction raised £1,500 for their chosen charities.
2010 was a very busy and eventful year and the ship's company were able to take a well-earned Christmas holiday. Leave has been followed by Montrose going into maintenance in Devonport, before undertaking a major exercise off Scotland and then training with the Flag Officer Sea Training (FOST) organisation in Plymouth in preparation for any future tasking.
Commissioned in 1992 HMS Montrose has a ship's company of 199 officers and ratings and is equipped with the latest weapons, sensors and communications systems, including the vertical-launch Seawolf missile system for close-air-defence, a 4.5-inch gun, anti-submarine torpedoes, Harpoon anti-ship missiles and a Lynx helicopter.
Piracy: Somali pirates head south deep into Mozambique Channel
Christmas, New Year and the so-called season of goodwill has no meaning for Somali pirates who continued plundering ships in the oceans off northwestern Africa and even further south. The following reports from the European naval force operating as Operation Atalanta (EU NAVFOR) gives some idea of what has transpired in the past few weeks.
On 6 January, two ships, FRONT WARRIOR and the BW AUSTRIA were able to defeat pirate attacks through the use of Best Management Practices (BMP). The FRONT WARRIOR, a Bahaman flagged oil tanker was attacked in the early hours of the day approximately 300 nautical miles South East of Muscat. Rocket propelled grenades (RPGs) were fired at the vessel from one skiff in order to attempt a boarding. The ship's crew used fire hoses to deter the pirates as well as razor wire on the perimeter. These measures combined with additional watch keepers prevented the vessel from being boarded. The vessel was able to escape safely.
The Norwegian flagged LPG tanker AUSTRIA was attacked shortly after dawn of the same day, approximately 320 nautical miles South East of Muscat. The vessel was also fired upon with RPGs this time from two skiffs. She maintained her heading at full speed and had been equipped with razor wire around her perimeter. These measures prevented the pirates from boarding and the vessel was able to make her escape.
EU NAVFOR says that both of these incidents highlight the importance of the BMP measures in the deterrence and defeat of pirate action groups.

Another vessel to make her escape was the diminutive ZIM ASIA of Israeli Line Zim, which came under attack off the Indian Ocean coast of Yemen. As the pirates made their approach the 3,834-gt ship speeded up and took evading action, successfully outrunning the pirate skiff. The ship was en route from the Far East to Israel with a cargo of electrical equipment and construction supplies.

It wasn't such good news regarding the bulk carrier BLIDA, which on the afternoon of 1 January, was pirated approximately 150 nautical miles south east of the port of Salalah, Oman.
The 20,586 tonne bulk carrier is Algerian flagged and owned and was on her way to Dar es Salaam from Salalah in Oman at the time of the attack. No further details of the attack are known at this stage. MV Blida has a crew of 27 (Algerian, Ukrainian and Filipino) and is carrying a cargo of clinker. Blida became the 28th vessel in Somali pirate hands along with 654 seafarers being held as hostages.

The Mozambican flagged fishing vessel VEGA 5, which was previously reported missing by her owner, has since been confirmed as being pirated in the waters between Mozambique and Madagascar.
The vessel was spotted on 31 December 2010, near the Mozambique coast, approximately 200 nautical miles south west of the Comoros Islands, heading north. The vessel was towing what looked to be a pirate attack skiff and did not respond to any calls. There has been no further communication with the vessel. Vega 5 has a displacement of 140 tonnes and a length of 24 metres and was carrying a crew of 24.
Mozambique reports quote the Defence Minister, Agostinho Mondlane as saying that the Mozambique Navy received a distress signal from the Vega 5 while it was under attack approximately 200 miles east of Quelimane and about 300 miles north of Beira. The distress call was relayed to SADC and to South Africa, said the report.

Please note how far south this vessel was when spotted, already in the hands of the pirates. According to Andrew Mwangura, head of the East African Seafarers Assistance Programme, since late December, Somali pirates have been focusing their activities around Tanzania, Comoros and Madagascar to avoid rougher seas further north.

Another fishing vessel to have come under attack and be captured is the Taiwanese owned SHIUH FU No.1, which on Christmas Day reported being under attack from a skiff 120 nautical miles off the north-eastern tip of Madagascar. There has been no further communication with the vessel which is carrying a crew of 26 consisting of Taiwanese, Chinese and Vietnamese. According to a NATO website the fishing vessel has been turned into a pirate mother ship.

Also on Christmas Day, in the early hours, the 20,377-gt general cargo ship THOR NEXUS was pirated approximately 450 nautical miles north east of the island of Socotra in the Indian Ocean. Thor Nexus, which is Thai flagged and owned, was on her way to Bangladesh from Jebel Ali in the UAE at the time of the attack. No details of the attack are known at this stage but it is known that the 27 crew on board are all from Thailand.

Two days later on 27 December the 5,200-tonne cargo ship EMS RIVER was pirated approximately 175 nautical miles north east of the port of Salalah, Oman.
The Antigua/Barbuda flagged and German owned ship was on her way to San Nicolas, Greece from Jebel Ali in the UAE at the time of the attack. She has a crew of eight (one Russian, seven Filipinos) and is carrying a cargo of petroleum coke. The pirated vessel MOTIVATOR was in the vicinity of EMS RIVER throughout the attack which further enforces the current pirate modus operandi of the use of mother ships.
Christmas or no, Elgin Brown & Hamer and Namib Diving complete the job

Rubin trimmed and ballasted with 800 tonnes of weight
It may have been Christmas and a time for taking it easy but for Elgin Brown & Hamer Namibia (EBH) and Namib Diving Services it was business as usual when a ship required an urgent replacement of stern seals.
With both floating docks fully occupied and unavailable for the emergency repair, a cofferdam became the only option open to the two companies.
The story began when EBH's Production Manager, Willie Esterhuyse, was approached by the owner of the vessel RUBIN on Thursday 16 December to assist with the replacement of stern seals on their vessel. The owners had been exploring various repair options with both local and international companies since early in December without success before requesting assistance from the Walvis Bay-based EBH.
This type of repair would normally be carried out in a dry-docked condition but with no floating dock space available other options had to be considered. With a cost effective repair required to be carried out within extremely short timescales, Esterhuyse approached his colleague Greg Dirksen, a qualified naval architect, who immediately took up the challenge of designing and fabricating a cofferdam to fit around the stern tube in order to carry out the repair in an afloat condition.
The project was particularly challenging as it required:
1] Trimming the vessel by the bow through the provision and fitting of 800 tonnes of ballast weight.
2] The design and fabrication of a cofferdam within a 5 day period.
3] Provision of engineering and dive support services over the Christmas period.
4] A project completion date of 27 December specified, giving just seven days for project completion.
According to Dirksen, it was decided to fabricate a cofferdam to fit between the ship's hull and the propeller hub and while this was the most efficient solution, it was also the most challenging as it required the cofferdam to be fabricated in two halves which needed to be brought together to establish a watertight seal against the ships hull on the forward side and the propeller hub on the aft side.
Work began in earnest on Monday 20 December with EBH and Logistic Support Services sourcing containers and loading them with heavy blocks for the ballasting process and EBH and Namib Diving measuring the shape of the hull for the cofferdam design.
The vessel ballasting operation was completed on Thursday 23 December and the cofferdam design and fabrication the following day.
"People experienced with cofferdam installations will know that the establishment of a watertight seal is critical," said Dirksen. "Preliminary fitting of the cofferdam was carried out on Friday afternoon (24 December) but the moment of truth was on Christmas morning when the cofferdam had to be pumped dry. A 98% seal was achieved at the first attempt with a single submersible pumping the cofferdam dry in less than an hour.
"This was an excellent result and after a further hour of dive operations a 100% seal was achieved allowing the operation for replacement of the shaft seals to commence safely."

the cofferdam successfully fitted around the propeller shaft and dry
The seal replacement operation was successfully completed on Sunday 26 December and the cofferdam de-mobilised on Monday 27 December.
Dirksen said that the success of the project was a result of good planning and execution. Numerous roleplayers were required to produce quality service throughout the project. They included Elgin Brown & Hamer's fabrication, metalwork, rigging and mechanical departments, Namib Diving & Marine Services, Logistic Support Services, WESCO, and African Marine Propulsion.
"The vessel owners were extremely pleased with the project execution stating that no shipyard in the world would have been able to complete the project within the given timescales, particularly over Christmas," said Dirksen.
He said that EBH hopes to build on this success and to conduct more cofferdam operations in support of its customers in the future.

job completed and now its time for celebration
News continues below…

NSRI's Dave Sievwright passes away suddenly

The late Dave Sievwright – Mr NSRI
On Tuesday, 4 January, 2011, a memorial service was held for the late NSRI Durban Regional Manager Dave Sievwright.
Sievwright passed away from a heart attack on 26 December while playing golf at Shelly Beach. He was on holiday at the time.
The scattering of his ashes took place the same day from aboard NSRI Durban's Rescue Craft Eikos Rescuer II.
"Dave has been with sea rescue for over 40 years and was the face of NSRI Durban," said Ian Wienburg, NSRI CEO. "A nautical man through and through and highly respected by the Maritime community his passing will be long felt by the NSRI.
"Dave loved the sea and enjoyed every day being part of NSRI. He suffered a long term medical condition causing him lower back pain but Dave was always there for his colleagues and friends and always at the forefront of NSRI tirelessly raising funds for NSRI projects." Eddie Noyons, NSRI Kwa-Zulu Natal Regional Director, said: "Dave started his career as a lifeguard and soon joined NSRI as a crewman and then went on to being NSRI Durban deputy station commander. He then served as NSRI Durban station commander for quite some time before he took up the post of NSRI Durban Regional Manager promoting NSRI at every opportunity and was widely known as Mr NSRI, serving as Regional Manager for 27 years.
"Dave worked tirelessly raising funds for NSRI and organising events. Thousands of ski-boat skippers were qualified by Dave who ran skippers courses as a skippers instructor. He will be sadly missed by all who knew him."
Dave Sievwright is survived by his wife Pam, their two daughters, Paula and Judith, and son, Haydn.
R.I.P.
For the Record
The editor's 'tongue-in-cheek' comment on the description of the diesel locomotives heading for Vale's coal operation at Moatize - see Rail News: Vale ships first locos to Africa for Moatize mine, 18 November 2010 has drawn the following correction from Doug Cummings in Canada, who points out:
"Your report that the M in DDM means metre in the report of two DDM45 locomotives being sent from Brazil to Mozambique is incorrect. The M actually means modified. The locomotive is a modified SD45-2, having eight axles instead of six. The M has nothing to do with the gauge. In EMD terminology they would use the letter U, which means a gauge less than standard (i.e. 'under'), but again under their terminology they only use such a term if that locomotive model exists in more than one form. In this case it does not, so DDM45 is still correct."
Pics of the Day – STOLT GULF MIRDIF
The products tanker STOLT GULF MIRDIF (46,011-dwt, built 2010), which is registered to and managed by a Dubai-based company, enters Durban harbour on 20 December 2010. Pictures by Trevor Jones
Don't forget to send us your news and press releases for inclusion in the News Bulletins. Shipping related pictures submitted by readers are always welcome – please email to info@ports.co.za
Did you know that Ports & Ships lists ship movements for all southern African ports between Walvis Bay on the West Coast and Mombasa on the East Coast?
TABLE BAY UNDERWAY SHIPPING
SHIP PHOTOGRAPHERS
Colour photographs and slides for sale of a variety of ships.

Thousands of items listed featuring famous passenger liners of the past to cruise ships of today, freighters, container vessels, tankers, bulkers, naval and research vessels.
P O BOX 809, CAPE TOWN, 8000, SOUTH AFRICA
snai@worldonline.co.za
http://home.worldonline.co.za/~snai
South Africa's most comprehensive Directory of Maritime Services is now listed on this site. Please check if your company is included. To sign up for a free listing contact info@ports.co.za or register online
PROVIDING INFORMATION TO THE MARITIME INDUSTRY