Ports & Ships Maritime News
9-10 December 2010
Author: Terry Hutson
Shipping, freight, trade and transport related news of interest for Africa
Want to advertise on the website using your Banner? - contact info@ports.co.za
SEND NEWS REPORTS AND PRESS RELEASES TO info@ports.co.za
TODAY'S BULLETIN OF MARITIME NEWS
Click on headline to go direct to story – use the BACK key to return
Looking for help? Try our MARITIME SERVICES DIRECTORY CLICK HERE
First View – NYK PAULA
NYK Line's NYK PAULA (27,051-gt, built 2009) arriving in Durban for the container terminal. Picture by Trevor Jones
News continues below...

MSC Melody returns to introduce new destinations out of Cape Town and Durban

one of two swimming pools on board the MSC Melody
Cruising in South African waters just got a lot bigger. With the return to South Africa of the cruise ship MSC MELODY (35,143-gt, built 1982) on Saturday next week (18 December), the grand dame of local cruising introduces a new itinerary of short Atlantic Ocean cruises out of Cape Town to Walvis Bay and the Indian Ocean to Mossel Bay, as well as exotic new Indian Ocean destinations to Madagascar, Mauritius and Reunion.
The classic 1,500 passenger cruise ship which has proved so popular in South Africa during previous cruise seasons because of her elegance and luxuriously intimate appeal, left Genoa, Italy on 1 December for the start of her 17 night southbound cruise. En route she is enjoying ports of call in Barcelona and Cadiz in Spain, Santa Cruz de Tenerife in the Canary Islands, Mindelo in the Cape Verde islands and Walvis Bay in Namibia.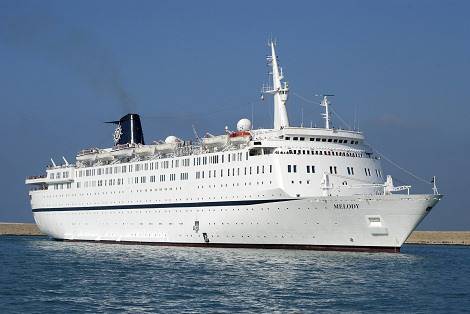 MSC Melody, picture by Trevor Jones
Cape Town will be her first port of call in South Africa on Saturday 18 December.
MSC Melody departs the same day on her opening coastal cruise of the South African season to Durban in KwaZulu Natal, where she arrives on 21 December.
Her calendar will then feature both Indian Ocean and Atlantic Ocean itineraries out of Durban and Cape Town through to 7 March 2011 when she returns to the Mediterranean.
The festive season takes the ship to the tropics. There is a nine night Christmas cruise from Durban to the popular Indian Ocean island of Mauritius featuring a two day stop- over in the capital city of Port Louis - one of the best known of the Indian Ocean islands for South Africans. The stop-over in Port Louis allows time to indulge in the myriad of water sports and beach activities as well as explore the tropical island's fascinating spice and craft markets, the French and Asian influences in the restaurants, shops and beach resorts as well as marvel at the spectacular tropical plants and forests of its towering volcanic peaks.
The six night New Year cruise is from Durban to the two new destinations of Port d'Ehoala and Fort Dauphin in Madagascar. Both ports provide perfect starting points for discovering the magnificence of this large tropical island long regarded as one of the Indian Ocean's most extraordinary islands.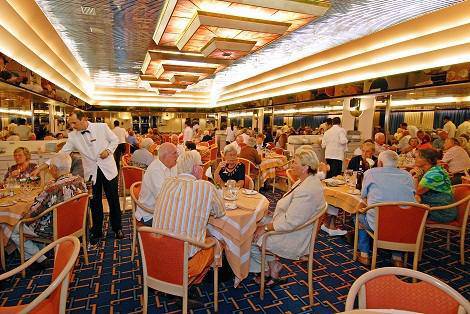 dining on any cruise ship is often one of the most enjoyable and looked-forward to activities
Port d'Ehoala is a new port in Fort Dauphin on the South East of Madagascar which is considered one of the island's most beautiful stretches of coast and popular as a tourist destination. Dominated by the Anosy mountain chain the area offers sumptuous landscapes, examples of the rare and endemic fauna and flora which attract tourists from around the globe, gorgeous white sandy beaches, diving and other water sports and a warm, hospitable population with a rich and fascinating cultural heritage.
Toliara (Tuleur) is a relatively modern port town with a university, museums and markets to browse and shop for local delicacies and hand crafts such as traditional lambas (pareos). The Municipal Museum and the Sea Museum offer remarkable exhibits including erotic tomb sculptures and masks from the Mikea hunter gatherers and a preserved example of the world famous Coelacanth - the prehistoric fish thought to be extinct since the end of the Crustaceous Period.
MSC Melody returns to Cape Town on 5 January for the first of three scheduled cruises to Walvis Bay on the Cape West Coast, the first of two cruises to Mossel Bay on the southern Cape coast and the first of three surprise 'cruise to nowhere' voyages.
The Cape cruises in the Atlantic hold the promise of whale and dolphin sightings plus a rich variety of migrant sea birds, and long days brought to a close with glorious sunsets into the ocean.
Guests can also expect magnificent views of the Cape Peninsula mountains from the sea. They will also enjoy the rare treat of sailing past both Cape Point (where the Atlantic and Indian Oceans meet) and Cape Agulhas (Africa's most southerly tip), twice each on the cruise to Mossel Bay and back and understand why early explorers named the region the 'Fairest Cape of them all'.
Mid-season sees the MSC Melody back in Durban for a six night cruise to Ilha de Mozambique and two further cruises to Madagascar – one a six nighter to Port d'Ehoala and the other a five nighter to Port Tulear.
The ship's itinerary also features a bumper 11 night/ three islands Indian Ocean cruise departing Durban on 6 February 2011 and featuring stops in Mauritius, Reunion and Madagascar.
Pointe des Galets , capital of the French island of Reunion offers the wondrous sophistication of downtown Paris in a tropical climate. Although a small volcanic island it is lush with palm trees, rain forests and an abundance of flowers and tropical fruit trees amid its rich locally adapted French culture. Visitors can hike the volcanic mountains to enjoy panoramic views of the rainforest.
MSC Melody is the smallest ship in MSC Cruises' fleet, and is designed to meet the highest standards of Italian style and sophistication, whilst offering a relaxed and informal cruise-ship experience. With a capacity of just over 1,500 guests, MSC Melody creates a welcoming, almost intimate feel on board, especially being the only ship designed with family in mind with 5 bed cabins available. Graceful public areas with grand high ceilings lend the MSC Melody to a sense of openness with comfortable, stylish staterooms, spacious and well-appointed. The ship's retractable, transparent Magrodome allows you to enjoy one of the two swimming pools and whirlpools even if the skies cloud over.
For further information about either MSC MELODY or MSC SINFONIA, which is also cruising in South African waters this summer, visit: www.msccruises.com or www.starlight.co.za for the full 2010/11 SA season.
News continues below…

Transnet's new board gets down to work, and choosing a new CEO is one of its priorities
Climate change brings growing emphasis on pollution at sea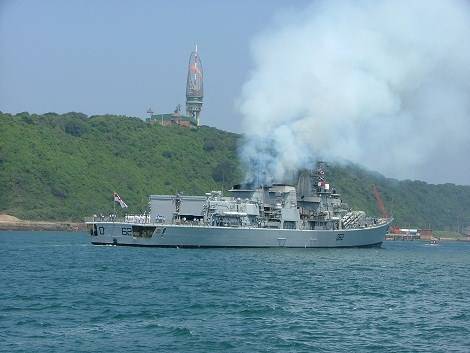 Making so much smoke that it is embarrassing, is the Indian Navy destroyer INS MUMBAI, arriving in Durban harbour. Picture by Terry Hutson
Carbon reduction, carbon emissions, carbon dioxide, CO2, climate change, the environment have become increasingly important keywords in the vocabulary of transportation, with shipping transportation being no exception.
We all remember a time when it didn't matter how much 'black smoke' a locomotive or ship created (it was highly popular with steam train photographers and frequently produced on demand). The old coal burners often laid down a pattern of smoke that could be followed for miles and even today certain ships of Russian lineage in the Indian Navy are well-known for the amount of smoke they produce, which can hardly assist the stealth intentions of their designers.
But today we live in an era where industry is expected to reduce, or even eliminate carbon footprints and again shipping is no exception. New rules and regulations are beginning to apply, all of them bringing new challenges of reducing costs.
It is believed that shipping, which carries a high proportion of global trade, might be responsible for producing an annual rate in the region of 1.26 million tons of carbon dioxide – roughly 3.9% of the global output and a much higher figure than that for aviation, which has long been challenged to get its act in order.
According to the IMO, the UN-based regulatory body for international shipping, the target has been set at 2.7%, but, as has been pointed out, this figure doesn't take into account coastal shipping along national coastlines.
Now comes an initiative of the Carbon War Room, a not-for-profit organisation seeking to bring about market-driven solutions to climate change. The initiative has the backing of Sir Richard Branson and could hasten the introduction of new and tighter rules for the shipping industry. Operating with a website, www.ShippingEfficiency.org and launched this past week at the UN Climate Change Conference in Cancún, Mexico, Carbon War Room sets out to rate 60,000 ships currently in service, including tankers, bulk carriers, cargo ships, cruise ships and ferries on their environmental worthiness.
The system works by means of colour-coding ships, with 'A' designating a ship in the most efficient category, down to 'G' which reflects the worst offender. It is hoped that importers and exporters will take note of this rating when it comes to agreeing on which shipping line, and ship, cargo will be carried on their behalf. Using a simple search engine, users including shippers can pull up an A to G efficiency rating for any one of the 60,000 ships. These include the majority of the world's container vessels.
"The Carbon War Room has been advocating the need for business to play a leading role in the fight to reduce carbon emissions," said Branson, Co-Founder of the Carbon War Room. "The data hub for shipping will help the key players in the industry and their customers make better decisions for their businesses and ultimately the planet."
The website is publicly available, free of charge and is now live.

CMA CGM takes on climate change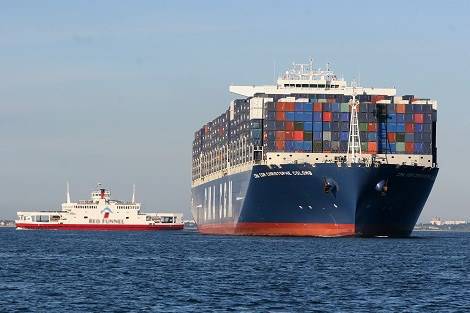 One of CMA CGM's latest container ships, Christophe Colomb which carries the latest technologies aimed at reducing carbon footprints and reducing fuel consumption
The French CMA CGM group, which operates the world's third largest container fleet, is one company that has already faced up to the challenge of reducing its carbon footprint on the sea lanes of the world. In figures recently issued the group demonstrates its commitment to lowering the amount of pollution each of its ships produces for every kilo of freight per kilometre.
According to CMA CGM, in the last five years its CO2 emissions have been reduced by 35%, on both owned and chartered vessels, while the most recent vessels to enter service with CMA CGM employ the latest environmental technologies – electrically controlled engines, improved hydrodynamics, waste recycling among others – which means that these new ships discharge only 52 grams of CO2 per km/TEU.
"Since 2005, we have been steadily reducing our CO2 emissions down from 116 to 86 grams per km/TEU. In line with our environmental strategy, we aim to continue our efforts to reach 82 grams by the end of 2011," explains Philippe Borel, Environment Director of the CMA CGM Group, emphasising that the switch to slow steaming has played a major part in the performance.
In other measures the group has introduced ecologically friendly containers and reefers and says it can offer a lead for an industry that is bound to be subjected to even more pressure from the Green Lobby in the future.

Tougher controls for Antarctic shipping
In a related matter, the nations that 'control' Antarctica are planning to introduce new controls on ships that visit the Southern Ocean, in particular the fuels they use.
The new rules will also help reduce the number of ships visiting the Antarctic by requiring that all vessels have ice strengthened hulls. This will be on top of a ban of the use of heavy fuel oil, which to some degree eliminates many of the large cruise ships.
While current rules prohibit ships and people from leaving anything behind when they visit the continent, and places restrictions on visiting animal breeding grounds, there have been no formal codes on the types of ships nor the use of heavy fuel oil and other oil-based products.
Representatives of the 47 signatory countries to the Antarctic Treaty, the main tool for managing the continent, and the International Maritime Organisation (IMO) met recently in Wellington, New Zealand. The new Polar Code is expected to be in place by 2013 but in the meantime, once the new proposals have been signed into agreement, the code will operate on a voluntary basis.
News continues below…

Transnet fuel pipelines take shape
Johannesburg - Transnet is to commission the first of its multibillion rand fuel pipelines and is ready to operate some of its inland pipelines in the greater Gauteng area.
The state-owned company said phase two and three of its inland pipelines would be ready for operation by mid-January, while the expected completion time for the 555 km New Multi-Product Pipeline (NMPP) line from Durban to Johannesburg is still set for the end of 2013.
Cabinet gave the go ahead to construct the pipeline which will replace the 45-year-old existing Durban-Johannesburg pipeline. Experts said it was running at full capacity and nearing the end of its design life.
Expected to cost R23 billion to build, the new pipeline will carry petrol and diesel between the two cities and is expected to have sufficient capacity to last until 2035. The initial cost for the project was estimated at just over R11 billion when it was first brought in front of government in 2008.
But Transnet Acting Chief Executive Chris Wells on Wednesday defended the increase in projected cost, saying new costs were necessitated by changes in design and realistic timeframes, escalation in steel prices and transport costs, among others.
"It should be noted that only 38 percent of the projected cost has been spent to date ... given realistic timeframes and the necessary design changes, a project of this complexity and magnitude is fair value," Wells said.
He said the impact of the additional costs for the project will not have material impact on the pump price, so eventually consumers will not end up footing the bill.
"The NMPP is a strategic investment for South Africa to supply fuel products to the market over a long period of time and for now, all we want to do is to stick to our promise of delivering the project by 2013."
Once completed, the NMPP would ensure the security of petroleum products to the inland, Gauteng in particular.
Neville Eve, head of the project, said the portion of tankers carrying petroleum products to the inland market would be drastically reduced as soon as the NMPP started its operations. This will also have long term climate benefits and would improve South Africa's carbon footprint by reducing carbon emissions from the road transportation of petroleum products.
"We will have fewer tankers transporting fuel on our roads and we plan to also make use of rail to assist the pipeline, so it will be good news for the environment," Eve said.
The NMPP is the single biggest project to be undertaken by Transnet and is among the largest multi product pipelines in the world. It has created more than 2,000 direct jobs since 2008. (BuaNews)
Piracy: Passenger vessel captured inside Tanzanian waters
Reports from the Comoros Centre for Rescue Operations say that a Comoran passenger vessel has been highjacked by Somali pirates inside Tanzanian territorial waters but has since run out of fuel.
The 40m vessel named ALY ZULFECAR was captured by pirates on Tuesday this week near the Tanzanian island of Mafia. The Centre said the pirates demanded fuel from the Tanzanian authorities but did not say whether the request had been granted or what the current situation with the vessel is.
Zaly Zulfecar has among its crew and passengers 13 Tanzanians, 12 Comorans and four Malagasy.
Somali pirates have recently become increasingly active in the area along the Tanzanian coast as far south as the Mozambique border. The South African yacht Choizil was seized in the southerly waters of Tanzania and forced to sail northwards past the Kenyan coast until running aground in Somalia.
News continues below…

Trade News: new skips for transportation of aluminium waste
Arlona Engineering, a specialist in fabrication, machining, proofloading and maintenance, has recently completed the manufacture of ten aluminium waste skips for a prominent client in Pietermaritzburg, KZN.
"These robust skips will be placed at sites around the country and used to collect aluminium scrap, which will be then be transported by road to the client's smelter in KwaZulu-Natal," says Steve Christy, managing director of Arlona Engineering. "The skips have been manufactured according to stringent specifications at Arlona's fabrication facility in Durban. They have been completely re-engineered and the latest innovations in design and manufacturing have been included in the development of these skips.
"Experience gained by Arlona Engineering in the demanding field of ship loading has been put to good use to ensure high strength and extended service life of these new skips."
Arlona Engineering designs and manufactures high quality skips which are used for diverse materials handling applications, including the loading of many different commodities onto ships for export. Products handled range from iron and manganese ore, to pitch coke and scrap steel.
The particular characteristics of each commodity to be handled are considered in the choice of materials used for the design and manufacture of each vessel. Before skips are delivered to the customer, each unit is load tested and certified at Arlona's specialised proof loading facility. The test facility is equipped with an hydraulic test rig certified to test up to 100 tons.
Arlona Engineering, which is accredited by the Department of Labour as a testing station, also offers a load testing service to general industry to ensure that all lifting equipment complies with the Occupational Health and Safety Act requirements.
YESTERYEAR – those classic ships - CATHAY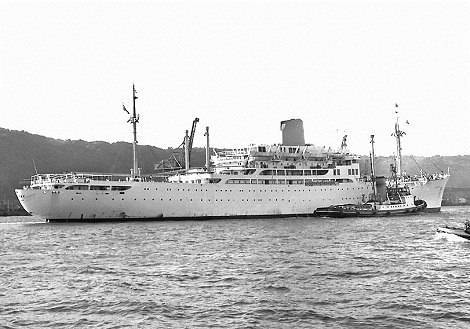 Two views of the P&O-Orient Lines CATHAY (13,809-gt, built 1957) taken in Durban, but from opposite sides of the harbour. The black and white picture is taken from the North Pier side of the harbour entrance, with the Bluff filling in the background. This was in February 1968. The lower, colour picture was taken from the South Pier but on a different day - it was 23 December 1968 – look for the Christmas tree on the foremast. The liner is also entering harbour. Pictures by Trevor Jones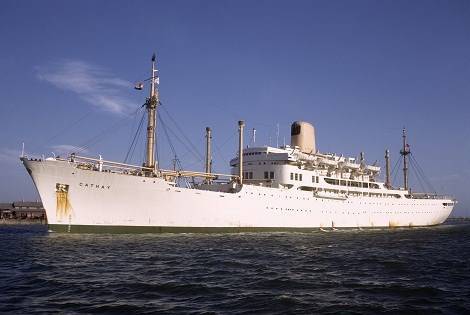 Don't forget to send us your news and press releases for inclusion in the News Bulletins. Shipping related pictures submitted by readers are always welcome – please email to info@ports.co.za
Did you know that Ports & Ships lists ship movements for all southern African ports between Walvis Bay on the West Coast and Mombasa on the East Coast?
TABLE BAY UNDERWAY SHIPPING
SHIP PHOTOGRAPHERS
Colour photographs and slides for sale of a variety of ships.

Thousands of items listed featuring famous passenger liners of the past to cruise ships of today, freighters, container vessels, tankers, bulkers, naval and research vessels.
P O BOX 809, CAPE TOWN, 8000, SOUTH AFRICA
snai@worldonline.co.za
http://home.worldonline.co.za/~snai
South Africa's most comprehensive Directory of Maritime Services is now listed on this site. Please check if your company is included. To sign up for a free listing contact info@ports.co.za or register online
PROVIDING INFORMATION TO THE MARITIME INDUSTRY