Ports & Ships Maritime News
October 27, 2010
Author: Terry Hutson

Shipping, freight, trade and transport related news of interest for Africa
PROVIDING INFORMATION TO THE MARITIME INDUSTRY
Want to advertise on the website using your Banner? - contact info@ports.co.za
SEND NEWS REPORTS AND PRESS RELEASES TO info@ports.co.za
TODAY'S BULLETIN OF MARITIME NEWS
Click on headline to go direct to story – use the BACK key to return
Looking for help? Try our MARITIME SERVICES DIRECTORY CLICK HERE
First View – PHOLELA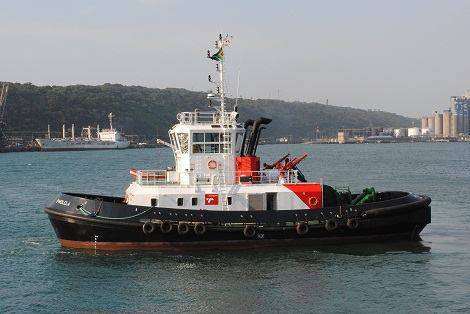 Transnet's latest newbuild harbour tug PHOLELA, in service in Durban harbour. The tug was built at the Durban Bayhead yard of Southern African Shipyards and has a bollard pull in the region of 70 tonnes. Photograph copyright SHIPHOTO INTERNATIONAL email shack@iafrica.com
News continues below...

SA sets course for new economic path
Pretoria - South Africa is to embark on new economic growth path that will aim to create more jobs and eradicate poverty, it was announced on Tuesday.
This comes as calls intensified, particularly from the trade union movement, for a more state interventionist approach to the economy, to turn the tide on the country's severe poverty levels and unemployment.
Minister in the Presidency Collins Chabane, who sits in the Economic Cooperation and Development Cluster, said the new economic growth path intends to address crippling unemployment, inequality and poverty through unlocking employment opportunities in the private sector.
It wants to create an ambitious five million jobs in the next 10 years while reducing unemployment from 25 percent to 15 percent.
The announcements followed a special Cabinet meeting called by President Jacob Zuma on Monday to reflect on the economic challenges facing the country and the long-awaited new economic growth path.
Chabane said critical to the plan would be the partnering between key social players, business and government to address key structural challenges in the economy.
Government has realised the economic growth and commodity price boom experienced in the past years did not result in revenue being sufficiently applied to promote economic spread and skills development.
"The new growth path is a broad framework that sets out a vision and identifies key areas where jobs can be created. The growth path we are announcing today places employment at the centre of economic policy for the government," Chabane said.
Authorities also agree that while South Africa's economy was among the first to show signs of recovery following the global recession, regulatory reforms that encouraged employment and fought poverty were needed.
The recession, which claimed more than 1 million jobs in 2009, took a heavy toll on South Africa's economy, with households suffering from falling incomes and high levels of debt. The domestic economy further contracted by an estimated 1.8 percent as a result of a decline in consumption spending and weak investment growth.
On Tuesday, Chabane said the new growth path will take some of the opportunities that arose from the recession.
He cited China, India and Brazil as examples of countries which have growth prospects similar to those of South Africa. The country could use its influence and experience to gain similar grounds in the continent. "The new growth path commits South Africa to work with other countries in the continent to build a single African integrated economy, embracing one billion consumers and to focus immediately on expanding economic links with the rest of the continent," said Chabane.
At least six key sectors of the economy, including infrastructure development, agriculture, mining, green economy, manufacturing and tourism, have been identified as having potential to unlock employment opportunities. In the green economy, government identified a potential 300,000 jobs by 2020, with 80,000 in manufacturing with a potential to rise to well over 400,000 by 2030.
The Industrial Development Corporation has been tasked with raising capital to drive growth of the green industrial economy in line with South Africa's commitments to drastically reduce carbon emissions in the next few years.
Both Chabane and Economic Development Minister Ibrahim Patel agreed that it would probably take more than government and the business sector to help the country achieve the new growth plan.
Patel's department is also behind the Industrial Action Plan, which initially paved a way for the country's growth path.
"Implementation and setting clear targets will remain a critical part of our work and that is why we will be engaging all partners from all walks of life, and Cabinet will play a big role in coordinating all stakeholder commitments in this regard," Patel said.
The Cabinet Economic Team is headed by Rural Development Minister Gugile Nkwinti, who is also at the centre of speeding up economic growth in the country's remote parts through various land reform policies.
Nkwinti said through agricultural and land reform programmes, several employment opportunities that support the new growth part were already on the pipeline.
These included a special fund that had been created to assist emerging farmers in at least five of the country's provinces.
"Our area of focus will be on identifying skills with the hope of using the funding to create more self-reliance businesses through partnerships of small and big commercial farmers," he said.
All eyes will now be on Finance Minister Pravin Gordhan's Medium Term Budget Policy Statement, which he delivers in Parliament today (Wednesday). Gordan's speech will likely serve as a first indication of where economic policy under Zuma's administration is headed and whether there will be a priority change in spending. – BuaNews
News continues below…

Malawi military attaché arrested for 'cruising' on the river Shire
Mozambique has confirmed that its police did arrest the Malawian military attaché for operating a boat on the River Shire on the Mozambique side of the border, but says he was released as soon as it became known that he was a diplomat.
The incident is the latest in what appears to be a cooling of relations between the two countries over the matter of navigation on the Shire and Zambezi Rivers.
Malawi has requested of Mozambique that the Shire and Zambezi Rivers be reopened to navigation to facilitate the movement of international trade for the landlocked country. Historically the two rivers were used for this purpose until the coming of the railway in the first half of the 20th century. The railway however was severely damaged during the Mozambique civil war and the line from the Zambezi River crossing into Malawi has never been repaired.
Even before Australian coal mining house Riversdale announced it was investigating the use of the Zambezi River for the purpose of moving large quantities of coal to the sea, Malawi had requested of Mozambique that the Shire, a tributary of the Zambezi, be used to facilitate the movement of trade and people from Malawi. In its response Mozambique said that the matter should first be subjected to an environmental impact assessment.
And now in the latest development Malawi's military attaché, Colonel James Kalipinde was arrested at the weekend for using a boat on the Shire River and straying into Mozambique territory close to the Malawian river port town of Nsanje.
A spokesman for the Mozambique presidency says that Colonel Kalipinde ignored a police warning and was clearly "following instructions". Following his arrest the attaché was taken to the coastal port of Quelimane where the police subsequently released him.
According to a report in the Malawian newspaper 'Nyasa Times', Kalipinde was acting under instructions of his government which wanted a boat to ceremonially appear on the river at Nsanje last Saturday, in time for a formal recognition of the river and port's potential. Present at the function were Malawian President Binga wa Mutharika and guests the Zambian President Rupiah Banda and Robert Mugabe of Zimbabwe.
Notable absentee at the function was Mozambique's President Armando Guebuza, which the Malawians considered to be a deliberate snub, although Mozambique says that the president was not invited. If this was so it represents an extraordinary omission, as Malawi's route to the sea, whether by road, rail or river, passes through Mozambique.
The Nyasa Times reported that President Mugabe had given the river project his support and said that Zimbabwe would use it for the movement of cargo – despite Zimbabwe and Malawi not sharing a common border.
In 2007 a memorandum of understanding was signed by Mozambique and Malawi that sought to raise funds for the river project and a committee was established between the transport ministers of Malawi, Mozambique and Zambia. This met regularly until August last year. The only company to bid for the viability study came from Zimbabwe, which failed to complete the study in the agreed time and had its contract cancelled. The African Development Bank is said to be willing to finance the project.
Matters became soured when Malawi ignored requests to seek authorisation before undertaking a test navigation on the two rivers. Then in September this year, in an almost farcical manner, Mozambique police, including a detachment of riot police and members of the state security service SISE, prevented a barge belonging to a Malawian company, ETC Marine, from loading a test cargo at Marromeu on the Zambezi, because they said the 300 bags were packed with cocaine.
The 60 tons of 'cocaine' was returned by truck to Beira where it was analysed and found to be fertiliser, leaving Mozambican authorities with red faces, especially when it was pointed out that had this been cocaine it would have had a street value of more than one billion US dollars. Nevertheless Mozambique authorities insisted that samples of the fertiliser be sent to laboratories in Beira and Maputo for checking.
Mozambique's hasty over-reaction in such matters is well-known. PORTS & SHIPS readers will recall that when a floating dry dock under tow broke in half off the Mozambique coast, with the back half drifting ashore, Mozambique announced to the world that toxic waste, suspected to be of nuclear origin, had been 'dumped' in Mozambique waters.
With such goings on the chances of the Shire and Zambezi rivers being reopened to navigation for the benefit of Malawi are looking increasingly slim. – source AIM and Nyasa Times
News continues below...

Korean shipyard DSME buys into Angolan yard
One of South Korea's largest shipbuilding firms, Daewoo Shipbuilding & Marine Engineering (DSME) has acquired a 30% stake in Angola's Porto Amboim Estaleiros Navais Limitada (PAENAL) Shipyard.
DSME president Sang-tae Nam, Sonangol Holdings president Baptista Muhongo Sumbe and SBM Offshore president Francis Blanchelande put pen to paper on the contract in Luanda, Angola, on Thursday last week.


 PAENAL Shipyard is located near Porto Amboim, a city 300km south of Luanda. The Angolan shipyard was established as a joint venture between Angola's state-owned oil company Sonangol and Dutch offshore equipment specialist SBM Offshore in August 2008.
Following the signing of the joint venture, DSME and SBM each has a 30% stake in the shipyard with the remaining 40% owned by Sonangol.
In July this year DSME entered into a memorandum of understanding to acquire a 49% stake in South African shipping company Impinda, which is involved with the transportation of oil, gas and dry bulk products. In 2007 DSME entered into a similar arrangement with the Nigerian company NIDAS.
News continues below…

NCL to build two 143,000-ton cruise ships
Norwegian Cruise Line (NCL) announced this week that it is to build two new ships with German shipyard Meyer Werft, which will become the largest vessels in the NCL fleet.
The next generation Freestyle ships, each of 143,500-gt, will enter service in the Northern springs of 2013 and 2014 respectively. Each ship will have accommodation for 4,000 passengers and will cost approximately € 600 million each. They represent the biggest cruise ships ever to have been built in Germany.
Meyer Werft has built seven previous cruise ships for NCL, the most recent being four Jewel class ships - NORWEGIAN DREAM, delivered in 2007, NORWEGIAN PEARL and NORWEGIAN JADE both delivered in 2006, and NORWEGIAN JEWEL delivered in 2005.
"We have always been focused on a disciplined approach to capacity growth," said Kevin Sheehan, Norwegian Cruise Line's chief executive officer. "Our decision to add two new ships reflects the significant progress we have made in improving our operating performance and repositioning the company over the last several years, as well as the strong market demand we are seeing for Norwegian Epic and our other ships.
"Building on the incredible success and popularity of Norwegian Epic, we are taking the best of what our newest ship has to offer, as well as drawing on our legacy of innovation in the cruise industry, in creating a new class of Freestyle Cruising vessel that is sure to provide our guests with the unparalleled freedom and flexibility they have come to expect on a Norwegian cruise."
Norwegian Cruise Line pioneered the concept of Freestyle Cruising and currently offers guests the freedom and flexibility to enjoy their cruise vacation on their own terms, including multiple dining venues, relaxed attire, a variety of accommodations and world-class entertainment.
The company currently operates with a fleet of 11 Freestyle ships.
News continues below…

News of ships and shipping lines
8,100-TEU MSC ship heads for Durban
The biggest container ship to arrive at any South African port as part of a scheduled service is due in Durban next week.
The ship, the 8,100-TEU container vessel MSC MAEVA (89,994-gt, built 2005) is due to arrive in Durban on Tuesday, 2 November, making this the largest ever container ship on a scheduled service to visit South Africa. MSC Maeva is deployed on MSC's Cheetah service between the Far East and South Africa, and will be seen as justification for Transnet's decision to widen and deepen the port of Durban, as well as to deepen berths at Cape Town and to construct a deepwater container terminal at Ngqura in the Eastern Cape.
MSC Maeva is one of three sister ships in MSC service, the others being MSC LUCY and MSC RITA. Displacing 135,562-tonnes, the ships are 325m long and have a beam of 43m and a draught of 14.5m loaded. They are powered by Sulzer 8 RTA76 R1 engines and can operate at 26 knots.

MOL tanker receives first Marshall island-registry MLC 2006 Certificate
Mitsui OSK Lines (MOL) announced yesterday that one of its products tankers, IVY EXPRESS had become the world's first ship of Marshall Island registry to receive the ILO Maritime Labour Convention 2006 (MLC) Certificate.
MLC, which aims at improving the working and living conditions of seafarers, is expected to come into force in the near future. It is becoming known as the fourth pillar of maritime treaties, and follows in the wake of the International Convention for the Safety of Life at Sea (SOLAS), International Convention on Standards of Training, Certificate and Watch-keeping for Seafarers (STCW), and International Convention for the Prevention of Pollution from Ships (MARPOL). MLC 2006 aims at establishing global standards for maritime labour. The treaty is expected to come into force in late 2011.

Coaster goes aground off Norway
The Faroe coaster HAVFRAKT (1519-dwt, built 1979) has run aground off Gisundet, Norway with a cargo of fish meal. The ship was sailing from Bergen. Initial attempts at refloating the vessel failed but there are no reports of spillage, leaks or injuries.

Tug and two barges aground in St Lawrence Seaway
The 30m tug COMMODORE STRAITS and two barges have run aground in the St Lawrence Seaway near Keewaydin State Park in Alexandria Bay, NY, with both barges reported to be holed and taking on water. US Coastguard personnel are on site and monitoring the situation. The barges are loaded with soybeans.
News continues below…

Imported used cars at Mombasa may be destroyed
Thousands of used cars imported into Kenya through the port of Mombasa may have to be destroyed or returned to source, according to a report in The Nation.
Hundreds of the vehicles were seized at the port and adjacent depots last week and the Kenya revenue Authority (KRA) and Kenya Bureau of Standards (KEBS) are consulting over the next step, which may included having the vehicles destroyed or returned to source.
The vehicles owners are claiming that the vehicles, which are all over eight years of age, were cleared by the Industrialisation Minister, Henry Kosgey, but authorities have suggested that loopholes in the law were taken advantage of.
Pics of the Day – CARIBBEAN EXPRESS and BALTIC MOON
The ferry/passenger ship CARIBBEAN EXPRESS seen in Cape Town yesterday. The vessel is on what is thought to be her final voyage to the breakers and experienced engine problems while in Table Bay last week, necessitating her entry into port for repairs. Picture by Ian Shiffman
The reefer vessel BALTIC MOON (10,298-gt, built 1987) in Cape Town harbour earlier this month. Picture by Ian Shiffman
Don't forget to send us your news and press releases for inclusion in the News Bulletins. Shipping related pictures submitted by readers are always welcome – please email to info@ports.co.za
Did you know that Ports & Ships lists ship movements for all southern African ports between Walvis Bay on the West Coast and Mombasa on the East Coast?
TABLE BAY UNDERWAY SHIPPING
SHIP PHOTOGRAPHERS
Colour photographs and slides for sale of a variety of ships.

Thousands of items listed featuring famous passenger liners of the past to cruise ships of today, freighters, container vessels, tankers, bulkers, naval and research vessels.
P O BOX 809, CAPE TOWN, 8000, SOUTH AFRICA
snai@worldonline.co.za
http://home.worldonline.co.za/~snai
South Africa's most comprehensive Directory of Maritime Services is now listed on this site. Please check if your company is included. To sign up for a free listing contact info@ports.co.za or register online