Ports & Ships Maritime News
October 21, 2010
Author: Terry Hutson

Shipping, freight, trade and transport related news of interest for Africa
PROVIDING INFORMATION TO THE MARITIME INDUSTRY
Want to advertise on the website using your Banner? - contact info@ports.co.za
SEND NEWS REPORTS AND PRESS RELEASES TO info@ports.co.za
TODAY'S BULLETIN OF MARITIME NEWS
Click on headline to go direct to story – use the BACK key to return
Looking for help? Try our MARITIME SERVICES DIRECTORY CLICK HERE
First View – SA AGULHAS
The Antarctic supply ship SA AGULHAS made a rare visit to Durban at the end of last week, 'manned' supposedly by an all-women crew. The ship sailed again early this week, crew not specified. This picture copyright Shiphoto International
News continues below...

Panalpina faces criminal fine of US$ 85 million over corruption accusations

"Practically impossible to do business in Nigeria without paying a bribe"
The Swiss forwarding company Panalpina is in negotiation with US authorities as it seeks a settlement over allegations of bribery involving Nigerian Customs officials.
Panalpina faces charges along with several of its customers, including Royal Dutch Shell, involving breaches in the US Foreign Corrupt Practices Act.
Reports say that a settlement in the region of US$ 85 million will be the likely outcome. A Panalpina spokesman said this week that he was confident of a settlement being reached this year. Martin Spohn said that Panalpina was co-operating with the investigation, which has been brewing for several years.
The Swiss forwarder and customers including Royal Dutch Shell, face charges of having breached the US Foreign Corrupt Practices Act.
According to the US allegations, Panalpina bribed Nigerian Customs officials to speed up the clearance of oil rig equipment. Royal Dutch Shell was also charged similarly and is reported to have agreed to pay a US$ 30 million fine. Other clients of Panalpina, including Transocean, Noble Corp, Schlumberger and Nabors Industries are also engaged in negotiations aimed at reaching financial settlements.
Shortly after coming under investigation Panalpina closed its Nigerian offices, saying that it was difficult if not impossible to conduct business in the West African country without breaching anti-corruption codes. Bribes are commonly referred to as 'facilitation payments'. The pull-out cost Panalpina US$50 million and a substantial decrease in net earnings.
In amongst all the statements made concerning the case, Nigeria has been described as a country where it is impossible to pass through the international airport without being asked for a bribe.
The matter currently under investigation has cost the Swiss forwarder further losses after other clients withdrew from dealing with them on account of having internal regulations that precluded them from trading with companies under investigation by the US Department of Justice.
News continues below…

Vale pledges to develop Nacala port

Port of Nacala. Any 'improvements' for bulk handling such as coal will most probably take place on the opposite side of Nacala Bay, some distance from the existing port and town.
Vale Mining, the world's largest iron ore producer has pledged to help develop the Port of Nacala to enhance mining activities in Zambia, Mozambique and the Democratic Republic of Congo, reports the Steel Guru.
Vale in a joint venture project with African Rainbow Minerals (ARM) last week launched the US$ 400 million Konkola North Copper Project in Chililabombwe in the first phase which runs up to 2014.
The Brazilian mining giant operates in 35 countries and recently began operations in Mozambique, Zambia and the Democratic Republic of Congo, among other African countries. Vale is developing the Moatize coal mine in Mozambique's Tete Province, which is destined to become the Port of Nacala's biggest customer.
Mr Patrice Motsepe executive chairperson of ARM and Mr Roger Agnelli CEO of Vale attended the launch.<> Vale executive director, exploration, energy and projects Eduardo Ledsham said that in the second phase of the project in Zambia, his organization was planning to help develop the Port of Nacala in Mozambique.
Nacala is the deepest port in the Southern Africa region and is one of the most northerly ports in Mozambique with a natural deep harbour.
Mr Ledsham said feasibility studies on the development of Nacala were being done although he could not state how much would be required for the project. He added that "In the second phase of our expansion project we are looking at the Nacala Port. Nacala is an alternative route for Zambia, Mozambique and the Congo and that is the more reason we will be looking at developing it."
He added that "If you have connection with the three countries, then you know your investment is worth it. We have already started the feasibility studies."
News continues below...

News from the shipping lines
Zim & Hapag-Lloyd exchange slots with MOL on Europe-West Africa trades

ZIM QINGDAO
Israel's Zim and Hapag-Lloyd have entered into a slot exchange arrangement with MOL on the Japanese line's ARN service between northern Europe and West Africa. Using three 2,000-TEU MOL ships, the ARN service has a rotation of Antwerp, Thamesport, Dakar, Tin Can Island (Lagos), Abidjan, Vigo and Antwerp.
In exchange MOL will take slots on Zim and Hapag-Lloyd's joint service known as NAF or WAX respectively, which has a rotation of Amsterdam, Hamburg, Antwerp, Dakar, Tin Can Island, Tema, Abidjan, San Pedro and Amsterdam, and uses three 1,717-TEU ships, of which Hapag-Lloyd provides two and Zim one.

Hanjin begins South African Express service at end of October
South Korean line Hanjin, which until recently made no calls in Africa, is about to commence its new South Africa Express (SFX) service connecting Asia and South Africa directly, with a rotation of Shanghai, Ningbo, Keelung, Hong Kong, Shekou, Port Kelang, Durban, Cape Town, Shanghai. The SFX service will consist of slot chartering from PIL and K Line, taking between 250 and 350 TEU slots depending on ship size.
The service uses seven ships in the 3,000 – 4,300-TEU range, with K Line providing five vessels and PIL two. In addition to Hanjin, two other slot charterers are Malaysia's MISC and Chile's CSAV.
According to a Hanjin spokesman, South Africa will provide the gateway into the rest of Africa. He said the new service will help Hanjin build a presence not only in Durban, where the Korean company has already established itself, but in Cape Town as well.
The week in pictures
K Line container ship towed into port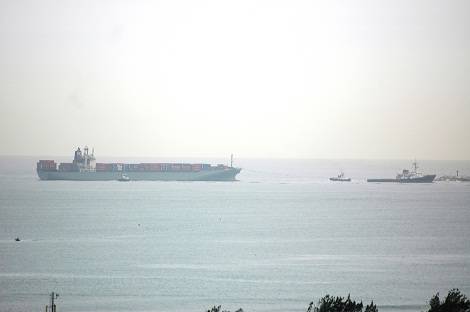 K Line's container ship NEWPORT BRIDGE (48,220-gt, built 1992) was towed into port yesterday after arriving earlier in the week also on tow and losing power in mid ocean. The tug in the picture is SMIT AMANDLA, normally based in Cape Town. The ship was en route from Singapore at the time of becoming disabled. The picture was taken from his beachfront apartment balcony by Clinton Wyness
Passenger ferry CARIBBEAN EXPRESS stops of Cape Town for stores
The passenger ferry CARIBBEAN EXPRESS (19,292-gt, built 1976) was a surprise caller off Cape Town yesterday (Wednesday) when she called for stores without (initially) entering port. Her previous port was given as Salvador and the ship indicated her next port of call would be Durban on Saturday, 23 October, presumably for bunkers. Subsequent to this the ship's plans were altered and Caribbean Express was due to enter Cape Town late yesterday for bunkers after all. As a result it is not certain whether the ship will still call at Durban.
Her next destination is also not known but may be to one of the Indian or Far East ship breaking yards, or recycling yards as they are now called. The passenger ferry has had something of a chequered career in later years but once sailed as KRONPRINS HARALD for Colour Line and Jahre Line, and as OSCAR WILDE for the Irish Ferries. This picture was taken on a full lens zoom from Moulle Point by Ian Shiffman.

COSTA CLASSICA in collision with cargo ship in Shanghai
The Italian cruise company vessel COSTA CLASSICA was involved in a collision with a cargo ship in the mouth of the Yangtze River while heading for Shanghai harbour on Monday (18 October) and suffered a 20 metre gash in the starboard side, well above the waterline. Three people received injuries serious enough to be taken to hospital while a number of other passengers received minor injuries that could be treated on board. The passenger ship was able to berth normally in Shanghai but her following cruise to Japan, Hong Kong and Korea has had to be cancelled. The other vessel involved was an unnamed Belgian cargo vessel.
The current voyage of Costa Classica can only be described as 'eventful'. In Korea, while making a scheduled visit to Jeju, some 44 Chinese passengers failed to reappear when it was time to sail. It is thought that the passengers, from China, had planned to emigrate illegally. Costa said in a statement that in accordance with protocols they had notified the Korean authorities before sailing.
Nor is Costa Classica, Costa's oldest ship, a stranger to collisions, having been involved in another near Dubrovnik in the Adriatic in June 2008, when the rival Italian line MSC Poesia collided with her. The damage was slight and there were no injuries. This picture EPA.
Maritime piracy off Somali Coast a global problem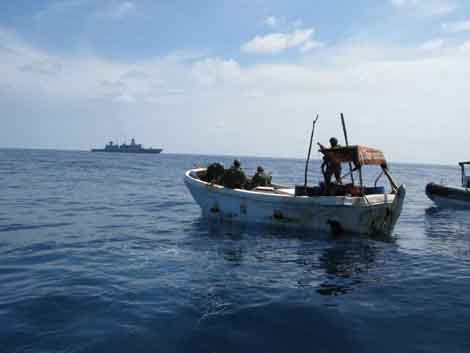 Maritime piracy off the coast of Somalia is not just an African problem but a global challenge of worldwide concern, and the international community must step forward to help.
US Assistant Secretary of State for African Affairs Johnnie Carson and Erastus Mwencha, deputy chairperson of the African Union's Commission, made that point to reporters in a media round table earlier this month (13 October). Carson and Mwencha spoke to journalists via an electronic hook-up to Paris and Addis Ababa while attending the 2010 African Maritime Safety and Security Conference in Stuttgart, Germany.
Maritime piracy is not an issue solely for Somalia, for the regional states of the Horn in East Africa, or for Africa itself, Carson told reporters. "The African community has borne the brunt of the piracy, and the international response, particularly on the legal side, has been very, very minimal. We know that many countries around the world have put ships out in the Indian Ocean to counter the piracy, but piracy continues to persist for two reasons. One is the lack of a government and an economy on shore and the other one is an absence, the continuation of impunity and the absence of punishment for people who are caught engaged in piracy."
Carson expressed his government's "enormous appreciation" to the governments of Kenya and the Seychelles. "Both of those countries have taken in, prosecuted and jailed more pirates than any other nations around the world," he said.
"Many of the ships that are pirated have ownership which is international and not African, many of those ships are flagged by non-African countries, and many of those ships are crewed by non-African crews," Carson told the reporters. "But in the end, when pirates are captured by an international fleet, the owners of the vessels from different countries refuse to press charges in their countries. The countries that provide most of the crews refuse to press charges against the pirates, including when individuals have been killed and wounded. And many of the countries that flag these vessels refuse to press charges. "So it is left for the countries in the region to have to take these pirates, put them in their jails, use their court systems, their judges, to prosecute, convict them and then keep them for long periods of time under incarceration."
Citing an example, Carson said: "Recently we saw a vessel … that vessel was owned by citizens in Europe [but seized by Somali pirates]. It was crewed by Filipinos, and it was flagged by a country in the Caribbean, but yet when the pirates were caught, none of those states involved were willing to prosecute and those pirates eventually had to be taken to Kenya.
"It is important that the international community come forward," Carson stressed. "That countries in and around the globe that own these ships, that provide crews to these ships, that flag these ships, take responsibility for punishing the pirates who are engaged in piracy. It is not just an East Africa problem or an African problem, it is an international problem, and until we can get the international community to stand up on the legal side to prevent this impunity legally, we are going to continue to have problems. The international community has got to stand forth."
Carson said "the United States has done its part and will continue to do its part" to address the problem. "The US over the last three years has only had one vessel kidnapped, the Maersk Alabama. That vessel was not allowed to go into Somali territory. US naval assets were deployed, they rescued the vessel, the captain, killed some of the pirates and brought some of them back to the United States because it was a US-owned and -crewed vessel, brought them back to the United States, where they were prosecuted in New York City and the pirates are now serving jail sentences in New York.
"If, in fact, there are German or French or Dutch or Indian or Pakistani or Japanese vessels — and I'm just using those as an example — and they are attacked, it is incumbent upon those countries, those countries, to take in the individuals that attack those vessels and prosecute them. If they don't do that, they surely must provide some kind of financial assistance to the countries of East Africa to help defray the cost of dealing with the incarceration of pirates."
Carson added: "Paying ransoms does not help. Paying ransoms [to earn the freedom of a ship, its crew and cargo] only encourages continued piracy."
Picking up on Carson's remarks, the African Union Commission's Mwencha agreed that "the challenges that face Africa today are global, and the solutions can only be global. That's why we are so happy to be here to partner with our friends and partners." Mwencha thanked the US departments of State and Defense and the other agencies "for coming to work with us, to talk about these very important aspects of maritime safety and security."
Mwencha acknowledged that while piracy is a global problem, Africans still "have to do something for ourselves. We have developed and we are developing a strategy. That strategy has a responsibility to an individual level, at the national level, and in the continental level. And that strategy requires that, first of all, we share information. We coordinate. We work together, within the continent. And we have a capacity to be able to … have our coastlines policed and safeguarded from international pirates, but also those that do illegal fishing, toxic waste and the rest."
To accomplish that, however, "requires resources," he said, "… and that is an element that we also seek to partner with the rest of the international community — to help each other, to be able to help with the problem."
The greatest challenge now facing Africa, Mwencha told reporters, is ignorance — the lack of "knowledge about what needs to be done and what has to be done." He asked the reporters on the call "to pass on this message to the rest of Africa so that Africa can work together for the sake of our continent."
Africa's coastline is about 39,000 kilometers, Mwencha said. "Now that poses an opportunity and a challenge. An opportunity because in that coastline lies great wealth, in which Africa is only getting a small portion. Often we only get to hear about hijacking and piracy, but that's not all about the coastline of Africa. The coastline of Africa is about trade; it is about food security; it is about energy; it is about human trafficking; and it is also about toxic waste. But, above all, it is about governance for the continent and the wealth of the continent."
Also participating in the media round table, which brought together more than 170 participants representing some 20 African nations, were the African Union Commission, the US Africa Command and representatives from both the public and private sector, along with General William E. 'Kip' Ward, commander of the US Africa Command, and Ambassador Vicki Huddleston, deputy assistant secretary of defense for Africa, in the Office of the Secretary of Defense.
- America.gov
Mozambique calls for environmental study before agreeing to use Zambezi for marine transportation
An environmental impact assessment will have to be carried out before the green light can be given for the use of the Zambezi as a transport route to the sea by Malawi or anyone else.
Alvaro dos Santos, Mozambique's director for Africa and the Middle East in the Mozambique Foreign Ministry was quoted in the Maputo daily newspaper Noticias as saying that this point has been made very clear to Malawian authorities.
"Malawi continues to insist on the question of the navigability of the Zambezi, and we said this matter will only be solved once the environmental viability study and the project draft itself are completed. Until this happens we cannot advance with the navigability of the Zambezi."
Santos' comments follow talk of Malawi wanting to reopen the Shire River, which feeds into the Zambezi, to gain it access to the sea. In former colonial days both rivers were used for this purpose until the advent of the Sena railway from Beira, from which a spur line extended into southern Malawi. Since then the practice of using the rivers has largely fallen away although some sugar continued to be barged along the Zambezi River to the mill in the Marromeu region lower down the Zambezi.
The concept of using the Zambezi River to move cargo was resurrected recently by Australian mining house Riversdale, which is faced with the challenge of getting large volumes of export coal to the coast. Riversdale suggested using the Zambezi River. The recently completed refurbishment of the Sena Railway as far as the mines near Moatize will only partly solve the problem as the capacity of the line in its present condition remains reasonably small. An investigation into building a new railway into southern Malawi to connect with that country's railway network and from there to the Nacala railway is also being looked at, although it is likely that much of the existing railway will have to be strengthened.
Santos' somewhat strong language reflects Mozambique's response to complaints by Malawi that repairs being undertaken on the Samora Machel Bridge over the Zambezi have resulted in fuel shortages in landlocked Malawi. Santos confirmed that traffic restrictions on the bridge were in force but said that Mozambique had a responsibility to repair and refurbish the bridge for the sake of the economies of Mozambique, Malawi, Zambia and "other countries."
"We told the Malawians that as a responsible government we cannot allow the bridge to deteriorate to the point of collapse," he said.
For the record….
In a previous news bulletin we reported that SAS DRAKENSBERG had departed for Chile in the company of the patrol ship SAS GALASHEWE. It has been pointed out that this is partially incorrect. The patrol ship is not making the journey; instead SAS Drakensberg is in company of the submarine SAS CHARLOTTE MAXEKE. The group will not be visiting Chile but several other South American ports to take part in Operation Atlasur VIII.
Pics of the Day – BOUNDARY and SA AGULHAS
Ocean Africa Container Line's coastal container ship BOUNDARY recently suffered a fire in its engine room, completely disabling the vessel which was later towed into Cape Town harbour for repairs. This photograph was taken on an earlier occasion in Durban Harbour. Picture by Trevor Jones
Another view of the Antarctic supply vessel SA AGULHAS as she sailed from Durban this week. Picture by Trevor Jones
Don't forget to send us your news and press releases for inclusion in the News Bulletins. Shipping related pictures submitted by readers are always welcome – please email to info@ports.co.za
Did you know that Ports & Ships lists ship movements for all southern African ports between Walvis Bay on the West Coast and Mombasa on the East Coast?
TABLE BAY UNDERWAY SHIPPING
SHIP PHOTOGRAPHERS
Colour photographs and slides for sale of a variety of ships.

Thousands of items listed featuring famous passenger liners of the past to cruise ships of today, freighters, container vessels, tankers, bulkers, naval and research vessels.
P O BOX 809, CAPE TOWN, 8000, SOUTH AFRICA
snai@worldonline.co.za
http://home.worldonline.co.za/~snai
South Africa's most comprehensive Directory of Maritime Services is now listed on this site. Please check if your company is included. To sign up for a free listing contact info@ports.co.za or register online